Do you want to know how easy it is to make this amazing little condiment that will brighten up any dish? Great, I'm going to show you just how easy and simple pickled red onions are to make.
Pickled red onions are where it's at. And yes, these will really brighten up any dish. From Mexican tacos to Texas BBQ, chili, sandwiches to salads and soups. This is an absolutely essential tool in your flavor arsenal that will be ready to use in just 30 minutes. How could you not make some of these beauties right now?
When we say brighten the dish, it's going to do that in two ways. Sure it brightens the flavor. But what about that beautiful bright purple color? Since we eat with our eyes first, pickled red onions help transform brownish food that just needs a little something to perk it up. And these are it. Add the purple, some green and you are in business.
Apologies in advance if these easy pickled onions become your gateway into pickling everything.
Ingredients for pickled red onions
Vinegar - I prefer rice vinegar, but apple cider vinegar or really any vinegar you have on hand will work for pickling onions, even plain 'ol distilled vinegar. The rice vinegar I use is 4.3% acidity
If you prefer apple cider vinegar, the Bragg organic brand is great - It has slightly higher acidity at 5%. I like to buy vinegar for pickling by the gallon rather than in small containers, which always feels like you are using the whole thing container for one pickling job.
Salt - Diamond Kosher Salt is preferred.
Sugar - You can use really use any type of sugar or even substitute honey.
Red Onions - Medium size works best so they are easier to slice and fit in the jar. Always use fresh onions.
Peppercorns - Adding a few peppercorns add a little spice to the mix. Pickling is a great opportunity to use that colorful jar of peppercorns you received as a gift.
Fresh Thyme sprigs - The thyme adds just a hint of the wonderful fresh herb.
A few tips for making pickled red onions
Use a mandoline vegetable slicer to slice the onions evenly and safely.
Pour boiling hot water over the sliced onions before pickling to cut down on the strong bite from the onions.
Buy quality vinegar in bulk if you think you will be pickling more than once a year.
How to pickle red onions
Pickling red onions is super simple, really. It's the onions + vinegar + salt + sugar. We can add a few extras in there because why not? It's really as letting simple as 4 ingredients sit together for about 30 minutes.
Slice the red onions into ¼" wheels with a very sharp knife or a mandoline which makes it easier to make consistent size slices.
Place the sliced onions into a small strainer and pour a few cups of boiling water over the top.
Add all the pickling ingredients (vinegar, sugar, salt, etc) to a jar or bowl, and stir to dissolve.
Add the sliced onions to the pickling liquid and let it sit out at room temperature for 30 minutes to 1 hour before using. They will become bright pink when ready.
I never found the need to heat the brine for pickling because the vinegar helps dissolve the salt and sugar with no problem.
How long do pickled onions last
Pickled red onions last for up to 2 weeks when stored in a sealed container in the refrigerator.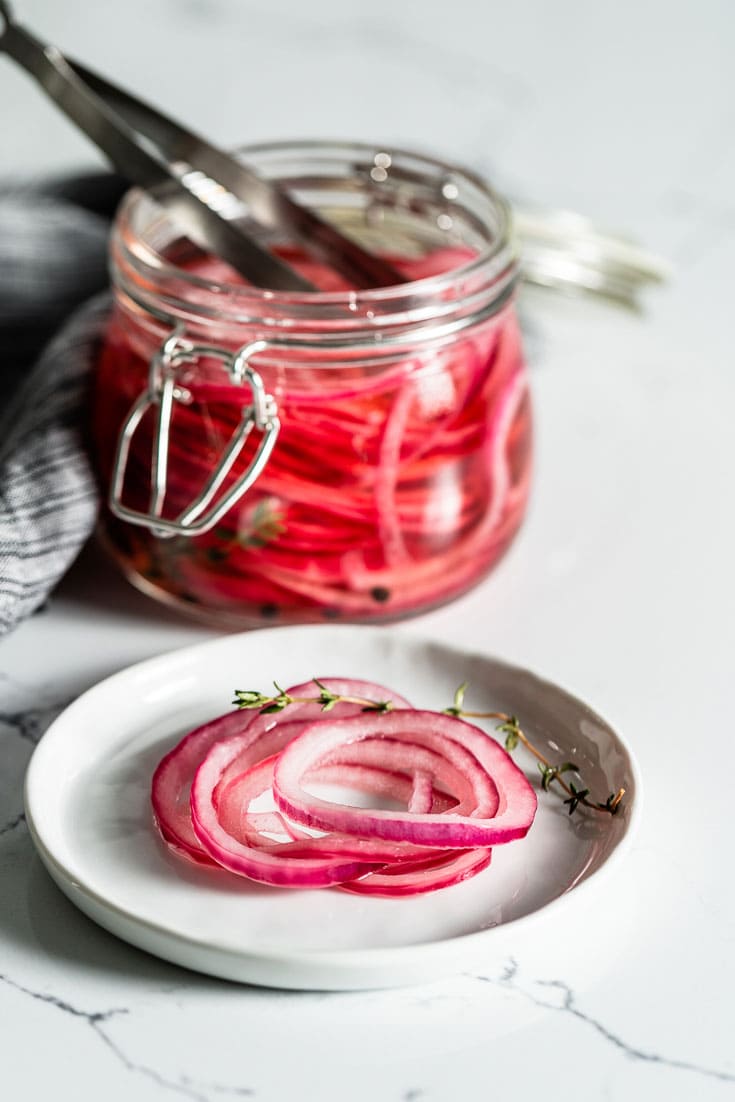 Dish ideas to use with pickled onions
Pickled Red Onions
Quick, easy and beautifully bright and delicious. Pickled red onions are an add-on to brighten any dish with 5 minutes of prep and ready in just 30 minutes.
Print
Pin
Rate
Ingredients
1

Red Onion

skin removed and thinly sliced into ¼" slices crosswise rings

1

cup

Rice Vinegar or Apple Cider Vinegar

2

tablespoon

Sugar

2

teaspoon

Kosher Salt

3

Thyme Sprigs

4

Pepper Corns
Instructions
Place the sliced onions in a small strainer and pour a few cups of boiling water over the top.

Combine all the remaining ingredients in a glass jar or a small bowl, stirring to completely dissolve the sugar and salt.

Add the onions to the pickling liquid and let sit at room temperature for 30 minutes to 1 hour. Placing in the refrigerator will stop the pickling process.
Notes
Store the pickled onions sealed in the refrigerator for up to 2 weeks.
Nutrition
Calories:
186
kcal
|
Carbohydrates:
35
g
|
Protein:
1
g
|
Fat:
0.3
g
|
Saturated Fat:
0.1
g
|
Polyunsaturated Fat:
0.04
g
|
Monounsaturated Fat:
0.01
g
|
Sodium:
4661
mg
|
Potassium:
191
mg
|
Fiber:
2
g
|
Sugar:
29
g
|
Vitamin A:
147
IU
|
Vitamin C:
13
mg
|
Calcium:
58
mg
|
Iron:
1
mg