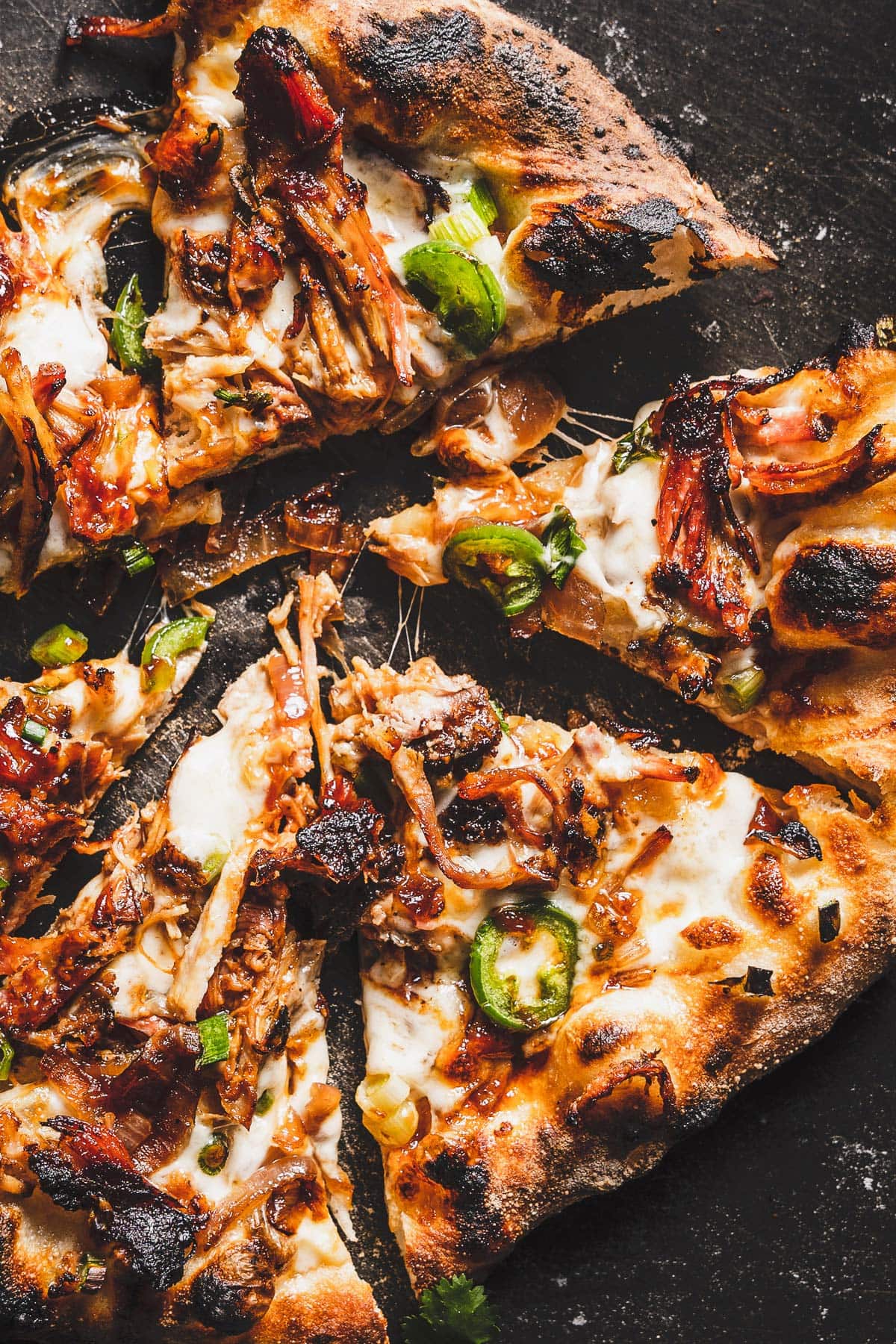 If you're a fan of both pulled pork and pizza, then you are totally in for a treat with pulled pork pizza. This delectable combination is the perfect way to enjoy two of your favorite foods in one delicious meal.
Whether you have leftover pulled pork, are starting from scratch or bought some just to make this pizza, putting pulled pork on pizza is pure mouthwatering goodness! We're swapping out tomato sauce for BBQ sauce and pepperoni for tender, juicy pulled pork to make the ultimate BBQ pulled pork pizza.
This is perhaps even better than the beloved BBQ chicken pizza! With its high-fat content, the pulled pork stays juicy while it bakes in the hot oven on the pizza, unlike chicken, which can easily dry out.
What You'll Need
Ingredients
Pulled Pork - Any kind will work great. Whether you smoke it, make it in the slow cooker or the oven, or buy it at the store or your favorite BBQ spot.
Pizza Dough - Making your own is best, but you can definitely use store-bought, frozen or pick some up at your favorite pizzeria (tip: they usually sell pizza dough for cheap).
BBQ Sauce - Use your favorite brand or easily make your own sweet & tangy BBQ sauce.
Mozzarella Cheese - Preferably freshly shredded and you can add in a combo of cheddar for a little kick that goes great with the pork and BBQ sauce.
Caramelized Onions - Make them in a stainless steel skillet (don't use nonstick for these) by heating some butter and oil with thinly sliced onions and a pinch of sugar over medium heat. Stir and scrape every few minutes for about 5 to 7 minutes, when the onions are softened. Reduce the heat to low, continuing to cook for 30 to 40 minutes, stirring occasionally. Add a few tablespoons of water to the pan when they start to dry out. Season with salt. You can also use raw sliced red onions or sweet onions on the pizza.
Sliced Green Onions/Scallions - Both the light and dark parts are great.
Fresh Jalapeños Slices - For a little heat. You can use pickled jalapenos if you prefer.
Garnish with Fresh Cilantro - Either chopped or whole leaves bring out the freshness and look great.
Equipment
More Topping Options & Substitutions
Pulled Jackfruit can be substituted to make it vegetarian.
Chopped Bacon
Grilled Pineapple - If you believe in that kind of thing (which I do), and the juicy acidity will surely pop.
Smoked Cheese - If you have some melty smoked cheese, this is a great opportunity to put to work. It will meld so well with the pork and other ingredients.
Sweet Onions will also work great if you don't have red onions.
Cherry Tomatoes - Add a nice bright burst to the pie, and you don't even need to slice them.
Corn - Raw, grilled or sauteed would be a great addition.
Assembling the Pizza
After rolling out the dough, gently spread some BBQ sauce over the entire surface, leaving about 1 inch for the crust. Place the dough on a lightly floured pizza peel and top with the pork, caramelized onions, sliced green onions, jalapeno slices and then the shredded mozzarella cheese.
The order you go with is up to you. You might want the melty cheese on top of the other ingredients, or have the pork and onions above the cheese. Either way will work and be great in its own way.
Tip: Go somewhat light on toppings for the most even cooking.
Cooking the Pizza
In an Outdoor Pizza Oven: If baking the pizza in an Ooni or other outdoor pizza oven, it is going to cook very quickly. Preheat to 900° F, transfer the pizza into the oven and rotate every 20 to 30 seconds with a turning peel for even cooking. It will be done cooking in 1 to 2 minutes, or until the cheese is melted and the dough is golden and crunchy.
In a Regular Oven: Preheat to 450° to 500° F, depending on how high your oven will go. Move the rack to the lower third of the oven and place your pizza stone in the oven so it can preheat as well. It will take about 10 to 15 minutes to bake, depending on your oven.
Tip: Test the surface with an infrared thermometer after you preheat your oven. It can take a while to heat a pizza stone, and it won't cook right if it isn't hot enough.
What to Serve With It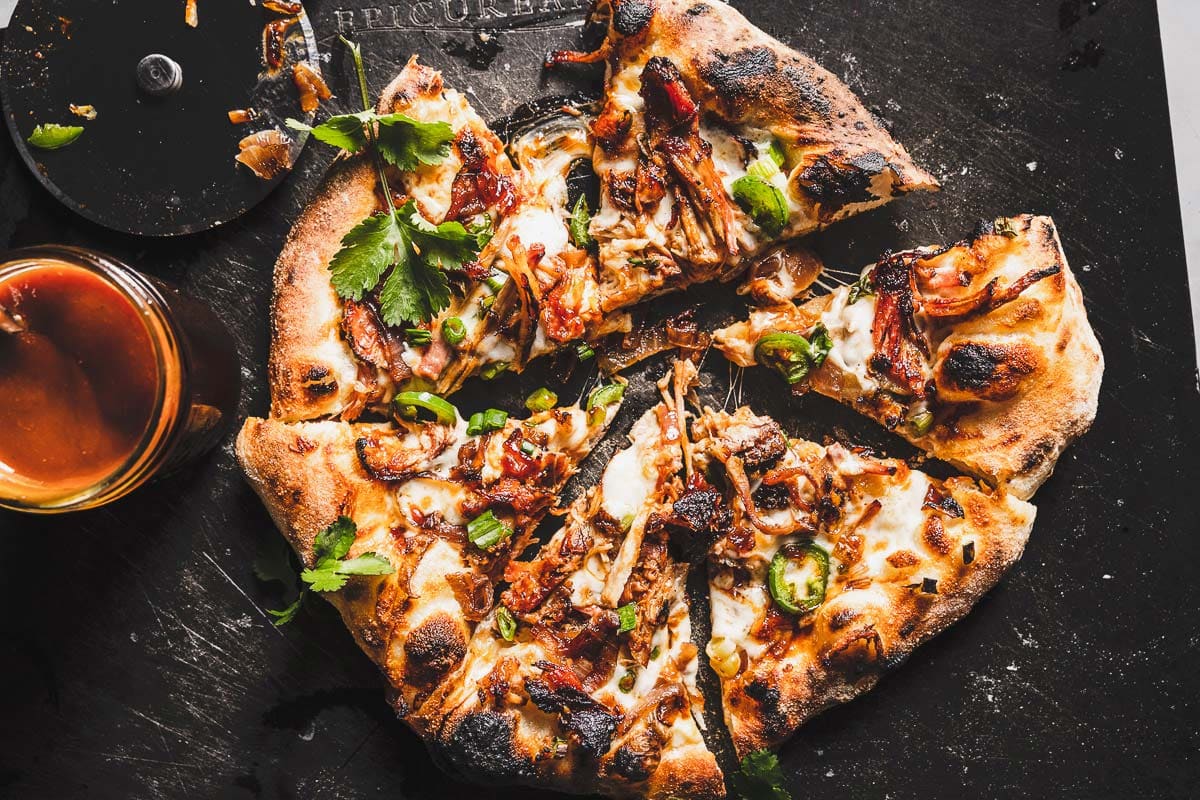 More Leftover Pulled Pork Recipes to Try
If you made pulled pork over the weekend or have some in the freezer, these are my favorite ways to use it in totally different ways.
Check out all the Leftover Pulled Pork Recipe ideas
Pulled Pork Pizza Recipe
Indulge in a uniquely delicious pizza experience with pulled pork pizza. This mouthwatering pizza features tender pulled pork, tangy BBQ sauce, sweet caramelized onions, melty mozzarella cheese and a touch of heat from sliced jalapeños.
Print
Pin
Rate & Comment
Ingredients
Premade pizza dough or crust

(homemade or store-bought; see note 1)

¼

cup

barbecue sauce

Leftover pulled pork

Caramelized onions or sliced red onion

(see note 2)

Sliced green onions

Jalapeno slices

Mozzarella cheese

(shredded or torn; see note 3)

Cilantro
Instructions
Preheat your oven to as hot as it will go. That might be 450°-500° F for indoor ovens, but if using an outdoor pizza oven like an Ooni, go to 900° F. Preheat with the pizza steel or stone in the oven for a good 10 to 15 minutes. Test the steel's temperature with an infrared thermometer.

Stretch the dough out into a 12" or 16" size, depending on your oven and the amount of dough you are using. Dust the pizza peel with flour and place the stretched dough on the peel.

Spread a thin layer of BBQ sauce evenly across the dough with a flat ladle or measuring cup, leaving a small border around the edge.

Top with pulled pork, caramelized onions, green onions, sliced jalapenos and shredded cheese.

Carefully slide the pizza off the peel and into the oven, rotating every 20 seconds with a turning peel if cooking in an Ooni or outdoor oven until it is cooked through, about 2 minutes in an Ooni or 10 to 12 minutes in an indoor oven.

Remove the pizza from the oven with the peel and drizzle on a little extra BBQ sauce and garnish with fresh cilantro. Slice and enjoy!
Notes
Pizza dough: I recommend making your own. I have been using this Serious Eats recipe specifically for high-temp outdoor pizza ovens. Try out this quick and easy pizza dough recipe from King Arthur if you want an easy one. You can also usually pick up some dough balls for cheap at your favorite pizza place.
Make caramelized onions in a large skillet by sauteeing thinly sliced onions with butter, oil and a pinch of sugar over medium heat until they start to soften, about 5 to 7 minutes. Then reduce the heat and cook for 30 to 40 minutes, stirring occasionally until they deep golden color.
Mix the cheeses: You can add a little cheddar or smoked cheese to the mix with the mozzarella.
Go light on toppings: Don't add too many toppings or it won't cook through before it burns, especially in an outdoor pizza oven.
Cook time: varies by your oven. In an Ooni outdoor pizza oven at 900+° F, it's going to cook in about 2 minutes.
If you have any leftover topping ingredients, toss them with some lettuce and a buttermilk ranch dressing or a BBQ vinaigrette for a delicious salad bowl.