I might be making a new tradition this year. I have to admit that every other year that I've made stuffing, it came from a bag of seasoned stuffing mix. While it really does come out tasting great, it was time to try something a little different. The result is a Thanksgiving stuffing that will be on the table every year, if I have anything to do with it.
It's pretty obvious that sausage makes everything better, and adding it to the stuffing is pretty amazing. I've always been a big fan of having apples and raisins in the stuffing, which can add some sweetness. The rustic sourdough bread is such a perfect pairing to go with the sweetness of the fruit.
Ingredients
1/2

lb

Rustic Sourdough Bread Loaf

1

lb

Pork Sausage

, removed from casing

5

tbsp

Butter

, divided

1

Onion

, diced

3

Celery Stalks

, cut into 1/4" dice

2

Granny Smith Apples

, peeled, cored and diced

1/2

cup

Raisins

1

cup

Dry White Wine

2

cups

Chicken Stock

1

tsp

Thyme

, chopped

1

tbsp

Fresh Sage

, chopped
Instructions
Preheat oven to 300 degrees.

Slice the sourdough loaf into 1" slices, then hand tear into bite size pieces.

Place the bread pieces on a parchment-lined baking sheet, then dry in the oven for about 20 minutes, or it starts to get crunchy on the outside.

Increase the oven temperature to 350 degrees.

In a large skillet with a little oil, sauté the sausage over medium heat until it is cooked through.

Remove the sausage from skillet and add 2 tablespoons butter. Sauté the onions, celery, apples and a pinch of salt until they are soft.

Add the white wine, chicken stock, raisins and sausage back to the pan, plus the thyme and sage. Season with salt and freshly ground pepper.

Transfer to large bowl with the bread cubes and the remaining 3 tablespoons butter and mix well.

Place the stuffing in a greased 8x8" baking dish.

Bake the stuffing uncovered for 40 to 50 minutes, or until it is golden on top.
Notes
If the stuffing becomes dry after baking, you can always add more hot chicken stock to get your desired consistency.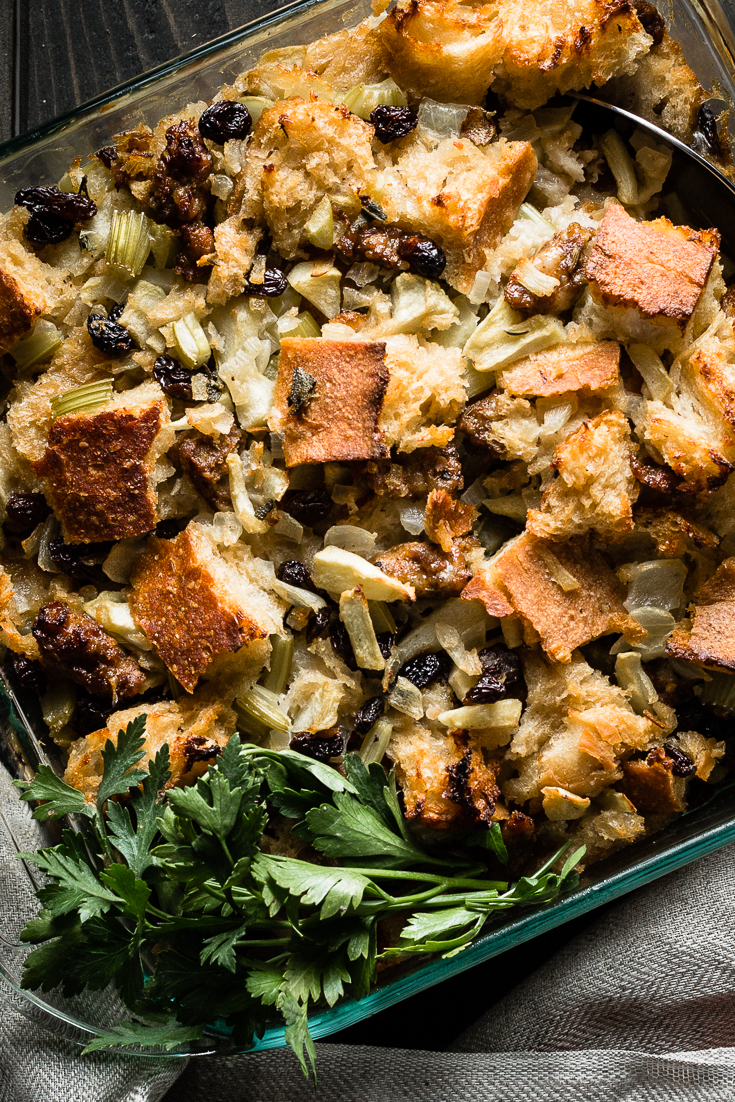 Other Thanksgiving Recipes