Garlic green beans are super easy and so satisfying. This has been our go-to side dish for some time now.
If you have ever eaten at Din Tai Fung, you have probably seen the green beans being walked by your table. They are a beautiful and delicious side that is so worth ordering.
This 15-minute recipe version was inspired by the DTF green beans, though the technique is much simpler. I recently started cooking them by sauteeing instead of blanching the green beans first because of the delicious browning and caramelized flavor you get from sautéing them in the skillet with garlic.
While blanching first is an option, garlic green beans really benefit from sautéing the whole time to develop that signature char and richness. With just 5 simple ingredients like garlic, olive oil (or butter, which I prefer) and pepper, you get so much more flavor than expected.
These Chinese-inspired green beans pair well with grilled salmon, grilled chicken, steak and pork chops and just about everything else.
Why You'll Love These Garlicky Green Beans
Simple yet flavorful - With just a few ingredients like garlic, olive oil, and pepper, these beans burst with flavor.
Quick and easy - From start to finish, these take just 15 minutes to make. A perfect quick weeknight side.
Satisfying crunch - Sautéing whole develops a nice char while keeping the beans crisp-tender.
Versatile - Their simplicity allows them to pair well with everything from salmon to pork chops.
Customizable - Change up the flavors with different oils, herbs, spices, or a squeeze of lemon.
Kid-friendly - Kids will love the crunchy texture and mild garlic flavor. A great way to get them to eat their veggies!
Ingredients You'll Need
Geen beans - The fresher the better the flavor texture and nutrition will be.
Butter and/or olive oil - I like to do a combination. The butter adds tons of flavor and helps with the browning.
Garlic - Use fresh garlic and chop it with a knife instead of a garlic press, which will make it too fine and it will burn.
Kosher salt - Green beans can take a lot of seasoning, which brings out their natural flavors.
Water or broth - Just a little at the end to finish cooking through steam makes a big difference, and broth adds more flavor.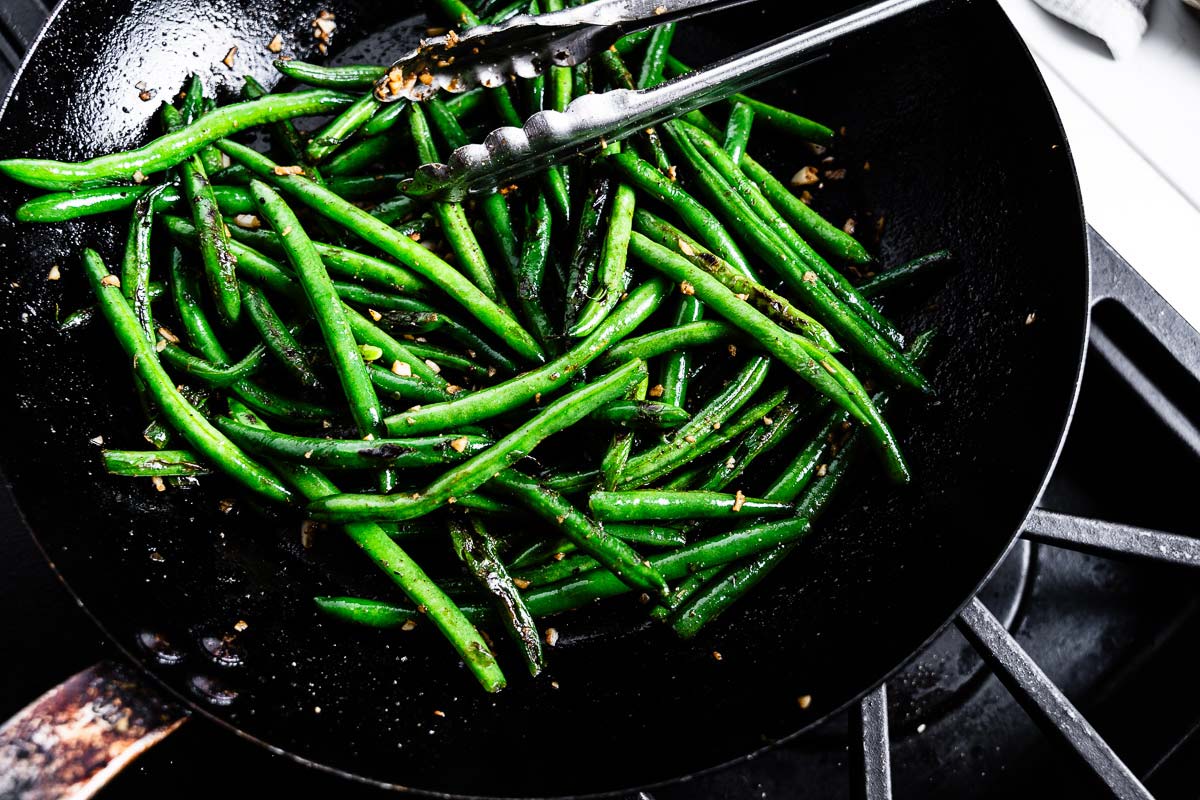 How to Saute Green Beans
Rinse and trim the stem end of 1 lb green beans. Cut into bite-size pieces if desired. Dry thoroughly with paper towels.
In a large skillet over medium-high heat, add 2 tablespoon olive oil and/or butter.
Add green beans and cook for 2 minutes without stirring. Season with salt.
Reduce heat to medium. Stir frequently for 5-6 minutes until bright green and blistered.
Add 4 cloves of minced garlic. Cook for 2 minutes, stirring frequently.
Add 1 tablespoon water or broth and steam for 1 minute until just tender.
Taste and season with more salt and pepper as needed.
Transfer to a serving dish. Enjoy immediately!
Substitutions and Add-Ins
Feel free to customize these garlic green beans to suit your taste and what you have on hand:
Minced shallot or onions - Other alliums are such a great addition to green beans.
Acid - Brighten up the flavors with a squeeze of lemon or lime juice right before serving.
Sesame Seeds or Toasted nuts - Sprinkle on sliced almonds, pecans, or pine nuts for crunch.
Veggies - Mix in diced bell peppers, mushrooms, or cherry tomatoes.
Cheese - Toss with grated parmesan at the end.
A Few Pro Tips
Use the freshest green beans possible - this improves texture, flavor, cooking evenness and appearance.
Chop garlic with a knife rather than pressing - pressing makes it too fine and prone to burning in the hot pan.
Determine doneness by color and taste - different beans cook at different rates, so visually inspect for when they turn bright green and taste test for tenderness.
Add more oil or butter if the pan looks dry - the fat helps the beans cook evenly.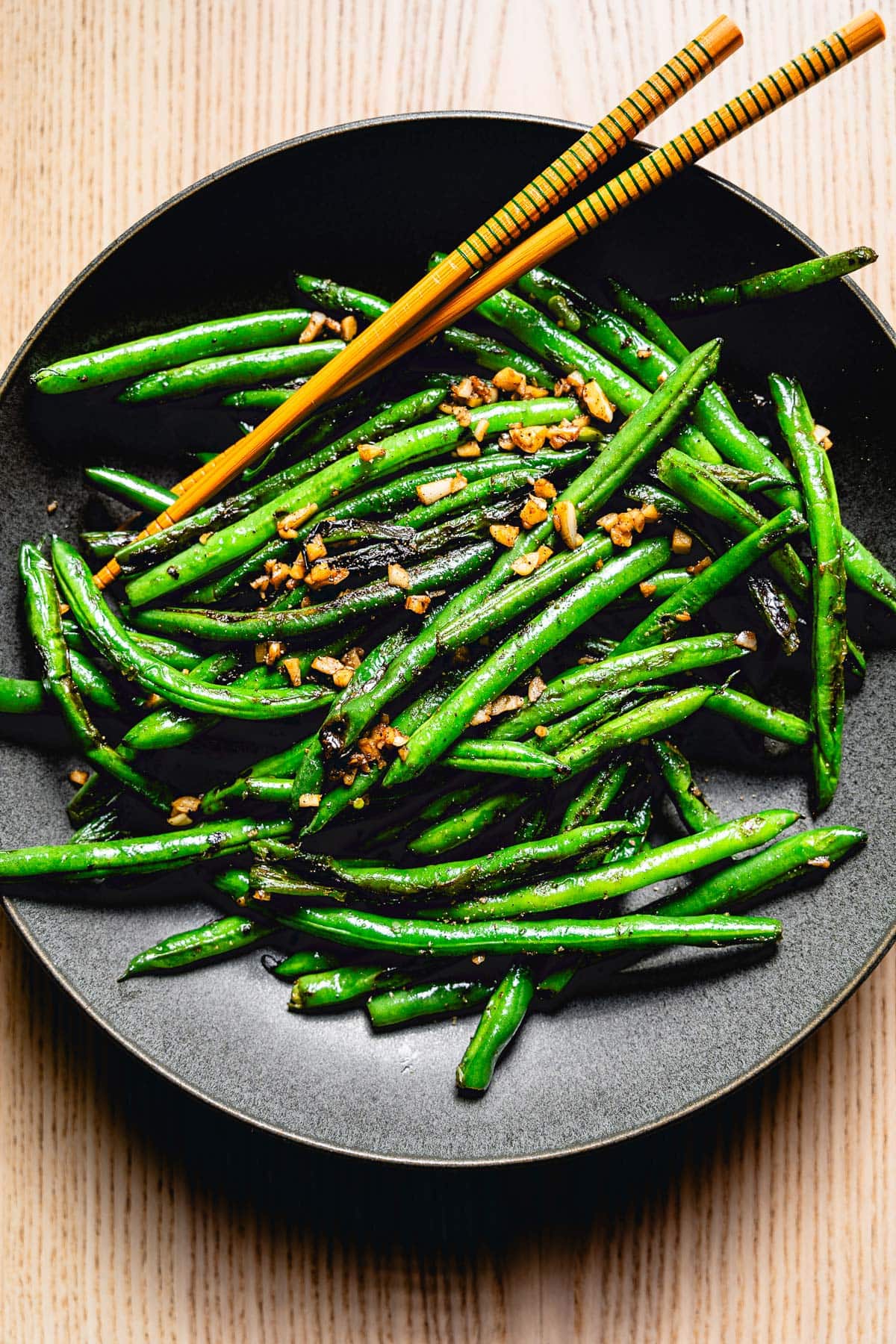 Storing and Reheating Leftovers
These green beans can be made up to 4 days ahead and re-heated before serving.
To store:
Allow cooked green beans to cool completely, then transfer to an airtight container.
Refrigerate for up to 4 days.
To reheat:
For stove-top, sauté beans over medium heat in a little olive oil or butter for 2-3 minutes until warmed through.
For microwave, place in a microwave-safe dish with a splash of water. Microwave in 30-second intervals until warmed through.
More Recipes You'll Love
Sauteed Green Beans with Garlic Recipe
Quick and easy side with just 5 simple ingredients and about 15 minutes from start to finish. The green beans are blistered for flavor, while still crunchy, fresh and garlicky.
Print
Pin
Rate
Ingredients
1

lb

green beans

2

tablespoon

butter and/or olive oil

4

cloves

garlic - peeled and chopped

Kosher salt

Ground pepper pepper

1

tablespoon

water or broth
Instructions
Prepare the green beans by rinsing, trimming the stem ends, and patting them completely dry. For smaller bites, cut the beans in half or into 1-inch pieces.

Heat a large heavy-bottom skillet or wok over medium-high heat. Once hot, add the olive oil or butter (or both).

Add the green beans and cook for 2 minutes, without stirring, so they can begin to brown. Season well with kosher salt.

Reduce heat to medium and stir frequently, cooking for 5-6 more minutes until beans are bright green and charred in some spots.

Add the chopped garlic (and other add-ins if using) and cook for 2 more minutes, stirring constantly, until softened.

Add 1 tablespoon of water or broth to the pan and finish cookng for 1 minute to steam the beans until just tender but still crunchy.

Taste and season with more salt and pepper as desired.

Transfer to a serving dish and enjoy warm.
Notes
Tips
Use the freshest green beans - The fresher they are the better the texture, flavor, cooking evenness and appearance will be.
Use fresh garlic and chop it with a knife. A garlic press will make the garlic too fine and it will easily burn.
When are they done? Different size and types of green beans cook at different times. Looking at the color for when it turns bright and taste testing is the best way to know when they're ready.
Add more oil or butter if the skillet looks dry.
Optional add-ins
Chopped shallot
Red pepper flakes
Sesame seeds or toasted sliced almonds
Lemon juice and zest
Grated Parmesan (added at the end)
Nutrition
Calories:
102
kcal
|
Carbohydrates:
9
g
|
Protein:
2
g
|
Fat:
7
g
|
Saturated Fat:
1
g
|
Polyunsaturated Fat:
1
g
|
Monounsaturated Fat:
5
g
|
Sodium:
8
mg
|
Potassium:
251
mg
|
Fiber:
3
g
|
Sugar:
4
g
|
Vitamin A:
783
IU
|
Vitamin C:
15
mg
|
Calcium:
48
mg
|
Iron:
1
mg