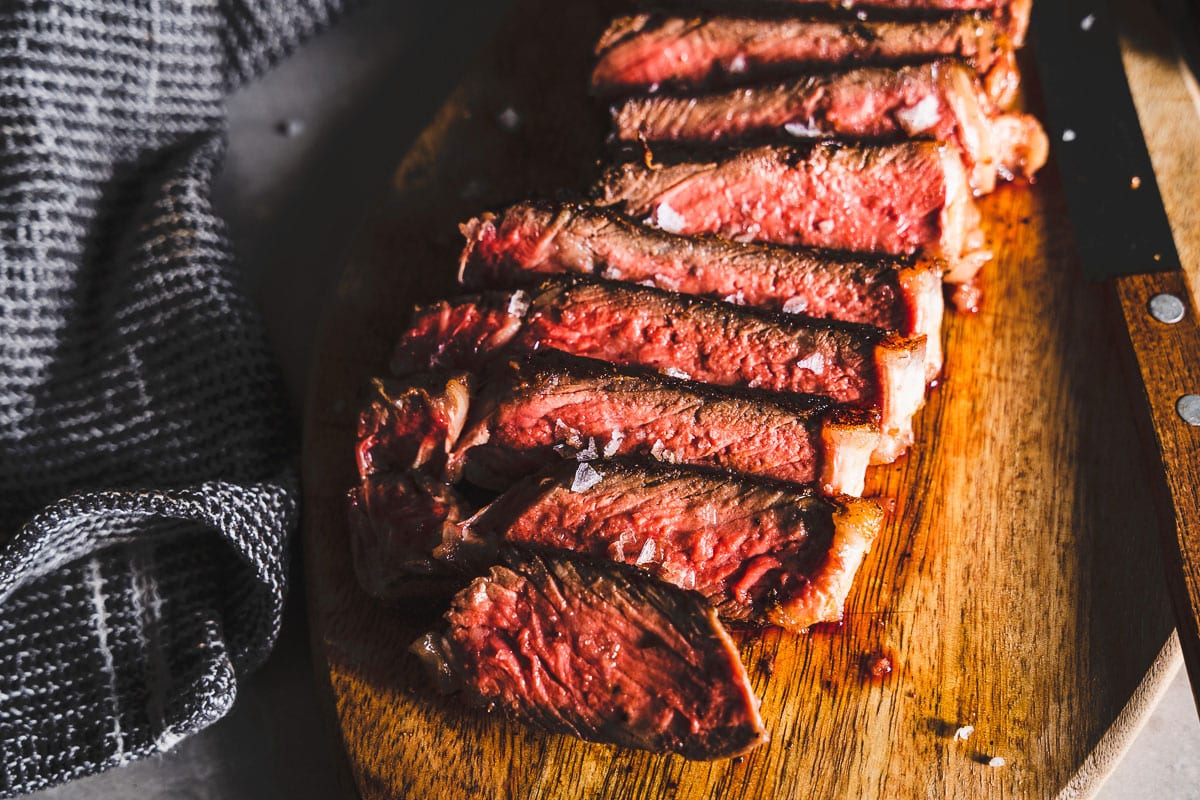 With all the ways to cook a steak (and there are a lot of great ways from sous vide to reverse searing to grilling, etc.), there's just something about the flavor you can develop in a skillet. It's 100% contact with the pan.
What Is a New York Strip Steak?
The steakhouse favorite, New York strip is well-marbled and rich, yet leaner than a ribeye.
It's a "beefy" cut in both flavor and texture, taken from the "short loin subprimal," part of the loin primal, which is the source of a lot of premier steaks. Alternative names include Kansas City steak (a New York with the bone in), ambassador steak, top loin steak, shell steak, sirloin strip steak, club steak and more.
The Fast Flip Cooking Method
With a good steak, the goal is always to cook it perfectly from edge to edge without the dreaded gray band, but still have a flavorful crust. This modern "quick flip" method turns tradition on its head, by starting the steak in a cold, dry skillet with no fat. It's so easy to do and it has some big benefits.
This technique sounds like the complete opposite of tradition. As in many things, the popular or usual solution is not always the best. One of the most important parts of developing flavor on a steak is the crust on the outside, but it can be easy to overcook over high heat in a skillet or grill. The quick-flip method gets you an even doneness from edge to edge, and with a superior crust.
I usually avoid cooking steak inside because of the high heat and smoke that fills the house and can be smelled for the next few days. Not to mention all the grease splatter that requires a cleaning crew. This method fixes these problems, and the steak tastes even better.
Why It Works So Well
Starting with a cold skillet with no fat in it allows you to slowly render the fat out of the steak, giving it its own fat to brown the outside. Frequent flipping evenly cooks it on both sides and through the middle, without one side overcooking or a ring of overcooked meat appearing. By gently cooking the steak, the result is more tender and you get to taste more of that delicious beef!
Big Juicy Benefits to the Fast Flip
Less smoke!
No grease splatter.
Faster, more even cook than just flipping once.
More tender - from the gentle cook.
Superior crust with more flavor.
Not much carryover cooking because of the low heat.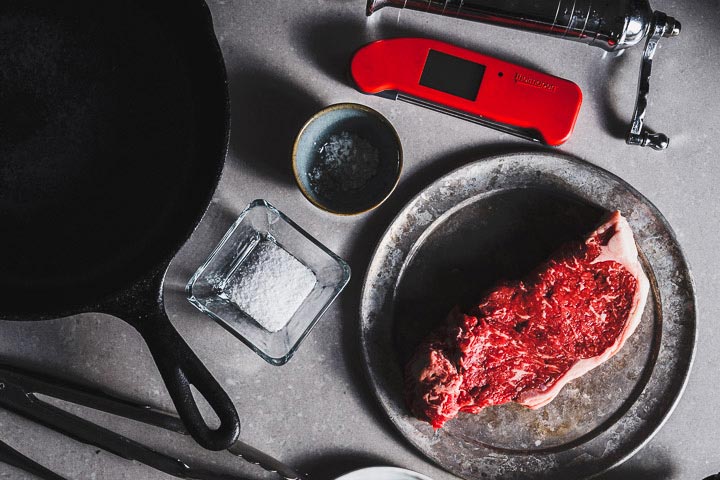 What You'll Need: Ingredients & Tools
Keys to the Perfect Strip Steak
Season it early - Salting the steak ahead of time acts like a dry brine. Do it at least 45 minutes and up to 48 hours before it hits the pan.
Dry the surface of the steak before cooking for the best crust.
Flip every 2 minutes - Watch the clock.
Take the temp - Insert the probe thermometer through the side, not the top.
Rest - A quick 5-minute rest is all it needs to relax and redistribute the juices, and it's short enough to stay nice and hot, which is how a steak should be eaten.
How to Cook a New York Strip Steak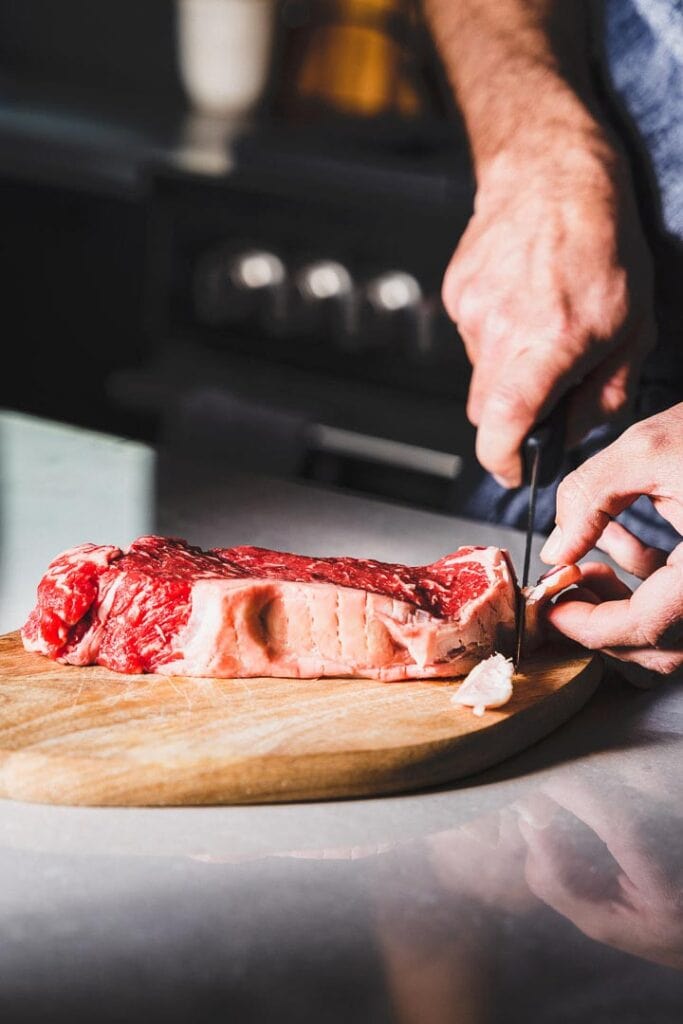 1. Trim the Steak
Trim down the fat on the sides of the strip steak to about ¼". If it is too thick, the surface of the steak will not evenly come into contact with the skillet, since the fat is stiffer.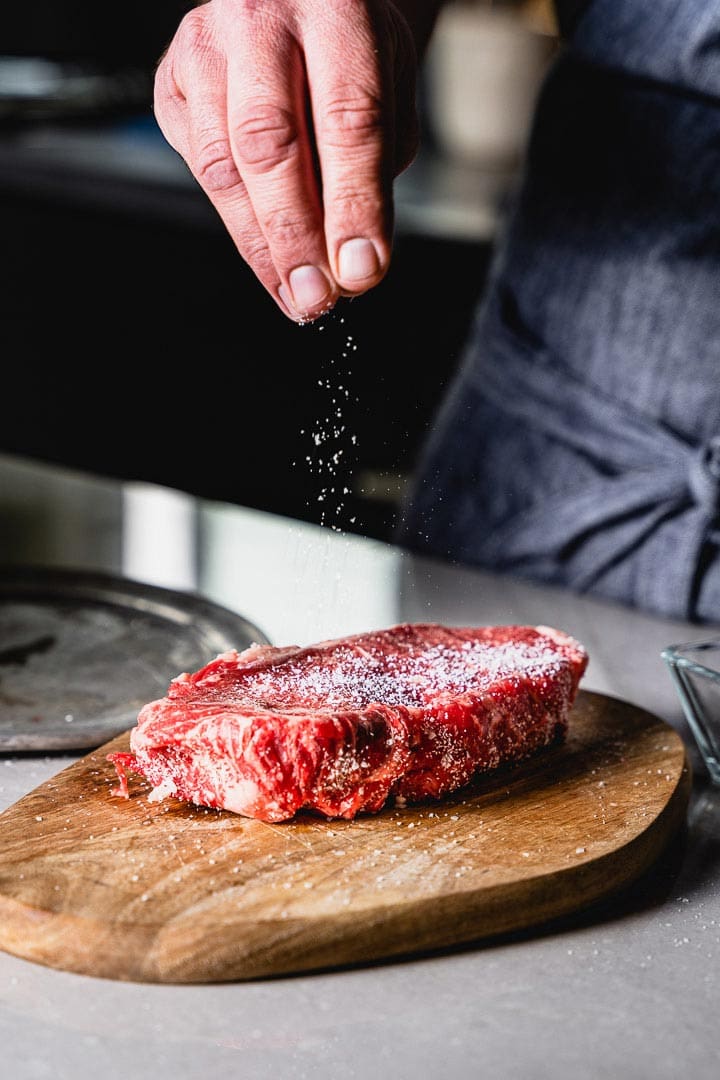 2. Season the Steak
Season all sides with plenty of kosher salt. Preferably season 24 hours before cooking, but at least 45 minutes in advance to allow the salt to penetrate into the meat. Use about 1 teaspoon of Diamond Crystal brand or ½ teaspoon of Morton brand per steak. Refrigerate uncovered until it's time to cook.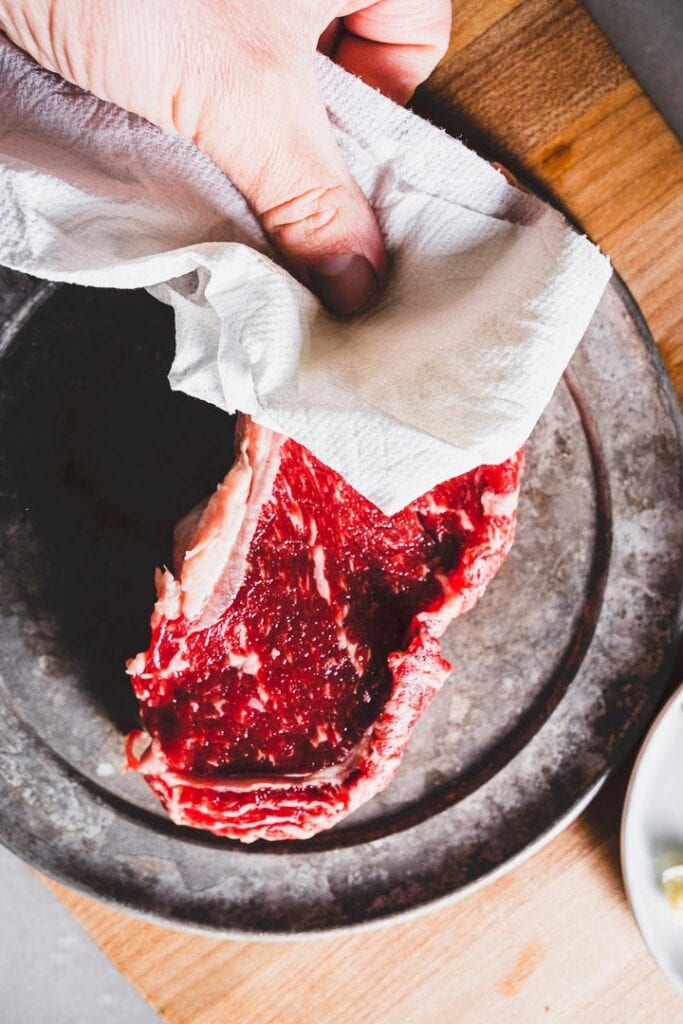 3. Pat It Dry
Thoroughly dry the surface with a paper towel to remove moisture and make for a better sear.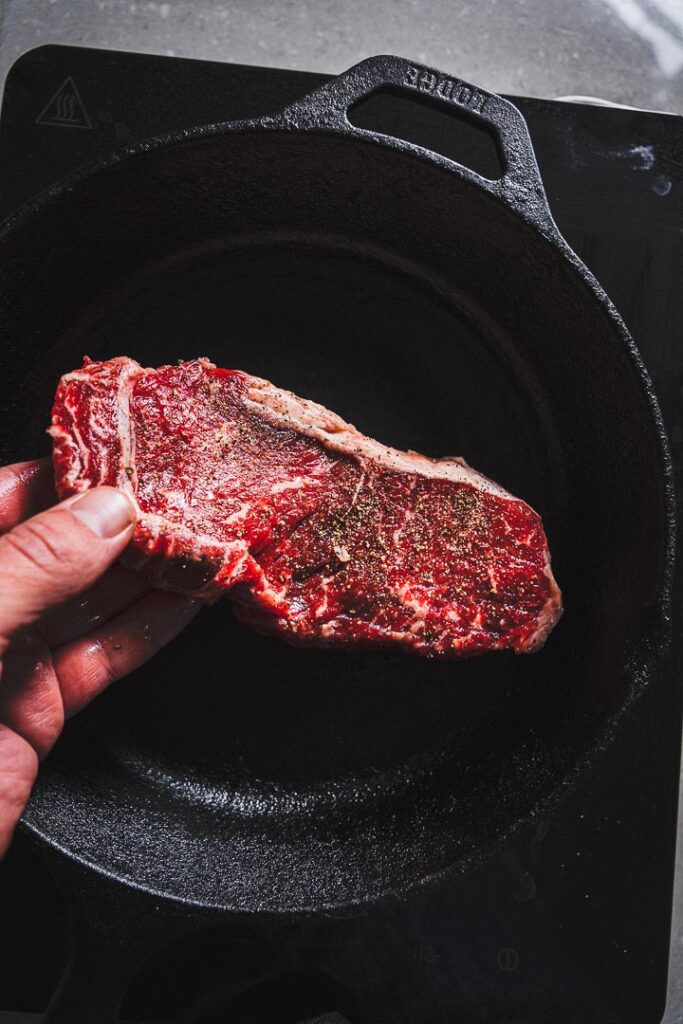 4. Sear the Steak
Place the steak in a cold well-seasoned cast-iron skillet, or even a nonstick skillet, then place over high heat.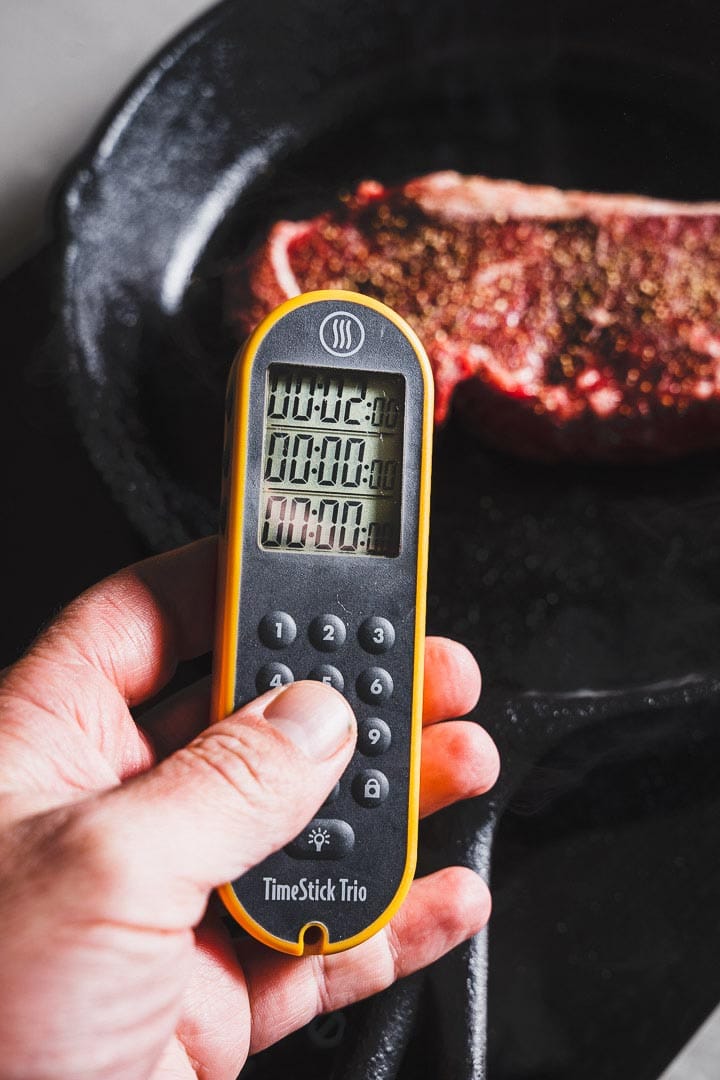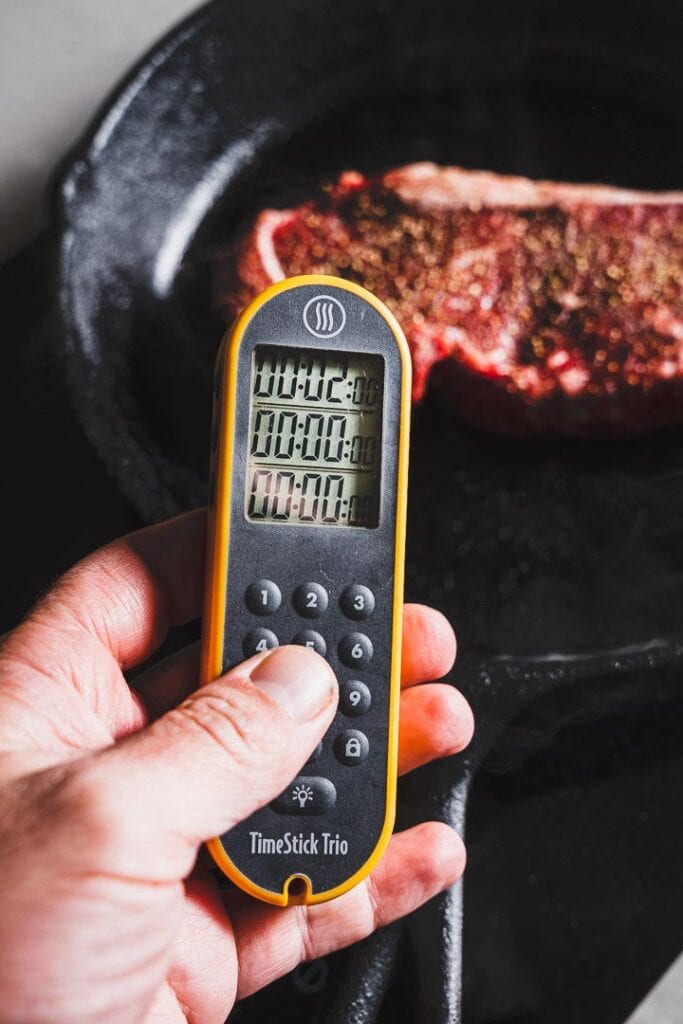 5. Set Timer for 2 Minutes
You will flip the steak every 2 minutes for the next 10 to 14ish minutes, so an easy-to-use timer that you can start again is key. Your phone timer will also work.
6. Flip the Steak Every 2 Minutes
Using tongs, turn the steak and set your timer again.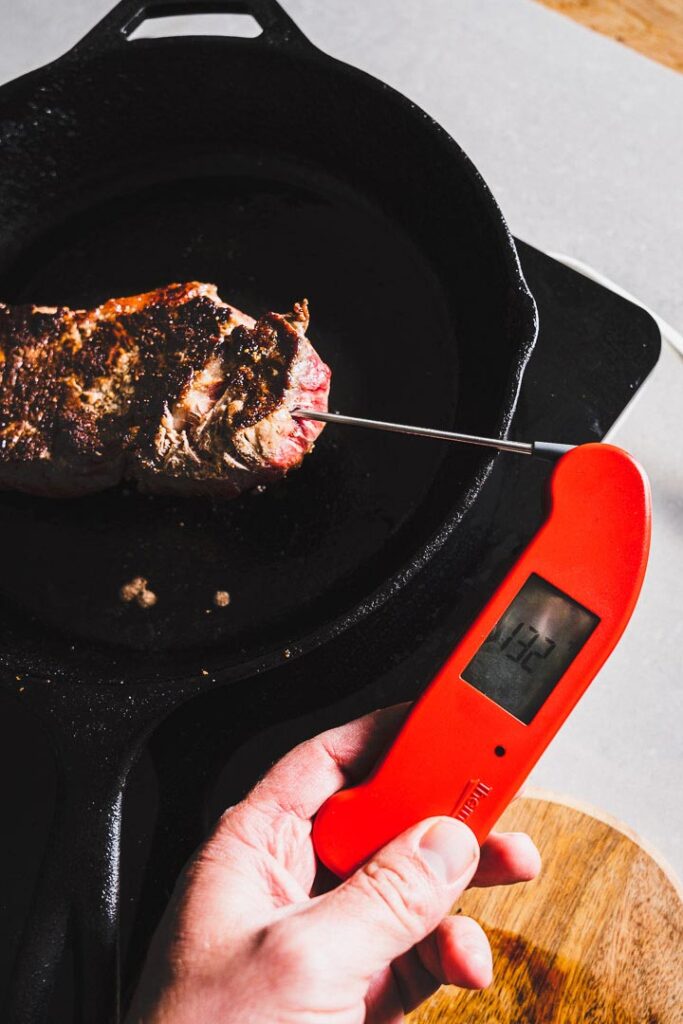 7. Check the Temperature
After about 8 minutes (or 4 flips), check the internal temperature by going through the side (not the top).
When it reaches a few degrees before the desired doneness, remove the steak from the skillet. This will be a total of 10 to 14 minutes for medium-rare (130-134° F).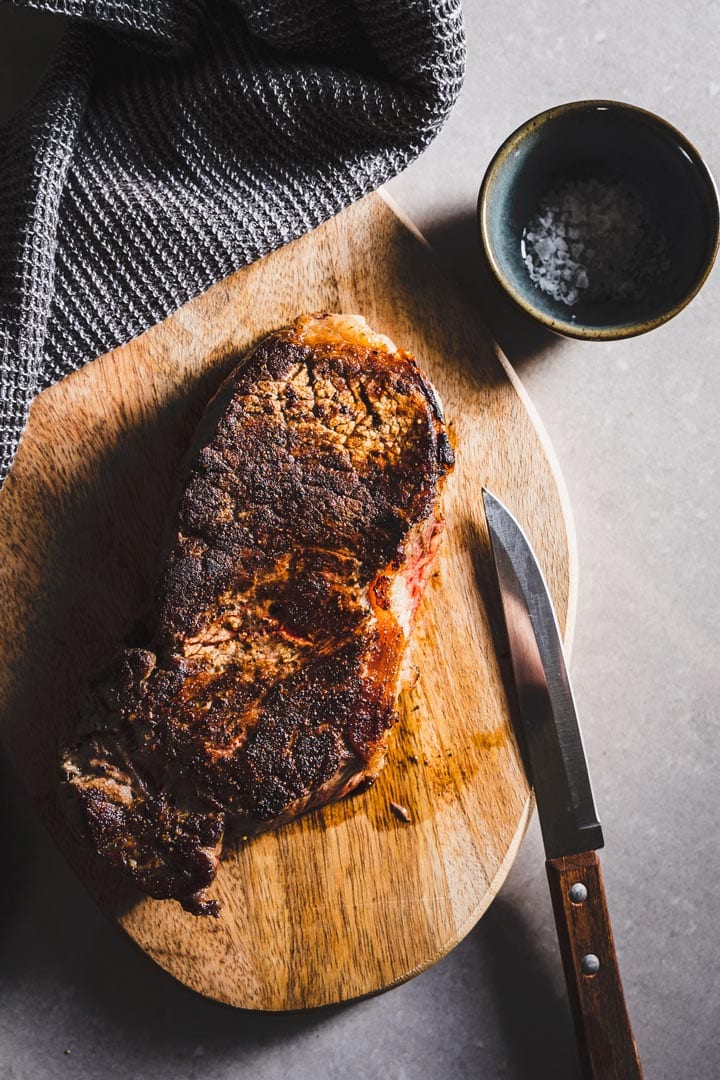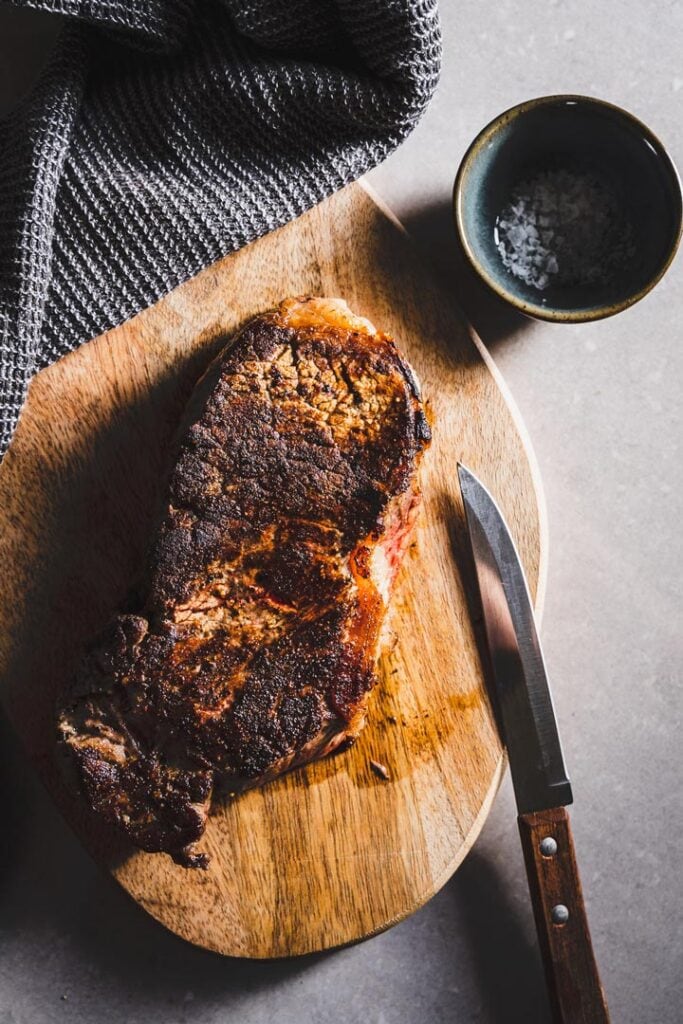 8. Let It Rest
Rest uncovered on a cutting board for 5 minutes to allow the juices to redistribute.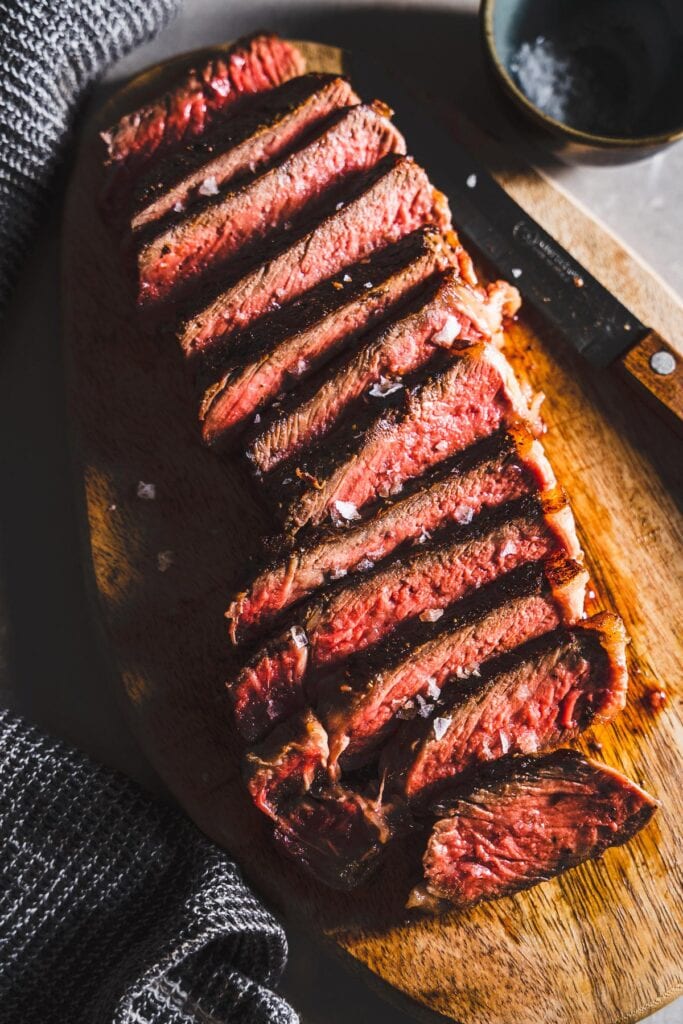 9. Slice and Serve
Slice the steaks, if desired and sprinkle with some finishing salt, such as Maldon salt flakes for an extra burst of flavor and crunch.
Doneness Temperatures
| Doneness | Temperature |
| --- | --- |
| Rare | 120-129° F |
| Medium-Rare | 130-134° F |
| Medium | 135-144° F |
Trim the fat for even cooking - Strip steaks usually have a firm section of fat on one side, which can prevent contact with the pan on that side, and can cause uneven cooking. Shave off some of the thicker part of the fat.
Salting - 45 minutes to 24 hours ahead of time, or right before the pan. Less than 45 minutes but more than a couple is the worst, as it draws moisture out of the meat without allowing the salt flavor to soak back in.
Induction vs gas cooktops - There is a difference in how fast they heat up. Gas stoves are more intuitive and easier for the uninitiated to read. Induction stoves heat the skillet up super fast, so be aware of this when turning up the heat for the first few minutes; instead of high, you might want to go medium-high.
Cook by temperature and not by time - Always rely on a thermometer. Doneness is tricky to measure by time or looks.
FAQs
How long should I cook a strip steak?
With the quick flip method, it will take about 10 to 14 minutes total cook time, depending on the thickness and starting temperature of your steak.
How do you make New York strip steak tender?
Dry brine in salt 24 hours in advance, cook it lower and slower, slice against the grain and give it time to rest. You can even use a meat tenderizer.
Can you cook from frozen?
You absolutely can cook a steak from frozen, and this quick-flip method is perfect for it for even cooking.
When should you salt a strip steak?
At least 45 minutes prior to cooking, and up to 24 hours ahead. If you can't salt it ahead of time, season it right before cooking.
Storing and Reheating
Store the cooked strip steak sealed in the refrigerator for up to 3 days. It can also be vacuum sealed and kept in the freezer for up to 6 months. Quickly reheat leftovers in a warm skillet for 1 to 2 minutes per side, or slowly in a 375° F oven until the temperature reaches around 130° F and is heated through.
What to Serve It With
A steak without potatoes is just a steak? I think I'll take some potatoes on my plate, please! Creamy mashed potatoes, scalloped potatoes, cast-iron skillet marble potatoes. And some veggies are great, too! Simple sauteed broccolini or green beans are a favorite.
Sauce Inspiration: Herb butter, compound butter, pan sauce, chimichurri, Bearnaise.
More Delicious Steak Recipes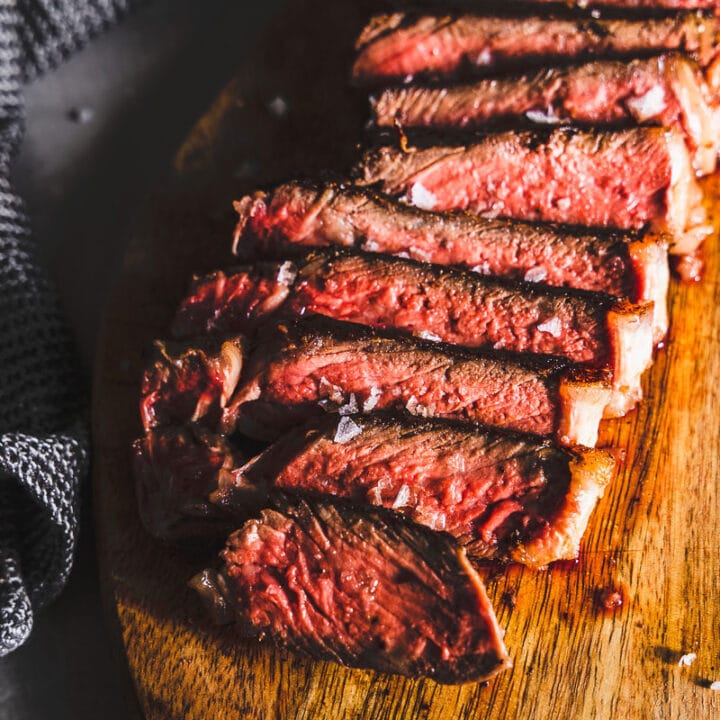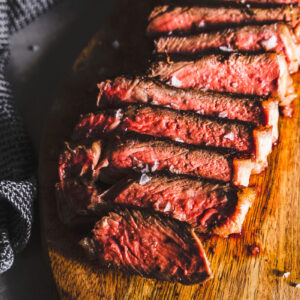 New York Strip Steak
A technique for mastering the perfect strip steak that only requires a skillet. The fast-flip method, where you flip the steak every 2 minutes, cooks a perfect steak every time.
Print
Pin
Rate
Ingredients
1 or 2

New York strip steaks,

at least 1 ½" thick, 12 to 16 oz each

Diamond kosher salt

Black pepper
Instructions
Prep the steak. Trim down the fat on the side for more even contact with the skillet. Heavily season with kosher salt at least 45 minutes before cooking, or preferably 24 hours ahead of time. Then place in the refrigerator uncovered on a cooling rack until it's time to cook.

Remove the steak from the refrigerator and pat dry with a paper towel. Season with pepper.

Sear the steak. Place the cold steak in a cold skillet and turn the heat to high. Set your timer for 2 minutes. After 2 minutes, flip the steak and reduce the heat to medium-low.

Continue flipping every 2 minutes until the internal temperature reaches 130° F to 134° F for medium-rare, about 10 to 14 minutes total. Start testing the temperature after about 8 minutes with an instant-read probe meat thermometer by going through the side (not the top) to get an idea how much longer it will cook.

Sear the sides of the steak briefly toward the end of the cook.

Remove the steak from the skillet and rest for 5 minutes uncovered on a cutting board. Slice against the grain and sprinkle with a little finishing salt. Or leave whole. Enjoy!
Notes
Season with about 1 teaspoon of Diamond brand kosher salt per pound of beef OR ½ teaspoon of Morton brand kosher salt.
If you can't salt in advance, then salt just before cooking.
A timer is a must. It's easy to forget to flip every 2 minutes.
Bring out a notepad and a pen to keep track and tally up your flips.
Nutrition
Calories:
381
kcal
|
Protein:
35
g
|
Fat:
26
g
|
Saturated Fat:
10
g
|
Polyunsaturated Fat:
1
g
|
Monounsaturated Fat:
11
g
|
Cholesterol:
136
mg
|
Sodium:
1251
mg
|
Potassium:
533
mg
|
Calcium:
40
mg
|
Iron:
3
mg