Have you ever had Shishito Chile Peppers? I am a little embarrassed to say that I have never cooked with or even tasted Shishito Peppers until making this dish. I know they are all the rage these days, but for whatever reason, they haven't made it onto my plate. It's probably because I'm not a huge fan of really spicy foods. Well, it turns out that these are super mild and even have a slightly sweet flavor when cooked. Supposedly, one in ten peppers can be hotter than the rest.
Since I don't love super spicy foods, I like to balance anything spicy with something a little sweet, and that's why I paired them up with the sweet pork sausage and a creamy slightly spicy sauce. All the flavors and textures go great on a bed of rice.
After trying them, I can definitely say that they are highly addictive and I will be picking more up next time I head to the store. One thing I can promise is that you will be craving more after trying them.

What is a Shishito Chile Pepper?
A Green Shishito Chile pepper is a mild-flavored chile pepper originally from Japan. It is thin-walled and about the size of a finger. The peppers are usually harvested when they are green, but if they would turn red if left unpicked for longer. They are available all year but are at their best during the summer months. The heat level in Scoville units ranges from  100 and 1,000.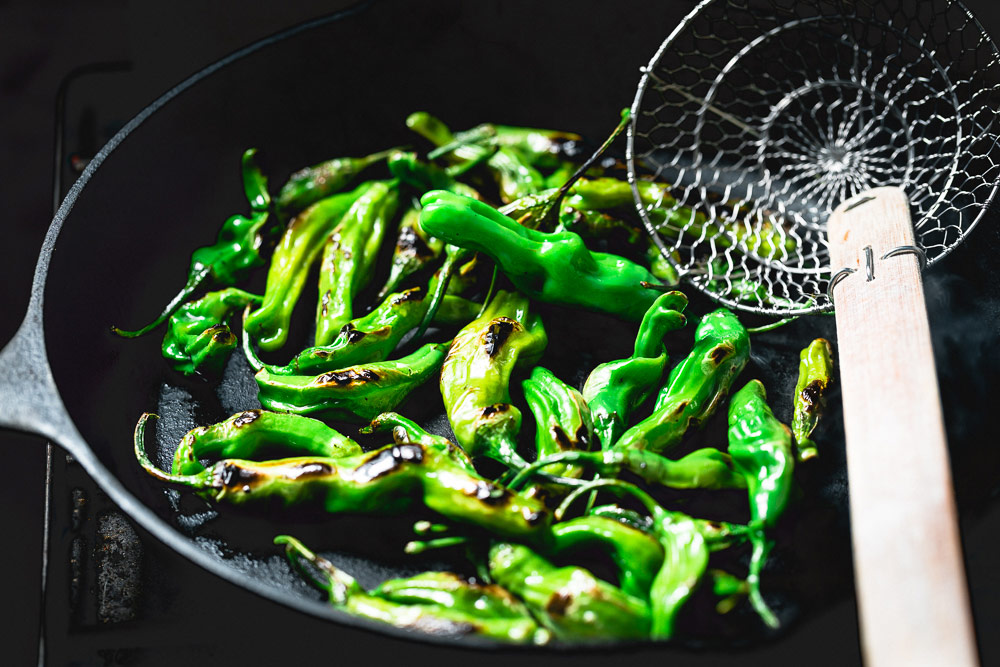 Heat your cast iron skillet over high until it is smoking hot. Be sure to have your hood vent on so you don't smoke up the kitchen. The smoking hot pan is really important because you want them to "blister," but don't want to cook them too much so they still have a crunch when you bite into them. 3 to 5 minutes should do it. Also, cooking at such high heat also gives the peppers a slight smoky essence. First cook the peppers then the sausage separately so you can control the cook times of each.

The sausage I used was called "Hawaiian Pork Sausage" from a local meat company, which tasted very smilier to bratwurst. Brown the sausage on both sides for the best flavor and cook through, but be careful not to overcook it.

After both the shishitos and the sausage are cooked, add them both back to the skillet to warm through and add some of the pan juices to flavor the peppers.
Ingredients
1

lb

Hawaiian pork sausage or bratwurst

6

oz

shishito peppers

4

teaspoon

canola oil (or similar cooking oil), divided

kosher salt

2

teaspoon

sriracha hot sauce

¼

cup

mayonnaise

2

cups

cooked rice
Instructions
Cut the sausage into ½" rounds.

Heat a 12" cast iron skillet over high heat until it is smoking.

In a medium bowl, combine the shishito peppers with 2 teaspoons of the canola oil until they are well coated.

Cook the shishito peppers in the cast iron skillet for 3 to 5 minutes, stirring frequently until they blister in places.

Place the peppers back in the bowl and season well with kosher salt.

Reduce the heat to medium-high and add 2 more teaspoons of oil to the skillet, then add the sausage rounds.

Cook the sausage for a few minutes on each side until cooked through.

Add the peppers back to the skillet to warm through.

To make the sauce; combine the sraracha with the mayonnaise in a small bowl. Add more sraracha if you prefer it spicier.

Serve the peppers and sausage over the rice and drizzle the sauce on top.