The crispiness you get from smashing the potatoes into a hot skillet gives a pretty amazing result. They are cooked twice, but there's almost no labor involved. The first is to boil (or steam) the potatoes to cook them on the inside (which would take forever in the skillet). The second is to cook them in hot oil in a cast iron skillet to crisp them up on outside into perfect golden bites.
In case you are wondering "why the heck would you smash a perfectly good potato?" Smashing gives the potato maximum surface area for contact with the hot skillet to make them super crispy.
I used Peewee Fingerling Potatoes (pictured below). They come in a variety of yellow, purple and red colors. The texture is a creamy, buttery taste. Any fingerlings or baby potatoes will work great. All have a slightly different texture and the different colors make for a nice presentation. The variety is so great!
How to Make Smashed Fingerling Potatoes
The fingerling potatoes are cooked twice to ensure they are perfectly cooked on the inside without burning the outside. First boil (or steam) the potatoes in salted water until they can be pierced with a paring knife, but are not completely cooked.
Let them cool slightly, and then you can either smash them on a cutting board, or you can smash them right into the skillet with the back of a spatula. I find it easiest to smash them before placing them in the skillet.
Having enough oil in the skillet is essential to crisping without burning the potatoes. You will be removing the potatoes with a slotted spatula, so most of the oil stays behind in the skillet.
Use an oil that has a high smoke point, like canola or vegetable oil. I wouldn't recommend using olive oil, which has a lower smoke point and will burn at high temperature.
Once the potatoes are golden and crispy on both sides, carefully remove them and immediately season well with kosher salt & freshly ground pepper.
You can add herbs like rosemary or thyme to the skillet while the potatoes cook, which will add flavor to the oil. Add soft herbs (like parsley or chives) after the potatoes finish cooking so they stay bright green.
What to Pair with Smashed Fingerling Potatoes
Not only are these smashed fingerling potatoes great as a side with steak, pork chops, chicken, fish or any other protein, but they are amazing as breakfast potatoes.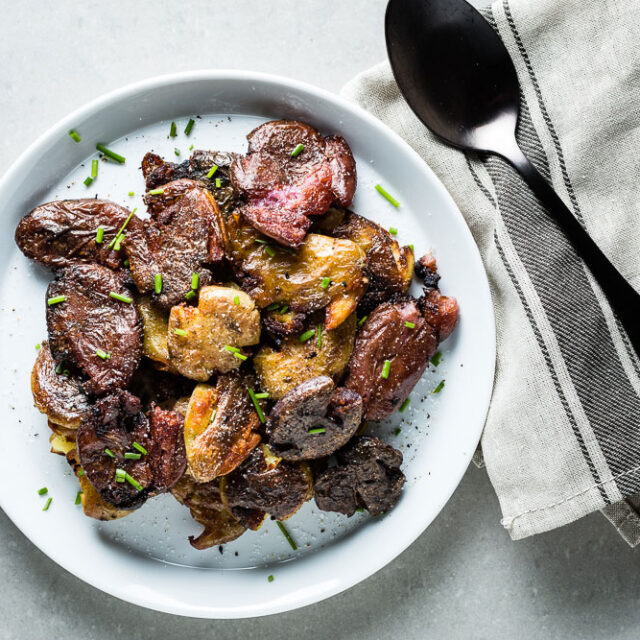 Crispy Smashed Fingerling Potatoes
Crispy and crunchy on the outside, buttery on the inside. Smashed fingerling potatoes are a perfect and super easy side for any meal.
Print
Pin
Rate
Ingredients
1

lbs

Mixed Fingerling Potatoes

, rinsed

Canola or Vegetable Oil

Kosher Salt & Freshly Ground Pepper

Chopped Fresh Herbs

, such as chives, parsley, thyme
Instructions
Bring the potatoes to a boil in salted water, then reduce to a simmer until they can be pierced with a paring knife, but are not fully cooked; about 15-20 minutes.

Carefully transfer the hot potatoes to a cutting board and let them cool enough to handle and dry off any excess water.

Smash the potatoes on a cutting board with the back of a spatula to slightly flatten them.

Heat enough canola oil to cover the bottom of a 12" cast iron skillet over medium-high heat just until it starts to shimmer. A good amount of oil is required to crisp the potatoes without burning them.

Carefully place the par-cooked potatoes into the hot skillet and cook on each side until golden brown and crispy.

Remove the potatoes from the skillet with a slotted spatula, then immediately season well with kosher salt & freshly ground pepper, and toss with fresh herbs.
Notes
You can par cook the potatoes the day before to make this process even quicker.