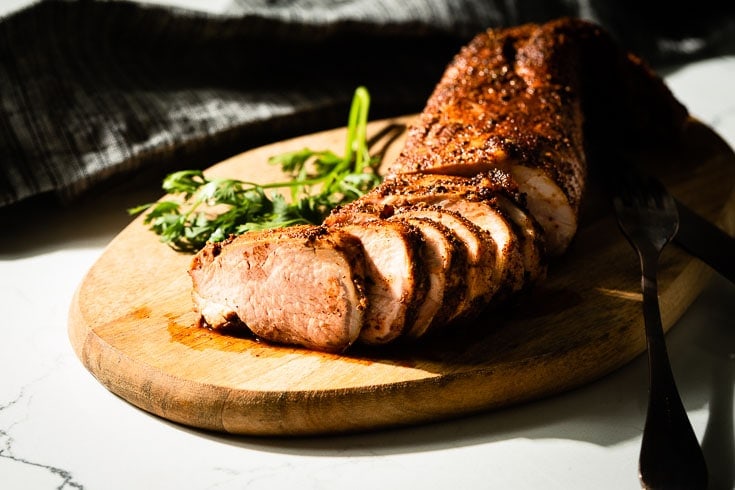 Savory, smoky and sweet, perfectly smoked pork tenderloin with a beautiful BBQ appearance. And the leftovers (if you have any) are even better the next day.
One of the first things I ever smoked, in fact the first thing I ever smoked, was a pork tenderloin. It came out perfect on the first try and I was instantly hooked. The great news is that yours is going to come out just as perfect by following this simple recipe.
A brine is key for smoking low-fat proteins like pork tenderloin, to add flavor and keep them super juicy. When you smoke a fattier piece of meat, like a pork butt or a brisket, they already have tons of flavor and moisture from the fat, so a simple dry rub will do the trick. But for this lean pork, the brine is key.
Pork tenderloins are really accessible and affordable. Most grocery stores carry them, but the best deal is at Costco, where you can get a 2 pack with a total of 4 pork tenderloins for about $12. This can feed around 16 people.
Pork Loin vs Pork Tenderloin
There's quite a big difference between pork loin and pork tenderloin. A literal big difference in size. They are from different parts of the animal and have much different textures, and are generally used for different cooking methods. The tenderloin is the most tender part of the pig.
Pork loins are usually used for roasts, being cut into steaks or are great as smoked pork loin; pork tenderloins are much smaller and more tender so they are best when cooked more quickly on a hot grill, in a skillet or in this case, quickly smoked.
When it comes down to it, pork tenderloin is almost always a better choice unless you need to feed a huge crowd. You should really never substitute pork loin for pork tenderloin.
Brine for the Smoked Pork Tenderloin
A wet brine is key for adding extra flavor and keeping the tenderloin juicy while it smokes, since it is so lean. The brine can be as simple as water, salt and sugar; but adding a few extra aromatic ingredients can add even more depth. I like to add crushed garlic cloves, herbs such as thyme, rosemary, peppercorns and a few spices such as chili powder and paprika.
A dry rub can also be applied (also totally optional) after the brine is complete. This will give the meat some nice color on the outside and even more flavor.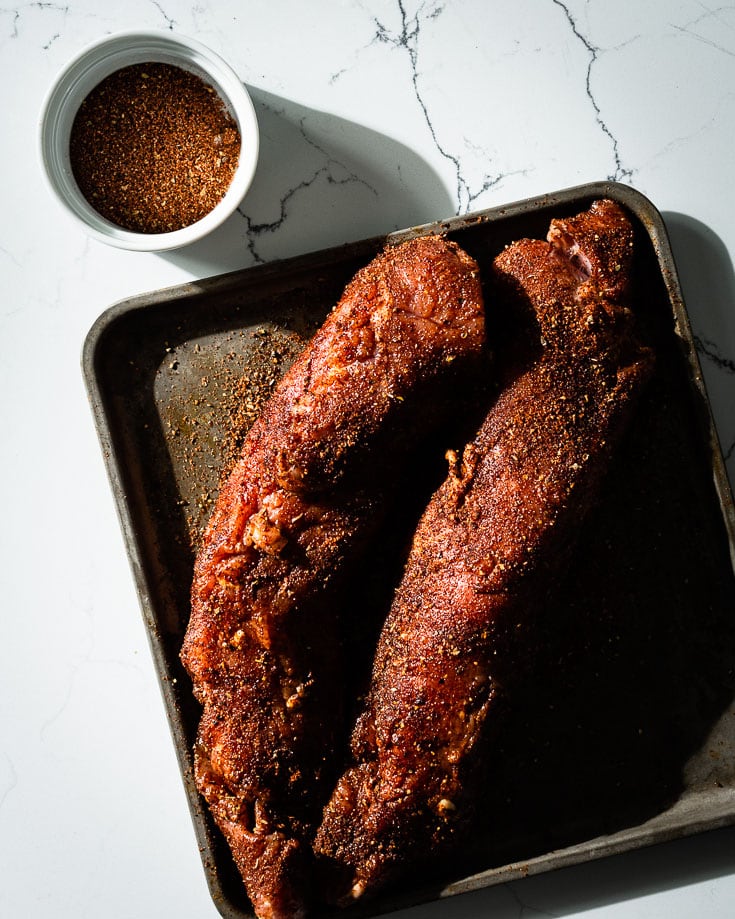 How to Smoke Pork Tenderloin
It all starts with a wet brine for 2 to 4 hours. Be sure to rinse the brine off thoroughly and dry with paper towels before smoking.
Drizzle a little canola oil on the tenderloins and apply your favorite dry rub. (Note: If you brine the pork, don't use much salt in the rub)
Smoke the tenderloins at 225 to 250 degrees F until the internal temperature reaches 145 degrees F, about 1 to 1 ½ hours.
Transfer to a cutting board and let rest for 10 minutes before slicing and serving.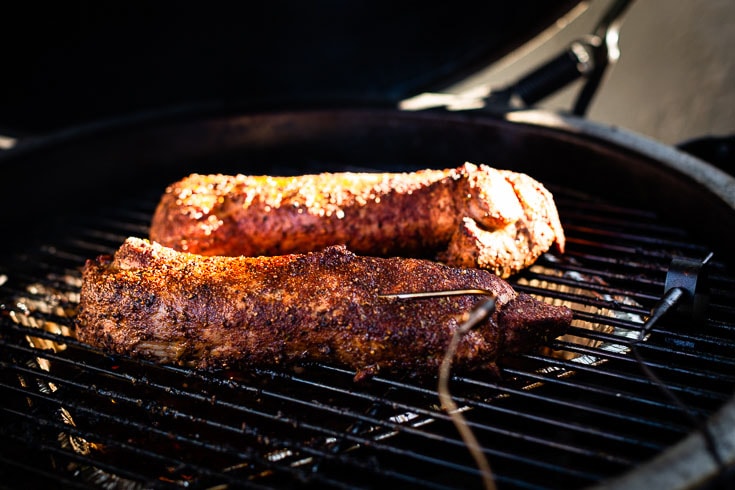 How Long to Smoke a Pork Tenderloin and How to Know When It's Finished Cooking?
A pork tenderloin will take approximately 1 to 1 ½ hours to reach 145 degrees F when cooking between 225 and 250. There are many factors that determine how long it will take (size of the pork, the temperature it was when it went into the smoker, humidity, etc), so it's always best to go off of temperature rather than time.
Always use an instant-read thermometer (affiliate) to verify the internal temperature. Even better, use a Thermoworks Smoke Alarm (pictured below) to remotely monitor the temperature of your meat and the smoker so you know when it's done cooking without having to open the lid. You can have it alert you when the meat is a degree from being done so you can head out to the smoker to verify. Pretty amazing, right?
What Wood is Best for Smoking Pork?
Apple or Cherry wood (or a combination of the two) is the best choice for smoking pork. This will give a subtly sweet flavor that pairs wonderfully and doesn't overpower the delicate pork flavors.
Use wood chips instead of chunks for a charcoal smoker since this is a fairly short cook. Use apple pellets for a pellet smoker.
Temperature for Smoked Pork Tenderloin
Smoker: 225 to 250 degrees F.
The Pork Tenderloin: 145 degrees F internal finished temperature
Top Tips for Smoking Pork Tenderloin
Use a Thermoworks Smoke probe thermometer to know when it's done cooking.
Cook it to 145 degrees F internal temperature for medium, and a little longer if you like it more well done.
Brined meats will cook more quickly, so keep this in mind if you brine it.
Start smoking with room temperature meat. If it's too cold, it will take much longer to smoke and not cook as evenly.
Don't overcook it. This is a lean part of the pig, and can dry out quickly.
Resting after the cook is really important so all the juices have a chance to redistribute. Rest for at least 10 minutes.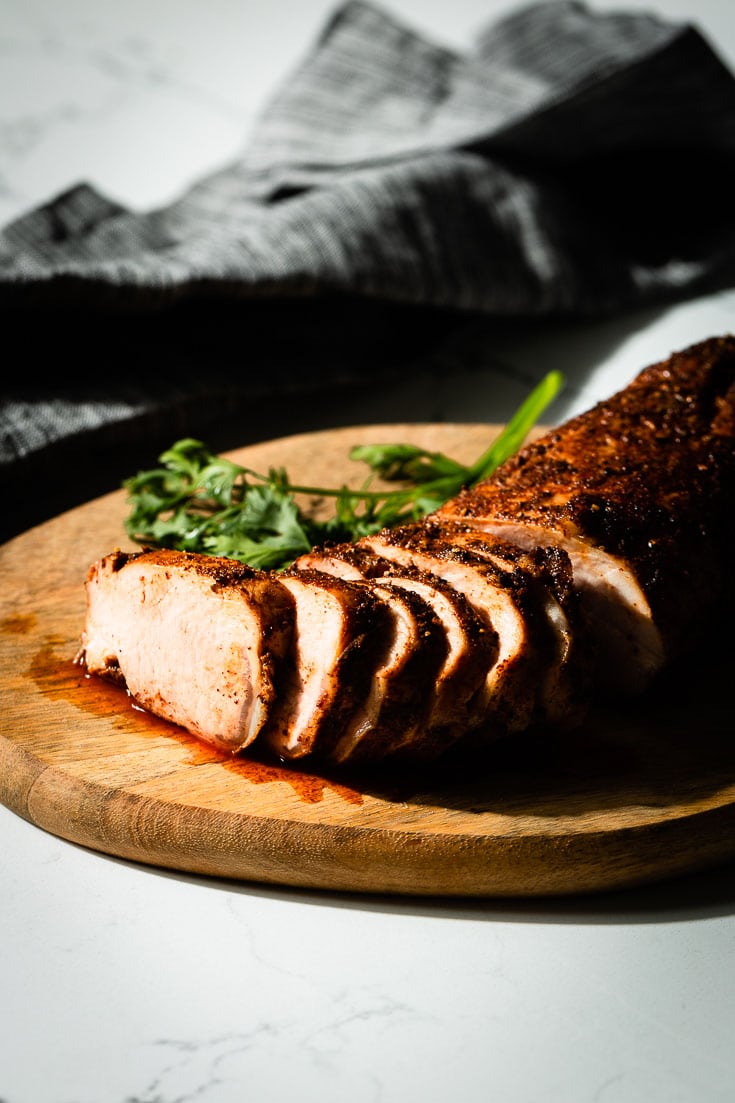 Ideas and Pairings
Besides just eating it by itself, smoked pork tenderloin is wonderfully on sliders with BBQ sauce, chopped and put in tacos, with mashed potatoes and perfect green beans. The leftovers reheat well and are great as pork sandwiches.
Equipment Used
More Delicious Pork Recipes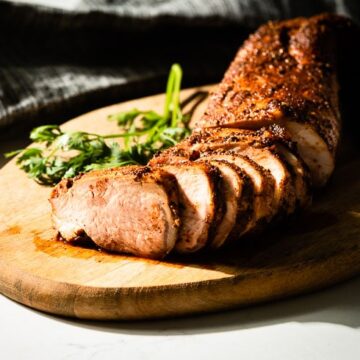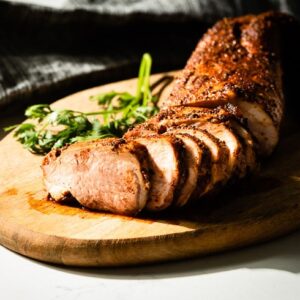 Smoked Pork Tenderloin
Super tender and flavorful, brined and smoked pork tenderloin that can feed a couple or an entire crowd. It's easy and quick enough for a weeknight meal.
Print
Pin
Rate
Ingredients
2

1.5 lb pork tenderloins

dry rub

(optional)

apple or cherry wood chips
Brine ingredients
4

cups

water

½

cup

kosher salt

4

tablespoon

sugar

1

teaspoon

paprika

6

crushed garlic cloves

6

black peppercorns
Instructions
To make the brine
Bring half of the water to a boil with the rest of the ingredients, whisking to dissolve the salt and sugar.

Transfer the brine to another container big enough to hold the pork and add the remaining water (with a few ice cubes). Cool completely before adding the pork. Place the pork in the brine and refrigerate for 2 to 4 hours.

Thoroughly rinse the pork and pat dry with paper towels. Then let the pork sit out for 30 minutes to get to room temp while you prep the smoker.

Drizzle some canola or olive oil and the tenderloins and add an optional dry rub.

Prep and preheat the smoker to 225° to 250° F for indirect cooking with a water pan in place.

Smoke until the internal temperature reaches 145° F. Use a probe thermometer to verify.

Rest for 10 minutes before slicing and serving.
Notes
This brine is slightly stronger in salt content than normal. This allows for it to brine quicker.
If you have a hot side of the smoker, you can quickly sear the tenderloins to add some extra flavor on the outside.
Nutrition
Calories:
578
kcal
|
Carbohydrates:
8
g
|
Protein:
94
g
|
Fat:
16
g
|
Saturated Fat:
5
g
|
Polyunsaturated Fat:
3
g
|
Monounsaturated Fat:
6
g
|
Trans Fat:
0.2
g
|
Cholesterol:
295
mg
|
Sodium:
7316
mg
|
Potassium:
1810
mg
|
Fiber:
0.3
g
|
Sugar:
6
g
|
Vitamin A:
87
IU
|
Vitamin C:
2
mg
|
Calcium:
61
mg
|
Iron:
5
mg