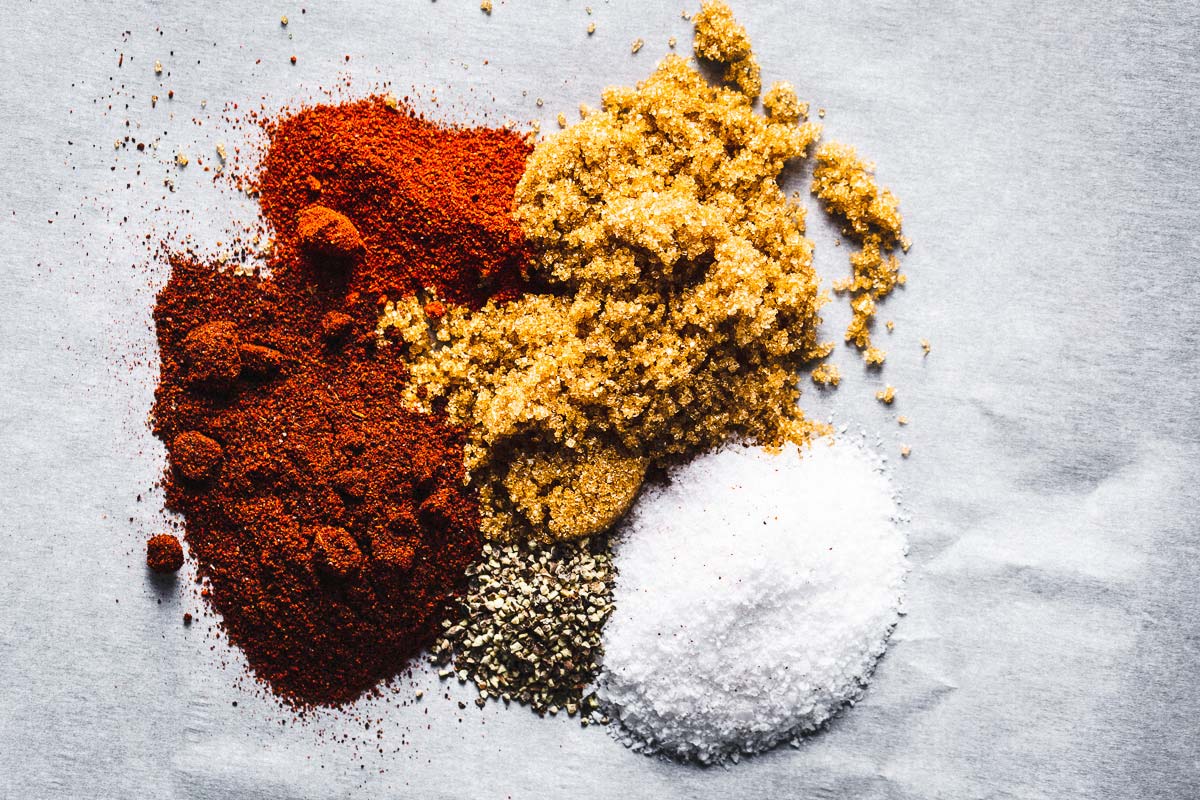 When it comes to a pork dry rub for smoking, there's really nothing fancy that you need to do to get amazing results. This rub has a wonderful balance of sweet with a little bit of spice that goes so great with smoked pork. There's no reason to ever buy a rub that you can make at home for almost free. Just mix up some basic ingredients that you probably already have in your pantry, and you're ready to go!
This is the basic pork rub I keep coming back to use again and again because it just works so darn well!
You don't want to hide the flavors of good quality meat; you want to enhance it. Since great meat can speak for itself, it's up to you how much you change the flavor with a dry rub. Adding just enough can enhance and balance everything rather than making it totally taste like the rub as a cover-up.
Now that you have the rub ready, it's time to head out to the barbecue to make some smoked pork belly or pulled pork!
Ingredients for a Basic Pork Rub
It's all about combining some sweet, savory and a little heat for the ultimate in balance to bring out that amazing sweet pork.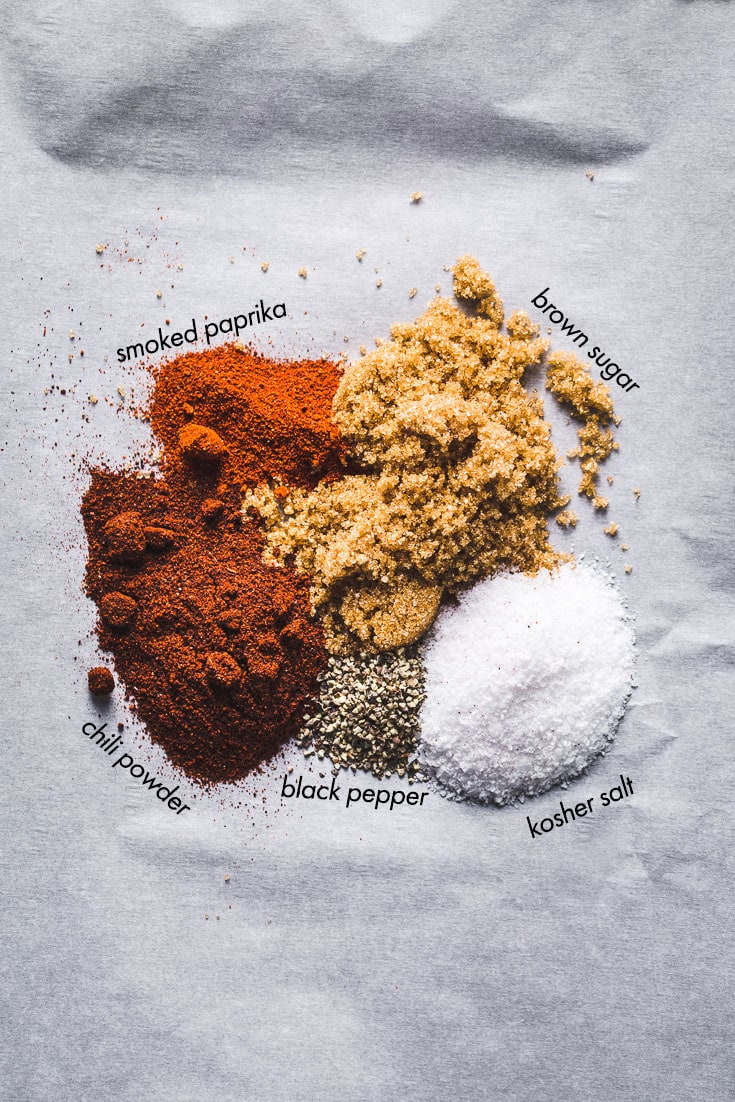 Kosher Salt - I prefer Diamond Crystal brand, but Morton is good too. If using Morton, use 50% less salt, as they have different amounts of sodium by volume. Learn more about salt in my Salt 101 Guide.
Brown Sugar - either use alone, or a combination of granulated or brown will work. Granulated sugar helps more with the bark development, while the molasses in brown sugar brown adds more flavor.
Black Pepper - adds that nice spice. I prefer the 16 mesh, which is the coarse ground black pepper.
Smoked Paprika - smoky chili powder that adds a wonderfully sweet, smoke flavor and color.
Dark Chili Powder - adds some spice and deep, rich color to the pork as it cooks.
Other ingredients you can add to the dry rub
Garlic powder, onion powder, ground cumin and mustard powder can all be great additions to the basic rub. If you want to add some extra heat, throw in a little cayenne pepper.
Salt or No Salt in Rub?
Adding salt to a dry rub means it's a one-and-done application, which can make it easier. However, it is often nice to control the specific amount of salt you add to the meat. For example, pork shoulder should have about 1 teaspoon of Diamond kosher salt (½ teaspoon of Morton kosher) per pound of meat. If the salt is already in the rub, you have less control of specific amounts. If you are a control freak and that is important to you, just keep the salt separate.
Customizing a Rub to Make It Your Own
The thing with a dry rub is that it's really hard to mess up. You can add a ton of flavor and balance the flavors of the meat. You can adjust the ingredients and ratios to your taste.
If you like it hotter, add more chili powder; if you like it sweeter, add more sugar. The only thing to worry about is the more sugar you use, the more likely your meat will burn if you are cooking over direct heat. The amount of salt depends on the size of the meat, so you can keep that separate if it's easier.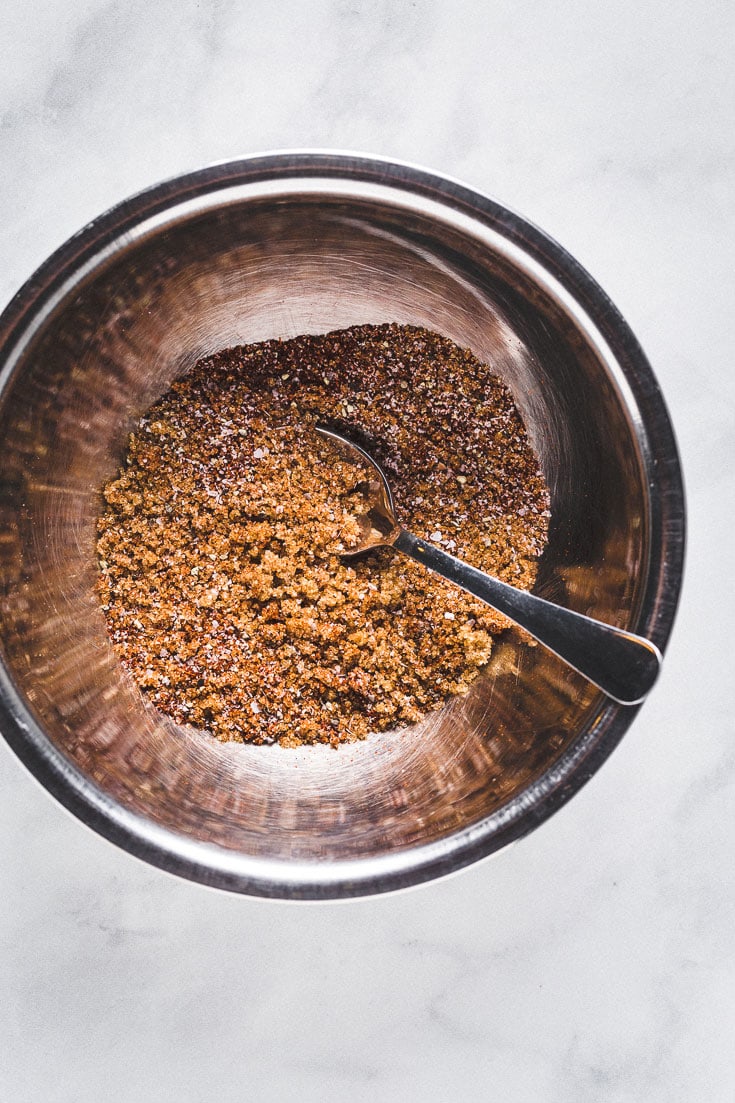 How to Make It
Making the dry rub couldn't be easier. Simply combine all the ingredients in a bowl or a Mason jar, mix it up with a whisk, fork, a spoon or give it a good shake so it is completely combined and all the clumps are gone. That's it! You are ready to apply the rub.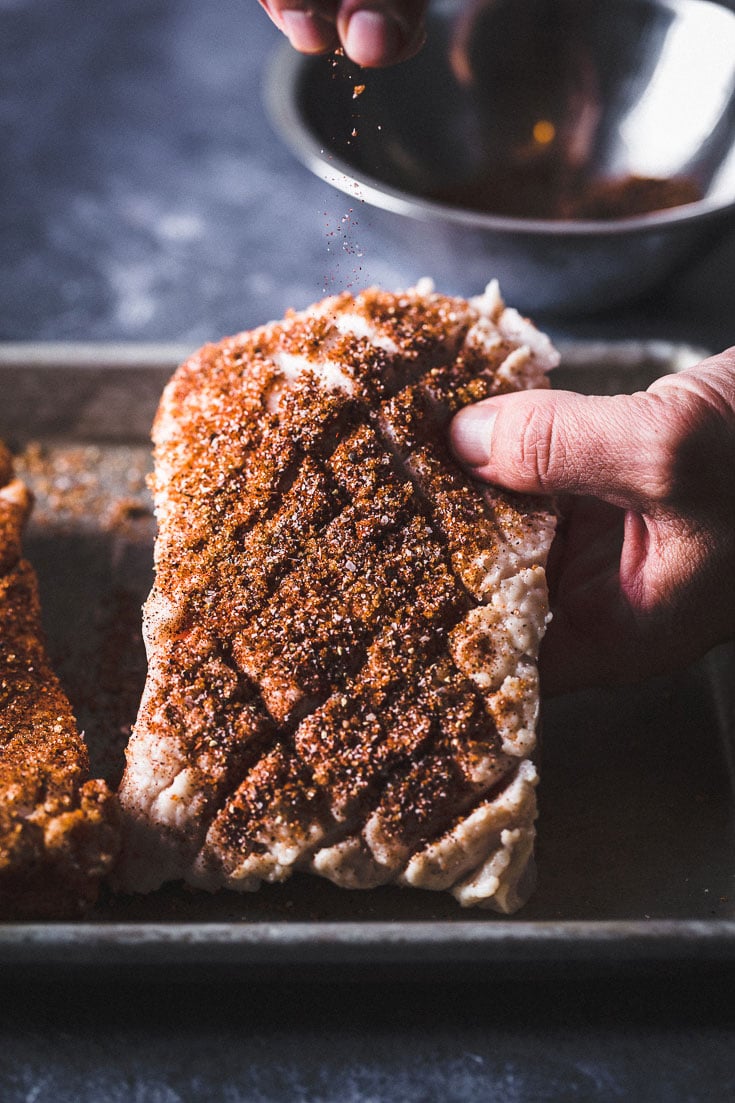 FAQs Answered
How long should rub be on pork before cooking?
You can apply the dry rub the night before, 8 hours before or even 1 hour before cooking the pork. Salt is the only thing in the rub that will actually penetrate all the way through into the meat, and the more time you give it, the more flavor it will add.
How does the rub stick to pork?
A slather (or a binder) is applied to the meat before sprinkling on a dry rub to help it stick. You can use anything from water to neutral oil like canola oil or even mustard. It's all your preference or what you have on hand. None of the binders will make much of a difference in terms of the final flavor of the pork.
How should dry rub be stored?
Store the dry rub in a sealed container in a cool dry place. Moisture is the enemy and will cause clumping. There are tons of container options out there. You can store it in a Mason jar, use these basic shaker containers or even save leftover large spice containers with perforated lids. It's best to use it within 3 months because of the brown sugar and to keep the spices fresh.
Use Dry Rub When Cooking These Dishes
Did you make this rub recipe?
I'd love to know how it turned out!
Please leave a note and a rating in the comments section below, or tag @SaltPepperSkillet on Instagram.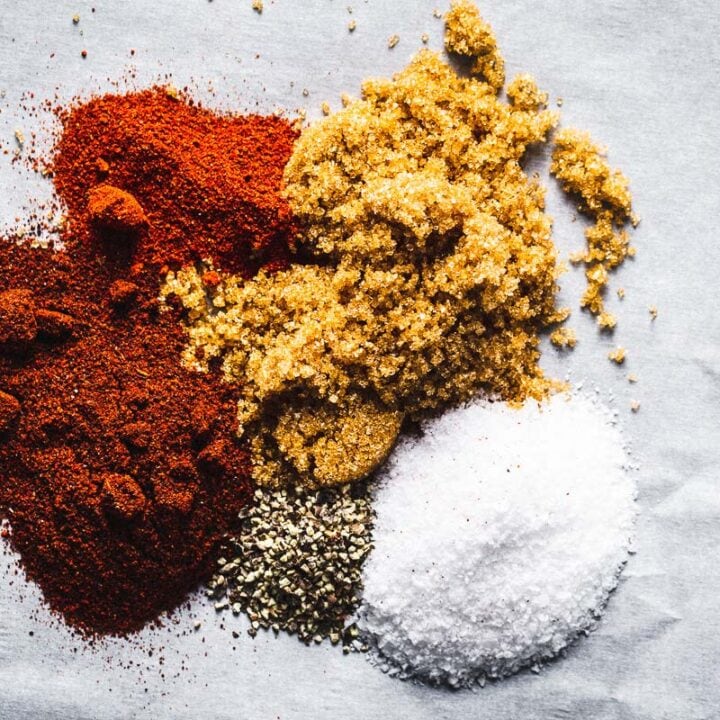 Pork Rub Recipe
Sweet, salty and a little bit of heat is in this perfect basic 5-ingredient dry rub for smoking, grilling and roasting pork.
Print
Pin
Rate
Ingredients
2

tablespoon

Diamond Crystal kosher salt

½

cup

packed brown sugar

1

tablespoon

smoked paprika

1

tablespoon

dark chili powder

½

tablespoon

ground black pepper
Instructions
Combine all ingredients with a whisk or a fork.

Use immediately or store to use later.
Notes
Makes about ¾ cup dry rub.
Store in a sealed container in a cool, dry place away from light.
Nutrition
Calories:
117
kcal
|
Carbohydrates:
29
g
|
Protein:
1
g
|
Fat:
1
g
|
Saturated Fat:
1
g
|
Polyunsaturated Fat:
1
g
|
Monounsaturated Fat:
1
g
|
Sodium:
3530
mg
|
Potassium:
126
mg
|
Fiber:
1
g
|
Sugar:
27
g
|
Vitamin A:
1459
IU
|
Vitamin C:
1
mg
|
Calcium:
39
mg
|
Iron:
1
mg
This post was originally published on November 28, 2018, but has been updated with new helpful information.
More Rub and Marinade Recipes You'll Love