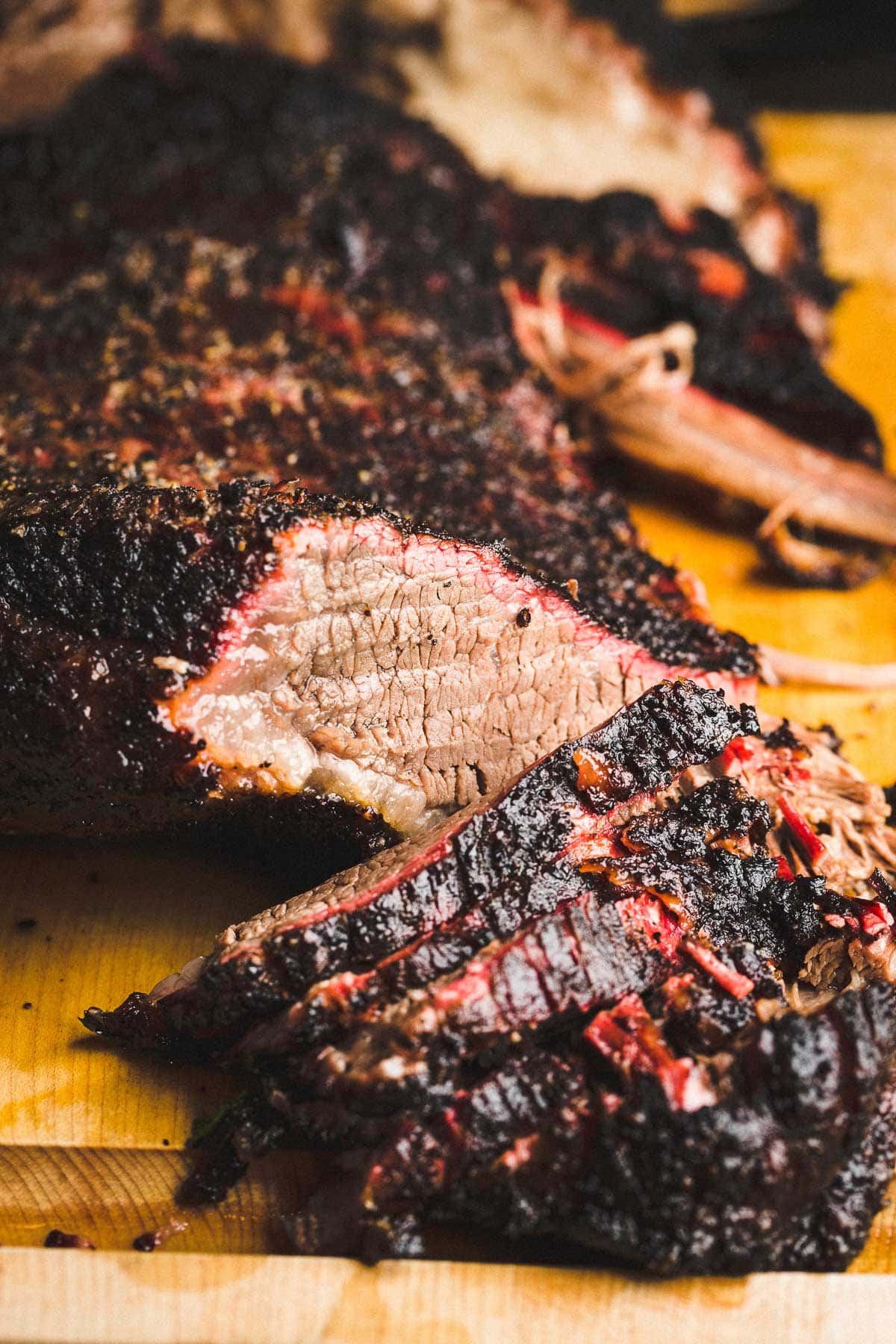 This incredibly flavorful and surprisingly simple Texas-style smoked brisket is the be-all-end-all recipe for mouthwatering BBQ perfection. While it might at first feel intimidating to make yourself, let's break it down into an approachable process that is your ticket to success.
Smoking a brisket ain't no quick thing to do. It is going to be an investment of both time and money. While it takes a long time, it's actually quite a simple process.
Sure, you can get super technical with all the little details, but really, you just need to know the basics for it to come out amazing. You probably won't even need a recipe the next time you make it.
It begins with a simple two-ingredient rub, then smokes for hours and hours to perfection. It's something that you won't be able to get enough of. And the leftovers are amazing, too!
The Goal: Smoke a near-perfect brisket on your very first attempt. Yes, it is possible, and you can do it!
Now let's set our confidence on high and get started making the best smoked brisket you have ever tasted!
The Basic Formula + Why It Works
Making the best brisket doesn't require any secret ingredients or honed techniques. It's really just the combination of three important things and following the process.
This is a tried-and-true method that smokehouses in Texas have been using for decades. It is based on Aaron Franklin's methodology, which is well known to be the gold standard for Texas-style smoked brisket.
Use high-quality meat (USDA Prime grade recommended and Choice at minimum).
Smoke low and slow at a constant temperature between 250 and 275° F using quality fuel and clean smoke. This brisket is going to take a long time to cook, so be prepared and don't ever rush it.
Don't skip the long rest! The resting step is so important. The brisket must rest for at least one hour and preferably two hours to fully reabsorb all the juices before you slice it.
Whether you are using a kamado smoker like a Big Green Egg, a pellet smoker like a Traeger, a box smoker or anything in between, it's really the same concept. As long as you can maintain the proper temperature, deliver quality smoke to cook the brisket to 200° F internal, and let it rest for at least an hour, your brisket is going to come out great.
How to Smoke a Brisket: The Basic Steps
Smoking the most amazing brisket is a combination of some science, some art and a little luck.
The high-level steps are right below in gray. Keep scrolling further for even more details and the full recipe card.
Every step of the process is important and each has some margin for error. Each step is easy to follow, but if a few of the steps aren't exact, it's still going to turn out great.
Trim it - Tidy up the brisket by trimming the fat cap to leave about ¼" fat layer and removing the silver skin from the underside.

Season it

generously with a 50:50 ratio of Diamond kosher salt and 16 mesh ground black pepper (or freshly ground pepper). Let it sit out at room temperature for one hour.



Prep your smoker to use indirect heat cooking and bring the temperature between 250° F to 275° F with post oak (or your preferred type of wood) and set a water drip pan in place.

Smoke it - Place the brisket in the smoker and cook with the lid closed.

Wrap it tightly with butcher paper when the bark is formed and the internal temperature reaches about 165° F. Then place back in the smoker until the internal temperature of the flat (thinner side) reaches between 200° and 205° F, and it feels very tender and flexible to the touch.

Rest it still wrapped for at least one to two hours before slicing.
Now Let's Dig Deeper - What Is Brisket?
You hear about it all the time and you have probably ordered it at a restaurant. But what is it exactly?
Brisket is a giant, extremely tough piece of beef. There are two briskets per cow (one from each side) and they are the pectoral muscles, which are tough because of all of the work they do.
Each brisket is comprised of two muscles, the flat and the point. Each has a unique texture and cooks differently, which adds to the challenge of the cook. The size of the cut before trimming can range from 8 to 20 pounds.
While a brisket is big and tough, it packs tons of flavor and is a perfect candidate for low and slow smoking. It's up to us to work a little magic and make it the most tender, flavorful cut for BBQ that you can imagine.
How to Buy a Brisket
Not all beef is created equal. Different qualities of beef make a big difference in the end results. Buying quality is an investment and is super important. While the meat has a relatively low cost per pound compared to some steak, the total gets expensive with the high weight of the cut.
Since you will be spending a good amount of money and time on this cook, you want it to be the best it can be.
I always recommend going with USDA Prime grade brisket. It is usually only a few dollars more per pound and is totally worth it. The internal marbling is far superior to lower grades of beef. Marbling means more fat, more flavor, and a much tastier and tender brisket.
If you can't find Prime grade, then go with USDA Choice grade at a minimum.
When shopping, consider the size and how it feels (from what you can tell through the plastic). The larger the brisket, the more meat you will end up with, but the longer it will take to cook. Look for "even" thickness and you want it to feel somewhat soft and flexible.
Keep in mind that pasture-raised grass-fed beef is usually leaner and will have much stronger flavors, so it is best to avoid grass-fed for barbecue.
The Flat vs the Point vs Whole Packer
The anatomy of the brisket consists of two main parts, the flat and the point. A whole brisket is called a "whole packer." While you might find the flat and point already broken down and sold separately, it is my opinion that buying anything less than the whole packer brisket just isn't worth it with all the time you will be investing.
Where to Buy
It can be tough to source at your regular grocery store. That's where your local butcher can help, and they should know where it came from and how it was raised. Try to source beef that has been humanely treated. There are some fantastic online sources for high-quality product and Costco is also a go-to source.
Costco
Your local butcher
How Many People Will a Brisket Feed?
Figure 1 pound of raw untrimmed brisket per person. You will be trimming off about 20 to 40% of the brisket and cooking out even more weight. A 15-pound brisket will serve approximately 15 people.
You can feed at least 15 people with a 15-pound brisket. At $5.79 per pound, that is less than $6 per person for some of the best barbecue they will ever taste.
What You Need
Essential Tools & Equipment for Smoking a Brisket
Sharp Knives: Boning knife for trimming the fat and silver skin and a slicing knife for slicing the cooked meat.
Fuel:
Disposable aluminum drip pan for a water bath to keep the smoking environment moist and to catch the fat drippings. You can buy these in bulk at Costco.
Two-zone remote probe thermometer is an amazing tool that monitors the temperature of your smoker along with the internal temperature of the meat. It will remotely alarm you if a temperature of either goes outside the parameters you set.
Instant-read probe thermometer to get precise internal temperature reads of the brisket.
Pink butcher paper for wrapping the brisket (aka the Texas crutch). I prefer the 24" width for easier wrapping (you can also use wide aluminum foil).
Long tongs for transferring the brisket to and from the smoker.
Sheet pans for seasoning and transporting the brisket to and from the smoker.
Cooler for resting the brisket in an insulated environment after the smoke.
Large cutting board for trimming and slicing.
Prepping the Brisket
It's all in the prep work, and the good thing is that there really isn't much of it.
Trimming the brisket
When you bring home the brisket, it likely has excess fat that needs to be trimmed off. This is the most tedious part of the whole process and it does make a difference in the end result.
The goal of the trim is to make an even clean-looking surface, void of pieces that will burn or not be edible. It's really up to you as to how much time you want to spend trimming the brisket, taking off as little or as much of the fat as you would like. I say that if you want to eat it, leave it on. You can spend 5 minutes or 30 minutes depending on how much work you are willing to put in.
The Fat Cap: Trim the top fat cap layer down to about ¼" to ½".
Remove Silver Skin: You also want to remove the silver skin (sinew) on the bottom side, as it doesn't break down or tenderize no matter how long it cooks.
*I'll be putting together an in-depth post and video on trimming. In the meantime, view some trimming tips from Aaron Franklin.
Pro Tips for Trimming the Fat
Trim the fat when the brisket is very cold. Cold fat is much easier to slice through. Either trim it when it's right out of the refrigerator or you can even place it in the freezer for 10 to 15 minutes to chill it down first.
Wear food-safe nitrile gloves for easy clean-up and a better grip while you are trimming.
Dry the brisket off with paper towels before trimming to make it less slippery.
Use a very sharp knife and a large cutting board. A stiff boning knife is my preferred tool to easily maneuver and avoid slicing that valuable flesh. Using a dull knife will make the task much more difficult than it needs to be.
Ask your butcher to do it for you

if it's something you don't want to do it yourself (just call ahead).

Buy one that is already trimmed to avoid trimming the brisket all together. Some briskets come pre-trimmed, which saves some time but does give you less control.
Save the fat if you wish. The fat you trim can be saved for making homemade hamburgers. sausage, Yorkshire pudding, or it can be melted and used for cooking.
Seasoning the Brisket
We want to season the brisket so we taste that amazing beef and the smoke in all its glory without any distractions. Nothing makes that tastiness shine through like the simplicity of equal parts of Kosher salt and pepper. Sure, you can go crazy with your favorite special rub if you want to, but less is so much more when starting with quality beef.
After the brisket is trimmed, combine the Kosher salt and pepper in a spice rub shaker and sprinkle the rub from about 18" above the meat for an even coating over every surface.
Season the brisket one hour before cooking to make sure the salt is fully absorbed. You can season it the night before if you prefer.
An Optional Slather
A slather is really any liquid applied to the surface of the meat to help the rub stick. It can be as simple as water, oil or mustard. It really isn't necessary most of the time, and I personally don't use one for brisket. If you are having an issue with the rub sticking, you can apply a slather before applying the rub.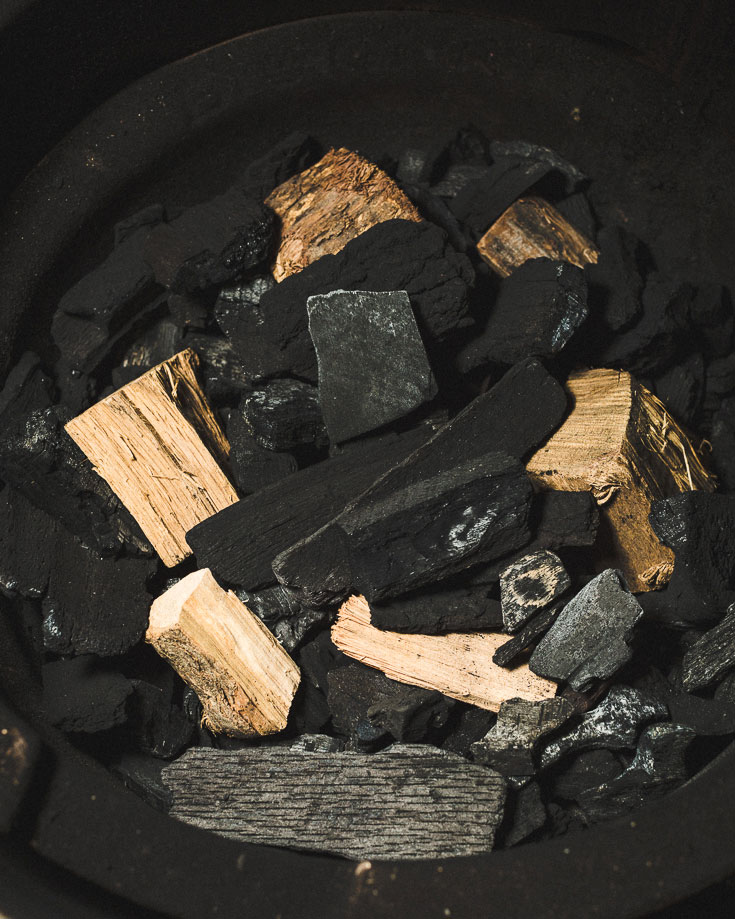 Best Wood for Smoking Brisket
Wood for smoking often comes down to preference and can require experimenting to see the flavors you love best. In central Texas, they traditionally use post oak (white oak). If you can get it, use local oak (or whatever local hardwood you have that is good for smoking). Oak has mild slightly sweet flavors and has become my go-to for smoking just about everything.
Wood Size: For a long smoke like this one, use wood chunks, which are much larger than chips and will burn for hours rather than minutes so you don't have to keep adding more.
Place about 6 chunks of wood with your charcoal to give a good amount of smoke.
The Cook (aka The Smoke)
Key Temps and Times
Smoker: 245° to 275° F. Lower is safer, higher will cook faster and develop better bark.
Brisket internal temp target #1: 165° F. It's time to wrap in butcher paper.
Brisket internal temp target #2: 200 to 205° F. The brisket is finished cooking and it's time to rest.
Approximate cook times: 1 to 1 ½ hours per pound. **See note on timing below.
Resting time: 1 to 2 hours or until the internal temp drops between 140° F and 145° F.
| | | | | |
| --- | --- | --- | --- | --- |
| Cut | Weight | Smoker Temp | Approx Cook Time | Done at |
| Whole Packer | 14 to 18 pounds | 250° - 275° F | 12 to 18 hours | 200° to 205° F |
| Flat | 6 to 8 pounds | 250° - 275° F | 6 to 10 hours | 200° to 205° F |
Smoking meat always seems to take longer than you expect, so start early and just let it rest longer if it is done early.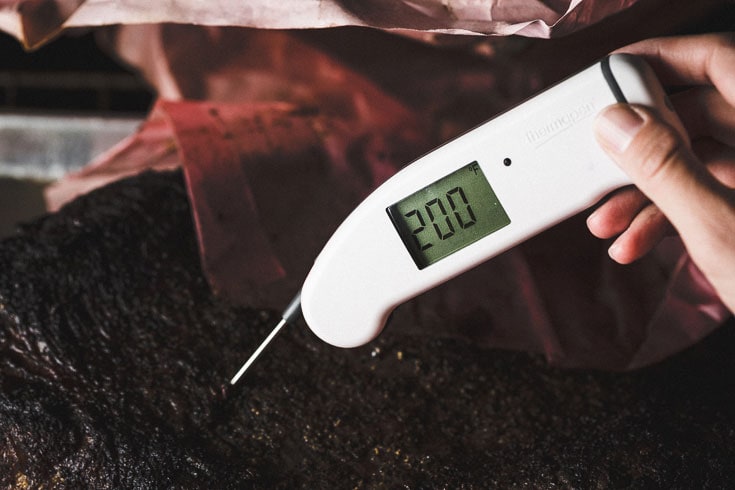 Why Timing Is NOT key:
You probably want to know exactly how long it's going to take. It's a fair question, but there really is no correct answer. While you can figure roughly 1 to 1 ½ hours per pound of cook time, that is a very rough estimate because of all the variables involved.
Some of the variables include the smoker temperature, the size and thickness of the meat, the fat content, starting temperature, the type of smoker, the humidity of the smoker, the weather outside, how close the meat is to the heat, how many times you open the lid, etc. Okay, you get the point. All these variables make it impossible to accurately predict the time it will take. And that's totally fine.
This is where a handy dandy probe meat thermometer comes in. Thermometers are absolutely key to success and a stress-free smoke. Without one, you are flying blind. And sure it will still smell good while you are flying, but trust me, flying blind is no fun.
Be Prepared for the Stall
The stall is basically a time when the internal temperature of the meat stops rising at around 150° F, sometimes for a few hours. During this time, the meat is sweating off liquid, which cools it down and prevents the temperature from rising for a while.
The stall is real and it will probably mess with you, so just be ready for it. You just have to stand by and trust the process. The temperature will start rising again. Once it does, it will climb fairly quickly.
When it reaches 165° F (or when the bark is fully formed), go ahead and wrap the brisket. Avoid wrapping during the stall, as it can cause it to go slower.
How to Tell When the Brisket Is Done
A brisket is finished cooking when the internal temperature of the flat reaches between 200° and 205° F. Some pitmasters swear by the exact 203° F number. While the time it takes to finish cooking can vary greatly depending on numerous variables, there shouldn't be any guessing as to when the brisket is finished cooking.
Always use an instant-read meat probe thermometer to spot check the temperature, and even better is to use a Thermoworks Smoke Alarm so you can monitor it wirelessly without having to open the smoker.
With experience, you can also tell when it's done by feel. When you don't have the experience yet, be sure to feel how flexible the brisket is so you can start to learn when it's there.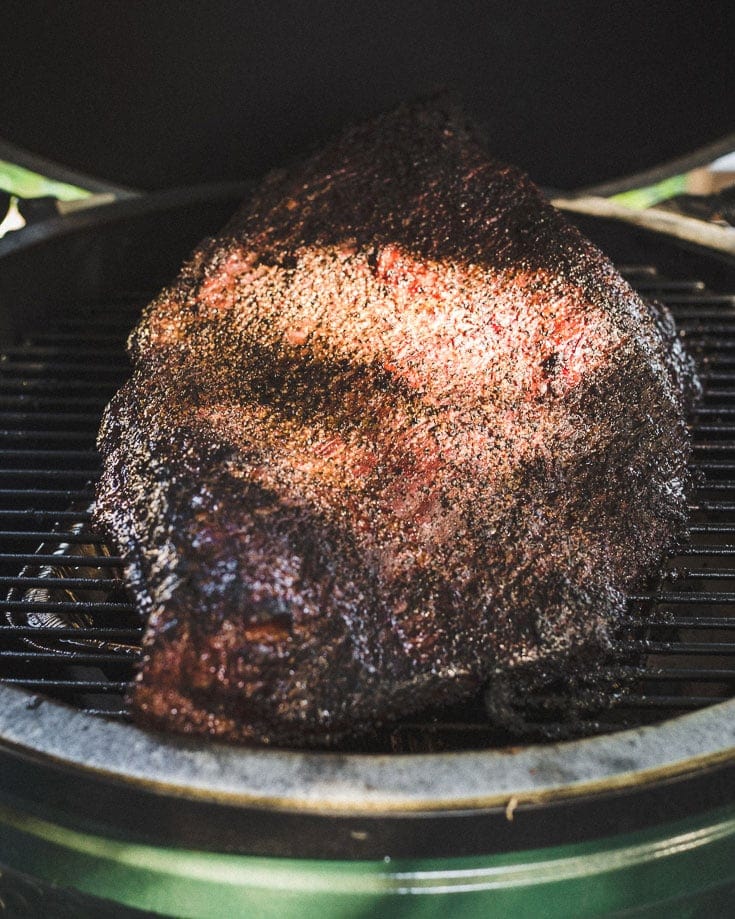 The Rest
Once the meat is finished cooking in the smoker, it's time for it to rest to redistribute the juices before slicing. Rest the brisket for one to two hours in a cooler (still wrapped in the butcher paper) or until the internal temperature drops to around 145° F. It will still be nice and warm for serving.
Resting is probably the most important step, and absolutely should not be skipped or rushed. It might be tempting to rest it for less time, but it's totally worth the wait.
Slicing the Brisket
After the brisket has fully rested, it's time to finish the job and serve it up for all to enjoy.
First, separate the point from the flat muscle, which is easy to do once the meat is cooked.

The grain is different for each, so you need to slice them separately.
Slice against the grain using long slice strokes into ¼" thick slices for the most tender brisket bites. Use a long sharp slicing knife like the Victorinox 12 Inch Granton Blade Slicing.
Sliced brisket will dry out fairly quickly, so slice only what you will serve right away and slice more as needed later.
Pro Tips for Success
Place the point (thicker part of the brisket) closer to the heat source than the flat (thinner part). This helps the whole brisket cook more evenly. Depending on your smoker, you might want to rotate the brisket once or twice during the cook.
It's all about fire maintenance to maintain the constant temperature around 250° to 275° F. There will always be fluctuations, but the goal is to avoid big temperature swings.
Use a 2-channel thermometer to remotely monitor the temperature of the smoker and the internal temperature of the brisket.

I can't tell you how much this will help and limit the trips out to the smoker to make sure it's still at the right temperature.

Keep the lid of your smoker closed! Open it as infrequently as possible and do it quickly when you have to. This keeps the smoke in and maintains the temperature. You shouldn't even have to open it at all for the first 3 hours.
Use high-quality wood and charcoal. It makes a big difference when it comes to the quality of the smoke and maintaining the fire.
Know your cooker. Knowing how your smoker works takes some experience, but it will give you the confidence to keep the fire going and temperature right.
Always smoke with a water drip pan. This helps keep the environment humid, which keeps the brisket from drying out and attracts smoke to the meat's surface. The drip pan will also catch the fat drippings. Since the water evaporates during the cook, be sure to check the level and add more as needed.
Take notes from your cook.

Document how you set up your smoker, the type of wood you used, how much, the times and temperatures throughout the smoke, as well as how long you rested it. Smoking is an art and knowing what worked and what didn't will help you improve with each attempt.

Start the night before. If you need to eat at a certain time, then take the prep time + approximate cook + rest time + some extra buffer to figure out when you should start the cook.
Sides to Serve With It
Serve it simply with bread & butter pickles,quick pickled onions and a few slices of white bread. Bright sides will contrast with the smoky flavorful meat, with nothing too fatty or rich.
A fresh coleslaw is perfect because you can eat it on the side or put it on a brisket sandwich if you prefer. Baked beans and potato salad are also great pairings. Keep the theme going by sipping a refreshing hot & smoky mezcal margarita.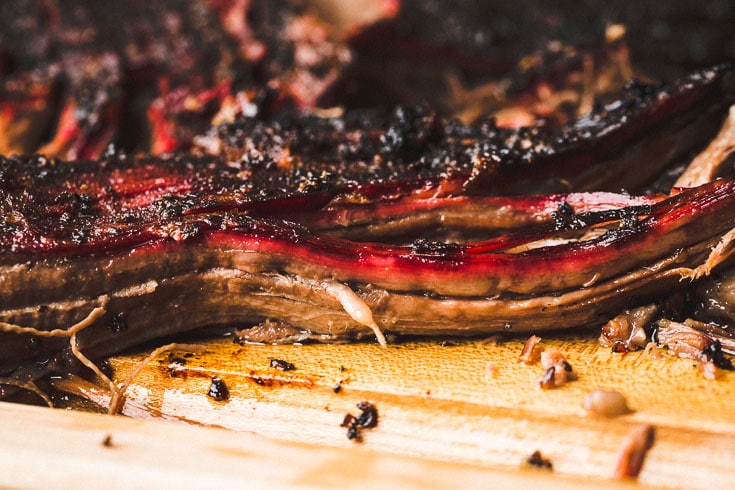 Leftover Brisket Inspiration
So you smoked a whole brisket. Chances are there will be leftovers. The good news is that there are so many things you can make.
Make brisket sandwiches and omg good brisket ragu over pasta or polenta, tacos, breakfast brisket and egg hash, grilled cheese, add it to baked beans, make chili, add it to ramen. Okay, you get the point. It is good in just about anything and you are the lucky one who gets to indulge for hopefully a few days at the least. 
Check out all the leftover brisket recipe ideas.
FAQs
How long does it take to smoke a brisket?
It takes approximately 1 to 1 ½ hours per pound at 250° F to smoke a whole packer brisket.

For planning purposes, smoke times for 14-pound brisket come out to 14 to 17 ½ hours. Smoking meat always seems to take longer than you expect, so start early and just let it rest longer.
Can I finish cooking the brisket in the oven?
Yes, you can definitely finish cooking it in an oven once the bark is fully formed in the smoker and it is wrapped. This comes in handy if you run out of fuel or are having a hard time maintaining the temperature of your smoker. Use the same temperature oven as you had in your smoker.
How long should I rest the brisket?
Rest the wrapped brisket for at least an hour, but preferably two hours.
Do you need BBQ sauce with brisket?
The quick answer is a big NO! Barbecue sauce is definitely not needed for something this rich and flavorful. It speaks for itself. This brisket should melt in your mouth with so much amazing beef flavor, and you definitely don't want to cover that up. But if you must, a little Sweet & Tangy BBQ Sauce can be on the side to dip in.
Smoked Brisket Recipe
Pure and simple, melt in your mouth and packed with flavor, this smoked beef brisket is seasoned with salt and pepper, then smoked low and slow with oak.
Print
Pin
Rate
Ingredients
12 to 16

lb

Prime grade whole packer brisket

(fat trimmed to ¼" to ½" and silver skin removed)

½

cup

Diamond kosher salt

½

cup

coarse ground black pepper

(16 mesh grind)
Instructions
Trim the brisket while it is very cold using a sharp knife. Trim the fat cap down to about ¼" thick and remove the silver skin from the backside.

Season: Combine the Kosher salt and freshly ground black pepper in a small bowl or spice shaker, then evenly season the brisket on all sides. Let the brisket sit out at room temperature for 1 hour.

Prepare the Smoker: While the brisket comes to room temperature, prepare the smoker according to the manufacturer's instructions for indirect cooking with a water-filled drip pan in place. Bring the temperature between 225° and 275° F. Add 3 to 5 fist-size oak, mesquite or your favorite wood chunks for smoke.

Smoke the Brisket: Place the brisket in the smoker with the thickest end closer to the heat. Leave the lid closed for at least 3 hours. Cook until the internal temperature reaches 165° F and a dark brown bark is formed, about 6 to 8 hours.

Wrap the Brisket: Remove the brisket from the smoker and tightly wrap it with uncoated butcher paper (or aluminum foil). Place it back in the smoker and continue cooking until the internal temperature of the flat (thinner side) reaches between 200 and 205° F, about 6 to 8 more hours.

Rest: Carefully transfer the brisket (still wrapped in the butcher paper) to a large cooler or cutting board to rest for at least 1 hour and preferably 2 hours or until the internal temp drops to 140 to 145° F. You can line the cooler with a towel to further insulate the brisket to keep it warm.

Slice and Serve: Separate the point from the flat muscle. Slice against the grain (which is different for each muscle) into ¼" slices just before serving. Enjoy!
Notes
Smoker Temperature: For a pellet smoker, use a lower temperature of 225° F, and a higher temperature of up to 275° F for charcoal smokers.
Wood for smoking: I prefer using oak wood chunks, but you can also use mesquite or add in a combination of cherry or apple depending on your preference.

Open the lid of the smoker as few times as possible during the cook. 

The cook time will be approximately 1 to 1 ½ hours per pound at 250

° F.
Nutrition
Calories:
582
kcal
|
Carbohydrates:
5
g
|
Protein:
76
g
|
Fat:
27
g
|
Saturated Fat:
10
g
|
Polyunsaturated Fat:
1
g
|
Monounsaturated Fat:
13
g
|
Cholesterol:
225
mg
|
Sodium:
4061
mg
|
Potassium:
1303
mg
|
Fiber:
2
g
|
Sugar:
1
g
|
Vitamin A:
43
IU
|
Calcium:
55
mg
|
Iron:
8
mg
This post was originally published on January 29, 2019 and was last updated on September 23, 2021 to include useful updated information.
More Smoker Recipes