Prime rib is the ultimate centerpiece. It's big, bold and you definitely want it to come out perfect. It can feel like a big undertaking. After all, it's an expensive premium piece of beef, and you're usually making it for a special occasion. Keep reading for amazing results, with no stress.
When we take things slow with the right technique in the smoker, your prime rib will easily be the best you ever had.
Smoking might not be the first method that comes to mind when thinking of a prime rib roast. It's similar to the reverse-sear method for steak that restaurants use: cooking it at a low temperature in the oven and then finishing it under the broiler for that flavorful crust. Once you try it in the smoker, there's no going back. The extra flavor is mouth-watering.
The goal is to infuse amazing smoke flavor while perfecting medium-rare beef from edge-to-edge, with an amazing crusty exterior.
9 Keys to the Perfect Smoked Prime Rib
Buy quality beef. Minimum USDA Choice grade.
Start early. Prep the roast and season heavily and early (24 to 48 hours ahead of time). This allows the salt to fully penetrate all the way through, rather than just seasoning the surface. It will produce deeper flavor and juicier more tender bites.
Remove the rib bones to season, and tie them back on for cooking, if desired.
Keep the flavors simple. This is the ultimate premium piece of beef when it comes to flavor, and you pay for that, so you don't want to cover it up with a marinade or strong flavors. You can add a garlic and herb paste to the outside, but we're keeping it simple with salt, pepper and the amazing flavor of the smoke. You won't be disappointed.
Temper the meat prior to cooking by letting it sit out on the counter for 2 to 3 hours.
Use a remote-probe meat thermometer so you know exactly when it is ready to remove from the smoker and always cook to temperature rather than by time.
Cook it to medium-rare, which is the optimal doneness for prime rib. Avoid overcooking by removing at the designated "pull temp," which is about 10 degrees lower than the desired finished temperature.
Don't skip the 30-minute rest! This gives the roast time to re-absorbed the juices so they don't run out upon slicing.
Slice as needed. Keep it juicy by only slicing what will be served immediately.
Useful Tools & Equipment
Buying a Rib Roast
A rib roast is a bit of an investment, so here are some tips for picking out the best one.
Most "Prime Rib" Probably Isn't Prime Grade
The "prime" in the name actually stands for "primal" rather than having to do with the beef's grade. A USDA Prime grade rib roast is next-level flavorful and tender, but USDA Choice will work just fine for this and will save you a boatload of money. I've done both and of course, Prime is superior, but I've been super happy with the results using USDA Choice grade.
Prime rib has many names, which can confuse things even more: standing rib roast, rib roast or prime rib roast. And when it's sliced and used as steaks, it's actually a ribeye steak that could be boneless, bone-in or a Tomahawk steak with the long rib bone attached. And there's even a "ribeye filet" cut that has the fat cap removed.
Bone on Bone Off; does it matter?
There's usually a debate on whether the rib roast should include the bones or not. They are sold both ways and my preference is to buy boneless.
Why I prefer boneless:
The bones are

not

going to add extra flavor to the roast as it cooks

.
The roast will cook less evenly with the bones on.
The bones get in the way of seasoning all the way around the roast.
You can't sear the meat where the bones are, which means less crusty delicious flavor all the way around.
The bones aren't free. Even if a bone-on roast costs less per pound, you are still paying for the bones.
They make it a little more difficult when it comes to carving the roast and will need to be removed at the end anyway.
If you can't find boneless, that's totally fine. You can easily remove the bones yourself, or you can just have your butcher do it for you. Smoke the bones separately and enjoy as beef rib bones or make beef stock. Either way, it's going to be great.
How to Smoke a Prime Rib Roast
The best way to smoke a prime rib roast is to use the reverse-sear technique in the smoker.
First, smoke the roast at a low temp of 250° F for about 3 hours, or until the internal temperature reaches a target pull temp of 118° F for medium-rare.
Rest for 30 minutes.
Sear the prime rib for 1 to 2 minutes on all sides on a super-hot grill, skillet or under the broiler (your choice).
Slice and serve.
Skip to the full recipe card for all the details.
A variation on the Cooking Method
Cooking rib roast sous vide first (usually for 24 hours) and then finishing it in the smoker is another great option for perfect results. Get the recipe for Smoked Sous Vide Prime Rib.
What Wood to Use
The subtle flavors of oak go so well with beef. Post oak wood chunks are available online, and some brands also have oak pellets. Another great option is hickory, which is a great choice by itself, or it can be used in combination with oak and/or fruit wood. Anything that isn't overpowering will work great. We're just trying to add a subtle smoke flavor that complements the beef.
Amount: Use 2 to 3 wood chunks for a charcoal smoker. Adding more will increase the smoke flavor, which you can do if desired, but I like to keep it subtle with prime rib.
Learn more about choosing the best woods for smoking meat.
Key Temperatures and Times
Medium-rare is the desired doneness (130 to 134° F finished internal temperature). It's that iconic perfect reddish-pink throughout. Please be extremely careful not to overcook it. If someone wants their slice cooked more, you can serve them the end piece (also super delicious) or just cook their slice more in the oven or quickly sear it in a skillet. 🙂
A note about carry-over and pull temps: When you cook a large piece of meat, the temperature will continue to rise after you remove it from the heat source (the smoker), which is called carry-over cooking. If you don't pull the meat earlier than the desired finished internal temperature, then it will be cooked more than you were going for (aka, overcooked). That's why we have a specified "pull temp" that is different from the target finished temp.
For a prime rib roast, the carryover will be around 10 degrees for this large piece of meat, so that needs to be factored in so you don't overcook it. The amount it rises will vary depending on the size of the roast and the cooking temperature.
Doneness
Pull Temp
(10 to 15 degrees before target temp)
Target Finished Temp
(after resting and searing)
Rare
110-110° F
120-129° F
Medium-Rare
118-124° F
130-134° F
Medium
125-133° F
135-144° F
The approximate cook time for a 7-pound roast: 3 to 4 hours (about 30 minutes per pound)
Cook to temperature and not by time. Because of all the variables that determine how long something takes to cook, you should always be cooking by internal temperature and not by how long it should take. Use a remote probe thermometer so there's no guessing and you know exactly when it's done.
Variables that change cook time: Starting temperature, size and thickness of the roast, if the bones are on or off, the smoker temperature and variability, the humidity, outdoor temp and about 10 other things. So again, use a meat thermometer and worry less about the time.
Pro Tips
Start early. There is trimming and other prep work, plus the meat needs to be seasoned at least a day in advance. The roast will take up to three hours to temper (come down to room temp) after removing from the fridge before you even begin the roughly five-hour cooking and serving process.
Season with about a teaspoon of Diamond Crystal kosher salt per pound. This is a big piece of meat; it can handle it. Have a look at my Salt 101 article about the differences between types of salt.
Using a remote meat thermometer is a must.
Rib roasts are expensive, but buy the best grade you can afford, and look for sustainable ranching practices, which signal high-quality meat.
Use your butcher. There's enough to worry about when getting this big expensive piece of meat ready. Have them remove the bones, trim the fat and tie the rib bones back on if desired.
Indirect heat is a must for even cooking.
Always slice against the grain.
Perfect Sides
A Sauce to Bring It Together
Creamy horseradish is a wonderful cool contrast with a slight kick, au jus is classic with prime rib and can be made while your roast is in the smoker. It often includes the drippings, but I personally would omit them to give a non-smoke contrast to the meat. If you removed the rib bones, you could roast them and make homemade beef stock with them to use for the au jus or a red wine sauce. A rich bearnaise sauce is also wonderful with beef.
FAQs
How long does it take to smoke a prime rib?
It will take about 3 to 3 ½ hours to smoke a 7-pound rib roast at 250° F (approximately 30 minutes per pound) for a medium-rare cook. Always cook to temperature and not strictly by time.
What is the best wood to smoke prime rib with?
Oak or hickory are the best options to give great subtle flavor without overpowering the beef.
Should you salt prime rib the night before?
Yes, but preferably even earlier than that. Salt the rib roast at least one day, but even up to 3 days in advance, with 1 teaspoon of Diamond kosher salt per pound of meat.
Wine and Beer Pairings
Go big and bold with a wine pairing for this one. A hearty "big red" wine (like a Cabernet Sauvignon or Malbec) or a flavorful beer (like a Belgian brown or Flemish red) will complement the roast wonderfully.
More Beef Recipes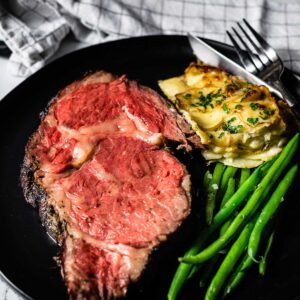 Smoked Prime Rib Roast Recipe
Super flavorful crusty exterior, unbelievably tender interior and a hint of smoke flavor all add up to the most amazing prime rib you have ever had.
Print
Pin
Rate
Ingredients
7

lb

rib roast / prime rib

(boneless or bone-on)

canola oil

2 ½

tablespoon

Diamond kosher salt

freshly ground black pepper
Instructions
Prep the Prime Rib 1 to 3 Days Ahead (if possible)
Pat the roast dry with paper towels. Trim excess fat to ¼" on top and cut a crosshatch pattern in the fat cap. Remove the rib bones (if desired) using a sharp boning knife if it isn't boneless.

Drizzle the meat with canola oil and season liberally with Diamond kosher salt (about 1 teaspoon per pound) and freshly ground pepper on all sides. Really rub it in all the crevices.

Use butcher twine to tie the rib roast so it is a nice round shape and cooks evenly. If desired, you can tie the rib bones back in place as well. I prefer to leave them off and smoke them separately or use them to make beef stock.

Place the rib roast on a cooling rack on a baking sheet pan, then into the refrigerator uncovered for 24 to 48 hours (or even 3 days if you have time).
Smoke the Prime Rib
Remove the roast from the refrigerator to sit on the counter to temper for 2 to 3 hours prior to cooking.

Insert a remote probe thermometer into the center of the roast and set the alarm to go off at 118° F for the pull temp for a medium-rare finish.

Set up your smoker for indirect cooking at 250° F with a water pan in place according to the manufactures instructions. Use 2 to 3 oak wood chunks for charcoal smokers or pellets for a pellet smoker.

When the smoker is at temp, place the roast into the smoker.

Cook for approximately 3 to 3 ½ hours (about 30 minutes per pound) until the internal temperature reaches 118° F for medium-rare. Just remember that it is about temperature and not time.

Remove the roast from the smoker and rest uncovered for 30 minutes.
Sear the Prime Rib (on the grill, large skillet or under the broiler)
Preheat the grill to 500° or 550° F.

Place the roast directly on the grill grates and sear for 1 to 2 minutes per side until dark and crusty, about 4 to 8 minutes total. (remove the tied on rib bones before searing)

Transfer to a large cutting board and let it cool for just a few minutes so you handle it with your fingers to slice.

Use a long slicing knife or chef's knife and slice into ½" to ¾" pieces. *Only slice what you need to keep the meat juicy.

Serve with a sprinkle of flakey finishing salt and enjoy!
Notes
The actual size/weight of your roast is not super important since we are cooking to temp rather than by time.
Season the roast early and very liberally (24 to 48 hours ahead if possible).
Salt amount: 1 teaspoon per pound of beef (Diamond kosher). See the conversion chart for other types of salt.
Approx cook time is 30 minutes per pound at 250° F.
Temp chart:
Nutrition
Calories:
1199
kcal
|
Protein:
54
g
|
Fat:
107
g
|
Saturated Fat:
44
g
|
Polyunsaturated Fat:
4
g
|
Monounsaturated Fat:
47
g
|
Trans Fat:
1
g
|
Cholesterol:
240
mg
|
Sodium:
2357
mg
|
Potassium:
877
mg
|
Calcium:
31
mg
|
Iron:
6
mg