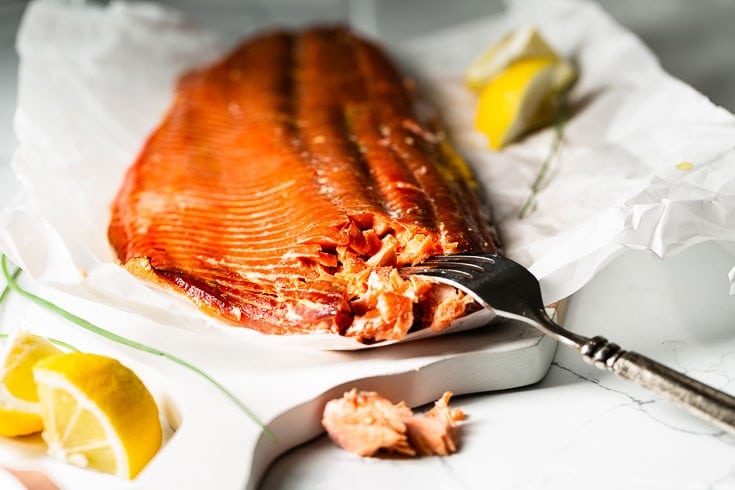 Smoke and salmon go together like, well, salmon and smoke. Perfectly smoked salmon is one of those simple exquisite indulgences. If it's on a restaurant menu, it's hard not to order it. While smoking salmon is both a science and an art, it's really much easier to make at home than you might think.
It really comes down to striking the right balance between the flavor of the salmon, the salt, a little sweetness, and the smoke. When those all come together, you get something truly amazing that is not only wonderful to eat by itself, but it can be used as an ingredient for so many other dishes.
If you have high-quality salmon, good quality smoke, and don't overcook it, you will be enjoying some pretty amazing smoked salmon in just a few hours.
Now, before we get too far, this recipe is all about hot smoked salmon, and not for lox or cold smoked salmon that you traditionally get on a bagel or on a vacuum-sealed at the grocery store.
The 3 Keys to the Best Smoked Salmon
Don't overcomplicate it. It's just smoked salmon after all.
The brine. A simple mix of kosher salt and brown sugar.
Use the right wood chips to pair with the salmon.
Do not overcook the salmon! This is the most important part. The key temperatures are 225 degrees F in the smoker and 140 degrees internal finished temperature. If either of the temperatures get too high, the salmon will dry out.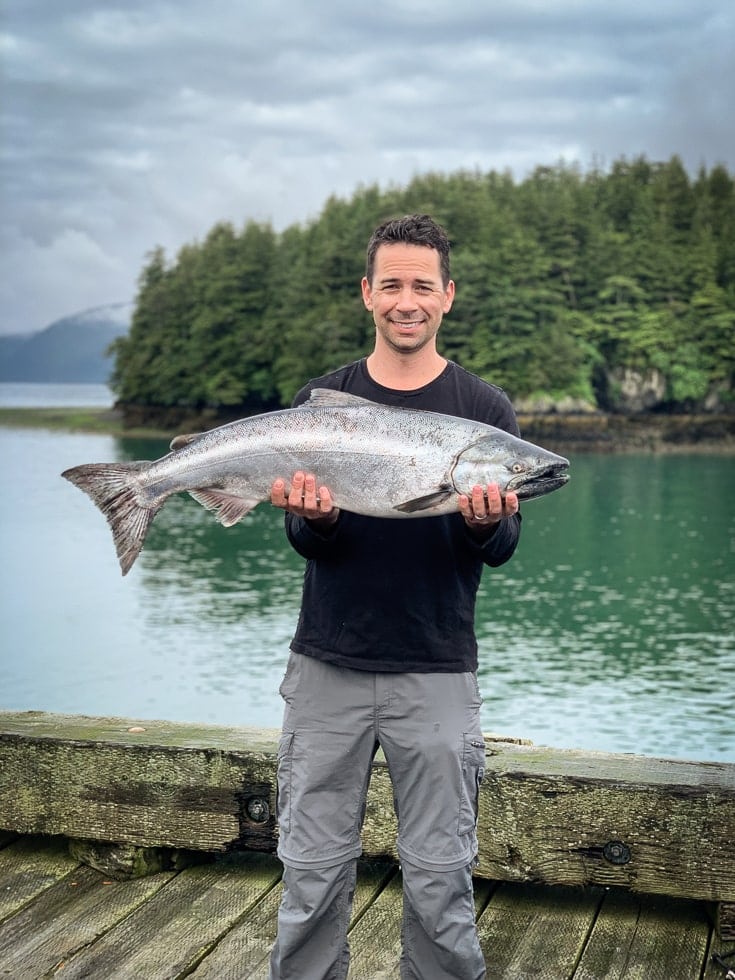 What Type of Salmon to Use?
Use wild-caught salmon when it is in season and available. If wild salmon is out of season, fresh frozen wild salmon will still work great for smoking. Just thaw it slowly in the refrigerator.
Use a whole filet (half of the fish) rather than individual portions. The whole filet makes it a little easier to handle and keeps the smoked salmon moist as it cooks.
Read about my trip to Alaska to Summer Salmon Camp to learn all about the Copper River Salmon. There is more about all kinds of salmon in my Salmon Guide.
Prepping the Salmon
Very little is required to prep the salmon for smoking. One important step is to remove any pin bones that might still be in the filet. Use a pair of fish bone tweezers (affiliate) starting at the tail end working your way to the head end to pull out all the bones. Use paper towels to wipe any liquids off the filets before applying the dry brine.
Brine for the Smoked Salmon
A simple brine is essential for adding flavor. The dry brine is just brown sugar and kosher salt. There's really no need to brine the skin side, as it is a waterproof layer that doesn't get penetrated by a brine. Since we aren't rinsing this brine off; it's important not to add too much salt.
The brine will not only help to preserve the salmon so it lasts longer after it is smoked, but it will help to pull some moisture out and intensify the flavors of the smoke and salmon. The sugar adds a hint of sweetness to help balance out the flavors.
This smoked salmon brine is a 2 to 1 ratio of Brown Sugar and Kosher Salt.
How to Smoke Salmon
Smoking salmon can seem very complicated with all the theories out there, but let's simplify it into 3 main steps.
Brine it. The first step is to brine the salmon with a simple 2-to-1 ratio of brown sugar and kosher salt for 1 to 2 hours, then wipe off excess liquid with paper towels.
Prep the smoker for indirect heat smoking at 225° F with alder wood chips for smoke.
Place the salmon skin-side down on a piece of foil and transfer to the smoker.
Smoke it until the internal temperature reaches 140° F.
Rest it for 5 minutes and enjoy.
Best Wood for Smoking Salmon
Alder trees are native to the Pacific Northwest, and more specifically along the Copper River in Alaska where this salmon comes from. Alder gives the best mild flavor to the salmon, but apple or cherry can also work.
Use smaller wood chips rather than chunks for smoking this salmon over charcoal, as it is not a long smoke.
Best Wood Choice: Alder chips (affiliate)
Also try: Apple or Cherry
Avoid: Mesquite, hickory and other strong-flavored woods.
Soak the chips in water for 20 to 30 minutes prior to smoking. I don't usually soak chips when smoking meats, but I do for salmon. The reason for this is to help keep the temperature down and create milder smoke.
How Long to Smoke Salmon
It can take between 30 minutes and 1 hour to smoke a 2 to 4-pound salmon filet at 225° F. There are a lot of factors that determine the time it will take, including the actual temperature in the smoker, fat content and the thickness of the filet. It's always better to go off of the internal temperature to determine when it has reached 140° F.
The best tool for monitoring the temperature of the smoker and the fish is a Thermoworks Smoke 2-channel alarm (affiliate). You can just set the temperature alarm to the temp right before it's done cooking and it will start beeping to let you know to head outside to verify.
Tips for Smoking Salmon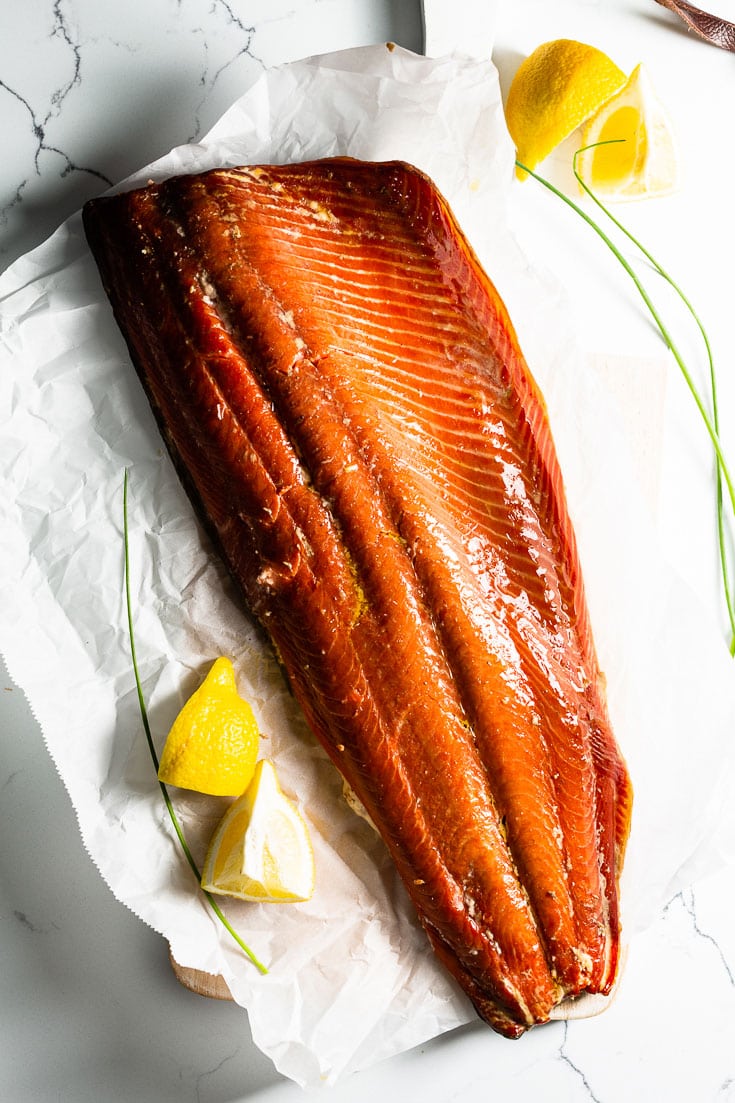 Smoked Salmon FAQ
Is Smoked Salmon Cooked?
Hot smoked salmon is considered fully cooked, while cold smoked or cured salmon is not considered cooked, as it does not reach high temperatures.
Hot vs Cold Smoked Salmon
Hot and cold smoked salmon are very different. Hot smoked salmon (like the one in this recipe) is cooked by heat. Cold smoked salmon and lox is "cured" with salt and sugar over a longer period of time to preserve it rather than cook with heat.
Hot smoking the salmon actually cooks the fish via a heat source that is producing hot smoke. Cold smoked salmon is usually cured, then smoked with smoke that has been cooled down before it comes in contact with the fish so it doesn't change the texture.
It is also possible to cold smoke salmon and then cook it over direct heat, like in a skillet or on a grill. This is the best of both worlds because you get the smoky flavor, crispy skin and perfectly cooked salmon.
How Long Does Smoked Salmon Last?
Hot smoked salmon lasts for about 1 week in the refrigerator if it was fresh when you brought it home and you smoked it right away.
Can You Freeze Smoked Salmon
You absolutely can freeze hot smoked salmon! Just place portions into ziplock freezer bags, remove as much air as possible, and freeze. Defrost slowly in the refrigerator or in a bowl of water (leaving it in the sealed bag). Avoid defrosting in the microwave.
What's the White Stuff that Appears When the Salmon Cooks?
That's just a simple protein called albumin that can seep out of the fish as it cooks. The protein is liquid when the salmon is raw and coagulates when it comes in contact with heat. It is completely harmless and you can either eat it or wipe it off with a paper towel prior to serving.
The Best Way to Eat this Smoked Salmon
Besides simply eating hot smoked on its own, there are so many ways to use it in your favorite dishes. Here are a few ideas for tasty inspiration: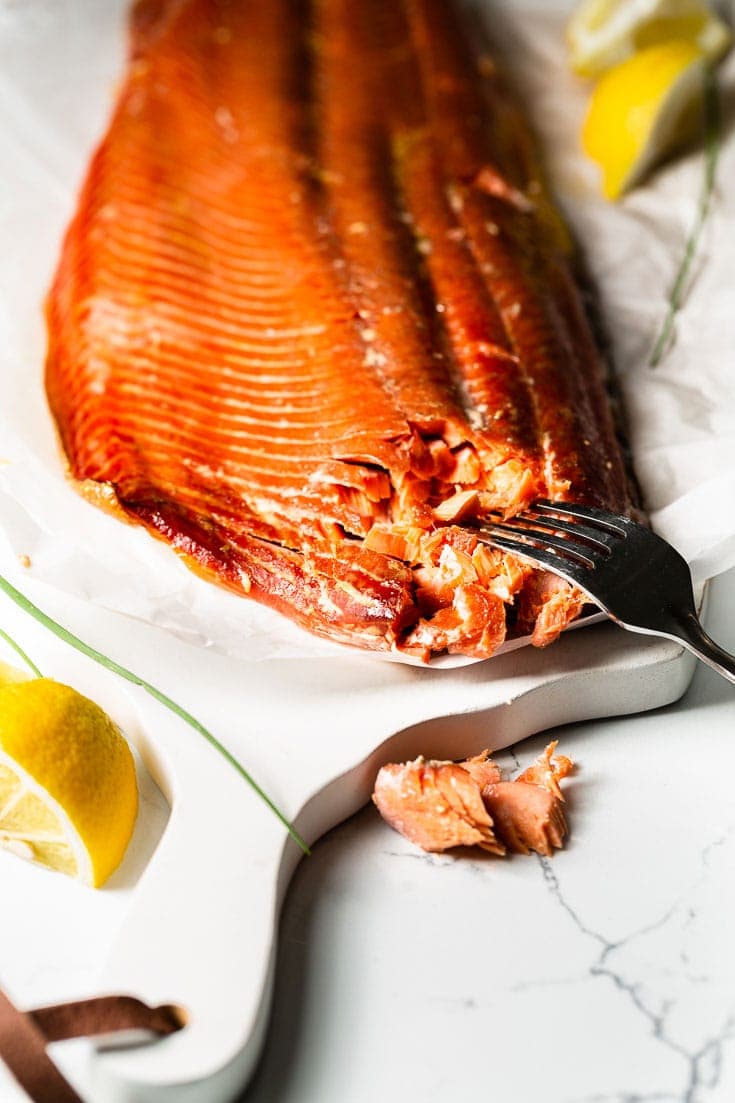 Equipment for Smoking Salmon
Contains affiliate links where I might receive a commission if you make a purchase, at no additional cost to you.
Ingredients
2-4

lb

Salmon Filet

, pin bones removed

2

tablespoons

Brown Sugar

1

tablespoon

Kosher Salt

diamond brand preferred

2

cups

Alder or Applewood chips

(soak in water for charcoal)
Instructions
Create the dry brine by mixing the sugar and salt together in a small bowl.

Place the salmon filet skin side down on a wire rack on top of a rimmed baking sheet. Sprinkle the brine mixture over the entire filet to coat. Place in the refrigerator uncovered for 1 hour to 2 hours before smoking.

Set up your smoker for indirect cooking with a water bath and pre-heat according to the manufacturer's instructions to 225° F.

While the smoker heats up, dry off any excess moisture from the salmon with paper towels.

When smoker starts smoking and reaches 225° F, place the salmon skin-side down on a sheet of foil and transfer to the smoker.

The salmon is finished smoking when then internal temperature reaches 140° F. Begin checking for doneness after 30 minutes using a probe thermometer.

Remove from the smoker and rest for 5 minutes before serving, or cover and chill in the refrigerator for up to 1 week.
More Delicious Salmon Recipes