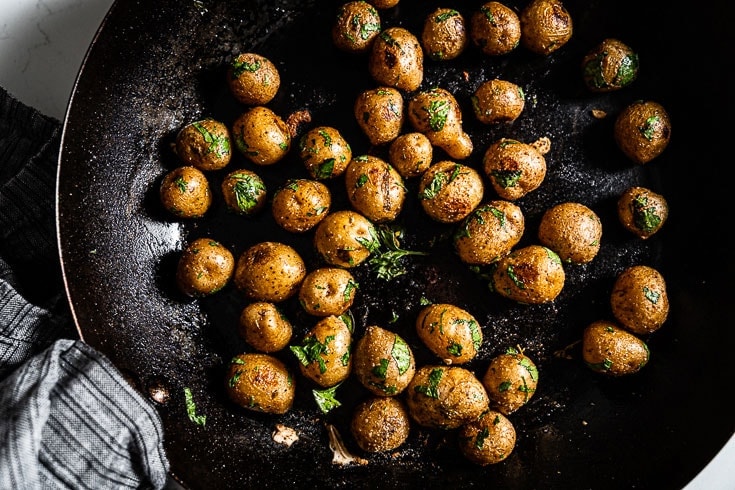 Behold the humble potato: at once common and delightful, healthy, nutritious and delicious. But cooking potatoes on the stove takes quite a while, and the results might not always be perfect. That's where sous vide comes in. Sous vide will not only cook the potatoes perfectly, but will infuse the seasoning while they cook.
I prefer baby potatoes for this recipe. Baby potatoes (preferably the Yukon Gold variety) are wonderful little potatoes with a moist, tender flesh. And after all, potatoes are already one of the most delicious sides and don't take a lot of effort to prepare. But baby potatoes are easy to handle, even more tender and don't require slicing.
After they are nicely cooked in the sous vide bath, I finish them with a quick spin in a skillet. They roll around, evenly browning beautifully, and get crispy. They can be "smashed" with the back of a spatula to make them even crispier around the edges.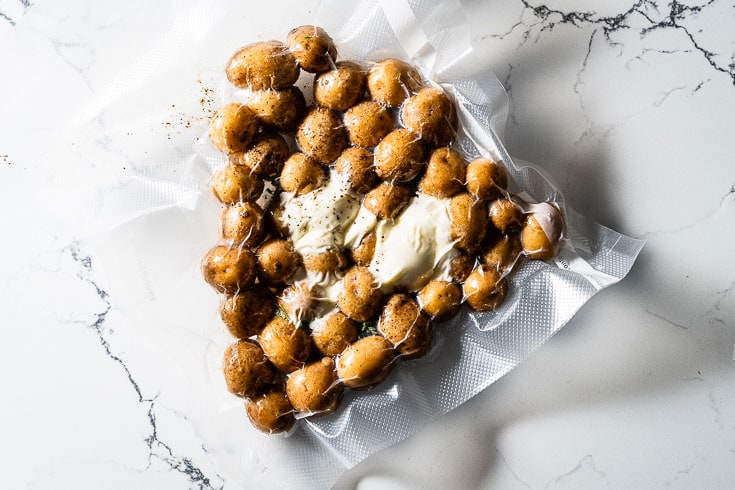 To Peel or Not?
Baby Yukons have tender skin that adds a lot of potato flavor. Plus, peeling these babies is tedious. I say leave that skin on and save your manual labor for making that cocktail.
If you really prefer to peel, finishing the peeled spuds by sautéing in a hot skillet with oil and butter will give a different kind of crispiness to the end result. This is great, too.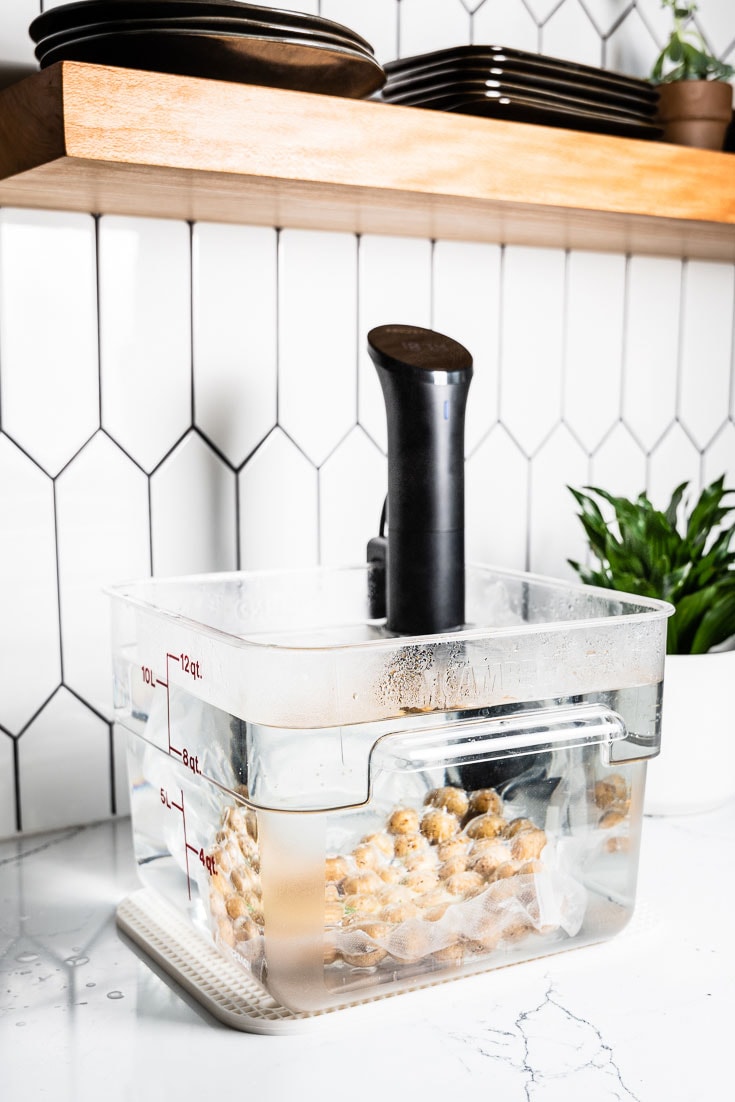 5 Ways to Finish Them
After the potatoes are cooked sous vide, you can cool and refrigerate them right in their bags until you are ready to use them.
Skillet: Just pour the potatoes into a really hot skillet, turning them until browned on all sides.
Smash: Another skillet option, where you smash the potatoes into the skillet with the back of a spatula, flipping them once. They get super crispy.
Roast or broil: Place on a parchment-lined sheet pan and place in the oven at 425° F for 10-15 minutes, or until golden brown.
As is: Eat right out of the bag. Yep, they are delicious just warmed through this way too.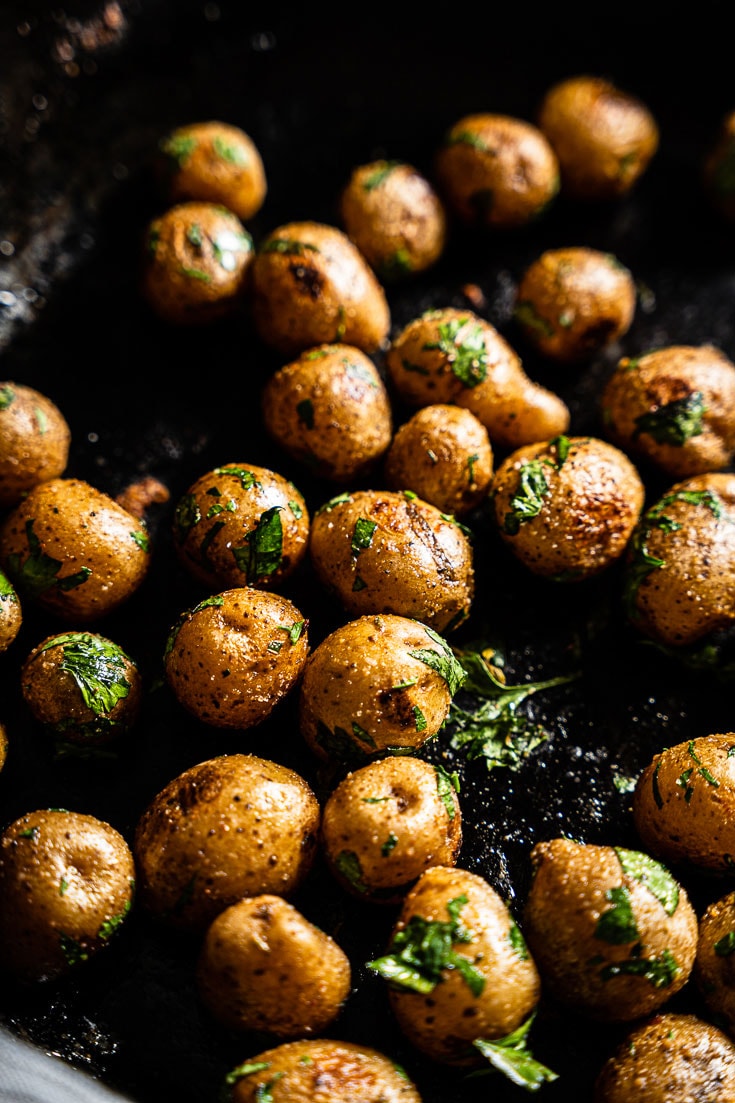 Tools & Equipment Used
Contains affiliate links where I might receive a commission if you make a purchase, at no additional cost to you. Thanks for your support!
More Sous Vide Sides
More Potato Recipes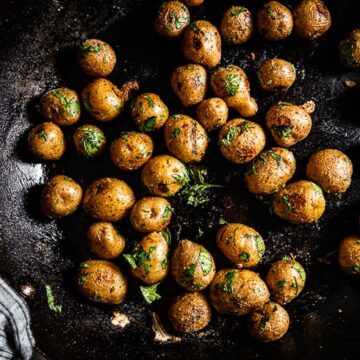 Ingredients
1

lb.

baby potatoes

¼

tsp.

Diamond kosher salt & freshly ground pepper

2

Tbsp.

unsalted butter

¼

tsp.

garlic powder

(optional)

3

sprigs

fresh thyme

(optional)

2

sprigs

rosemary

(optional)
Instructions
Preheat sous vide water bath to 194° F / 90° C.

Place the potatoes in the bag in a single layer. Season with kosher salt and pepper, and add butter and fresh herbs.

Vacuum seal and place in the water bath and sous vide for 1 hour. To check if they are done, feel the potatoes to confirm they are soft.

The potatoes can be eaten as is, or browned in a hot skillet with some butter or in a 425° F oven.
Notes
The size of the potato will determine the cooking time. Larger will require some more time.
To test for doneness; carefully do the squeeze test with your fingers. It's best to remove the bag from the water to cool slightly before touching.
If you don't have baby potatoes, you

can also cut up larger potatoes into ¾" cubes or even use fingerling potatoes.