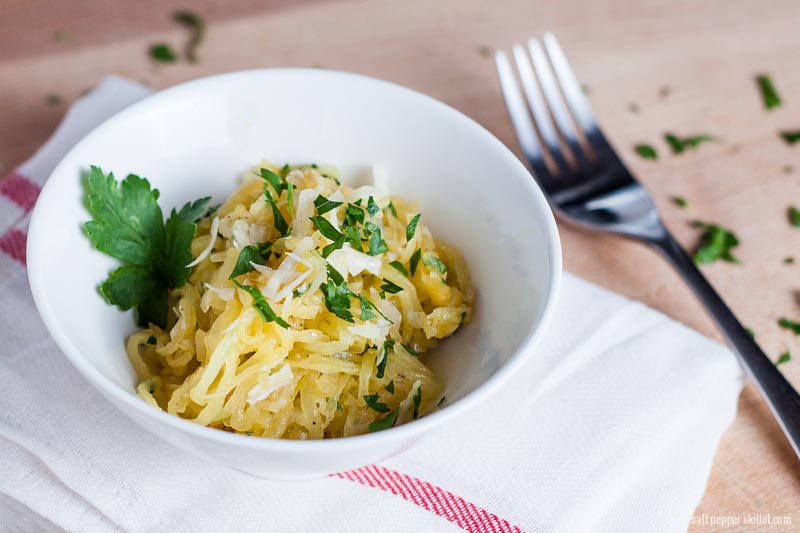 This flavorful baked spaghetti squash is a fabulous, light, tasty side to add to your dinnertime rotation. After baking, shallots, garlic and parmesan create the perfect topping for this easy spaghetti squash recipe. A lower carb alternative to pasta that pairs well with a variety of main foods.
This was our first time trying spaghetti squash and it was gifted to us by my girlfriend Stacy's friend. She gave us this little squash and wrote cooking instructions right on it. How awesome was that? Almost as awesome as these squash that have spaghetti inside of them.
Since we had never cooked spaghetti squash before, we wanted to keep it simple to really taste the natural flavors of the squash.
Our squash even came with directions! I think it's such a great idea for gifting to someone and introducing them to something new.
What Is Spaghetti Squash?
This tasty, low carb winter squash is packed with lots of nutrients. It's a good source of fiber, beta-carotene, folate and more. It has a light flavor with a texture that mimics spaghetti strands.
Spaghetti squash is a great substitute for pasta, and also works well with a variety of different flavors.
How To Cook Spaghetti Squash
Even though our friend gave directions for baked spaghetti squash, I did some researching of other cooking options. And there is definitely a variety of methods recommended. Some popular suggestions:
Cooked in a pan of water in the oven
Baked or microwaved whole
Sliced into multiple pieces and baked
Cut in half lengthwise and baked either skin-side up or down
Baked Spaghetti Squash
We took our friend's advice, which was also the most popular method on the internet and it worked quite well.
Start by cutting the spaghetti squash in half lengthwise. This can be a little difficult to do, so use a good sharp chef's knife and be very careful. I've read that you can first microwave the squash to make it easier to cut (poke holes in it first), but really, it's not the hardest thing in the world to cut.

Next, using a large spoon, scoop out the seeds being careful not to cut the spaghetti strands that are underneath.

Place squash halves on a baking sheet lined with parchment paper, then drizzle the inside of the two halves with olive oil, salt + pepper. Place the squash, into a preheated 400 degree oven for about an hour, or until you can pierce it with a fork and it is tender. Some recipes call for it to be roasted face down, some face up, some half and half. I like the flavors that come from browning, so we are roasting it face up.
If you are making this recipe for Garlic Parmesan Spaghetti Squash, while the spaghetti squash is baking, cook the shallots and garlic. Then, combine the shallots with the butter and parsley.

You may need to adjust baking time depending on the size of your squash. Once it is tender and golden brown, remove the squash from the oven and let it cool for 5-10 minutes.

Now, use a fork or two to fluff up the spaghetti strands and scoop them out of the squash into a bowl. You could also just stop here and eat the whole thing in its built-in bowl. It's really tasty as is.
Seriously. How cool are these things? They are like nature's pasta maker.
Transfer the spaghetti squash to a medium-sized skillet and add the squash and butter or olive oil (we did both) to the sautéed shallots, garlic and parsley. Cook for a few more minutes to get all the flavors going. Remove from heat and add grated parmesan. Then add some more parmesan.
I hope you all love this dish as much as we did. I was amazed at how wonderfully flavorful and delicious it turned out. It's savory, simple, light and loaded with flavor! So perfect for fall!
This baked spaghetti squash makes a great side dish, but it would also be the perfect weeknight meal when you're craving something comforting but not too heavy.
If you're looking for extra staying power, pair the baked squash with my grilled salmon. What a tasty combo that would be!

Other Options For Serving Baked Spaghetti Squash
Even though we really enjoyed keeping this baked spaghetti squash simple with just the shallots, garlic and parmesan. I'm excited to create other recipes using spaghetti squash. Here are a few recipe ideas I can't wait to try next.
Pair with marinara sauce and top with meatballs
Top with Bolognese
Pair with Mexican fixings for a burrito bowl of sorts
Stuff with ground turkey or beef, marinara and mozzarella
Toss with pesto
Other Spaghetti Squash Recipes To Try:
Spaghetti Squash with Brussels Sprouts and Bacon
Baked Spaghetti Squash Casserole from Eat Yourself Skinny
Spaghetti Squash Parmesan from How Sweet Eats
Ingredients
1

spaghetti squash

3-4 pounds

2

tablespoons

butter

2

tablespoons

olive oil

4

garlic cloves

minced

1

shallot

chopped

¼

cup

finely minced parsley

¼

cup

parmesan cheese

shredded (plus extra for serving)

salt + freshly ground pepper to taste
Instructions
Preheat oven to 400 degrees F.

Carefully cut squash in half lengthwise, then scoop out and discard the seeds.

Place squash cut side up on a parchment paper lined sheet pan. Drizzle with olive oil and season with salt + pepper.

Bake for about 60 minutes, or until the squash can easily be pierced with a paring knife or a fork. Let the squash cool for 10 minutes.

Meanwhile, sauté the shallots and garlic in a skillet until translucent, but not browned (about 5 minutes). When shallots and garlic are done, add the butter and parsley.

Scoop out the spaghetti strands from the squash with a fork (trying to maintain the long strands) and add to the skillet.

Cook for a minute or two to combine all ingredients and warm through. Remove from heat and add grated parmesan cheese.

Garnish with more parmesan and parsley.