Have you ever had Swordfish that is perfectly seared with a texture that makes your jaw drop? There's really nothing like it. Swordfish is the steak of the sea and we are trying to eat less red meat. Since we have access to the best fresh seafood anywhere in San Diego, there's no excuse not to indulge.
The Golden Beet-Parsnip Purée is silky, colorful, nutritious and delicious. I didn't even need any extra seasoning. The parsnip helps to cut some of the sweetness of the beets and purée acts like a sauce for the fish.
How to cook Swordfish?
Swordfish is much like steak, so it should be treated and cooked just like a steak. This is great news, because you probably already know how to cook a perfect steak, right?
Just like with a beef steak; it's best to start with a very hot pan with some fat in it to get a nice crust on the outside and prevent sticking. After the crust is formed, reduce the heat to evenly cook the steak without overcooking. Cooking times depend on the thickness of the steak. A 1" steak will take about 3 minutes on each side to reach medium-rare. If it is cooked too long, it will become dry and tough.
Swordfish can be pan-seared, grilled, or cooked under a broiler. Definitely check out this grilled swordfish recipe. Once you have had a high-quality piece of Swordfish cooked perfectly medium-rare, there's no going back.
What temperature to cook Swordfish to?
A very high-quality fresh Swordfish steak should be cooked to medium-rare, or to an internal temperature of 125 degrees Fahrenheit**.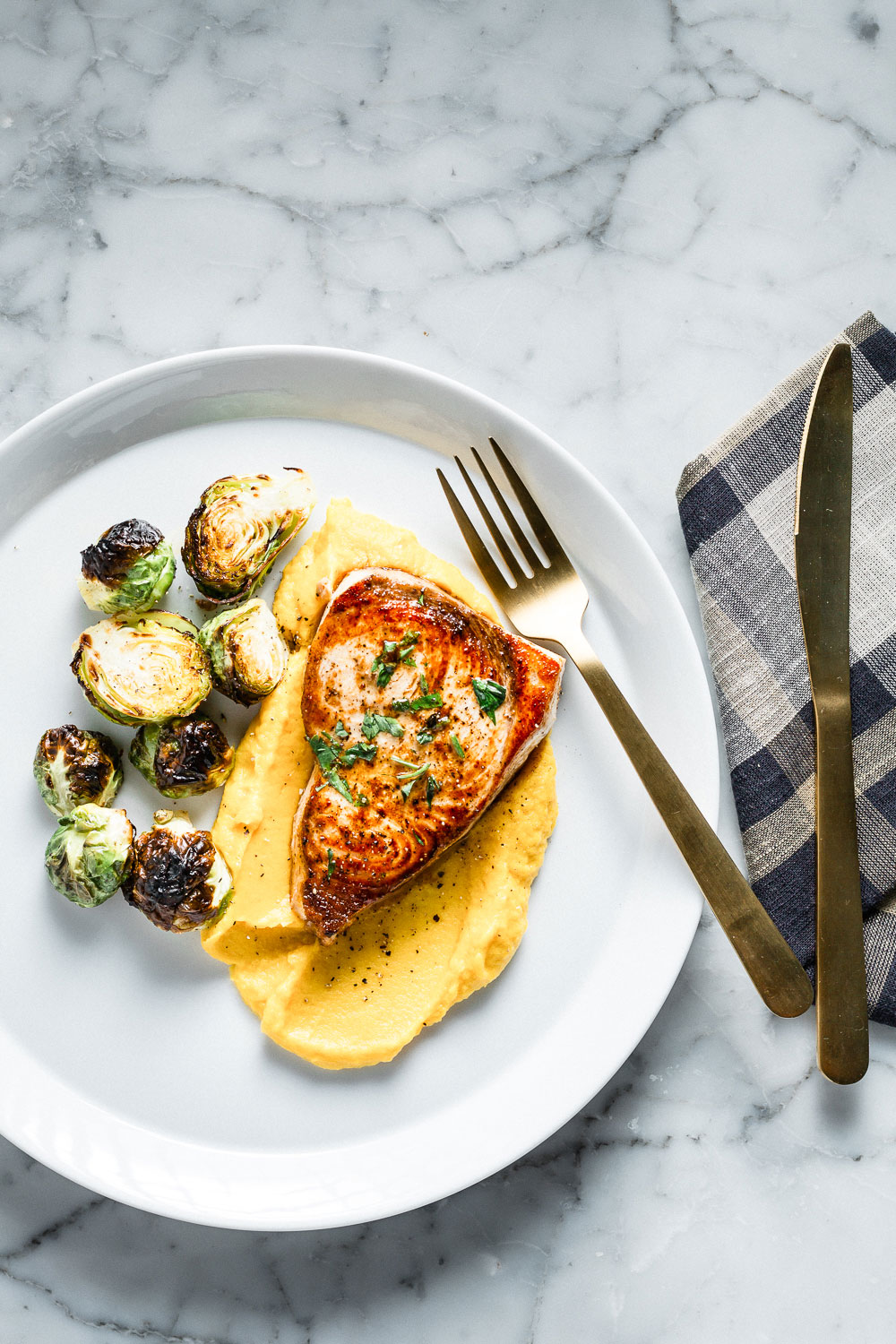 I also added some delicious crispy brussels sprouts to the plate, which add another great crunchy texture with a little sweetness to the dish. The colors look beautiful together, and it's so Fall.
To keep the fresh fish theme going, try this delicious seared tuna with a quick tomato and olive sauce or pan seared scallops.
Beautiful fresh and frozen swordfish can be sourced locally in San Diego, or ordered online and shipped to your doorstep from Catalina Offshore Products.
Ingredients
Beet-Parsnip Purée
2

Medium Golden Beets

2

Parsnips

, peeled

2

tvsp

Unsalted Butter
Swordfish
Canola Oil

Kosher Salt & Freshly Ground Pepper

2

tablespoon

Unsalted Butter

4

Fresh Sage Leaves

½

Lemon

Chopped Parsley
Instructions
To make the Golden Beet-Parsnip Purée
Starting with cold water; boil the beets and parsnips until they can easily be pierced with a knife. The parsnips will take less time, so check them after about 20 minutes. The beets will take about 45 minutes.

Transfer to a plate or cutting board, and let them cool enough to handle.

Peel the beets by cutting off the two ends off, then use a paper towel to peel the skin.

Coarsely chop the beets and parsnips, then Blend in a high speed blender with 2 tablespoons butter until smooth.

Set aside and keep warm while you cook the Swordfish.
To cook the Swordfish
Heat a cast iron skillet on high with enough oil to lightly coat the bottom just until it starts to smoke.

Pat dry the swordfish steaks with paper towels, then season with kosher salt and freshly ground pepper.

Sear the swordfish on high for about 2 minutes, or until golden brown.

Reduce heat to medium and cook for an additional minute on the first side.


Turn the steaks and add the butter and sage leaves to the skillet.

Baste the butter over the steaks frequently with a spoon and cook about 2 to 3 more minutes, or until the desired temperature is reached.

Squeeze the lemon juice over the fish with a little parsley over each.

Serve with the Golden Beet-Parsnip Purée and spoon any remaining pan juices over the fish.
Notes
Crispy Brussels Sprouts are also pictured. Get the recipe here.
** Consuming raw or undercooked seafood may increase your risk of foodborne illness.