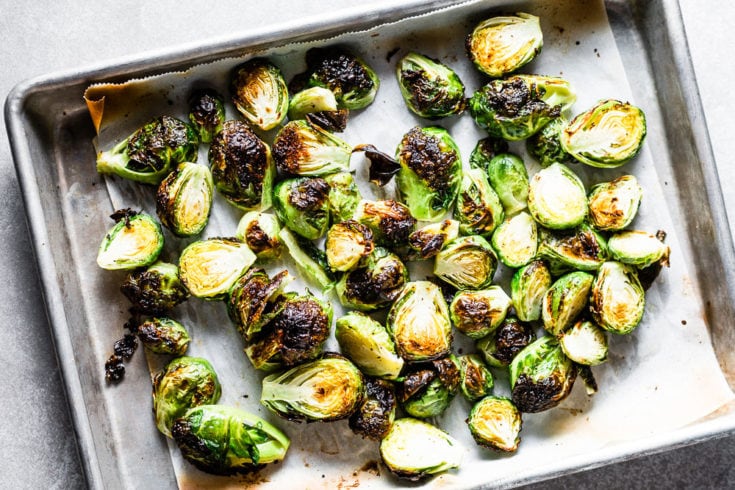 Roasted Brussels Sprouts are a healthy side dish that goes with just about everything. The best roasted sprouts are crispy on the outside, tender in the middle and have that perfectly seasoned flavor that you get at a restaurant.
When it comes to healthy vegetable side dishes, it's important that they are super easy to make. The main reason you want them to be easy (besides the obvious) is that it will keep you wanting to make them over and over again. That means more veggies and a healthier you. Simple and easy really can be a huge health benefit. 🙂
Jump to
First Things First: Is it Brussels or Brussel Sprouts?
Let's just settle the correct way to spell what we're cooking here. Brussel Sprouts or Brussels Sprouts? It's true that this wonderful little bite-sized vegetable was named after the city in Belgium, so there is, in fact, an "s" at the end, so the correct spelling "Brussels Sprouts."
While Brussels sprouts can are be great sautéed or even raw in a salad; did you know that cooking them under the broiler just might be the best method for cooking them? Many cooking methods overcook Brussels sprouts before they get crispy. You know what I'm talking about. Overcooked Brussels isn't something anyone wants. The high heat of the broiler results in crispy leaves on the outside, perfectly tender but slightly crunchy and you can really taste the natural sweetness of the Brussels sprouts.
There are numerous ways to cook Brussels sprouts. Pan-fried, grilled, deep fried, air fried, broiled, you can even eat them raw shaved in a salad. Cooking them with dry heat is best.
How to Trim Brussels Sprouts
Rinse and drain the Brussels sprouts to remove any dirt that might be attached.
With a sharp paring knife, trim off about ¼″ of the stem end, then remove any loose leaves (saving the leaves for another use like a salad).
Cut the Brussels sprouts in half lengthwise.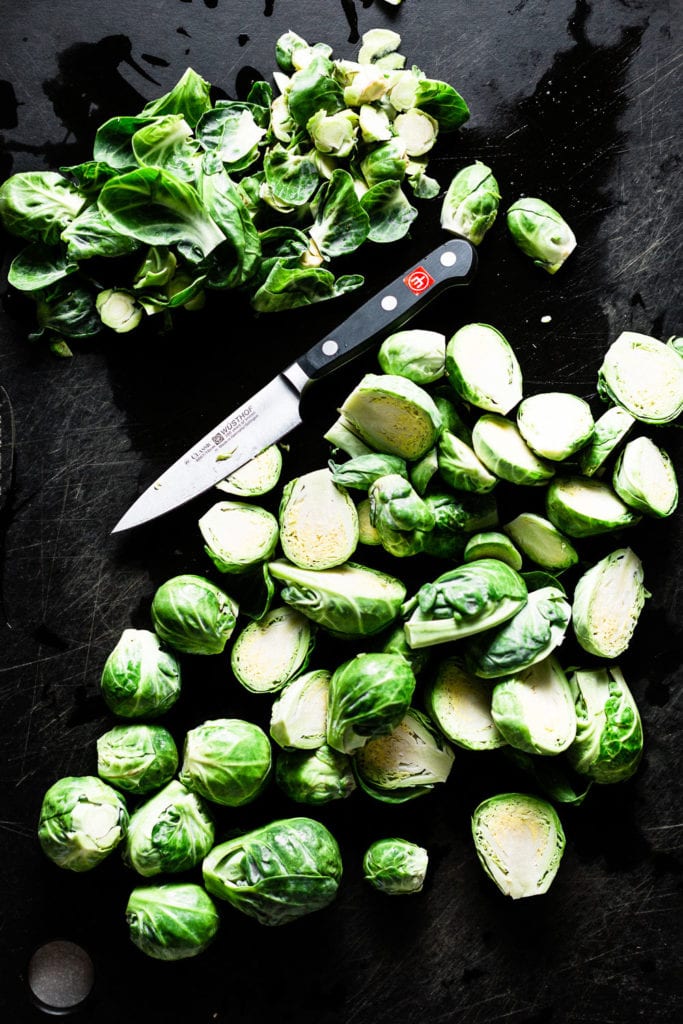 Tips for Cooking Brussels Sprouts
Cook Brussels sprouts fast and hot. There's no place for low and slow when it comes to Brussels sprouts. This is why cooking them under the broiler or deep frying makes them so much better.
Make sure the Brussels sprouts are good and dry before cooking.
Give them plenty of room on the pan so they crisp up. If they are too close together, they will steam instead of roast. Toss the Brussels sprouts in the oil instead of just sprinkling on top. Cook in batches rather than crowd the pan.
Toss in a bowl with the oil and seasoning, not just a sprinkle on top. You want to coat them well all-around for maximum flavor and crispiness. Drizzling oil on top doesn't work nearly as well for this one.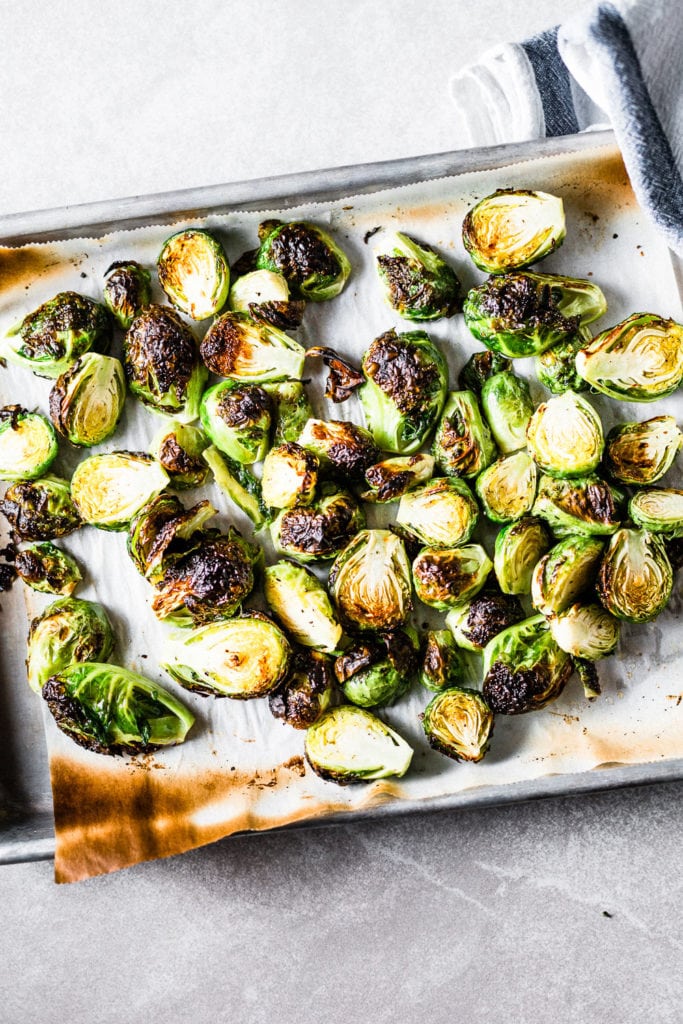 How to Roast Brussels Sprouts
Prep the Brussels sprouts (see above) while your oven preheats on broil.
Add the halved Brussels to a bowl and sprinkle the kosher salt, freshly ground pepper and the sugar to evenly coat on all sides. Adding the dry ingredients before the oil will allow it to evenly distribute throughout.
First mix together the halved Brussels sprouts with kosher salt, freshly ground pepper and a little sugar, then add olive oil and mix to coat all sides.
Place the seasoned sprouts on a parchment paper-lined baking sheet and place it in the oven to broil for 6 minutes. Carefully stir the sprouts on the sheet pan and place back in the oven for 6 more minutes.
The total time for roasting the Brussels sprouts under the broiler is about 12 minutes, but the exact timing will depend on your specific oven and the size of the Brussels sprouts. You will definitely want to keep an eye on them to make sure they don't turn into crispy charcoal, as all ovens are different.
The small amount of sugar will promote caramelization and the oil will prevent sticking and make them extra crispy under the broiler. When you see the leaves start to turn dark, that's just the first layer and that will turn into crispy goodness.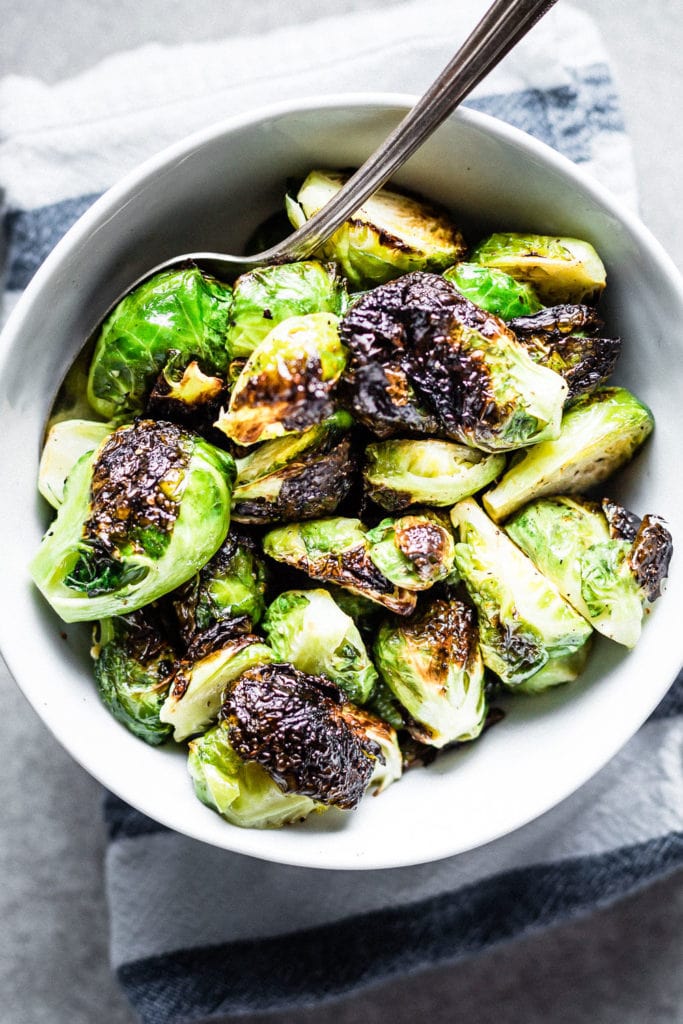 Brussels Sprouts also love bacon, balsamic and parmesan...
This post features a basic recipe for roasted Brussels sprouts, but it's also super easy to switch it up and create some variety. Add in some crispy bacon, toss in aged balsamic and or freshly grated parmesan cheese. All of these add-ins are great with the Brussels by themselves or in combination.
More Brussels Sprouts and Veggie Recipes
Check out all my go-to vegetable recipes →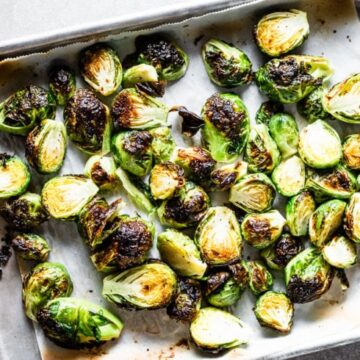 Crispy Roasted Brussels Sprouts
Three ingredient crispy roasted brussels sprouts will be on the table in just 15 minutes and are so delicious.
Print
Pin
Rate
Ingredients
1

lb

Brussels Sprouts

trimmed and halved

½

teaspoon

Kosher Salt

freshly ground pepper

1

teaspoon

sugar

⅛

cup

Olive Oil
Instructions
Place a sheet pan that will fit the brussels sprouts in the oven and preheat oven on broil.

In a bowl, combine the brussels sprouts with salt, pepper and sugar. Then mix in the olive oil.

Transfer brussels to a piece of parchment paper that has been pre-cut to fit on the sheet pan.

Very carefully place parchment + brussels onto the sheet pan in the oven.

Broil for 6 minutes then stir and rotate the sheet pan to promote even cooking.

Broil for another 6 minutes or until brussels are crispy but not burned.
Notes
The outer leaves will get crispy. Monitor carefully as all broilers are different.
Nutrition
Calories:
112
kcal
|
Carbohydrates:
11
g
|
Protein:
4
g
|
Fat:
7
g
|
Saturated Fat:
1
g
|
Polyunsaturated Fat:
1
g
|
Monounsaturated Fat:
5
g
|
Sodium:
319
mg
|
Potassium:
441
mg
|
Fiber:
4
g
|
Sugar:
3
g
|
Vitamin A:
855
IU
|
Vitamin C:
96
mg
|
Calcium:
48
mg
|
Iron:
2
mg
This post was originally published on November 21, 2017 and was last updated on May 21, 2019 to include useful content updates.