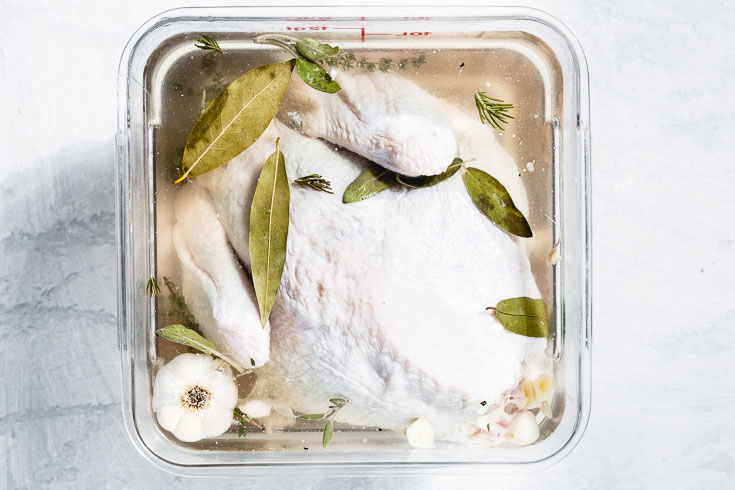 When Smoking a Turkey or even roasting a turkey; brining it first makes all the difference. Once you try it, there's no going back. Other benefits of brining are that the turkey cooks more quickly and it gives you more margin for error in cooking temperatures.
Brining can be as minimal as water, salt and sugar, but I love to add in aromatics to infuse even more flavor into the turkey. Just putting herbs into the water won't add a ton of flavor because the water is cold. The secret is to dissolve the salt and sugar with all the other ingredients into some boiling water, then letting it all steep for 15 to 20 minutes, just like tea.
How to brine a turkey
If you've never brined anything before, it can seem a little intimidating and you might be tempted to just skip it. I promise you will be thankful if you just take a few extra minutes because it will make all the difference.
Bring 4 cups of the water to a boil, then add in the salt, sugar, garlic, bay leaves, fresh thyme, rosemary, sage and peppercorns, stirring until the salt and sugar are completely dissolved. Let it steep for 15 to 20 minutes before adding the rest of the water.
Add the rest of the water. It's important for the water to cool before adding the turkey. A combination of water and ice cubes can be used to chill the brine.
Add the water and turkey to a large container to completely submerge the turkey. Refrigerate overnight, or for 12 to 15 hours.
Completely rinse the turkey and pat dry before smoking or roasting.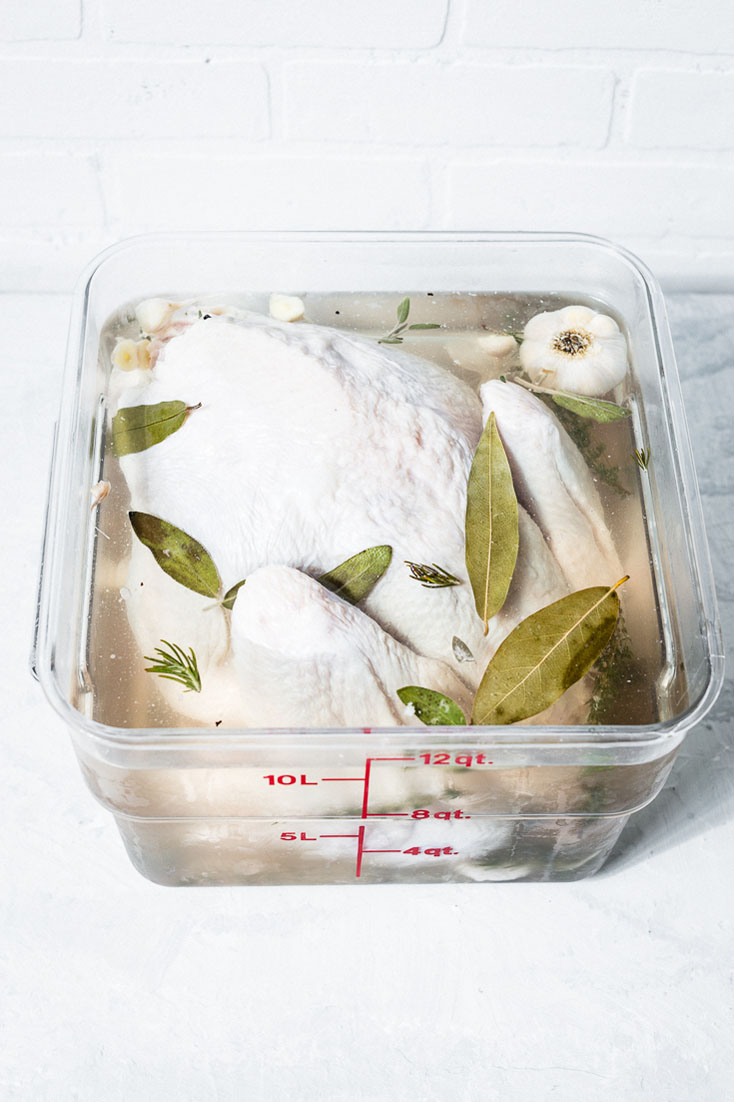 How long does it take to brine a turkey?
The brine time length depends on the ratio of salt to water. For the 1.5 cups to 2 gallons of water ratio, the turkey should be brined for 12 to 15 hours.
Can you brine a frozen turkey?
Yes! You absolutely can brine and thaw a frozen turkey at the same time, which is super effecient.
What's the best container for brining a turkey?
There are quite a few container options for brining a turkey. From a brine bag, to using a cooler, to a big stock pot. Any clean container really will work just fine, but I prefer to use a Cambro 12-quart container (affiliate link) for a 12 to 14 lb turkey. It has a cover, easily fits in the refrigerator and I can also use the same container for sous vide cooking.
Once the turkey is brined; it's time to head out to the smoker to make a delicious smoked turkey.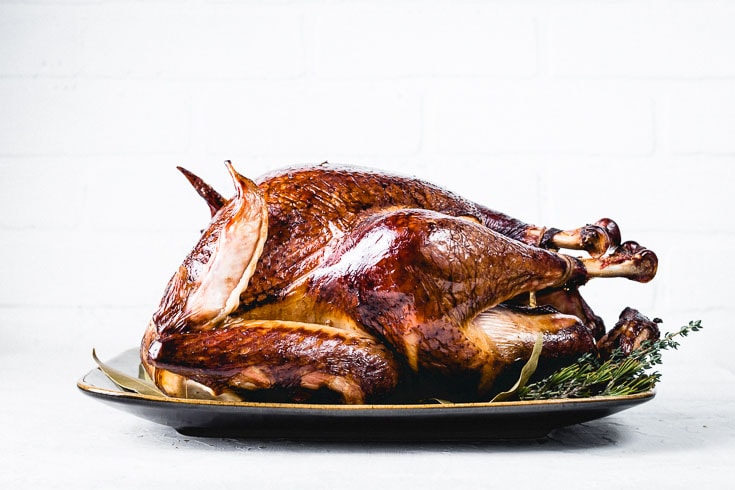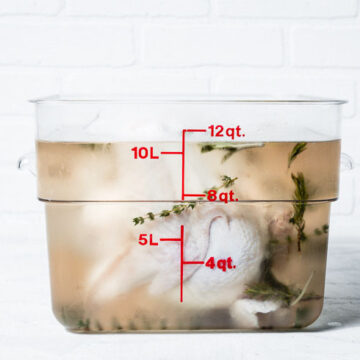 Ingredients
2

gallons

water

1 ½

cups

salt

½

cup

sugar

1

head garlic halved

4

bay leaves

8

sprigs fresh thyme

10

sage leaves

2

fresh rosemary sprigs

½

teaspoon

black peppercorns
Instructions
Bring 4 cups of the water to a boil and add the salt, sugar, garlic, bay leaves, thyme, sage, rosemary and peppercorns. Stir until the salt and sugar are completely dissolved.

Let the liquid steep for 15 minutes while it cools, then add it to the remaining water.

Meanwhile, thoroughly rinse the turkey (no need to pat dry) removing the giblets and anything else inside that came with it.

Place the turkey in a container large enough to fit and cover with the brine, making sure it is completely submerged.

Cover and refrigerate for 12 to 15 hours, rotating the turkey at least once while it brines.

Rinse the turkey thoroughly and pat dry.