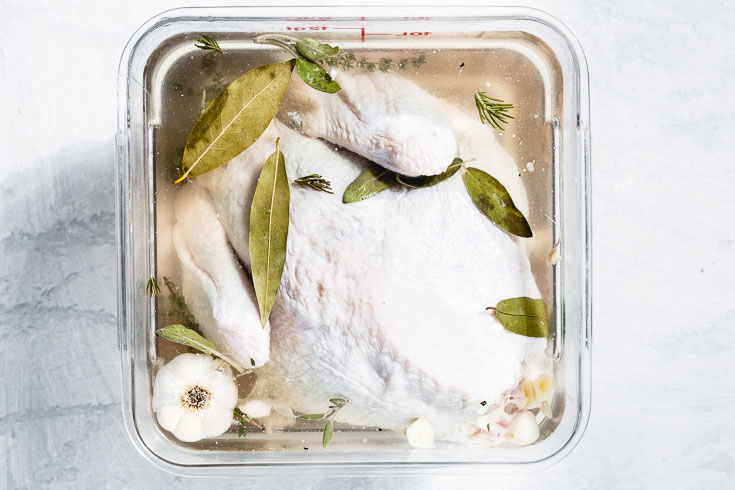 When smoking a turkey, giving it a soak in a salty brine before cooking it makes all the difference. Your turkey is going to be more flavorful, stay super juicy, cook more quickly and give you a larger margin for overcooking without drying it out. Once you try it, there's just no going back.
Brine for a smoked turkey is a simple process of combing water, salt and sugar, then giving the turkey an overnight bath. Adding aromatics to the brine will infuse even more wonderful flavors into the turkey. The secret is to dissolve the salt and sugar with all the other ingredients into some boiling water, then let it all steep for 15 to 20 minutes, just like tea.
What You'll Need
A large container - This can be a large pot, a plastic cambro container or even a bucket that can fit in your refrigerator. A lid is great, but you can always use plastic wrap if you container doesn't have a lid. Alternatively, you can use a cooler and add ice to keep it cold while it brines.
A turkey - Avoid a turkey that is pre-brined, as it will become too salty if it is brined again.
Water - Plain tap water will be great.
Salt - The type of salt you use will make a difference in that the amount of sodium by volume varies. I usually use Diamond kosher salt.
Sugar - Regular granulated sugar works great. Adding brown sugar will add some molasses flavor.
Aromatics - garlic cloves, bay leaves, fresh thyme, sage, rosemary and black peppercorns.
Optional - Adding citrus (lemon and orange peels) to the brine is a great way to brighten it up.
Jump to the recipe card for quantities.
How to Brine a Turkey to Smoke
If you've never brined anything before, it can seem a little intimidating and you might be tempted to just skip the step. But I promise you will be thankful if you just take a few extra minutes because it will make all the difference in the results.
Make the brine by bringing 4 cups of the water to a boil, placing it in a large container and whisk in the salt, sugar and aromatics to dissolve. Let it steep for at least 15 (longer is ok) to extract the flavors from the aromatics.
Chill the brine completely by adding the remaining water (and ice if you want to chill it faster) before adding the turkey.
Brine the turkey - Place the turkey in the chilled brine so it is completely submerged. Cover it with plastic wrap or a lid and refrigerate overnight, or for about 15 hours.
Rinse Turkey - Remove from the brine and thoroughly rinse with cold water to remove the excess brine and salt. Not rinsing will lead to an over-salted bird.
It's ready to smoke head out to the smoker to make the best-smoked turkey you've ever had.
You can also try this dry brined and smoked spatchcock turkey.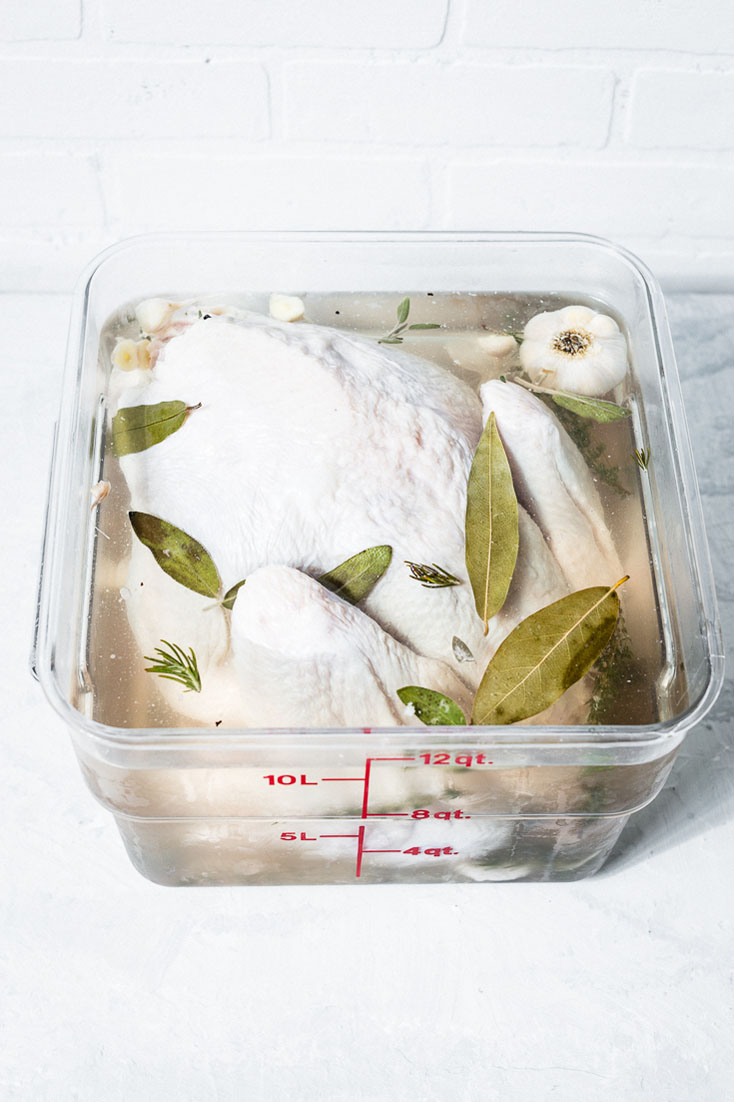 A Few FAQs
How long does it take to brine a turkey?
The brine time length depends on the ratio of salt to water. For the 1.5 cups to 2 gallons of water ratio, the turkey should be brined for 12 to 15 hours.
Can you brine a frozen turkey?
Yes! You absolutely can brine and thaw a frozen turkey at the same time, which is super efficient. Just add a few hours to the brine time if brining a frozen bird.
Wet Brine vs Dry Brine
Each has some advantages. A wet brine makes for an extra juicy bird, which is especially important when smoking it for a long time. A wet brine is also quicker than a dry brine. A dry brined turkey adds lots of flavor and helps keep it juicy. The advantage of dry brining is you don't have to deal with the large container.
What's the best container for brining a turkey?
There are quite a few container options for brining a turkey. From a brine bag, to using a cooler, to a big stock pot. Any clean container really will work just fine, but I prefer to use a Cambro 12-quart container for a 12 to 14-lb turkey. It has a cover, easily fits in the refrigerator and I can also use the same container for sous vide cooking.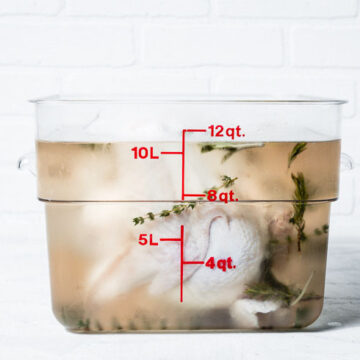 Smoked Turkey Brine Recipe
Brine your turkey with a super simple and easy brine solution to make the juiciest and most flavorful smoked turkey you have ever tasted.
Print
Pin
Rate
Ingredients
2

gallons

water

1 ½

cups

Diamond kosher salt

(or 1 cup table salt)

½

cup

sugar

1

head garlic halved

4

bay leaves

8

sprigs fresh thyme

10

sage leaves

2

fresh rosemary sprigs

½

teaspoon

black peppercorns
Instructions
Bring 4 cups of the water to a boil and add the salt, sugar, garlic, bay leaves, thyme, sage, rosemary and peppercorns. Stir until the salt and sugar are completely dissolved.

Let the liquid steep for 15 to 20 minutes while it cools, then add it to the remaining water.

Meanwhile, thoroughly rinse the turkey (no need to pat dry) removing the giblets and anything else inside that came with it.

Place the turkey in a container large enough to fit and cover with the brine, making sure it is completely submerged.

Cover and refrigerate for 12 to 15 hours, rotating the turkey at least once while it brines.

Rinse the turkey thoroughly before heading out to the smoker.
Notes
This brine recipe is for a 10 to 14 pound turkey. You can increase or decrease the ratios as needed.
The type of salt you use will have a different amount of sodium by volume because of the crystal size. For example: 1 part table salt = 1 ½ parts Morton kosher salt = 2 parts Diamond Crystal kosher salt.