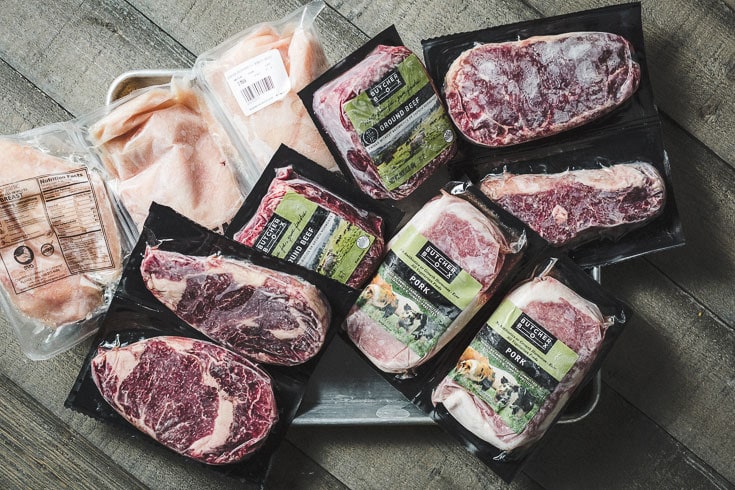 Full disclosure: I tried Butcher Box, loved it, and want to share my experience and some special savings with you so I became an affiliate where I receive a small commission if you sign up.
Butcher Box first caught my interest because it is different from the full meal subscription boxes I've seen and tried in the past. Instead of receiving all the ingredients and a recipe for the entire meal; Butcher Box delivers just the protein right to your doorstep that you use in whatever recipe you wish.
What is Butcher Box?
Butcher Box is a meat distributor that connects local farms and coops to distribute and deliver high-quality grass-fed beef, heritage pork, organic free-range chicken and wild Alaskan salmon to your front doorstep. All of their animals are humanely raised and free of antibiotics and hormones.
Who is Butcher Box for?
Those who really care about the quality and taste of their proteins.
Those who want to save time by having their food arrive on their doorstep without having to go shop for it.
If grass-fed beef, heritage pork and organic free-range chicken isn't available locally.
You love to come up with your own dishes instead of having the entire meal and recipe delivered.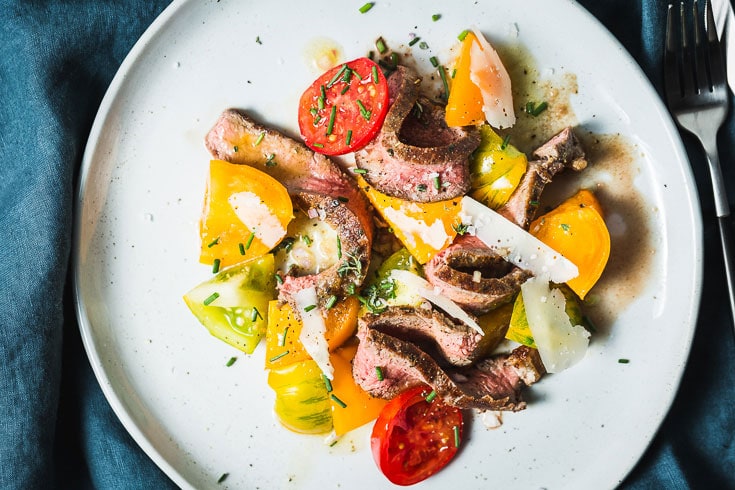 Butcher Box Ordering Options
Butcher Box has a total of 5 box options to choose from when you order. There are 4 curated box options as well as an option to create a custom box. When you go through the ordering process, you have quite a few ways to customize your box.
Each of the 5 options can come in a regular (classic) size and a big box size. The weight of the contents depends on which you order. There are also lots of "add-ons" that can be placed in the box along with monthly specials that are available.
You will have a choice between a mix of beef, pork, chicken, and other add-ons for special cuts such as salmon, lamb, and turkey (depending on the season and availability).
A custom box allows you to choose exactly what goes into your Butcher Box from the 20 different cuts of beef, pork and chicken. While the custom box gives you full control, it is more expensive by about 20%. I tend to go with one of the curated box options and have been really happy with the variety.
If you can source organic free-range chicken locally for cheaper than it is with Butcher Box, it might be worth getting a beef and pork combination box without the chicken, for example.
Box Frequency
You can choose between a monthly or a bi-monthly subscription. You will have the option to delay or change the frequency of your subscription at any time (which will go into affect after your next scheduled order). This makes it really convenient if you plan on going on vacation or happen to have a surplus of meat and don't need any more at that time.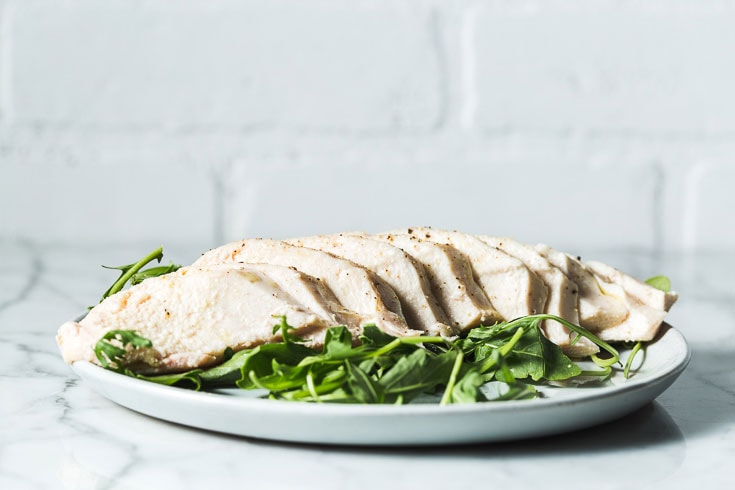 How much does Butcher Box cost?
The classic size mixed box is $129. The classic box includes 8 to 11 pounds of meat that equals out to 24 meals.
The big box is $238 and includes 16 to 22 pounds of meat, equaling 48 meals.
This might sound really expensive. But chances are you are already spending that much or more on meat at the grocery store, and the quality is probably much lower than that of Butcher Box meat.
The big box option comes out to less than $5 per 6oz portion.
What you get in a Butcher Box.
The classic size mixed box changes each month. Last month's box included:
2lbs of grass-fed ground beef
2 grass-fed New York Strip Steaks
4 grass-fed Top Sirloin Steaks
1lb of Whole Heritage Pork Tenderloin
3lbs of Free-Range Organic Chicken Breasts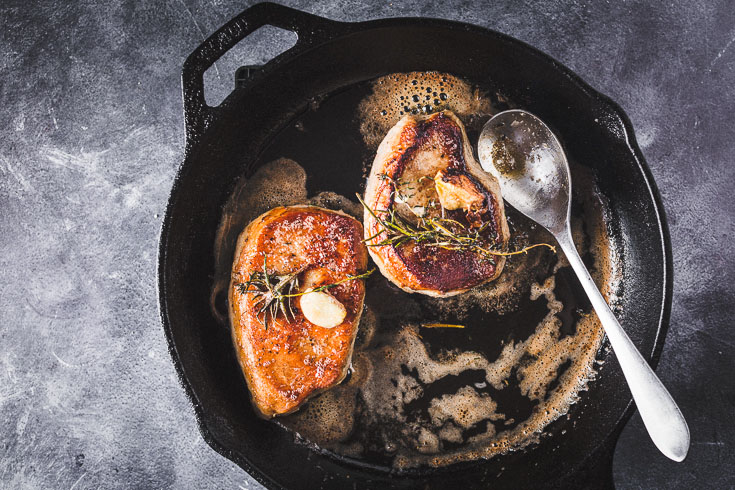 Is Butcher Box worth it?
Butcher Box isn't cheap, so this is a great question to ask, and one I asked myself. While it is more expensive, just based on taste and convenience alone, it is totally worth it.
Years ago I was all about seeing how big of a piece of meat I could get for the cheapest price. Sure, it would taste okay (maybe not so much) but it would fill me up. More recently I have been all about less but better, and have been so much happier since changing to that attitude.
Knowing you are eating quality humanely raised animals that taste so much better makes the difference. From seafood to produce, I would rather eat a little less but way better ingredients. Not only is this usually healthier, but eating quality often means it has more nutrition, so you need less of it to give your body what it needs.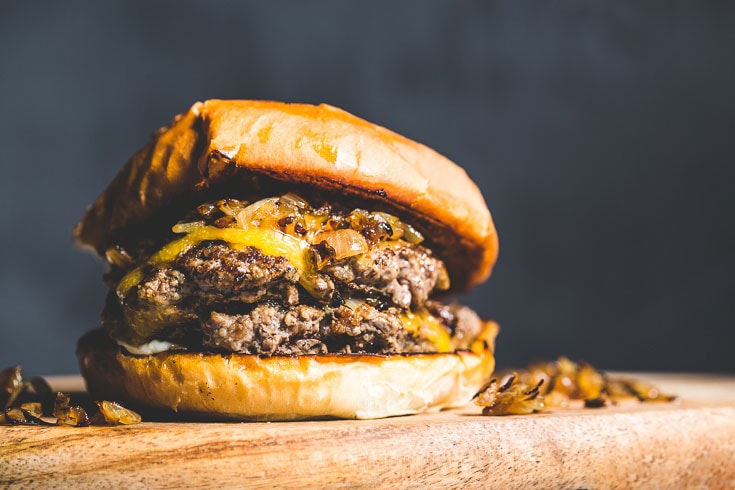 The Value of Butcher Box
The real value of Butcher Box comes in when you add in your time. You are paying for quality and convenience. If you are buying high-quality proteins, you are probably having to shop at multiple stores. The time it takes to decide what to add to your shopping list, driving to the store and shopping really adds up quick. This is all eliminated when you get Butcher Box delivered to your doorstep.
It's all about the convenience
I really don't mind going to the grocery store, it can actually be fun and inspiring when not in a hurry. I've found it much more fun to go out to the store for all the veggies and sides rather than the main ingredient.
Butcher Box helps simplify your life
When you subscribe for a mixed box; they decide for you what you will be eating that month (or you can decide with a custom box), which is a bit freeing in a way. It takes another decision out of the way so you can focus on something else that's important in your life.
A few Negatives to Butcher Box
As much as I have loved Butcher Box so far, there are a few negatives that I have experienced. They definitely aren't deal breakers, but I just want to let you know about them.
The packaging – There is quite a bit of packaging that is included to keep the meat frozen during transportation. It's a large very sturdy box with an inner box encased with compostable packaging popcorn. The popcorn is loose in the box and is a bit of hassle to deal with if you don't have a compost bin to simply dump it in. It can also be put in the sink and disintegrates when it comes in contact with water.
Meat can arrive with damaged packaging. While this doesn't happen often, I have experienced the vacuum sealed packaging being unsealed upon delivery. They do make it easy to either get a credit to your account or add a replacement to your next order if this ever happens. Even if they replace it, it is still a waste of food that could have been eaten.
Depending on how much meat you eat, the box you order can have too much or too little for your needs. They have multiple plan options to make it work for you. We switched our box delivery frequency to every other month since we don't eat meat every day.
Would I re-order Butcher Box?
The answer is absolutely yes! I would definitely order Butcher Box again and I already have! There's something amazing about looking at each other after your first bite of dinner and saying "omg that is so good." The taste and quality really is exceptional.
5 Benefits of Butcher Box (why to love it)
All of the meat is extremely high-quality.
The taste is exceptional!
Convenience. It's waiting right there in the freezer when you need that night or when planning out meals for the week/month.
It saves you shopping time since it arrives right on your doorstep.
Helps reduce food waste. When your protein is in the freezer; you simply take it out that day or the day before you are going to cook it. Buying non-frozen proteins that you are planning on consuming at a later date can end up expiring and being wasted.
Hidden benefit: Butcher Box can actually save you money!!! By going to the store less often (specifically Costco), you are much less likely to impulse buy and will end up spending less and wasting less. Think about that benefit for a sec. It's pretty powerful.
How to order Butcher Box and Save
Right now, new customers who sign up will receive 2lbs of Wild Alaskan Salmon for free in their first ButcherBox order.

TLDR;
When it comes down to it; Butcher Box is really about the convenience of quality. If you love the best tasting proteins that are delivered right to your doorstep and are waiting for you in your freezer, then you should definitely give Butcher Box a try.
Recipe inspiration for your Butcher Box
This post contains affiliate links, and I will earn a commission if you make a purchase through these links, at no additional cost to you. I only recommend products that I personally use and love from brands I trust.