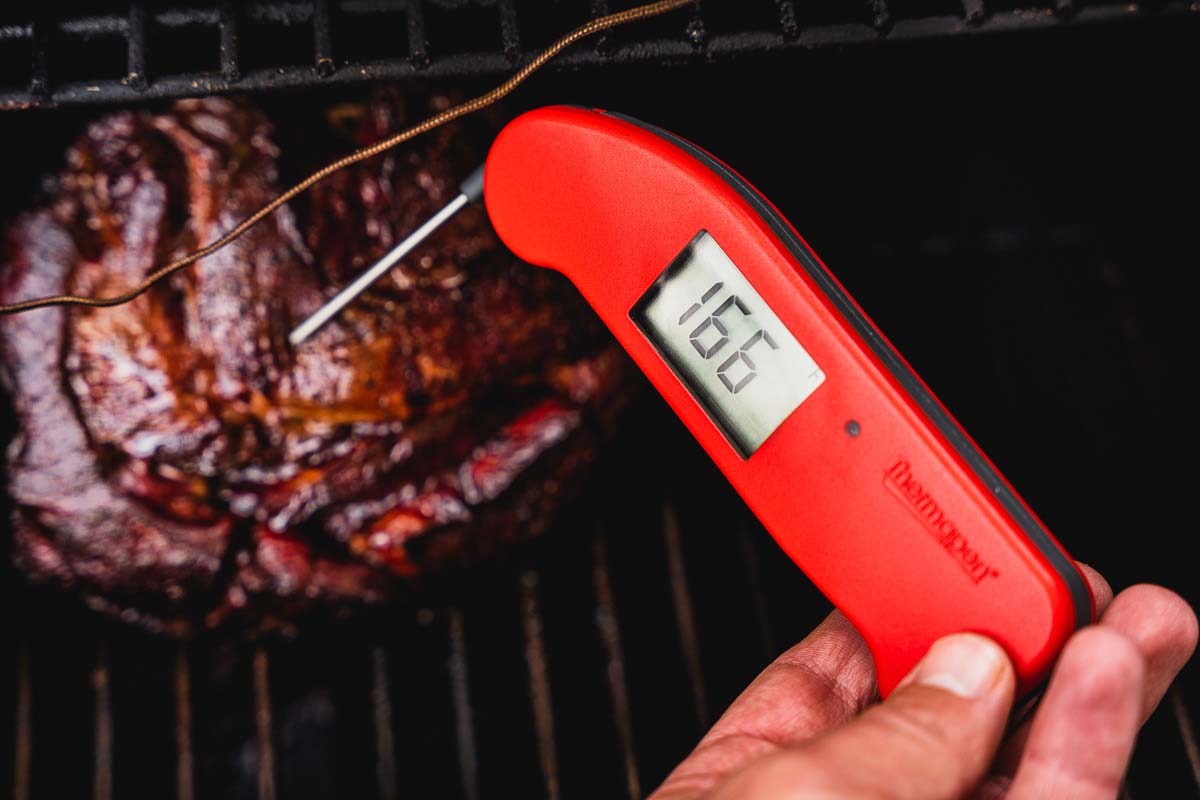 A quality meat thermometer is an absolutely essential tool for any kitchen, ensuring food safety and food that is cooked to the perfect temperature. If you were to have just one thermometer, it should be an instant-read meat thermometer.
When it comes to the best thermometer, there's really no debating what the industry gold standard is. There is one standout that is used by chefs, test kitchens and wins all the awards for being the quickest at reading temperatures with the most accuracy. It is the ThermoWorks Thermapen One.
It is so simple to use. There are no buttons or settings to worry about. You simply insert the probe into the meat and the large backlit display shows you the temperature reading in just one second and with accuracy of ± 0.5°F. It is durable, waterproof, comes in 10 colors and has a great 5-year warranty. This is my most recommended cooking tool.
The only downside to the Thermapen is the price, which can feel like a shock when compared to the cheaper options out there. At nearly $100, the Thermapen is an investment. However, considering this thermometer will last for thousands of hours of use if well taken care of and will seriously improve your results in the kitchen and out at the grill.
It's an investment I highly recommend making because of all the benefits. And if budget is really a sticking point, there is a really nice budget-friendly option that you can pick up that is close to as good.
The Best Instant Read Thermometer
A thermometer can improve cooking results for all kinds of foods - from steak to sausage, baked potatoes to bread, and even candy and ice cream. Virtually everything you cook can benefit from utilizing a quick and accurate instant-read thermometer.
Best of the Best!
Thermapen One
Fast and accurate 1-second readings with a simple, easy-to-use design.
Price: $99.95
Thermapen One Specs
Accuracy: ±0.5°F (±0.3°C) from -4 to 248°F
Probe Range: -58.0 to 572.0°F (-49.9 to 299.9°C)
Response Time: Full reading in 1 second
Battery life: 2,000 hours typical (without backlight)
Waterproof: IP67 Rating
Warranty: 5 years
The Best Meat Thermometer on a Budget
If you are wondering if you really have to spend $100 to get a quality thermometer, the answer is thankfully, no. You can still get a great thermometer for about a third of the price if you can't budget the Thermapen One at the moment.
Best Value
ThermoWorks ThermoPop 2
A must-have budget-friendly probe meat thermometer that is almost as good as a Thermapen.
Price: $35.00
ThermoPop 2 Specs
Accuracy: ±1.0°F (±0.5°C) from 14 to 208°F (–10 to 98°C)
Probe Range: -58 to 572°F (-50 to 300°C)
Response Time: Full reading in 2-3 seconds for 4.50inch probe
Battery life: 4,000 hours
Waterproof: IP67 Rating
The Best Leave-In Meat Thermometer for Smoking
A multi-channel wireless remote thermometer has a probe that stays in the meat as it cooks and one for the smoker's temp and can be monitored remotely. These are a serious game-changer when it comes to convenience when smoking meat or roasting in the oven. Since it is remote, reliability and accuracy are important. One of these will become one of your most loved smoker accessories.
Best Leave in Thermometer with Remote
ThermoWorks Smoke Alarm
Monitor your meat with one channel and your smoker's temp with the other. Set alarms to be notified when it reaches the desired temperature.
Price: $64.35 to $99
There is also the longer-range Smoke X BBQ Alarm available in 2 and 4-probe options ($169.00 to $199.00).
Smoke Alarm Specs
Accuracy:

±1.8°F (±1.0°C) from -4 to 248°F (-20 to 120°C)
±3.6°F (±2.0°C) from -58 to -4°F / 248 to 392°F (-50 to -20°C / 120 to 200°C)
±5.4°F (±3.0°C) from 392 to 572°F (200 to 300°C)

Probe Range: -58 to 572°F (-50 to 300°C)
Transmission Range: 300-feet line of sight
Battery life: 1,800 hours
Water Resistance: IP65 (excluding probe connector)
Why Cooking with a Thermometer is so Important
One of the easiest ways to improve your cooking is to cook to a temperature rather than by time. There are so many factors that determine how long something will take to cook, so relying on time is almost always going to result in imperfect results. Cooking to temperature changes all that and relies heavily on a quality and accurate probe thermometer.
Why fast readings are important:
You might wonder why the speed of temp readings is important. These are a few of the reasons:
More confident readings - you will insert the probe and gradually pull it out until you see the lowest reading (which will be the center). This takes longer with slower-reading thermometers. This is essential for getting your steak's temperature right.
Less time that the grill or oven is open which helps maintain temp.
Can check multiple areas of the meat very quickly
While I definitely haven't tried all the brands of thermometers out there, I have tried enough and been disappointed in one way or another. There is a reason to stick with ThermoWorks brand and why they are the number one most recommended by America's Test Kitchen.
More Articles You'll Love