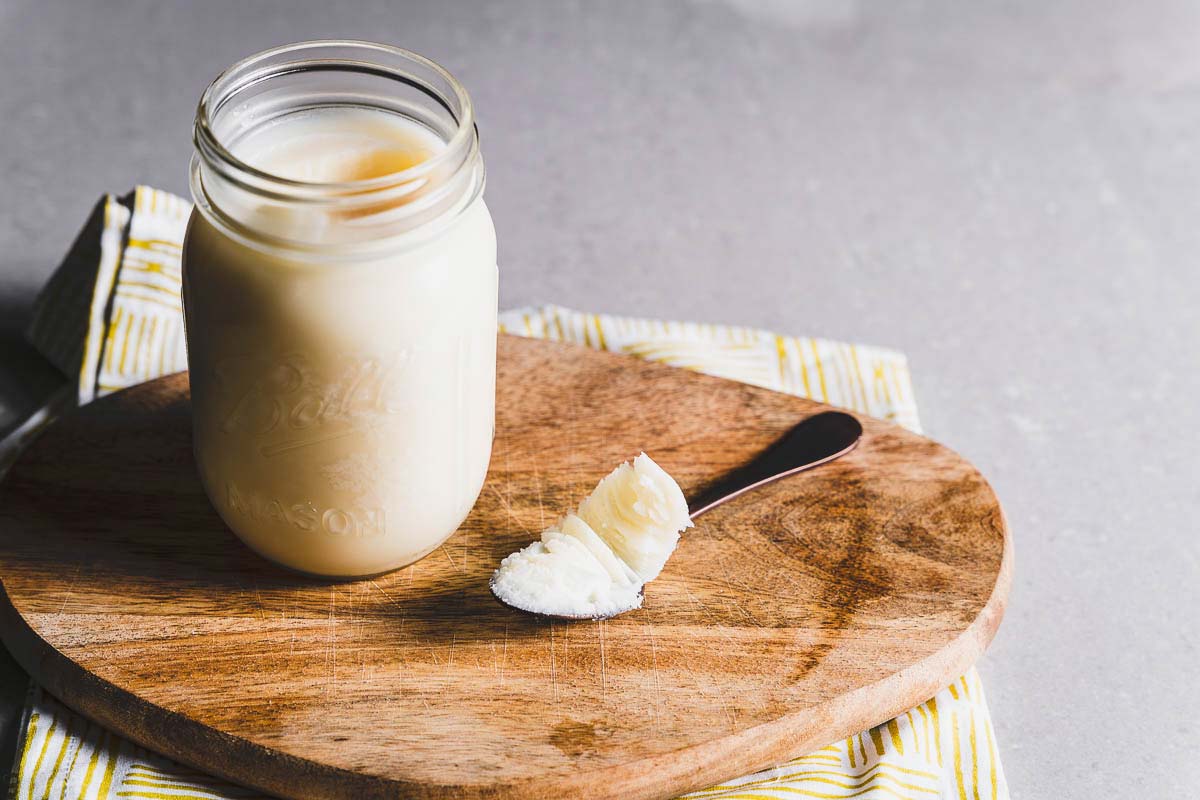 Beef tallow is a versatile fat that you can buy, or easily make at home for practically free. If you are cooking a brisket, you are going to have lots of leftovers, and chances are you will have a lot of fat trimmings to use up as well. Making beef tallow is the answer and comes with so many benefits.
Jump to
What Is Tallow?
Tallow is made from beef fat trimmings. The fat has been slowly rendered over low heat into a liquid form and impurities removed. It has a rich, savory flavor, a high smoke point and a long shelf life, making it an excellent choice for frying and other high-heat cooking methods.
It's a versatile ingredient in recipes that can be used as a substitute for butter or oil in sautéing and baking, or as a flavorful addition to soups and sauces. It also has moisturizing properties and is used in skincare products as well as for making candles and other industrial lubricants. Lard is similar to tallow, but it is made from pig fat instead of cow fat.
Making your own beef tallow involves rendering the fat and straining out any impurities, resulting in a pure and high-quality tallow that can last for up to a year in the refrigerator.
Wagyu beef tallow is made the same way but is from rare Japanese Wagyu cattle that give it an even richer flavor.
Why You'll Love It
Beef tallow has so many uses and it helps reduce waste by using up more, while making your food taste better. Best of all, making your own tallow from fat trimmings makes it practically free.
It has a high smoke point of 400°F / 205°C (similar to canola and vegetable oil), which means it is great for high-heat cooking.
What You'll Need
Scroll down to the recipe card for all the specifics and instructions.
How to Make Beef Tallow
Making beef tallow is much easier to make than you might think. Just some beef fat and a little water is all you need along with time on the stove.
Chop the fat: While the fat is cold, remove any red meat that is still attached, then finely chop the fat so it more easily renders. You can also chop it in a food processor.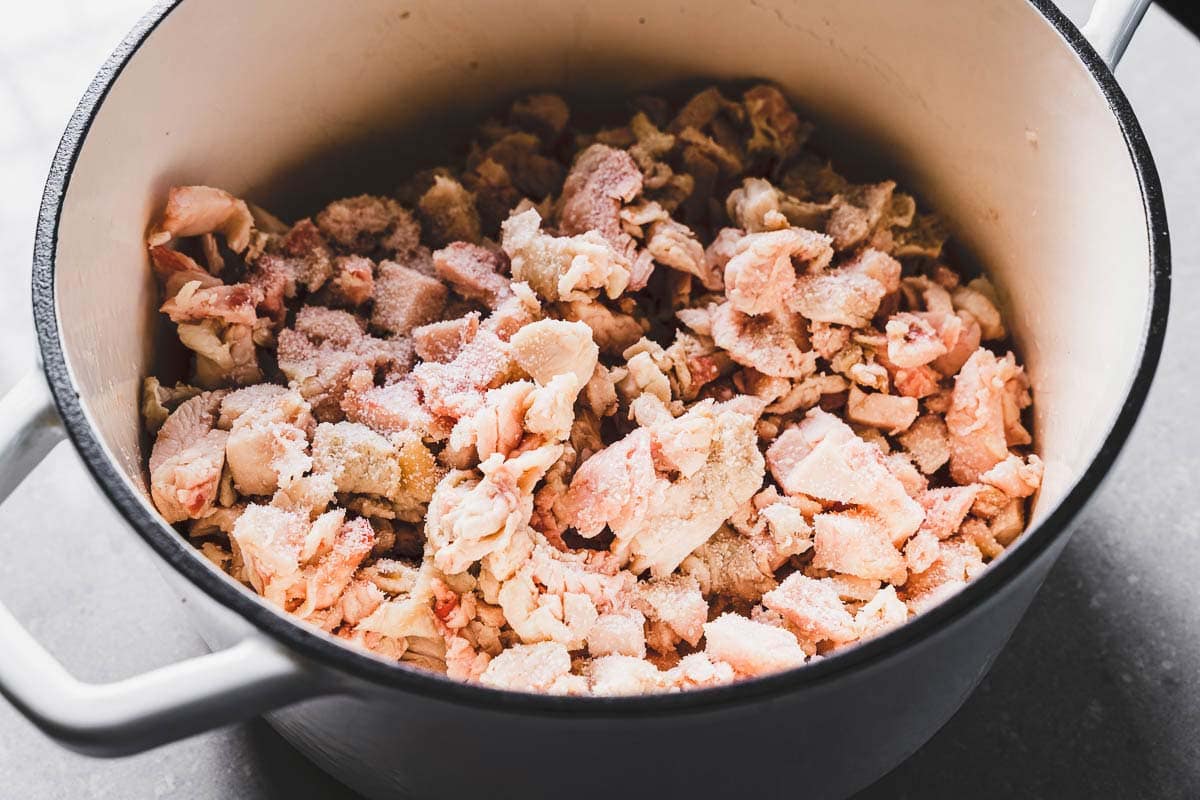 Render the fat: In a large pot over medium-low heat, add water and the chopped beef fat. Place over medium-low heat and cook for 2 to 4 hours, stirring every 30 minutes with a wooden spoon.
Tip: The more red meat that is removed, the more pure the tallow will be.
The beef fat is rendered when all the pieces are light golden brown and are covered in fat. It will take 3 to 4+ hours, depending on the quantity, size of the fat pieces, heat and the container.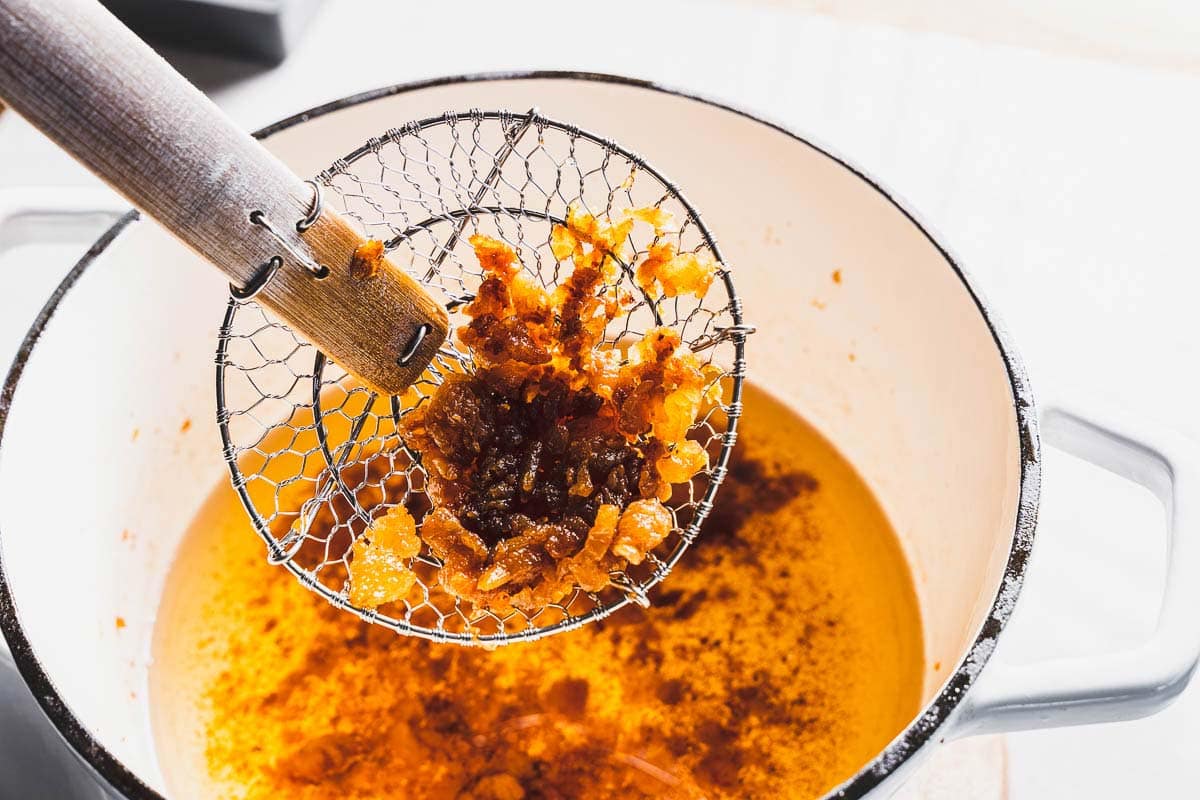 Discard the solids: Let cool slightly, then scoop off the large solids with a spider or slotted spoon. These can be discarded or saved to make dog treats.
Strain: Pour the tallow through a paper towel, cheesecloth or coffee filter-lined fine mesh strainer into a glass container (I like to use a 4-cup Pyrex measuring cup for easy pouring).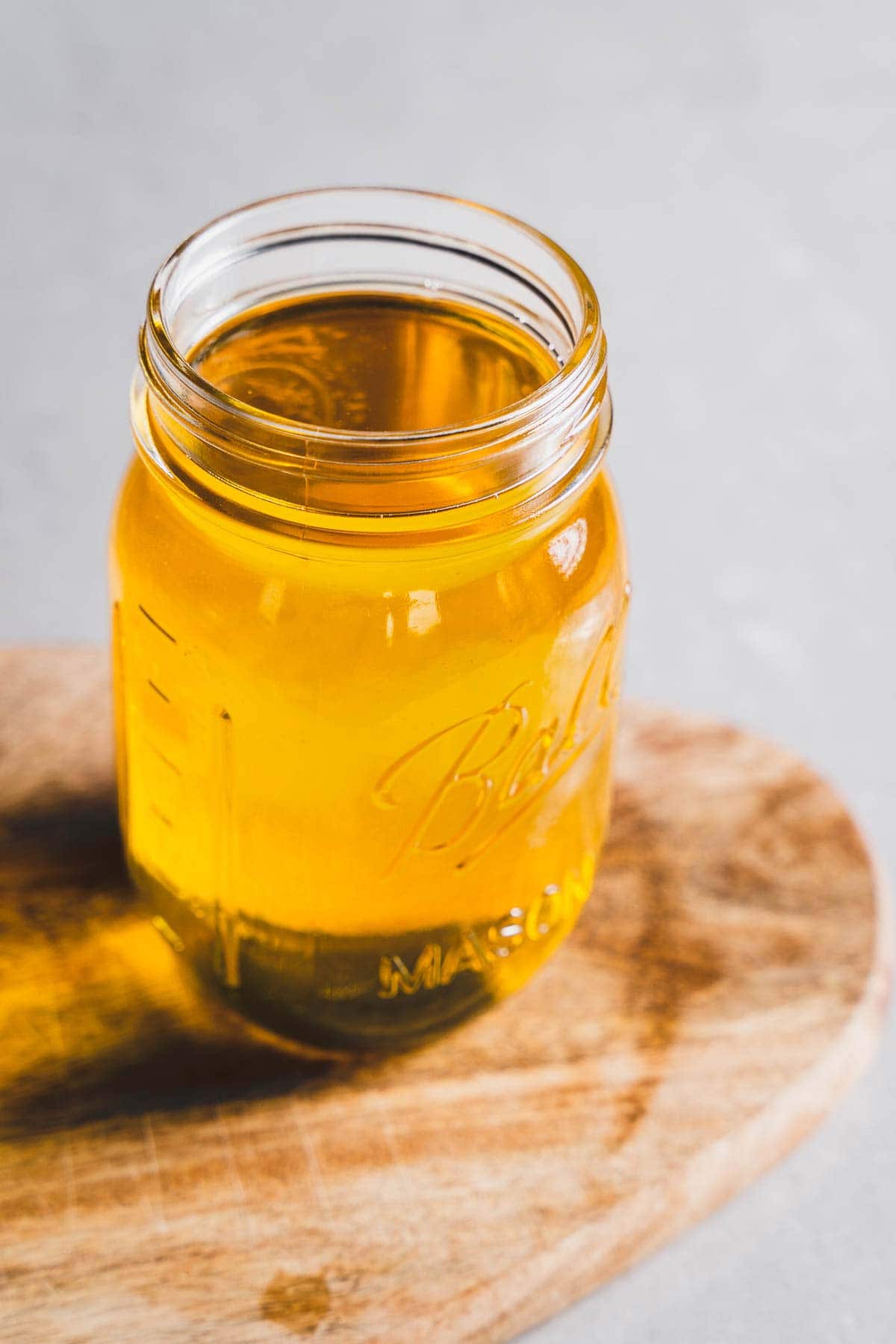 Transfer to jars (or whatever you plan to store it in), refrigerate uncovered overnight and then store with a cover.
The tallow is ready to use right away, or you can store it in the refrigerator.
Storing and Using
Store the tallow sealed in an airtight container in the refrigerator for up to 6 months. Freeze if you need to store it longer.
Use tallow as you would butter. Just scoop it out with a spoon or a butter knife.
Tips
Use medium-low to low heat over a longer period of time to prevent the fat from getting too dark, which will change the flavor of the tallow.
Remove all the red meat from the fat, which will make for purer tallow.
If you strain it into a measuring cup and chill, you can melt it in a low oven and then pour into containers later.
Save and freeze your trimmings from briskets and other beef cuts until you have enough to make tallow.
Uses for Tallow
From cooking to skincare, there are just so many uses for tallow:
Homemade tortillas - A perfect substitute for lard.
Deep frying - French fries, fried chicken, grilled potatoes.
Searing steaks and other meats.
As a binder - Melt a little and rub it on the meat to use as a binder to help the dry rub stick to the surface while it cooks.
Wrapping meat - Adding some tallow on smoked brisket as you wrap it gives it extra flavor while keeping it moist and juicy.
Season cast-iron skillets or carbon-steel skillets.
Butter or oil replacement in recipes.
Tallow balm - Used for a natural skin moisturizer and can have healing properties.
Base for soups.
Candle making.
Homemade soap.
More Recipes You'll Love
Beef Tallow Recipe
Discover the versatility and flavor of beef tallow that you can easily make at home for free with trimmings.
Print
Pin
Rate
Ingredients
2

pounds

beef fat

½

cup

water

(¼ cup per pound of fat)
Instructions
Chop the fat: Remove any red meat from the fat and then finely chop the fat, which will make it render more easily.

Render the fat: Add water to the bottom of a Dutch oven or large pot, then add the chopped beef fat. Place over medium-low heat. Stir occasionally every 30 minutes or so with a wooden spoon for 2 to 4 hours, or until most of the fat is rendered.

Strain the fat: Let cool slightly, then scoop off and discard large solids with a spider or slotted spoon. Line a fine mesh strainer with a paper towel, cheesecloth or coffee filter and set over a glass or metal container that you can easily pour with. Pour fat through the lined strainer while hot. **See note.

Pour into storage containers: Optionally transfer from the pouring container into Mason jars for storage. Refrigerate overnight uncovered until it solidifies before covering.

Store in the refrigerator for up to 6 months or in the freezer for longer, or use it right away.
Notes
This recipe makes about 2 cups of beef tallow. You can easily scale the ratios up or down depending on how much you want to make.
Cold fat is much easier to chop. Chop up, then food process, which makes it much easier. You can chill it again before processing. You don't want any large chunks.
Keep an eye on the heat. If the heat on the stove gets too hot, the fat can splatter. Rendering the fat should be done low and slow.

**If the fat is too cold, it will not easily go through the strainer.

I recommend using

a glass or metal container for the hot fat.
Nutrition
Calories:
57
kcal
|
Protein:
15
g
|
Sodium:
1669
mg
|
Potassium:
1814
mg
|
Calcium:
4
mg