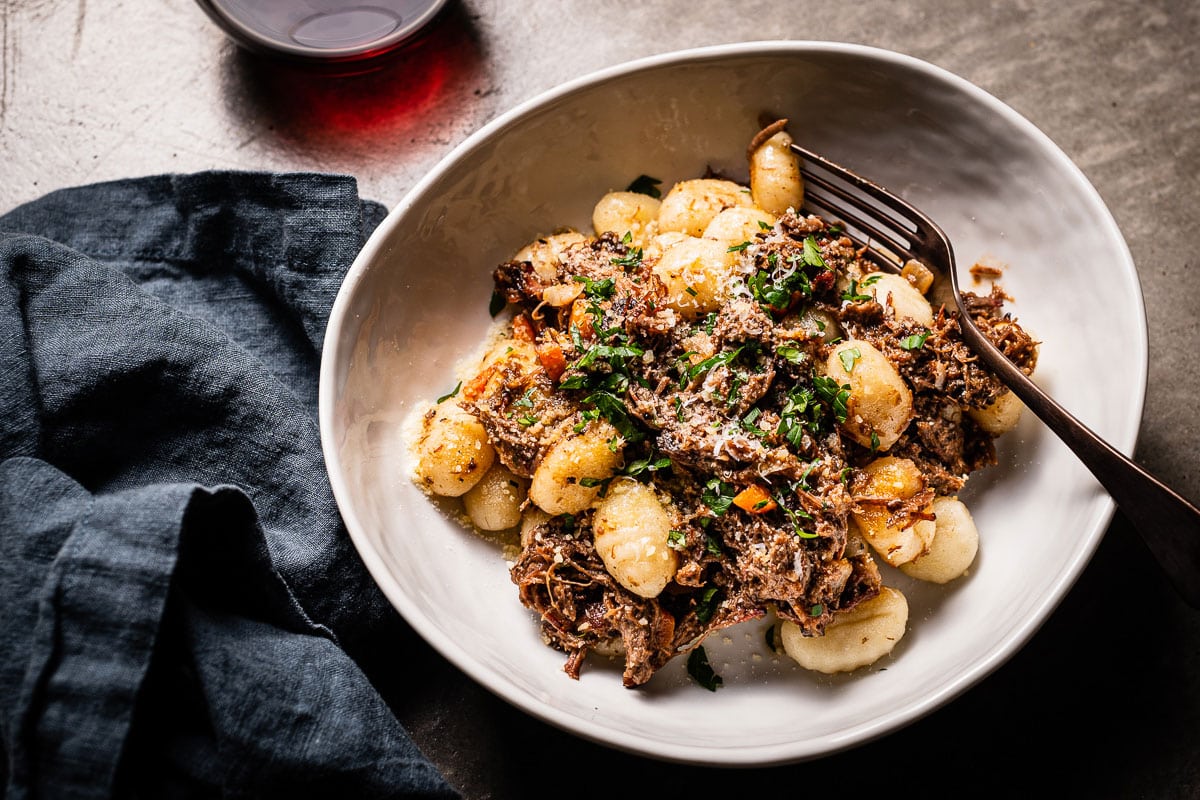 This is a full-flavored sauce that is hearty, rich and meaty while it melts in your mount with tenderness. It is deliciously smoky when you use leftover shredded smoked brisket. Serve it over pasta, gnocchi or polenta. The red wine adds acidity to balance out the richness.
The great thing about the long smokes with big pieces of meat is the quick and easy recipes you can make with the leftovers.
Remember, you have already done all the hard work, so it really doesn't need to cook for hours and hours. If you were going to make a ragu like this from scratch, it would take quite a long time to cook the meat low and slow to make it tender enough.
You can add some peas and/or corn to the mix at the end to lighten it up and add some nice bright color.
What Is a Ragu?
A ragu is simply a tomato-based meat sauce with onions, usually made with red wine. Bolognese sauce is a ragu, but there are a million variations, some of which include other vegetables, some of which don't. Some use white wine, some use no wine. Some use beef, some pork, some lamb and some use... uh, horse. I think we'll stick with brisket here.
Serve It Up With...
Pasta - Pappardelle, rigatoni or farfalle. You want a wide pasta that can be a vehicle to transport the ragu and absorb its flavors.
Gnocchi (pictured in this post) - Another hearty base for ragu (it's not technically pasta) that both stands up to the ragu and becomes part of it.
Creamy or crispy polenta - Unlike with pasta, with polenta the ragu is served on top, not mixed in.
Risotto - Delicious served on creamy risotto where you can mix in the ragu to create a meal that will keep you warm and full for a long time.
Side salad - This is a perfect accompaniment to balance out the rich ragu.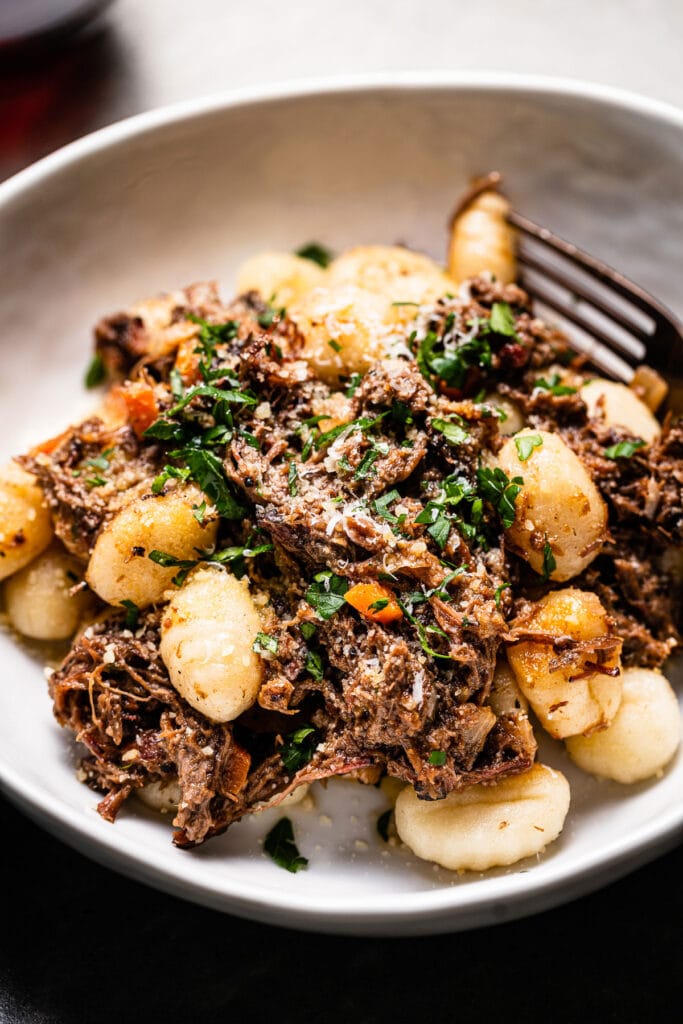 More Recipes You Will Love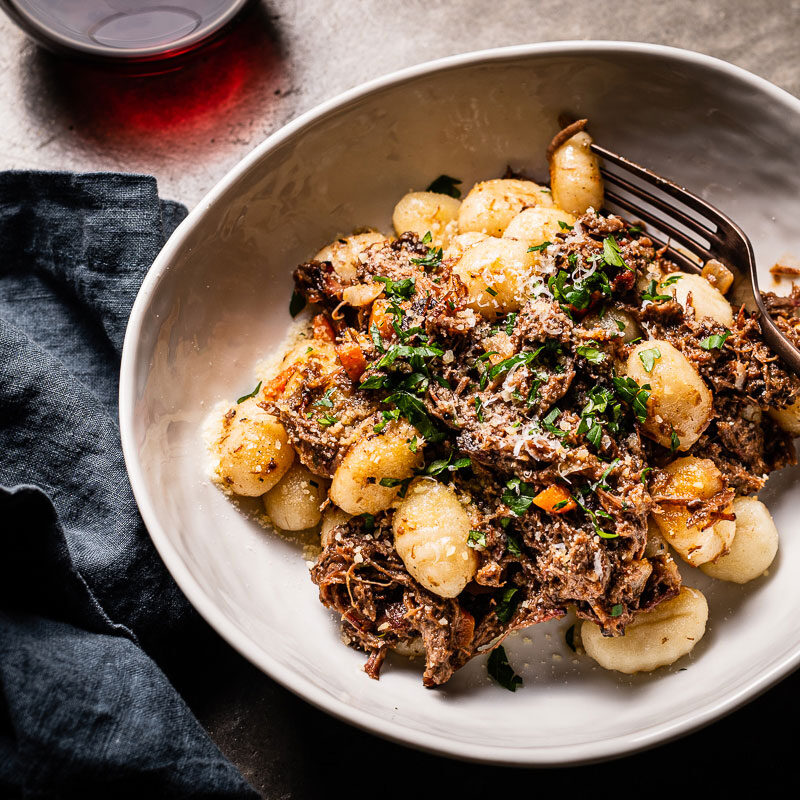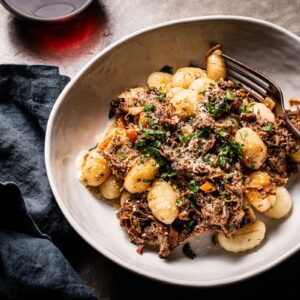 Ingredients
2

teaspoon

olive oil

1

small onion

diced

1

carrot

peeled and diced

½

teaspoon

kosher salt

4

garlic cloves

smashed

2

tablespoon

tomato paste

1 ½

lb

leftover cooked brisket

shredded

2

cups

dry red wine

1

bay leaf

1

teaspoon

chopped fresh thyme

Freshly grated Parmesan cheese

Finely chopped parsley
Instructions
Heat olive oil in a 4-quart Dutch oven over medium heat. Sauté the onions with the carrot and salt until just starting to turn golden. Add garlic cloves and cook for another minute. (About 10 minutes total.)

Stir in the tomato paste.

Add the shredded brisket. Then add wine, bay leaf and thyme. Stir together.

Bring to a simmer and cook for 30 minutes or until the desired sauce consistency is reached, stirring every 5 to 10 minutes to redistribute the flavors.

Be sure to taste before adding any salt or pepper, since your brisket might have plenty of seasoning. And pasta should be cooked with plenty of salt in the water (2 tablespoon per pound of uncooked pasta).

Serve mixed into pasta or gnocchi (or serve over polenta or risotto) with a sprinkle of grated Parmesan and chopped parsley.
Notes
Optional: Add crushed tomatoes or tomato sauce after the tomato paste if you want a more tomato-y texture.