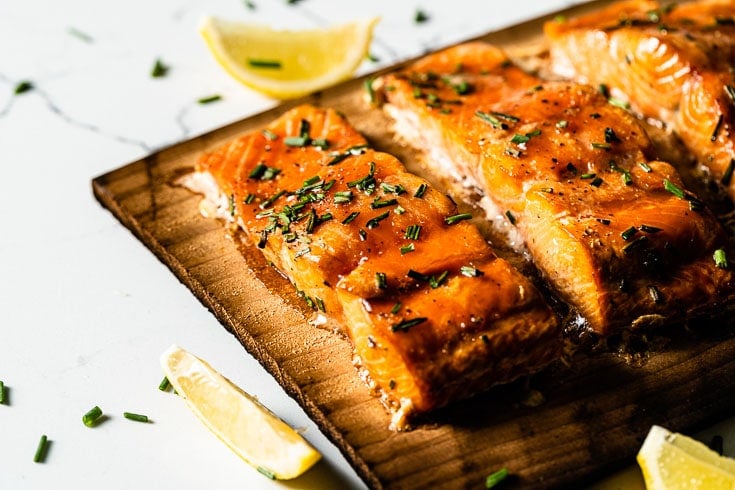 Moist, tender, and flavorful, with a hint of the Northwest. A tiny bit of brown sugar adds a succulent flavor that pairs with the slight cedar smoke. Cedar-planked salmon isn't just convenient and tasty, but it's also a healthy choice. Salmon is high in protein, low in saturated fats, and loaded with vitamins (particularly B12) and omega-3 fatty acids that keep your body humming and lower the risk of many diseases.
What is Cedar Plank Salmon?
Cedar plank salmon is a traditional cooking method of the Native Americans in the Pacific Northwest (who know a thing or twenty about salmon!) where the salmon is cooked directly on a water-soaked, food-safe cedar plank on a hot grill. Combine the ease and speed of grilled salmon and the complex flavors of hot smoked salmon. It's like taking the best of grilling, smoking, and baking salmon and combining them into one amazing -- yet simple -- process.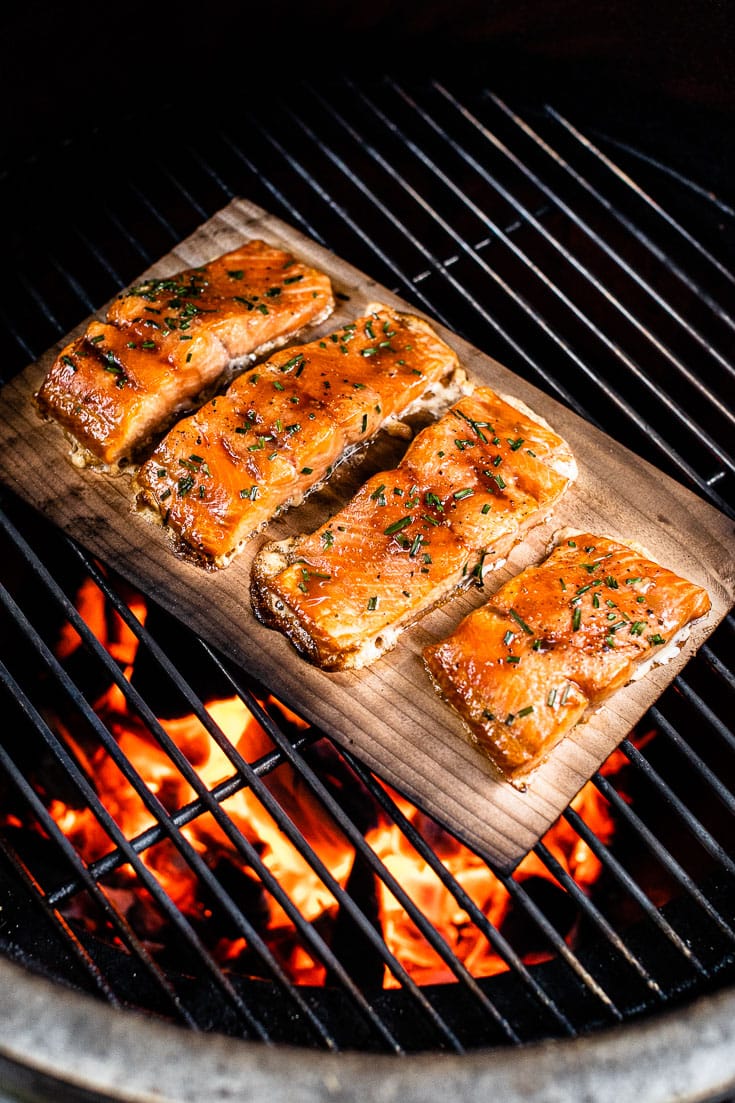 Preparing the Fish
You can cook the filet whole, or cut it into individual 6 to 8 oz portions. I prefer individual portions, but either will work great. The nice thing about individual portions is slicing the fish before cooking is much cleaner and it makes for an easy transfer right to a plate once it's cooked. Cooking the entire salmon filet on the cedar plank will result in a slight flaky disarray when it's time to serve.
It's also best to take a few minutes and remove those pesky pin bones. Use some fish tweezers (affiliate) or needle-nose pliers for the optimal salmon-eating experience.
While any fresh salmon will do for this recipe, I always recommend using wild salmon whenever possible. It is healthier (lower in fat and higher in nutrients) and also environmentally preferable. Wild salmon also supports fishing communities in the Northwest, while farmed salmon typically comes from abroad. You can read about my journey to the Copper River in Alaska, where this beautiful Coho Salmon came from.
Where to Buy Cedar Planks?
While it can be really tempting to buy cedar wood from the hardware store or lumber yard, you need to be very careful. Always use food-grade and untreated cedar planks. These can be purchased on Amazon or your favorite local culinary or grilling store.
The 5"x11" cedar planks are perfect for 2 to 4 portions. You will need a larger 5"x15" plank for grilling a whole filet of salmon.
How to Remove the Salmon Skin
For grilled cedar plank salmon, I prefer to remove the skin because it allows more of that amazing smoky cedar flavor to penetrate the salmon filet from the plank.
Place the salmon filet on a cutting board with the skin side down and tail end closest to you.
Slide a very sharp and flexible boning knife between the skin at the tail end and the flesh and get a firm hold on the skin.
Begin to carefully slice away from you making sure you don't slice through the skin, but also don't take any extra flesh until you reach the end.
While crispy salmon skin is wonderful in some recipes, this method doesn't result in crispy skin. Leaving the skin on can also prevent moisture loss when grilling or baking, but this recipe subtly steams the fish with the water from the soaked plank -- allowing the cedar flavors in -- so that's not a concern.
How to Make Cedar Plank Salmon
Soak the cedar plank for at least 1 hour.
Pre-season the salmon with kosher salt, freshly ground pepper and brown sugar and refrigerate while the cedar plank soaks.
Pre-heat the grill to 400° F, then place the cedar plank over direct heat for 4 to 5 minutes until you start to smell the cedar smoke.
Place the salmon on the cedar plank and cook with the lid closed for 12 to 15 minutes, or until the internal temperature reaches 125° to 130° F. Use an instant-read probe thermometer to verify doneness.
Remove and serve it right on the cedar plank.

Salmon skin lover tip: If you love super crispy salmon skin as much as I do; don't throw it away. Crisp it up in a hot skillet with a little olive oil.
How Long Do You Cook Cedar Plank Salmon?
It takes about 12 to 15 minutes to cook salmon fillets in a hot 400° F grill over direct heat. However, the time it takes to grill salmon on a cedar plank depends on the temperature of your grill, the thickness and type of salmon you are cooking. The salmon is finished cooking when the internal temperature reaches 135° F. Always use a probe thermometer (affiliate) to verify. Be careful not to overcook. When a white substance called albumin starts to appear, the salmon is cooked through and starts to overcook.
Tips for cedar plank salmon
Always soak the cedar plank for at least 1 hour before placing it on the grill. Putting a dry cedar plank on the grill is a no-no, as it can catch fire, or smoke too much and make the fish inedible.
Cedar planks have a tendency to float when you try to soak them, so place a heavy pan, jar, or anything you have around on top to keep it submerged.
Tuck the thin side of the filet under to double the thickness for more even cooking.
There's no need to flip the salmon. Cook on the first side the whole time as long as your grill lid remains closed.
Cook by temperature and not by time. The time might vary greatly depending on the temperature of your grill, the salmon, etc.
Don't overcook the salmon. It's finished cooking when the internal temperature reaches 135° F. Overcooked salmon will be dry and darker in color, and also feature a lot of that harmless whitish substance (albumin) that forms on cooked salmon.
Serve it right on the plank. No need to transfer to another platter.
Never buy treated cedar. Buy food grade planks for safety.
Use wild salmon whenever possible.
Can You Reuse Cedar Planks?
While you technically might be able to, I don't recommend re-using cedar planks on the grill. Since the whole point is to extract the smoky flavor, used planks may be too charred and dried out to really give the smoky essence you want. There's also the potential for bacteria on or inside the wood, which can make it unsafe to use again.
Cedar Plank Salmon in the Oven
Yep, it's totally possible to make cedar plank salmon in the oven. There are even reusable cedar oven roasting planks specifically for this. While the cedar flavor does get infused into the salmon, it isn't quite the same as making cedar plank salmon on the grill over a live fire, either taste-wise or in the elemental experience of cooking salmon over live fire in the way Native Americans (and Scandanavians) have for centuries.
To make cedar plank salmon in the oven, you can just about follow the recipe in this post. Instead of charring the plank, you just put the salmon on the roasting plank like a roasting pan in a 400° to 450° F oven, and cook until the internal temperature reaches 135° F.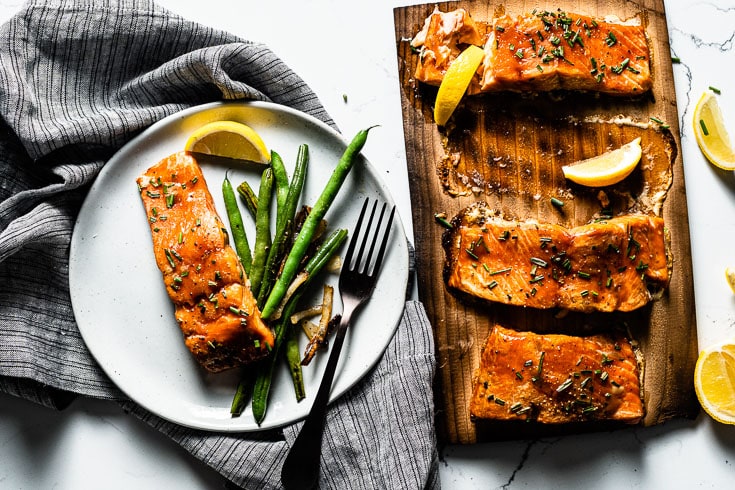 Perfect Sides for Cedar Plank Salmon
More Delicious Salmon Recipes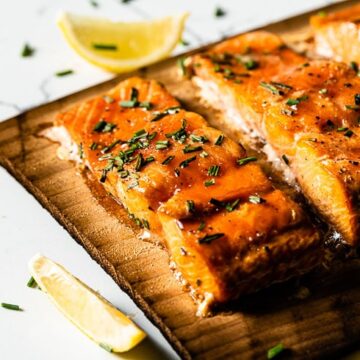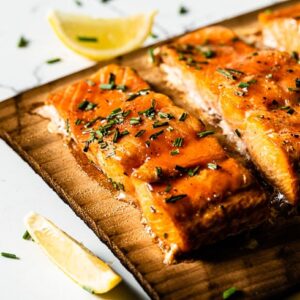 Cedar Plank Salmon
Smoky, slightly sweet, and just so perfect in less than 15 minutes. Cedar plank salmon on the grill brings out the flavors that salmon is meant to taste like.
Print
Pin
Rate
Ingredients
1

Cedar Plank

(soaked in water for at least 1 hour)

4

(6 oz) Salmon Filets (preferably wild)

pin bones and skin removed

olive oil

kosher salt & freshly ground pepper

2

tablespoon

brown sugar
Instructions
Drizzle a little olive oil on the salmon fillets and brush to evenly coat. Season all sides with kosher salt, pepper and the brown sugar. Refrigerate for 1 hour while the cedar planks soak in water.

Pre-heat the grill to around 400° F and remove the salmon from the refrigerator.

Place cedar plank on the grill over direct heat for about 4 to 5 minutes until you start to smell the cedar smoke.

Transfer the salmon to the cedar plank and close the lid. Cook for about 12 to 15 minutes or until the internal temperature reaches 125° to 130° F (140° for well done). Test with a probe thermometer.

Remove the cedar plank from the grill and serve.