When it comes to chicken, cooking it in a smoker brings it to a whole other level. The amazing added flavors, combined with how darn easy it is, will make smoked chicken a staple in your house. Whether you use a Big Green Egg, Traeger, an electric smoker or charcoal kettle grill; smoking a whole chicken is basically the same. Smoked with indirect heat at a relatively low temperature, it gets infused with amazing smoky-sweet applewood flavors until it is cooked through to juicy perfection.
From tacos to smoky pulled chicken sandwiches to just ripping it apart with your bare hands, a smoked chicken is a simple solution you can add to so many recipes that call for chicken. You can even smoke two (or more) chickens at the same time and have a completely different menu for an entire week.
Smoking a whole chicken is as easy as 1-2-3. The extra step of brining has the big advantage of adding flavor and juiciness to the chicken. While brining might take some extra time, it will actually help the chicken cook slightly faster.
This recipe for smoked chicken takes you step-by-step through the three stages for the ultimate delicious results. First, the chicken is brined in a basic solution of salt, sugar and water. Then a dry rub is dusted all over the chicken, just before placing it in the smoker to be smoked to perfection with applewood for about 4 hours.
The Optimal Temperature for Smoking a Whole Chicken
I prefer to smoke whole chicken at 250° F / 121° C. This temperature is not too hot and not too cool. The bird stays moist, but still doesn't take forever to cook. The lower temperature also gives the smoke time to infuse throughout the entire chicken.
Cooking chicken at a low(ish) temperature like this won't result in crispy skin. In fact, the skin can get a little rubbery, so this doesn't make for that amazing crispy chicken skin that we all love. If you insist on crispy skin, then crank up the heat of your smoker toward the end of the cook to around 400° F to crisp it up for 10 to 15 minutes.
Or you can sear on the hot grill grates, rotating every few minutes to cover all surfaces. You have to be careful not to overcook the chicken when doing this, so I will usually just sacrifice the skin for perfect meat.
How Long to Smoke a Chicken
The chicken is done smoking when the internal temperature reaches 160° F and the thighs around 180° F. Figure about 45 to 60 minutes per pound at 250° F.
Always use an instant-read probe thermometer (affiliate) to verify temperatures.
The length of time it takes to smoke a whole chicken depends on many factors and it's really never so much about the length of time as it is reaching the desired finished internal temperature. With all of the variables, such as size and the starting temperature of the chicken, consistency in the smoker's temperature, and even the weather that day. It is still nice to have a basic idea of how long it is going to take to cook.
The Best Wood for Smoking Chicken
Apple or cherry wood are always my top picks for smoking chicken. They are more subtle and have slightly sweet flavors that pair wonderfully with chicken and don't overpower it. You can use one or even a combination of the two.
For smoking in a charcoal smoker like the Big Green Egg, I prefer to u see wood chunks, which will last a lot longer providing smoke throughout the cook, rather than just at the beginning with chips unless you reloaded them.
Applewood Chunks (affiliate link) for charcoal smokers.
Applewood Chips for an electric smoker.
Applewood Pellets for pellet smokers.
Spice Rub for Smoking Chicken
You can use your favorite spice rub, or even go super simple with just salt & pepper. I prefer the rub I use for smoking chicken to have brown sugar for some sweetness, plus some cayenne pepper and black pepper for a little heat. Paprika will add beautiful deep colors to the chicken to enhance the presentation along with adding some subtle flavors.
A lemon pepper rub, buffalo rub or Mediterranean rub with basil and oregano would also be great.
Be careful not to use a rub with too much salt when applying it to a brined chicken, as it can get too salty.
How to Smoke a Whole Chicken
Brine it in a dissolved solution of 1 cup Diamond Kosher Salt, ¾ cup sugar and 4 quarts water for 3 to 6 hours. Thoroughly rinse and pat dry with paper towels.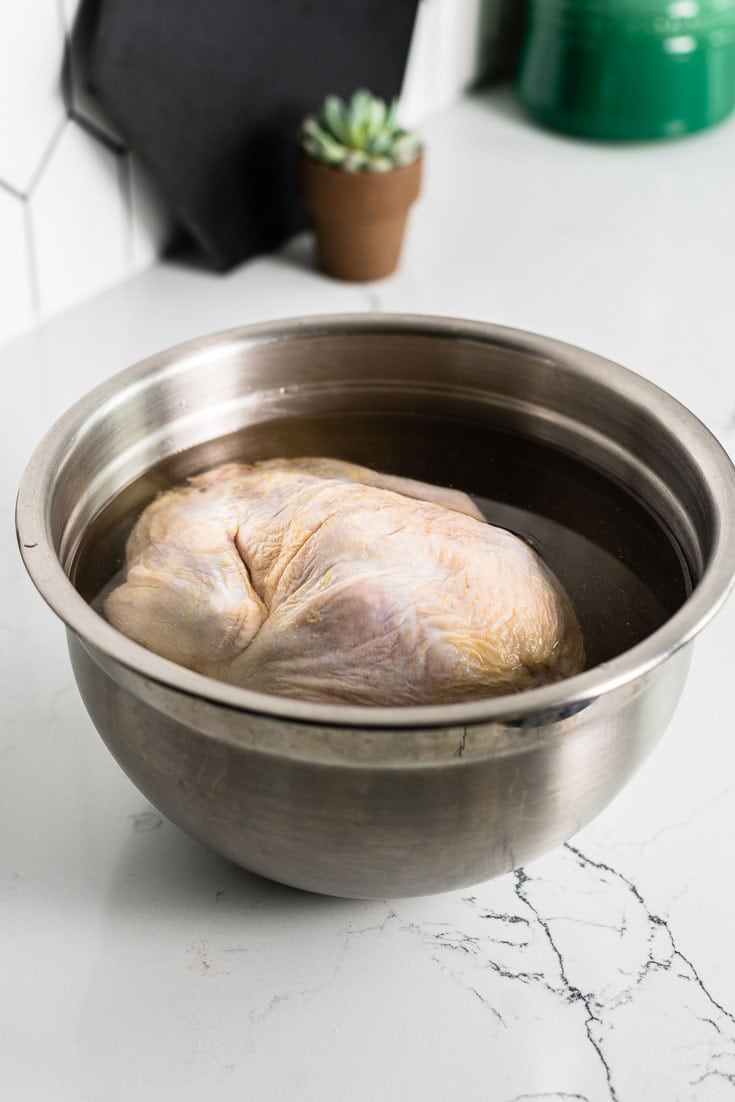 Apply a dry rub and let it sit out to come to room temperature.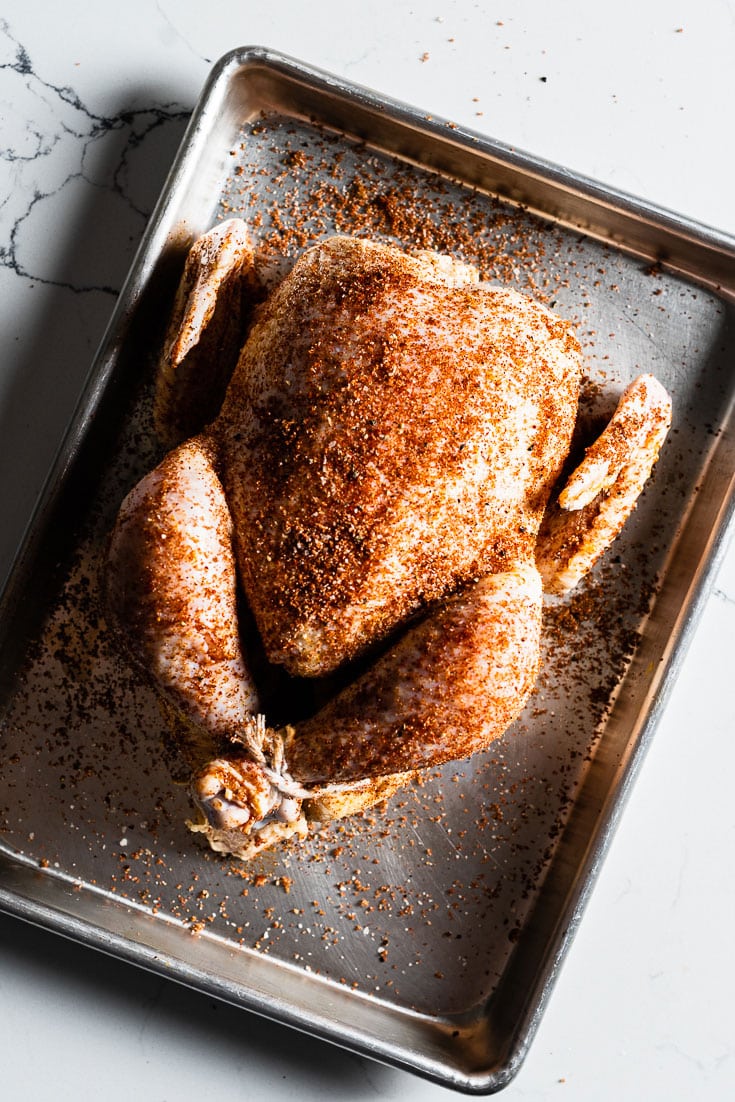 Prep the smoker for indirect-heat cooking at 250° F with a drip pan filled with hot water under where the chicken will be placed.
Smoke the chicken until the internal temperature of the breasts reaches 160° F and thighs are around 180° F (about 45 to 60 minutes per pound). Note that the temperature will continue to rise when you remove it from the heat.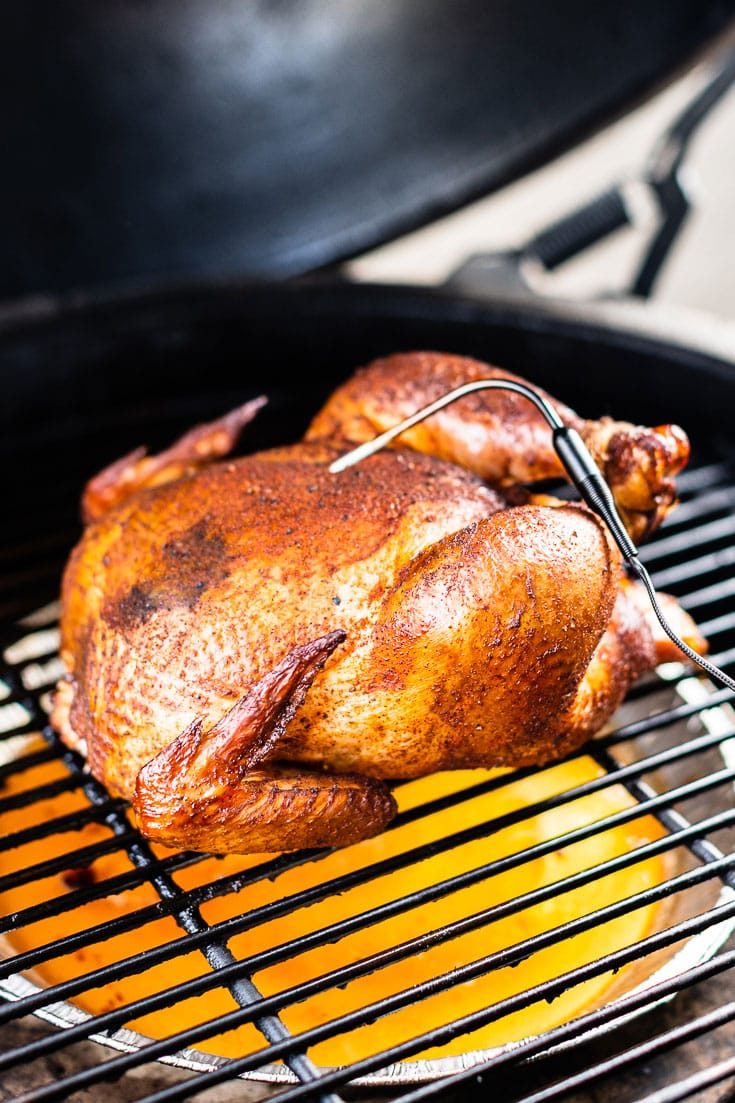 Rest the chicken for 15 minutes uncovered on a cutting board, carve and enjoy.
If you could only smell this. It is amaaaazzzing!
Do You Have to Brine the Chicken Before Smoking?
It's definitely not a requirement to brine the chicken before you smoke it. However, it can make a pretty big difference in the final result of a super juicy and flavorful bird. If you are in a time crunch, you can skip the brine step and add more salt to your dry spice rub.
Adding Flavors to the Brine
A brine is a great way to infuse flavors into the chicken. You can add fresh herbs such as thyme and rosemary, lemon, garlic, peppercorns or whatever you can think of that you love with chicken. This is something I will generally do when roasting a chicken in the oven, but not when smoking, as I prefer the rub and the smoke to do the work of flavoring the meat.
If you do wish to add flavors to the brine, you can boil ¼ of the water and add all of the brine flavoring ingredients to steep in the warm water for about 20 minutes. This will pull out those flavors into the water, whereas the cold water won't. Then add the remaining cold water/ice and make sure it isn't warm before adding the chicken to brine as you would.
How to Keep Smoked Chicken Breast Moist
Brining the chicken before smoking is the best way to keep the breast moist. You also want to make sure the temperature of your smoker doesn't get too high during the cook. Keeping a drip pan filled with water below the chicken will also create a more humid environment that is optimal for keeping the meat moist.
Ideas for What to Make With Smoked Chicken + leftovers
The great news is that your smoked chicken will be even better the next day, so it's perfect for leftovers.
Pulled chicken, tacos, quesadillas, smoky breakfast hash, smoked chicken sandwich, smoked chicken salad, smoked chicken alfredo pasta, the most amazing smoky chicken enchiladas, or just shred it and serve over grilled caesar salad, a kale salad with a creamy dressing or a tangy vinaigrette. The possibilities are nearly endless. Don't forget to make chicken stock with the bones for even more meals.
If you have room in your smoker, definitely smoke two or more chickens at the same time for more food with no extra effort. This will give you leftovers for days, and cooked chicken freezes great in little freezer bags. You can then just crisp it up in a skillet when you are ready to eat.
Sauce Ideas to Pair with Smoked Chicken
A sweet and tangy bbq sauce or a vinegary Carolina BBQ sauce is a great choice with pulled meat. A buttermilk ranch is a wonderful creamy pairing or even honey mustard or a balsamic vinaigrette that is the same as your salad is great for dipping the chicken in.
Perfect Sides for Smoked Chicken
More Delicious Chicken and Smoker Recipes
Ingredients
1

(4 to 5 lb) Chicken

Slather to make the rub stick

(canola oil, mustard or even hot sauce are great)

3

tablespoon

Dry Rub
Basic Chicken Brine
4

quarts

Water

1

cup

Diamond Kosher Salt

(Use ½ cup if using Morton Kosher Salt)

¾

cup

Sugar
Instructions
To Brine the chicken:
In a large bowl or container large enough to easily fit the chicken, whisk the salt and sugar with the water until it is dissolved. Submerge the chicken in the brine, then cover and refrigerate for 3 to 6 hours.

Thoroughly rinse and pat the chicken dry with paper towels and discard the brine. Let the chicken sit out on the counter to come up to room temperature.
To Smoke the Chicken:
Prep the smoker for indirect heat cooking and bring the temperature to 250° F. Add wood chips according to the manufacture's instructions and place a drip pan filled with water below where the chicken will smoke.

Apply a light slather (canola oil, mustard or hot sauce) all over the skin of the chicken to help the spice rub stick. Sprinkle about 2 to 3 tablespoons of dry rub with a shaker for even distribution all over the skin. Do the presentation side (breasts) last.

Place the chicken in the smoker and cook until the internal temperature of the breasts reaches 160° F and thighs are around 180° F. This will take between 3 and 4 hours. Use a probe thermometer to verify. The temperature will continue to rise about 5 degrees once removed from the heat.

Rest the chicken on a cutting board for 15 minutes before carving and serving.
Notes
You can optionally tie the legs of the chicken together with kitchen twine to help it cook more evenly and for a better presentation.
If the chicken won't stay submerged while brining, place a heavy bowl on top to help keep it below the surface. 
If brining the chicken for more than 6 hours; reduce the amount of salt by half.
Be careful not to use too much salt in the spice rub when seasoning a brined chicken. 
While chicken skin is an amazingly tasty thing, it's really not the best when you smoke a chicken at a lower temp like 250 degrees. To get crispy skin, you will need to finish the chicken at a higher temp. I choose not to do this for this type of smoked chicken.
Special Tools & Equipment Used
Contains affiliate links where I might receive a commission if you make a purchase, at no cost to you. Thanks for your support!