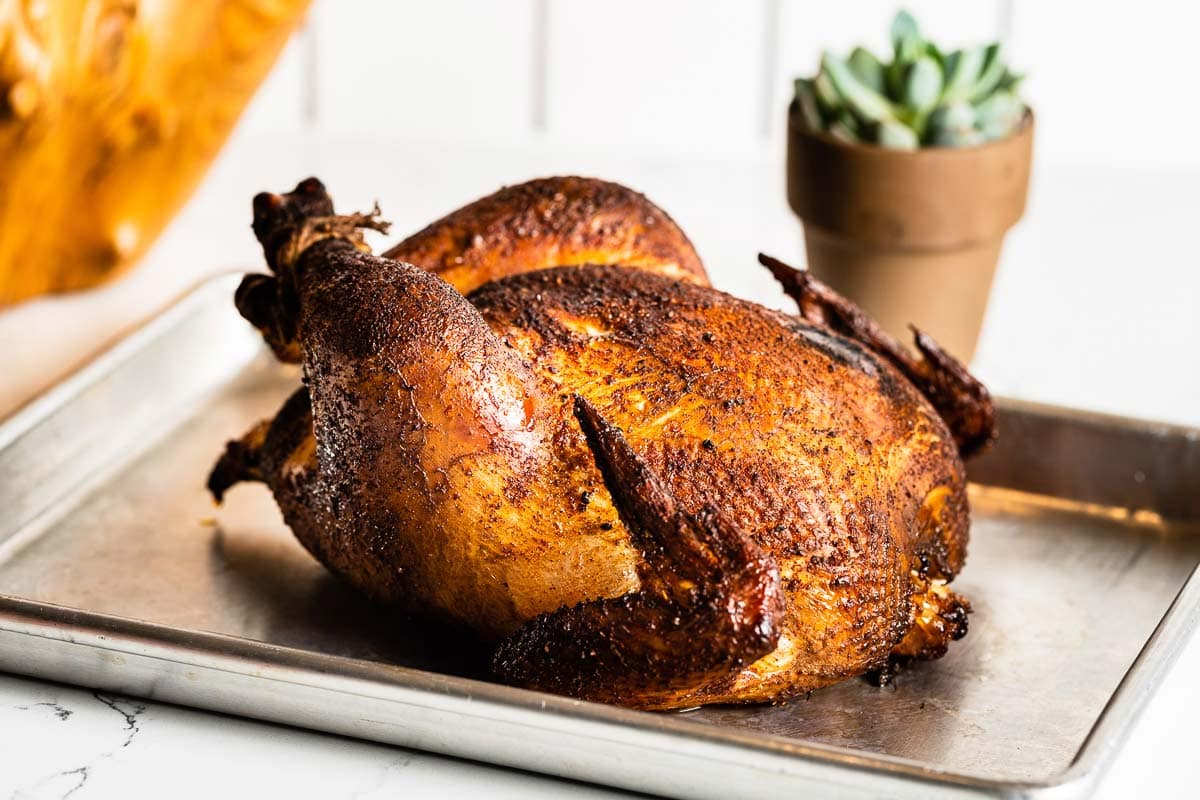 A whole chicken in the smoker is a magical thing. Combining amazing smoky flavors, super juicy & tender texture, a beautiful presentation and is just so easy to make. It brings something usually so basic to the next level. Once you make it the first time, you will be hooked.
The uses for a smoked whole chicken are virtually endless. From flavorful tacos to smoky pulled chicken sandwiches, or simply enjoy tearing into it with your hands. Plus, you can easily smoke multiple chickens at once, providing a different menu for the entire week. Let's fire up the smoker and get ready to experience juicy chicken perfection.
Jump to
Smoked Whole Chicken - Why You'll Love It
Brining the chicken is an extra (yet super easy) step that gives it so much flavor and keeps it juicy. The flavorful dry rub makes for a golden crust that is a stunning presentation. Whole chickens are not only economical (much cheaper per pound than individual cuts), but they give a variety of light and dark meat, so you get to pick your favorite part. You get the breasts, thighs, and wings in one tidy and easy-to-manage package.
The Spice Rub
A flavorful dry rub on the skin will result in a beautiful and flavorful chicken. You can use your favorite spice rub, or even go super simple with just salt & pepper. I prefer to use this dry rub for chicken that has a combination of brown sugar for some sweetness, plus some cayenne pepper and black pepper for a little heat. Paprika will add beautiful deep colors to the chicken to enhance the presentation along with adding some subtle flavors.
A note about salt in a rub when brining: If you plan on brining the chicken (which I recommend), omit the salt from the rub, as it can make the chicken too salty.
How Long to Smoke a Whole Chicken
It will take approximately 3 to 4 hours to smoke a whole chicken. It is done cooking when the internal temperature of the breasts reaches 160° F and the thighs reach 180° F (which makes them more tender). Figure about 45 to 60 minutes per pound at 250° F.
It's always best to cook to temperature rather than to time. Use an instant-read probe thermometer to verify temperatures. There are a lot of variables, such as size and the starting temperature of the chicken, consistency in the smoker's temperature, and even the weather that day.
Top Tips
Perfect Sides for Smoked Chicken
Favorite sides include potato salad, macaroni salad and coleslaw. Baked beans are a wonderful hearty addition, and you can even make baked beans in the smoker, right alongside the chicken as it cooks. If doing a full plating for dinner, creamy mashed potatoes and simple sauteed corn are fantastic.
If you are looking to sauce it up, a side of sweet & tangy BBQ sauce goes great, or a bright, fresh chimichurri. If you are making a salad, go with a BBQ vinaigrette (or balsamic vinaigrette) which are both great for lettuce and also dipping the chicken in.
Recipe FAQs
More Delicious Chicken and Top Smoker Recipes
Check out all the Smoker and Chicken Recipes →