High-quality meats cost a lot, so I'll often go for one of the cheaper cuts and eat it over a few days. This particular cheaper cut is called flap steak. You might not have heard of flap meat, but this is a hidden gem you definitely want to try.
I'm not always a fan of marinating a steak. The reason that you buy an expensive high-quality steak to be able to taste that wonderful beef flavor. However, certain cuts (e.g., flap, flank, hanger, and tri tip) are perfect candidates for taking on a flavorful marinade that helps tenderize them at the same time.
What Is Flap Steak and Is It Tender?
Flap meat comes from the "short sirloin" section in the belly of the cow. Flap is usually a long, narrow cut, with excellent marbling. It's cheap, it cooks quickly, it has great flavor and has so many uses! Flap steak gets even better the next day after cooking when all the flavors meld together even further.
It's not a particularly tender cut of meat, with long muscle fibers. But that makes it the perfect cut to marinate, slice and enjoy in so many ways.
Making a Tough Cut Tender
Just because a cut of meat is tough, doesn't mean every bite can't be deliciously tender. Here are a few ways to help make it flap steak nice and tender.
Use an acidic marinade - Even just adding a nice olive oil to the marinade has acid that helps break down the meat. You can also add a little vinegar.
Use a meat tenderizer - Either a mallet, the spiky tool or even an enzyme powder.
Cook it hot and fast - That's where the direct heat of a hot grill comes in. You can also use a cast iron skillet.
Slicing properly - Slicing against the grain is key to tenderness. I highly recommend a granton blade slicing knife that will slice through meat like butter.
For this recipe, we're basically doing everything except the tenderizer, although olive oil is slightly acidic and will help tenderize very slightly.
The Marinade: Shallot, Garlic and Rosemary
This marinade is the secret weapon for this steak recipe. It tenderizes and adds a flavor that complements the beef. This particular recipe makes a paste, rather than a liquid. If you already have your own go-to marinade, feel free to experiment and add whatever ingredients you like, or remove what you don't.
Simply combine the shallots, garlic, rosemary, red pepper flakes, salt and pepper. You can use a food processor to make a purée or use a hand immersion blender so it wasn't quite as smooth, which is totally fine. Just know that the rosemary doesn't get as chopped and the flavor will be more subtle, which isn't a bad thing.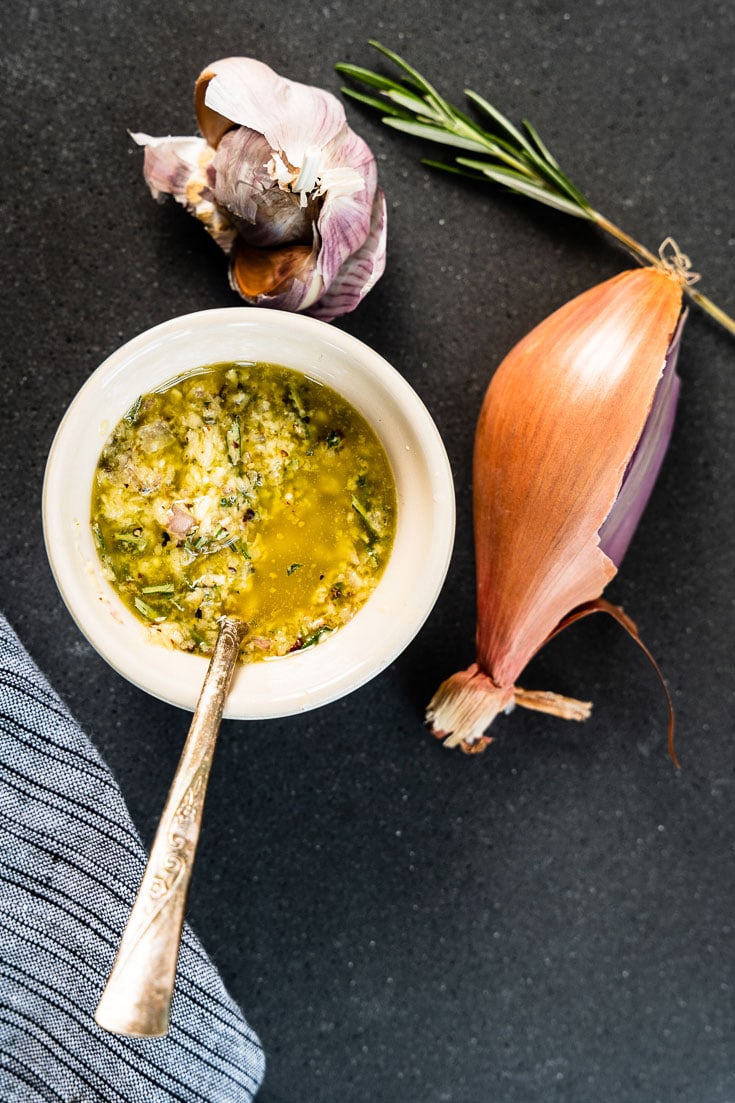 How Long to Marinate Steak?
The general rule is: The longer you marinate, the stronger the flavors will be. Since this is a strongly flavored marinade, you can marinate the steak for as little as an hour, but I really prefer to let it sit on the meat overnight. This allows the marinade to penetrate and tenderize the flap steak. You can also tenderize the meat with a spiky tenderizing tool to aid the marinade and tenderize the steak even more, but I haven't found this necessary.
Special Tools & Equipment Used
Top Tips for Grilling Flap Steak
Study the grain before cooking

so you know which direction you need to slice against.

Wipe off the excess marinade before grilling as it can burn.
Gill for about 4 to 6 minutes per side over high direct heat, or until the internal temp reaches 130° F for medium-rare.
Medium-rare is the sweet spot. Rare isn't enough for this cut and it can be chewy. Too cooked and it can get tough as well.
Don't be afraid of a little char on the grilled meat. Just not on the whole steak; it gives it another flavor element and smokiness.
Rest it uncovered for 10-15 minutes, then slice against the grain. Slicing against the grain cuts those long muscle fibers for a better texture when served.
Flap steak is best cooked on the grill, but can be seared in a heavy cast-iron skillet and will turn out great as well.
Meal Inspiration from This 3-Pound Flap Steak
Grill one big steak and make six delicious and unique meals out of it.
More Delicious Recipes
Grilled Flap Steak with Shallot-Garlic-Rosemary Marinade
Flap steak (similar to flank or skirt steak) marinated in shallot, garlic and rosemary then grilled to perfection. A low-end cut with high-end flavor.
Print
Pin
Rate
Ingredients
2 to 3

pound

flap steak

2

teaspoon

Diamond kosher salt

1

teaspoon

freshly ground black pepper
Shallot-Garlic-Rosemary Marinade
1

medium shallot

4

garlic cloves

3

tablespoon

rosemary

¼

teaspoon

red pepper flakes

¼

cup

olive oil
Instructions
Make the marinade by blending all ingredients in food processor, blender or hand immersion blender.

Season the steak with plenty of Kosher salt and freshly ground pepper. Coat the steak on all sides with the marinade and let sit for at least one hour, but preferably 12 hours before grilling.

Prepare the grill for direct high-heat cooking.

Grill the flap steak: Wipe excess marinade from the meat (if preferred), then place the flap steak over direct heat and grill for about 4 to 6 minutes per side, or until the internal temperature reaches 130° F for medium-rare or 140° F for medium.

Remove from the grill and rest on a cutting board for 10 to 15 minutes before slicing against the grain and serving.
Notes
You can substitute f

lank steak or skirt steak and use the same marinade.
Nutrition
Calories:
297
kcal
|
Carbohydrates:
2
g
|
Protein:
33
g
|
Fat:
17
g
|
Saturated Fat:
4
g
|
Polyunsaturated Fat:
1
g
|
Monounsaturated Fat:
10
g
|
Cholesterol:
91
mg
|
Sodium:
858
mg
|
Potassium:
553
mg
|
Fiber:
1
g
|
Sugar:
0.4
g
|
Vitamin A:
58
IU
|
Vitamin C:
2
mg
|
Calcium:
52
mg
|
Iron:
3
mg
This recipe was originally published December 4, 2020. It was last updated December 2, 2022 with useful information.