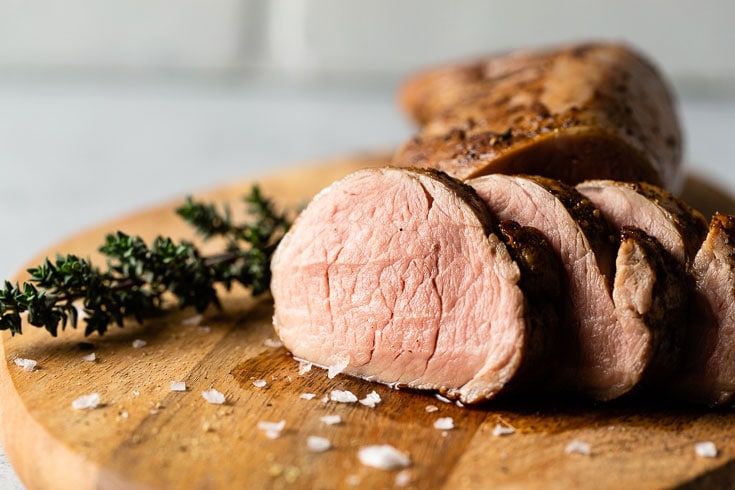 Pork tenderloin is one of those proteins that is luxurious enough for a fancy dinner as it is quick and easy for a healthy weeknight dinner. It is the most tender part of the animal and the leanest. It is the filet mignon of pork. That means it's the most tender as well as the leanest.
Since it is so lean, it can easily be overcooked and become dry and chewy. That's where sous vide cooking comes in. You set the temperature you want it cooked, add seasonings and flavors you want the pork to take on and the rest of the work is done for you while you relax. The result is extremely juicy pork tenderloin that is super tender and has tons of flavor.
As wonderful as searing and roasting a pork tenderloin after it has been brined is (check out the brined pork tenderloin recipe). This sous vide pork tenderloin recipe is definitely my new favorite for a few reasons.
Why You'll Love It
Sous vide is the best way to cook pork tenderloin. It is perfectly cooked from the outside to the inside. It is impossible to overcook it.
Stress-free and pretty much totally hands-off.
It's healthy. There's no fat added unless you choose to when searing.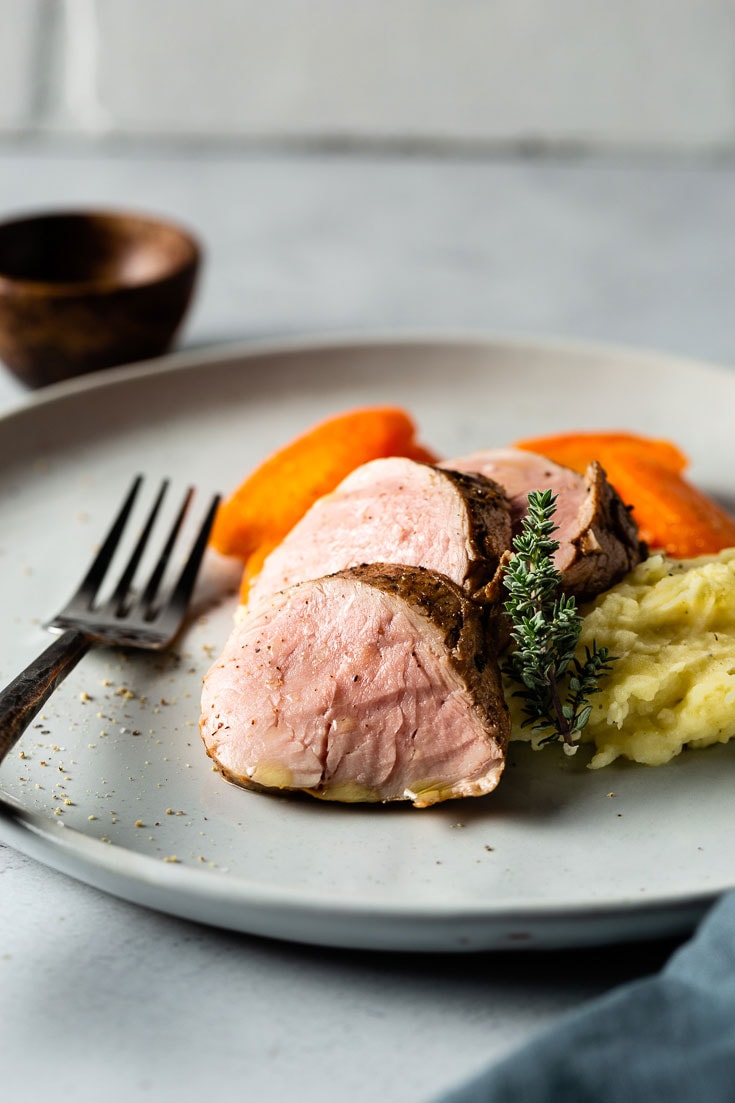 Pork tenderloin sous vide temperature
Like steak, pork can be cooked to your favorite temperature. I recommend 139° F / 59° C as the optimal temperature for super tender and juicy texture. The pork tenderloin pictured in this post was cooked at 139° F for 1 ½ hours. See chart below for all the temperature options.
How long to cook pork tenderloin sous vide
There is a nice big cooking time window between 1 hour and 4 hours where the results will be the same. I recommend 1 ½ hours, but it's whatever is convenient for you.
Can you overcook pork sous vide?
Nope, you can't overcook the pork tenderloin when cooking it sous vide. The internal temperature of the pork can't rise above what the sous vide water bath is set to. The only way that it can overcook is if you set the temperature too high or sear it for too long after it cooked sous vide.
Do you need to brine the pork before sous vide?
Nope! Brining pork tenderloin is not necessary when cooking it sous vide. You just need to season it with enough salt that this process will take place naturally when it is cooking sous vide. Check out this Brined Pork Tenderloin recipe if you are interested in brining pork tenderloin for roasting, smoking, or grilling. Or you can try a dry brine like with this smoked pork loin.
Where to source Heritage breed pork
Costco and Trader Joe's have really high-quality pork tenderloins available, but if you really want to go with even higher-quality Heritage breed pork, check out Crowd Cow or Snake River Farms.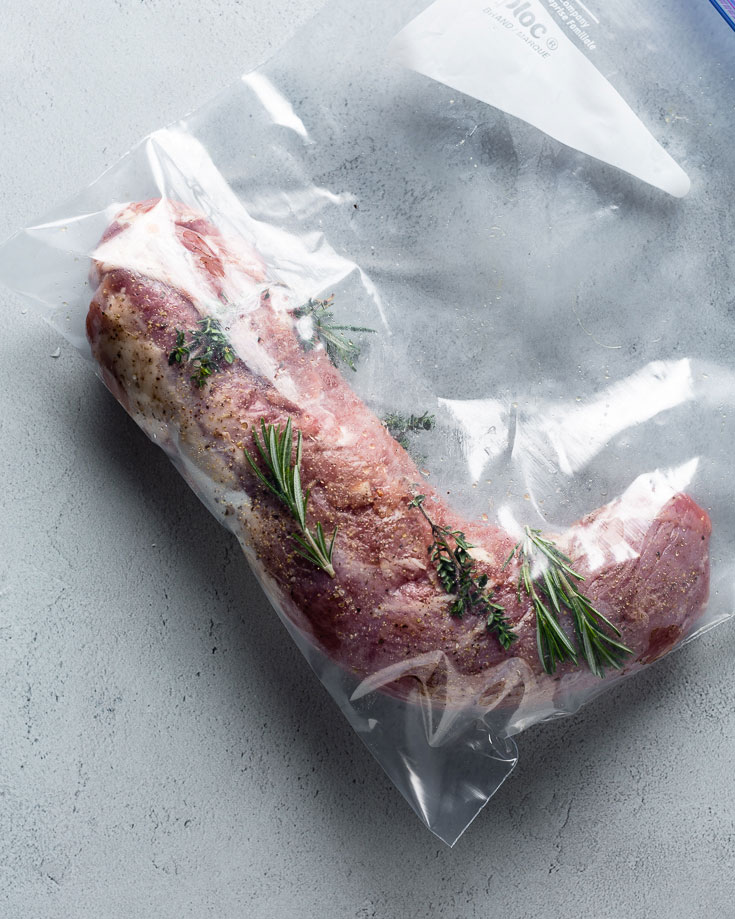 How to sous vide pork tenderloin
Don't be afraid to season it. You need to be very liberal with the salt.
Season the pork tenderloin very liberally with kosher salt & freshly ground pepper. Place it in the vacuum seal bag or a ziplock bag, then place a few sprigs of fresh thyme and rosemary on each side of the tenderloin. Seal the bag in your vacuum sealer or using the water displacement method.
Sous vide in the water bath at the desired temperature and for the desired time according to the chart (I recommend 139° F for 1 ½ hours). Remove the bag from the water bath and the tenderloin from the bag. Pat it dry with paper towels.
Sear it in a very hot skillet with enough canola oil to coat the bottom of the pan for about 30 seconds per side, 2 minutes total. Put a tablespoon or two of butter in the skillet along with some more fresh thyme and rosemary as the tenderloin sears. Baste the butter and herbs over the pork to add extra flavor.
Rest the pork for just a few minutes before slicing and serving.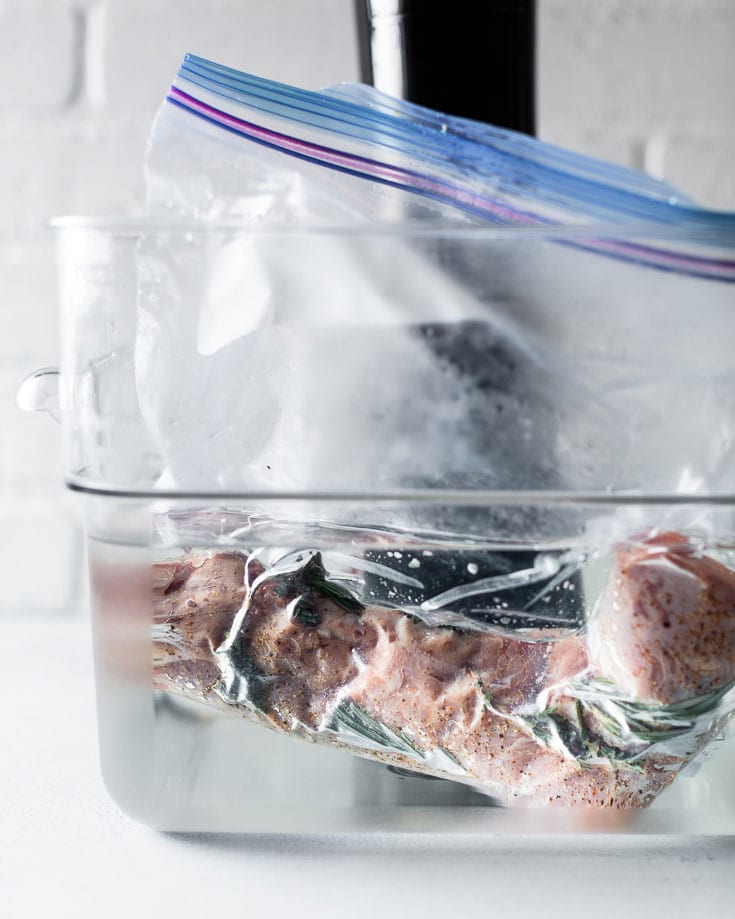 Sauce for pork tenderloin
Sous vide pork tenderloin is so flavorful by itself that a sauce isn't completely necessary. If you do want to kick it up and elevate the dish; the pork tenderloin pairs wonderfully with a bright and fresh chimichurri sauce, quick pan sauce (see below) or a mushroom sauce.
How to make a pan sauce for sous vide pork tenderloin
Making a pan sauce after searing the pork is the quickest way to elevate your dish without having to make a sauce separately. Once the pork is out of the skillet, add in a little chopped shallot. Once the shallot is softened, add about ½ cup of dry white wine and cook down until most of the wine is evaporated. Pour in any leftover juices from the sous vide bag and swirl in some butter. Taste for seasoning and serve over the top of the pork.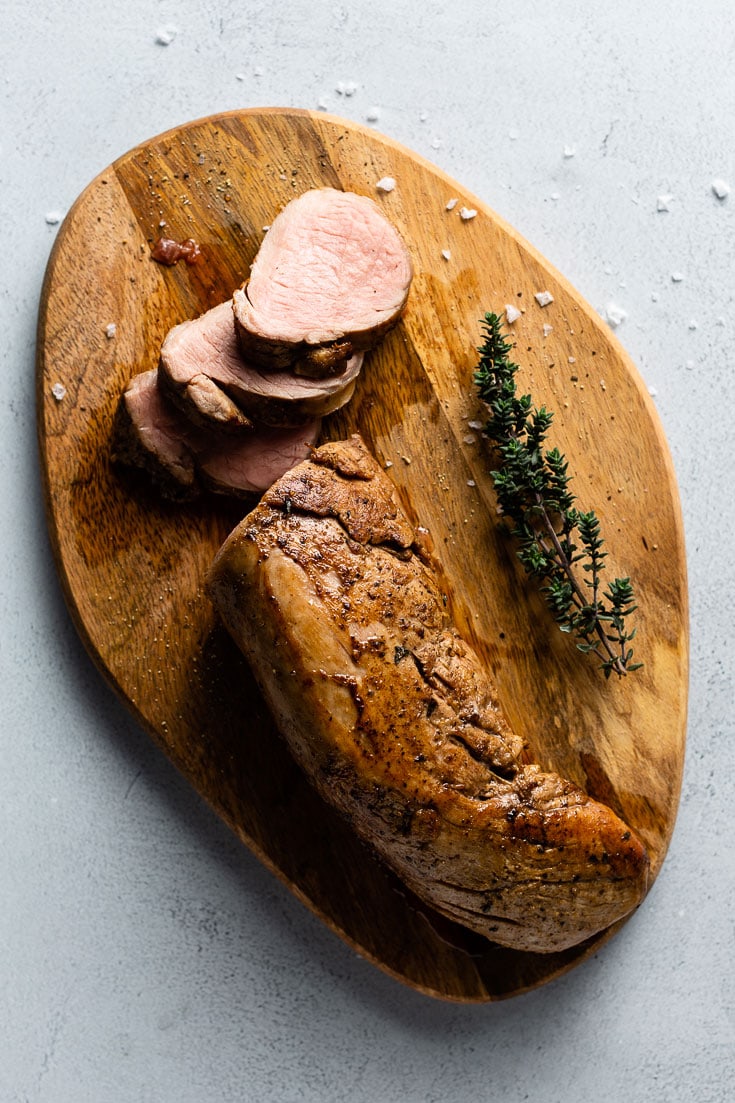 Can you sous vide frozen pork tenderloin?
Yes, you definitely can sous vide pork tenderloin that is frozen. Just add an additional 45 minutes to the cook time. You can prep the pork ahead of time, vacuum seal and freeze it so it's ready to go when you want it.
Pork tenderloin for a crowd
It's super easy to scale this recipe up for a crowd. You can cook 4 or more of these and serve. It's the most stress-free way to perfectly cook pork and amaze your guests.
What to serve with the sous vide pork tenderloin
Sous vide mashed potatoes are pretty amazing. They are cooked at a much higher temperature than the pork tenderloin, so you will have to cook them first and they can stay warm in the water while the pork cooks. 194 degrees F for 45 minutes with diced-up potatoes, milk, butter and seasoning right in the bag.
Also wonderful are buttery carrots, crispy brussels sprouts, sous vide polenta, or even a baby arugula salad with a bright vinaigrette. Make some velvety sous vide crème brûlée for dessert.
What to make with leftover pork tenderloin
If you are lucky enough to have some leftovers, you are in for a treat. One of the best ways to enjoy the sous vide pork tenderloin the next day is to make a sandwich the next day on crusty bread with a little mayo and BBQ sauce. That's all you need and it is soooo good.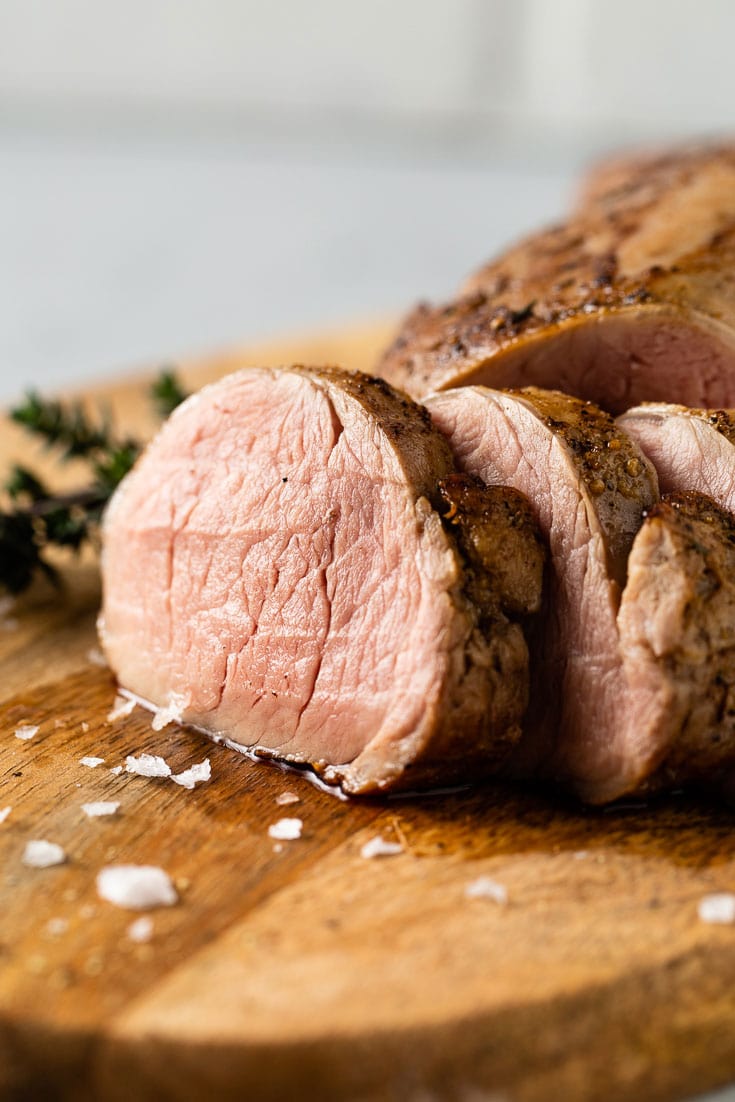 Time and Temp Chart
| | | |
| --- | --- | --- |
| Texture | Temperature | Time |
| Medium-Rare: Tender and juicy. Still pink | 130°F (54°C) | 1 to 4 hours |
| Medium (best): Slightly pink, perfectly juicy, tender | 139°F (59°C) | 1 to 4 hours |
| Well Done: firm, drying out, starts to get a chalky texture | 160°F (71°C) | 1 to 4 hours |
Special Equipment Used
More Delicious Pork Recipes to Try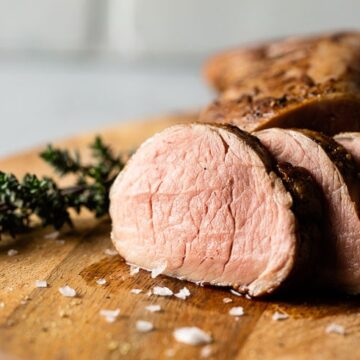 Sous Vide Pork Tenderloin
Sous Vide is the best way to cook delicious pork tenderloin with incredible texture and flavor in every bite.
Print
Pin
Rate
Ingredients
1 to 1 ½

pound

whole pork tenderloin

kosher salt & freshly ground black pepper

fresh thyme and rosemary sprigs sprigs

canola oil for searing

butter for basting
Instructions
Fill a large pot or container with warm water and heat the water bath to 139° F (or the desired temperature on the chart) according to your sous vide machine's instructions.

Season the pork tenderloin very liberally with kosher salt and freshly ground black pepper and place in a vacuum seal bag or ziplock bag with a few thyme and rosemary sprigs on each side.

Vacuum seal the bag if using a vacuum sealer, or if using a ziplock bag; use the water displacement method by partially sealing it removing as much air as possible, then place it in the water to push the rest of the air out before sealing.

Clip the bag to the side of the pot or container to keep it submerged and cook for 1 ½ hours to 4 hours.

Remove from the water bath remove the pork from the bag. Dry well with paper towels.

Heat a heavy-bottom skillet over high heat and drizzle in enough canola oil to coat the bottom. Sear for 30 seconds on each side to brown, 2 minutes total. While the pork sears, add a few tablespoons of butter and more fresh herbs and baste the butter over the pork as it browns.

Rest for a few minutes before slicing and serving immediately.