This post was created in partnership with Kingsford Charcoal. All thoughts and opinions are my own.
Summer is considered "grilling season," but grilling in the fall gets you outside to feel the chill in the air amid the changing colors. The smoke from your charcoal grill mixes with the scents of autumn to invigorate your precious outdoor time.
Grilling in the fall feels different, so try something different on the grill: swordfish. This powerful ocean predator is perfect over charcoal. Treat your swordfish like a steak, because that's what it is. Swordfish is ideal for grilling: it's firm and can take the heat, but cooks quickly and easily.
A Little About Swordfish
There is only one species of swordfish (Xiphias gladius), which roams the world's oceans, and has been a prized seafood since ancient times. Since swordfish can grow to over 10 feet and 1,000 pounds, and feature a distinctive sword-like bill they use to slash and injure prey, they were traditionally hunted by harpoon. Harpooning is less used today with the advent of modern long-line fishing. The swordfish fishery was in decline in the 1990s, but with better management and improved techniques and gear that do less ecological damage, the swordfish has rebounded.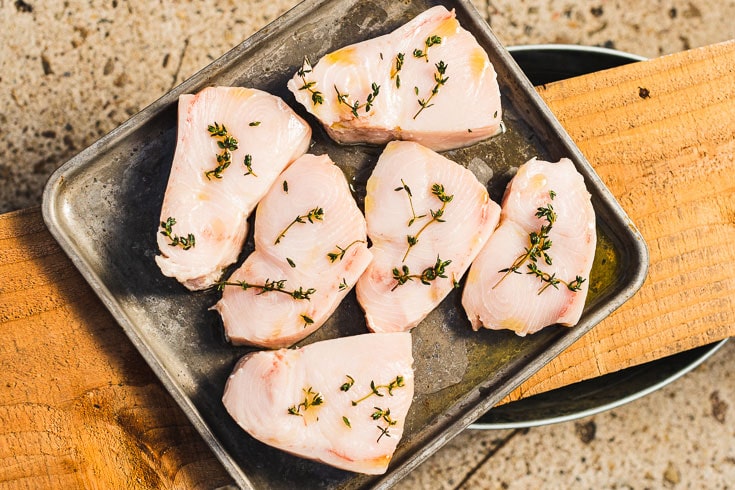 What Does Swordfish Steak Taste Like?
Swordfish is firm, meaty, and lean with a mild taste. It's moist and a touch sweet, with a taste that even those who dislike other fish tend to enjoy. Swordfish is also a healthy choice, high in protein and minerals. But as swordfish is a top predator, it can be high in mercury, which accumulates as you move up the food chain. So swordfish, like tuna, is best enjoyed only occasionally, and young children and pregnant women should skip it.
How to Buy Swordfish
Swordfish isn't always locally in season. Even when it is in season, be careful about its freshness. Buying frozen swordfish that has been frozen fresh at sea (sometimes called "clipper" swordfish) is a great option for getting the best product.
Swordfish meat ranges in color from white and ivory to pink to orange, depending on the diet of the fish. Color does not signify quality, but any brownish color means the fish is no longer fresh.
Always store fresh swordfish in the coldest part of the refrigerator, and storing it against ice will keep it even fresher for longer.
While swordfish have bounced back in recent years, not all swordfish are caught in a sustainable way. U.S. and Canadian fisheries are well-managed and abide by international treaties, so it's best to buy swordfish caught in the USA or Canada by handline, harpoon, or buoy gear. Driftnets and drifting longlines are considered ecologically harmful, as they kill marine life that are not targeted.
Whenever possible, support your local fishermen. The swordfish in this post was from Tuna Dockside Market here in San Diego. Beautiful fresh and frozen swordfish is also available online to ship anywhere from Catalina Offshore Products.
You can find out more about Swordfish recommendations from the Monterey Bay Aquarium's Seafood Watch Program.
Marinades for Grilling Swordfish
High-quality swordfish tastes amazing simply seasoned with salt and pepper. But giving it a quick marinade for 10 to 15 minutes in soy sauce, lemon zest, crushed cloves, fresh herbs and spices really amps up the flavor for some great variety.
How Should Swordfish Be Grilled?
Because swordfish is so lean, it is not nearly as forgiving as fattier fish like salmon or tuna. So be cautious and avoid overcooking and ending up with dried-out fish. Swordfish is perfect for hot and fast cooking like a steak, and it's recommended to cook it to an internal temperature of 140° F.
How Long to Grill Swordfish
Swordfish steaks will take approximately 3 to 8 minutes per side over direct heat for 1" to 1 ½" thick steaks; depending on how hot the grill is, the temperature the fish started at, and if you cook with the lid opened or closed.
Grill it to brown on the outside but so it is still slightly pink on the inside.
How to Prepare the Grill for Grilling Swordfish?
I always recommend grilling with charcoal, as this will add a ton of flavor during the cook. When we think of delicious grilled fish and meats, we think of the flavors from charcoal.
Prepare the grill for direct-heat cooking using approximately 50 Kingsford Charcoal Briquets.
Lighting Kingsford Charcoal
The easiest way to light Kingsford Charcoal never requires any lighter fluid. Simply fill a charcoal chimney starter with Kingsford Charcoal Briquets, add a few pieces of lightly wound-up newspaper in the bottom of the chimney and light it.
The coals will be ready to use in about 15 to 20 minutes, or when the tops of the charcoal start to turn grey. Carefully pour the hot coals into the grill and you are ready to get grilling.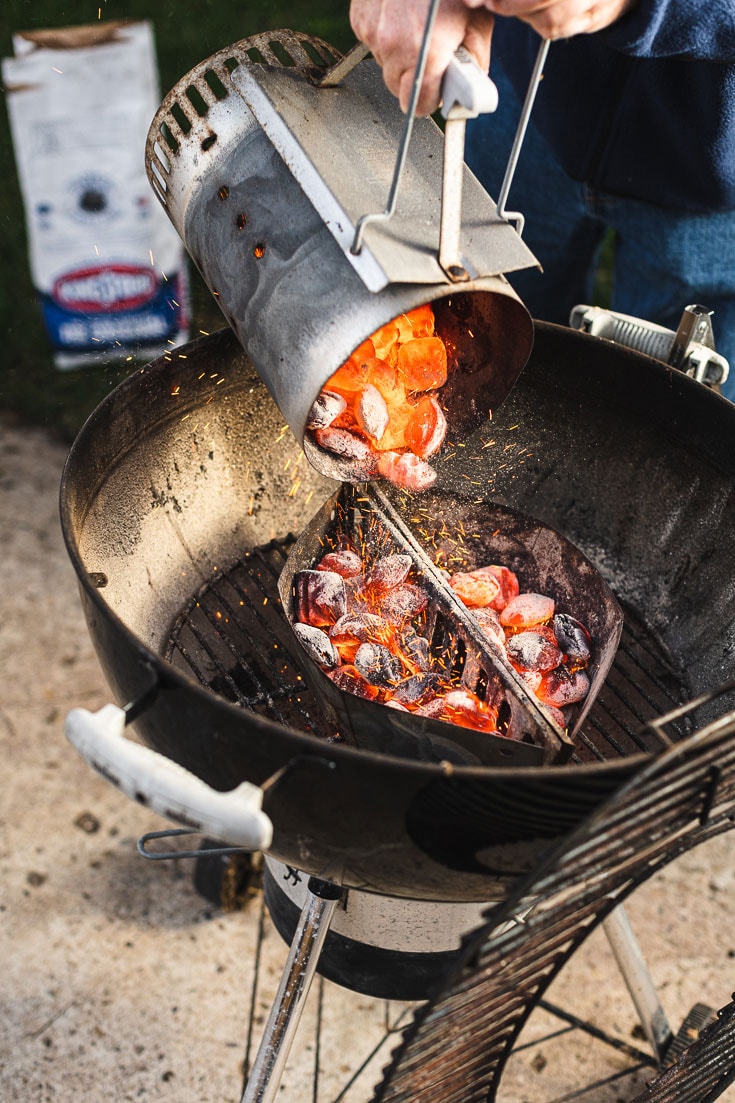 How to Season Swordfish for Grilling
Simply season the swordfish on all sides with a good amount of Kosher Salt and freshly ground pepper after you give it a nice drizzle of olive oil. The olive oil will not only help the seasoning stick to the filets, but it will also prevent it from sticking to the grill and promote those beautiful grill marks that make all the difference.
Tips for Cooking Swordfish
Don't overcook it. It is a lean fish that gets tough and dry, just like a steak that has cooked too long.
Give the grill plenty of time to pre-heat to get that beautiful sear and grill marks.
Start with a clean grill grate that is lightly oiled right before the fish goes on.
Grill with the lid open.
If the steaks are sticking when you try to turn them, then they probably aren't ready to turn yet.
Baste the steaks in the quick lemon-butter sauce after you turn them to add even more flavor to the outside of the fish.
Use an instant-read probe thermometer to verify the internal temperature and avoid overcooking.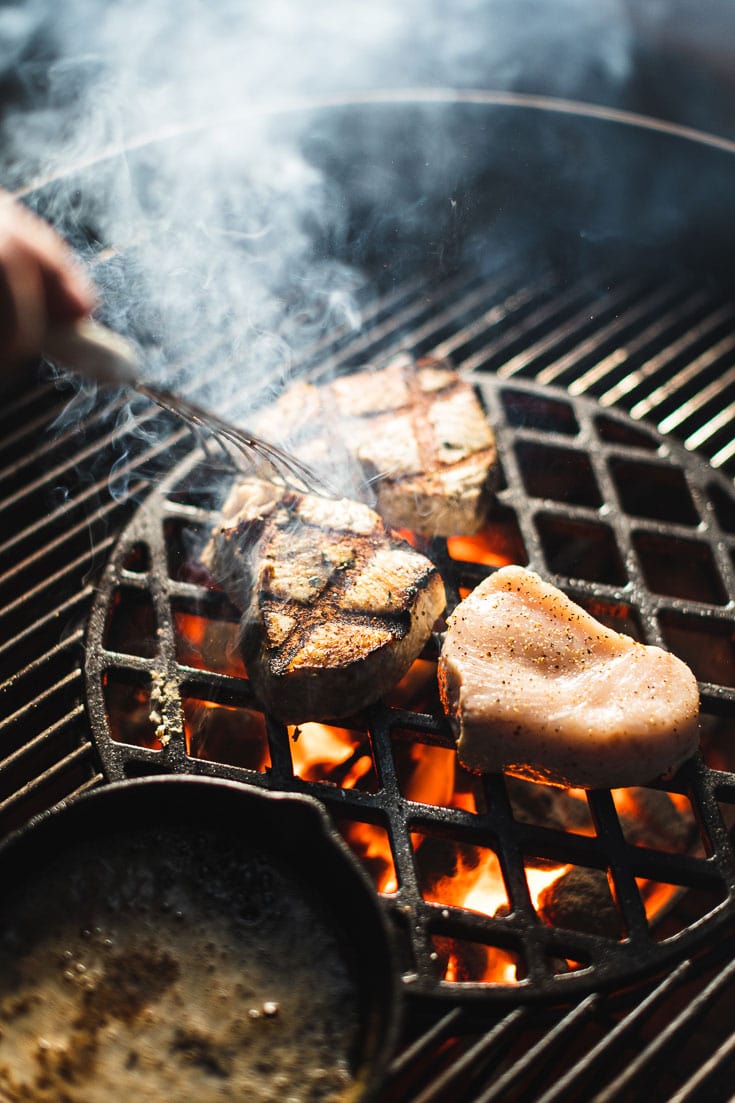 What to Serve with Grilled Swordfish
Since swordfish is so much like steak; sides that go great with steak, also work great with swordfish. The light flavor of the fish will be great with a simple citrus salad and citrus vinaigrette, delicious grilled fennel, bright green sauteed broccolini, crispy potatoes or a baked potato, which can even be made on the grill.
For this meal, I wanted to grill up some seasonal fennel that has a flavor that really complements the fish. Just slice it lengthwise, drizzle on some olive oil, kosher salt and freshly ground pepper.
Grill it over the direct flame for 3 to 5 minutes per side until it is caramelized and slightly softened and then sprinkle on some grated parmesan cheese, lemon juice and olive oil. You can even use the fennel leaves as a beautiful garnish.
Sauces for Grilled Swordfish
Lemon butter sauce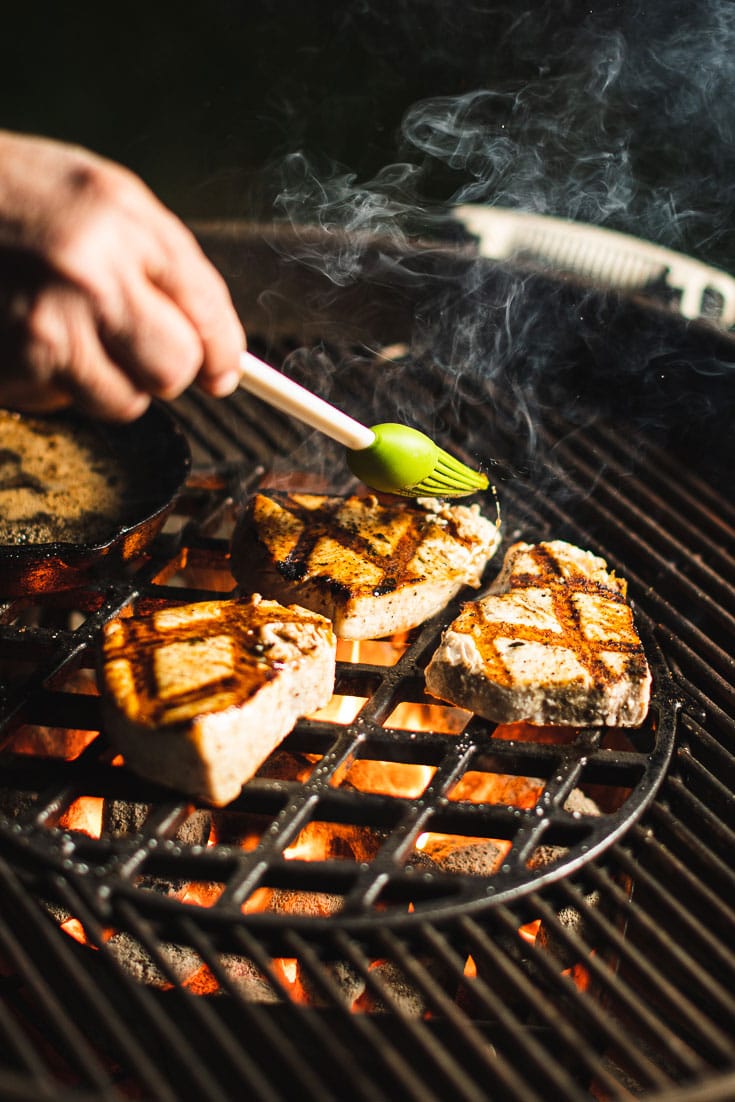 Ideas for Leftover Swordfish
If you happen to have some leftover grilled swordfish, you are in luck! It can be even better the next day as the smoky grilled flavor can be deeper and more evident. Serve it as a delicious "Nicoise" Salad, in fish tacos with a fresh mango salsa, or even add it to spaghetti instead of ground beef.
Grilled Swordfish Recipe
Try grilling some absolutely delicious swordfish that is lemon-butter basted over flavorful charcoal flames. This dynamic ocean roamer will add some adventure to your plate.
Print
Pin
Rate
Ingredients
4

6 oz Swordfish Steaks

(1" to 1 ½" thick)

Olive Oil

Kosher Salt & Freshly Ground Pepper

50

Kingsford Charcoal Briquets
Lemon-Butter Basting Sauce
4

tablespoon

Unsalted butter

2

tablespoon

Lemon Juice
Instructions
Marinate the swordfish (optional) with lemon juice, thyme sprigs, peppercorns for 10 to 15 minutes.

While the swordfish marinates, prepare the charcoal grill for high-heat grilling.

Brush the fish with oil (if not marinated) and season on all sides with Kosher Salt and freshly ground pepper.

Grill for 3 to 8 minutes per side, or until internal temperature reaches 140° F. The fish should be browned on the outside and still slightly pink on the inside.
Make the sauce in a small pan on the grill
Melt the butter in a small pan on the grill until it starts to turn golden brown, 3 to 4 minutes.

Move it off the heat and carefully add lemon juice and swirl to combine.

Once you turn the fish over, begin brushing some of the lemon-butter onto the cooked side as it finishes grilling.

Serve the swordfish with a drizzle of the lemon-butter, a sprinkle of coarse salt and a lemon slice.
Notes
Clean grill grates and brush on a little neutral oil right before grilling.
If the fish needs more time to cook, simply move it to the indirect heat side of the grill and continue to cook covered until the desired temperature is reached.
Tools & Equipment Used
Thanks to Kingsford Charcoal for sponsoring this recipe!