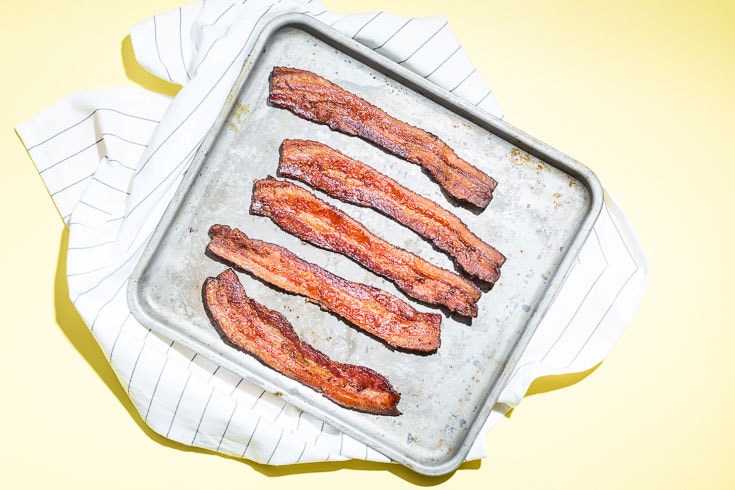 There isn't a pork eating soul I know who doesn't love perfectly cooked bacon. Heck, I even know a few vegetarians who can't help but indulge in bacon on special occasions. Now, that's not to say that we don't have different preferences on the crispiness that we like our bacon. Some like it soft and chewy, some like it burned to a crisp, and others (like me), like it perfectly crisp while still being tender.
Personally, I think the best bacon is when the fat is perfectly rendered and there is a slight crunch / sizzle when you take a bite, while the protein isn't tough. That's perfection. Just my opinion, of course.
Methods for cooking bacon
There are two main methods for cooking bacon: The pan or the oven.
As much as we love bacon; cleaning-up after cooking it just isn't fun. The grease splatter from the skillet seems to go miles from the stove. Once I tried cooking bacon in the oven, there was no looking back at the skillet method where I would have to wear protective eyeware and dodge bacon grease splatters.
Pan
Pros
You can cook the bacon pretty quickly when you only need a few pieces.
Cons
Limited to how much you can make at a time.
The clean-up. Both the splatter and the skillet.
Easy to burn the bacon.
Oven
Either a toaster oven (countertop) or a big oven will work. I prefer a countertop oven for its quick heat-up time and it gets the heat source closer to the bacon for an even better cook.
Pros
toaster oven – heats fast and the heat is closer to the bacon so it cooks quickly.
The bacon grease is savable (not burned).
Easy clean-up.
Cons
A large oven can take a while to heat up.
Cooking bacon in the oven can take a while if your oven doesn't get hot enough.
Summary: I will choose the oven every time for cooking bacon.
What's your favorite way to cook bacon?
Tips for Cooking Bacon in the Oven
It is bacon after all, so let's do it right.
Start with really good bacon. Spend a few extra bucks and you will definitely be rewarded.
Buy thick cut bacon. Thick cut bacon cooks much more evenly and every bite is infinately more satisfying.
Start with a cold oven and cold bacon. Like starting with a cold skillet when cooking bacon on the stove; I like to start with a cold oven. This helps to insure the fat is rendered properly without burning it.
Foil line that baking sheet – Makes clean-up is super easy. Just let the pan and bacon grease cool, then transfer it to the trash (or save the fat for later use).
Don't overcrowd the bacon. Nobody likes being in an over-crowded room, and neither does bacon. Overcrowding will prevent the bacon from crisping evenly and can increase cooking times; so give it plenty of room to breathe.
Drizzle a little water over the bacon. A tiny bit of water goes a long way to keeping the protein tender while the fat gets crispy.
Turn the bacon once. Keep a close eye on the prize. Flip the bacon just before you think you need to. Once the bacon starts to crisp, it happens rather quickly. You might find that you don't even need to turn the bacon, and that's totally fine too.
Rotate the sheet pan when you flip the bacon.
Save that bacon fat for cooking with later. Use it to crisp-up potatoes, cook eggs or even make a warm spinach salad dressing, and so much more. Store the bacon fat in the fridge or in the freezer. It lasts a long time.
What kind of bacon to buy
There are so many options out there when it comes to buying bacon, and that it can be pretty confusing. I don't know about you, but I kinda prefer to buy my bacon to be wrapped in butcher paper rather than being sealed up in a vacuum sealed plastic bag. There's just something about opening butcher paper that just feels better. I have to think that it tastes better too (though I haven't done a side-by-side taste test). That's not to say that high-quality bacon can't come from a package.
Buy thick-sliced and smoked bacon.
How to Cook Bacon in the Oven
Cooking bacon in the oven is really simple. Place the bacon strips on a foil-lined sheet pan and drizzle a little water on top of the bacon (about 1 tablespoon of water per 1/2 lb of bacon). Place the sheet pan in a cold oven, and turn the oven to 400 degrees. Bake for about 20 minutes, then carefully flip the bacon to the other side, and rotate the sheet pan. Cook for another 5 to 10 minutes, or until the bacon has reached the desired crispness.
Equipment Used to Make Bacon in the Oven
Contains affiliate links where I might receive a commission if you make a purchase, at no additional cost to you.
Breville Smart Oven Air
Sheet Pan
Aluminum Foil
Tongs
Ingredients
Bacon

as much as you want

drizzle of water

(about 1 tbsp per 1/2 lb bacon)
Instructions
Place the bacon on a foil-lined rimmed baking sheet.

Drizzle a little water over the bacon.

Place the bacon in a cold oven and turn it to 400 degrees (convection if you have it).

Set your timer for 20 minutes. This is just about all it should take if you have a 400 degree convection, but carefully watch it as cooking temperatures vary based on oven temp, bacon thickness and other factors.

Carefully flip the bacon with tongs and rotate the sheet pan after about 20 minutes.

Finish cooking for another 5 to 10 more minutes; carefully keeping an eye on it as not to burn it.

Remove from the oven and place the bacon strips on a paper towel-lined plate and blot both sides to collect excess fat.

Keep warm for serving or refrigerate for re-heating to use later.
Notes
Can be made ahead
Keep the bacon grease for other uses