Crispy, crunchy, chewy, salty, smoky, a hint of sweet and just amazing. These are all words that describe our favorite ingredient that sounds good no matter what time of day it is. There isn't a pork-eating human who doesn't love perfectly cooked bacon. Heck, I even know a few vegetarians who can't help but indulge in bacon on special occasions.
Some of us like our bacon soft and chewy, some like it burned to a crisp, and others (like me), like it perfectly crisp while still slightly chewy and tender. This is all easily achievable when you cook bacon in the oven.
There's no doubt that the best way to cook bacon is in the oven. Once you try it, I'm sure you will also be convinced. Baking the bacon also gives you the opportunity to fine tune the bacon to your preferred texture and crispness.
Let's dig a little deeper into the topic of bacon and go step-by-step for how to make perfect bacon every single time.
Methods for Cooking Bacon
There are two main methods for cooking bacon: The pan or the oven. There are also a few alternative methods that are used, and those include cooking the bacon in the microwave and on the grill.
Comparing Methods for Cooking Bacon (Pros and Cons)
Method
Pros
Cons
Oven
You can cook large batches at one time.
Either a countertop oven or a big oven will work.
The bacon grease is savable (not burned).
Easy cleanup.
A large oven can take a while to heat up.

Pan
You can cook the bacon pretty quickly when you only need a few pieces.
Limited to how much you can make at a time.
The clean-up. Both the splatter and the skillet.
Easy to burn the bacon.
Microwave
Short cooking time (just 4-5 minutes)
Can only cook what fits on the microwave plate.
Cooks unevenly.
Doesn't always come out crispy.
Grill
It's outside so the smell and mess stays outside.
The grease will fall down into the grill causing flare-ups if you are cooking directly on the grates.
Is there a clear winner? If not, here's a hint: The best method is cooking bacon in the oven, which is what I choose to do every time.
The Benefits of Cooking Bacon in the Oven
You can cook large batches of bacon at the same time.
Cleanup is super easy and there is no grease splatter.
The bacon will cook evenly and get perfectly crispy.
It's hands-off so you can cook the rest of your breakfast on the stove.
Now that you are on board with baking bacon in the oven, let's talk about a few of the options.
Aluminum Foil vs. Parchment Paper for lining the baking sheet
The aluminum foil will cover the bottom and the sides of the sheet pan, making for super easy clean-up. Parchment paper does allow the bacon to practically touch the sheet pan, which will brown the bottom more quickly. However, parchment paper will not prevent the bacon grease from seeping onto the sheet pan, causing the need for more clean-up. The Winner: Aluminum Foil

Directly on the foil vs on a cooling rack
Cooking the bacon directly on an aluminum foil-lined baking sheet versus on a cooling rack results in slightly different bacon outcomes. When cooking on foil, the bacon will render in its own fat. This will make it cook more quickly and stay flatter, but you will likely need to flip the bacon. Coking on a cooling rack will evenly cook the bacon because the hot air can circulate all the way around it, which will also cause it to curl slightly on the edges.
The big deciding factor (for me at least) is the clean-up. That's where aluminum foil takes the win again. Cleaning a cooling rack that has had bacon cooked on it is quite a miserable and long process so I will avoid it for that single reason.
Top 9 Tips for Cooking Bacon in the Oven
It is bacon after all, so let's do it right!
Start with really good bacon. Spend a few extra bucks and you will definitely be rewarded.
Buy thick cut bacon. Thick cut bacon cooks much more evenly and every bite is infinitely more satisfying.
Start with cold bacon in a cold oven. (starting with a cold oven vs a hot oven). Like starting with a cold skillet when cooking bacon on the stove; I like to start with a cold oven. This helps to ensure the fat is rendered properly without burning it. If your oven is already hot, no worries; it will still come out great.
Foil line the baking sheet. Foil lining makes for super easy clean-up. Just let the pan and bacon grease cool, then transfer it to a container to use later and discard the foil.
Don't overcrowd the pan. Nobody likes being in an over-crowded room, and neither does bacon. Overcrowding will prevent the bacon from crisping evenly and can increase cooking times; so give it plenty of room on each side to breathe.
Drizzle a little water over the bacon before baking it. A tiny bit of water (we're talking about 1 tablespoon per ½ pound of bacon) goes a long way to keeping the protein portions of the bacon tender while the fat gets crispy.
Turn the bacon once. Keep a close eye on the prize. Flip the bacon just before you think you need to. Once the bacon begins to crisp up, it all happens rather quickly. You might find that you don't even need to turn the bacon, and that's totally fine too. There's no need to turn the bacon if you are cooking it on a cooling rack.
Rotate the sheet pan when you flip the bacon.
Save that bacon fat for cooking with later. Use it to crisp-up potatoes, cook eggs or even make a warm spinach salad dressing, and so much more. Store the bacon fat in the fridge or in the freezer. It lasts a long time.
What Kind of Bacon to Buy
There are so many options out there when it comes to buying bacon. It can feel really confusing when all you want to buy is some dang good bacon, right? Smoked, double-smoked, thick-cut, thin cut and just about everything in between. The simple answer: Buy thick-sliced and applewood smoked bacon.
I don't know about you, but for me, there's just something about unwrapping bacon that is wrapped in butcher paper rather than being sealed up in a vacuum-sealed plastic. Butcher paper just makes it seem like it will taste better. That's definitely not to say that high-quality bacon can't come from a package.
Where to Source High-Quality Bacon
Your local butcher might be the best place to shop for bacon. I also love the smoked bacon available at the meat counter at both Sprouts Farmers Market and Whole Foods. If you prefer to have high-quality bacon delivered to your doorstep (who doesn't?), then check out Butcher Box (affiliate) for pasture-raised and heritage-breed bacon.
How to Cook Bacon in the Oven
Cooking or baking bacon in the oven is really simple and will feel foolproof once you have done it.
Place the bacon strips on a foil-lined rimmed baking sheet and drizzle about 1 tablespoon of water per ½ pound of bacon on top.
Place the sheet pan in a cold oven, and turn the oven on to 400 degrees.
Bake on the first side for about 20 minutes, then carefully flip the bacon over using tongs, and rotate the sheet pan.
Cook for another 5 to 10 minutes, or until the bacon has reached the desired crispness.
Note that oven heating times are different so the actual cooking time will depend on your oven and how you like your bacon cooked.
Temperature for Baking Bacon in the Oven
400 degrees Fahrenheit / 204 degrees Celsius is the best temperature for cooking bacon in the oven.
How Long to Cook Bacon in the Oven
Typical thick-sliced bacon baking on an aluminum foil-lined baking sheet will take 15 to 25 minutes at 400 degrees Fahrenheit. There are a lot of factors that determine this, including the oven pre-heat time, the thickness of the bacon, your specific oven and how crisp you like your bacon.
Tip: Using the convection setting on your oven will bake the bacon more quickly and evenly by circulating the hot air around the oven making it even more perfectly crispy.

6 Things To Do with Leftover Bacon Grease
Good for you for saving that leftover bacon grease for another use (as long as it wasn't burned). It will store in an airtight container in the refrigerator for about 6 months or a year in the freezer (probably longer, but just use it) and there are so many uses for it. Bacon grease has a smoke point around 325 degrees F, which is comparable to extra virgin olive oil. That makes it great for:
Cooking Scrambled, fried eggs or even french toast.
Sautéing vegetables like broccoli, green beans, kale, potatoes and more.
Making a vinaigrette for a salad like this BLT Salad or adding to potato salad.
Use it for bacon-infused cocktails.
Add a little to your cookies.
Add some to your ground beef for bacon-infused burgers.
If you do need it to discard the bacon grease, pour it into a disposable metal container and let it cool completely to solidify before throwing it away. Never put bacon grease down the drain.

Want to Make Your Own Smoked Bacon?
Buying bacon is great, but if you are really ready to kick it up, then you can pick up a slab of pork belly and make your own smoked pork belly bacon. It's surprisingly super easy and oh so satisfying.
Tools & Equipment Used to Make Bacon in the Oven
Contains affiliate links where I might receive a commission if you make a purchase, at no additional cost to you.
Breville Smart Oven Air (my favorite countertop oven)
Rimmed Baking Sheet Pan
Aluminum Foil
Tongs
Bacon (the star of the show)
More Bacon Recipes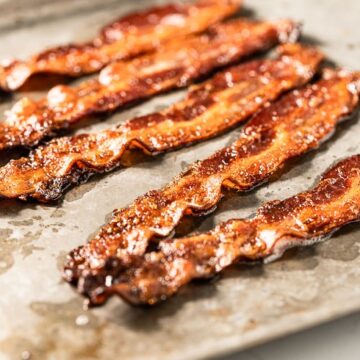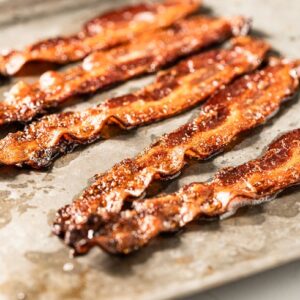 Ingredients
8

oz

Thick Cut Bacon

(or as much as you want)

drizzle of water

(about 1 tablespoon per ½ lb of bacon)
Instructions
Place the bacon on a foil-lined rimmed baking sheet.

Drizzle a little water over the bacon.

Place the bacon in a cold oven and turn it on to 400 degrees F (convection if you have it).

Set your timer for 20 minutes. This is just about all it should take in a 400-degree convection, but carefully watch it as cooking temperatures vary based on oven temp, bacon thickness and other factors.

Carefully flip the bacon with tongs and rotate the sheet pan after about 20 minutes.

Cook for 5 to 10 more minutes; keeping a close eye so it doesn't burn.

Remove from the oven and place the bacon strips on a paper towel-lined plate and blot both sides to collect excess fat.

Keep warm for serving or refrigerate for re-heating for using later.
Notes
Cooking times will be less if your oven is pre-heated
Can be made ahead
Keep the bacon grease for other uses
This post was originally published on Apr 8, 2018 and was last updated on May 14, 2019 to include useful content updates.