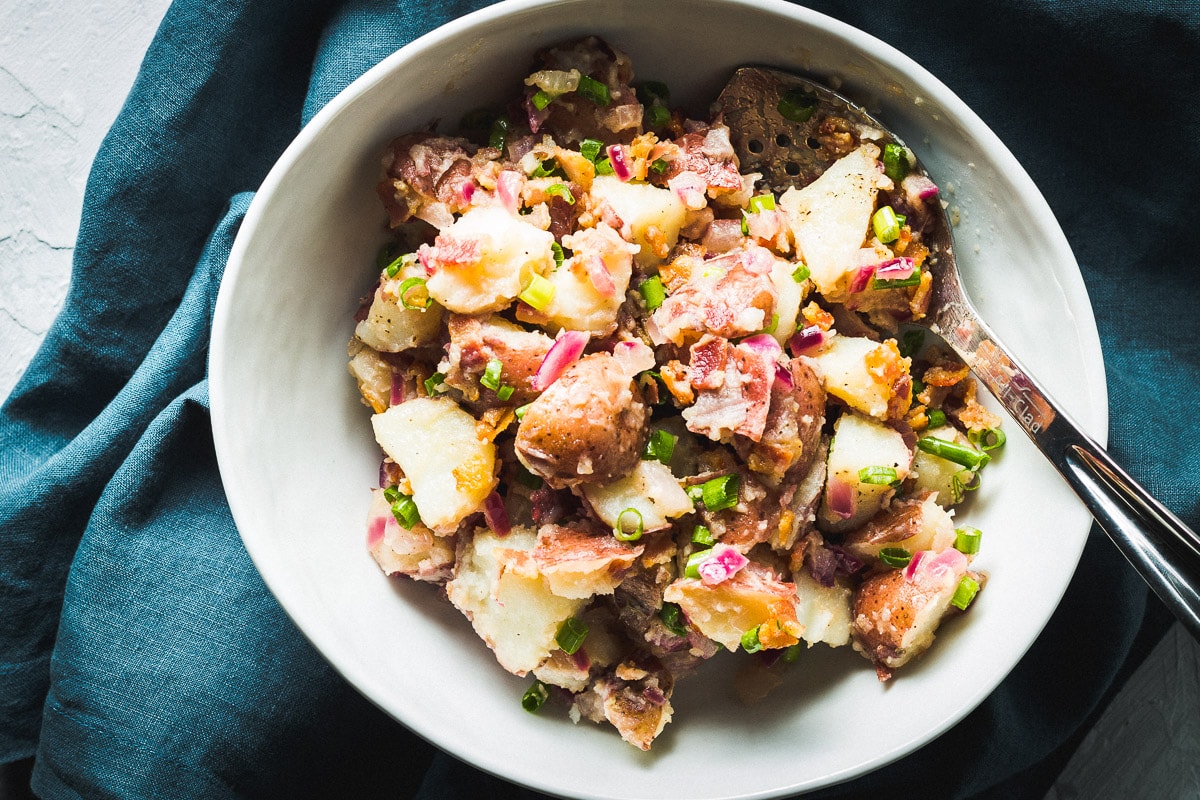 Flavor-packed warm German potato salad with tender red potatoes, bacon flavor throughout, red onions, green herbs, a little spice from the mustard and a tangy vinegar finish. Absolutely delicious served hot, warm or cold.
What Is German Potato Salad?
The main difference between German-style potato salad versus American potato salad is there is no mayo in German-style potato salad, and it's best served warm. It is generally heavy on the vinegar flavor and incorporates bacon and bacon fat for full flavor. It's a potato salad you will actually want to eat by itself because it tastes lighter and more vibrant.
A great side that is unexpectedly bright and so flavorful.
Goes with so many dishes!
Make it ahead, chill and serve cold. Or make it and serve it warm right away.
The Ingredients
Potatoes — go with a small, waxy baby red potatoes. The small size will cook quickly. Small yukon gold or fingerling potatoes will also work well.
Vinegar — red wine vinegar is my preference, but apple cider vinegar or white vinegar can definitely be used.
Bacon — go with a smoked thick-cut bacon.
Mustard — a German mustard if you can find it, but I usually go with Dijon that is always in the pantry.
Red Onion — you can add the onions raw (my preference) or you can cook them with the bacon if you prefer that flavor.
Green Onion (or chives) for the bright vibrant color. You can also add parsley at the end for extra color and fresh taste.
Sugar — as needed to balance out the vinegar.
Salt and Pepper — of course.
How to Make It
Step-by-step for how to make the best German potato salad.
Cook the potatoes whole with the skin on so they don't absorb water. You can either steam them or cover with an inch of cold water and boil. Use a paring knife to test to see if the potatoes are tender. It will usually take about 15 to 20 minutes, depending on the size of the potatoes.

Once cooked, cool the potatoes for 15 to 20 minutes, so they are cool enough to handle with your hands.
Cook the bacon in a large cast-iron skillet over medium heat. The bacon and the potatoes can be cooked simultaneously, or you can cook the bacon while the potatoes cool. Once the bacon is crisped in a skillet, use a slotted spoon to remove it and all but 3 tablespoons of the grease.

Tip: Be careful not to get the pan too hot when cooking the diced bacon, or it can easily burn.

Add the chopped red onion to the skillet, and cook for a few more minutes until the onion starts to soften, then turn the heat down to low.
Make the dressing by whisking in the vinegar, water, mustard, sugar, salt and pepper to the pan. Taste test for seasoning and balance before adding the potatoes to the dressing, and gently stirring in the bacon. Remove from the heat.
Tip: Taste as you go! Taste the dressing for balance before you add it to the potatoes. And taste it again after it's with the potatoes. Adjust as needed. If it needs more acidity, add more vinegar and mustard. If it needs more richness, add some more bacon fat or a little olive oil.
Serve it warm right out of the pan, or chill in the refrigerator and serve cold.
Modification & Add-in Ingredients
Make this recipe without bacon. If you do omit the bacon, you will want to add olive oil for fat and more seasoning since the bacon adds a lot of flavor.
Dill is often found in German potato salad, so feel free to add it at the end if you like the flavor.
Serve Hot, Warm or Cold
German potato salad is a dish best served warm right out of the pan (IMO of course). There seem to be a few extra layers of flavor that come through when it is warm. It's also pretty wonderful and transforms a bit the next day after sitting in the refrigerator overnight. The flavors have time to come together even more, and it's totally fine to eat it cold.
The cold potato salad can easily be warmed up in a microwave in 30 seconds intervals, depending on the portion size.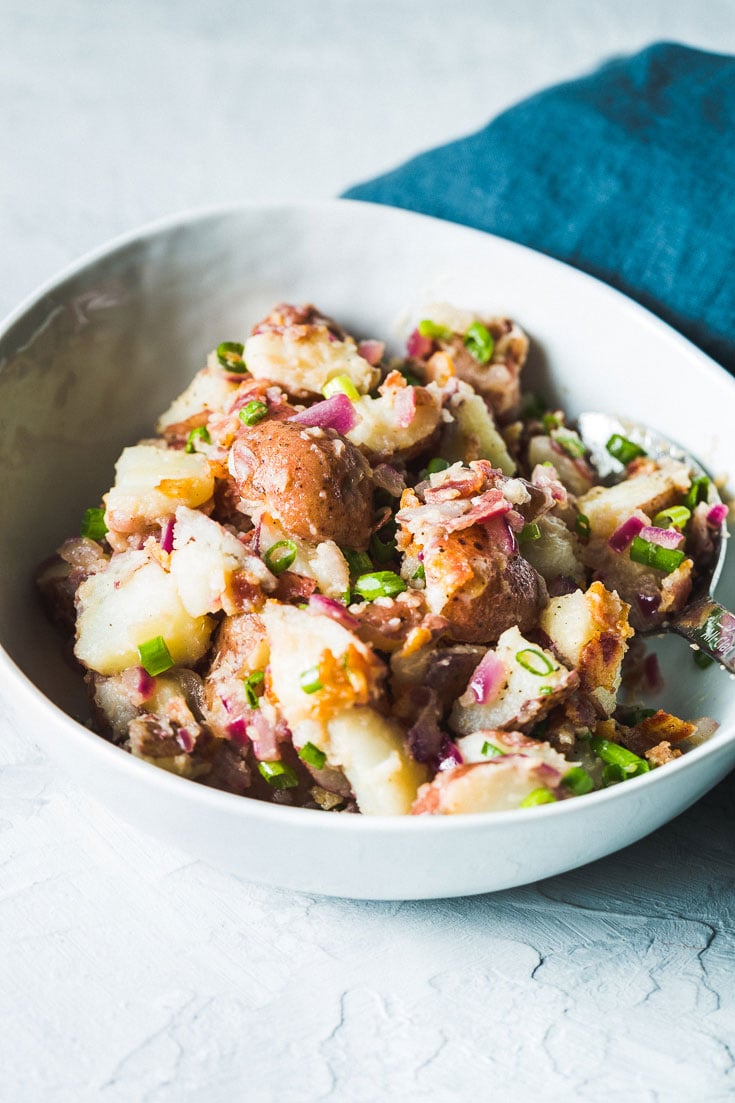 What Pairs Well with German Potato Salad?
German potato salad pairs well with traditional German dishes like schnitzel, bratwurst and sauerkraut. It's also a great side with traditional American BBQ like smoked brisket, BBQ chicken or ribs, or pork chops.
More Potato Recipes to Try
German Potato Salad
This German potato salad is packed with flavor from the smoky bacon to the finish of the fresh green onions. It's about creating a balance between creamy potatoes, rich bacon and a tangy dressing.
Print
Pin
Rate
Ingredients
1 ½

pounds

baby red potatoes

½

pound

thick sliced smoked bacon

diced into ¼" pieces

½

cup

finely chopped red onion

⅛

cup

red wine vinegar

plus more

⅛

cup

water

2

teaspoons

coarse-grained or Dijon mustard

1

teaspoon

sugar

Kosher salt

Freshly ground pepper

1

bunch

chopped green onion or chives
Instructions
Cook the potatoes with their skin on in salted boiling water until they can easily be pierced with a fork, about 15 minutes depending on the size of the potatoes.

Drain the potatoes and let cool enough to handle. Cut into ½" dice.

Sauté the bacon in a large cast-iron skillet over medium heat until it starts to crisp. Remove the bacon from the skillet with a slotted spoon and remove all but about 3 tablespoons of the grease.

Add the chopped onion to the skillet and cook over medium-low for about 2 to 3 minutes, until the onion softens.

Stir in the vinegar, water, mustard, sugar, salt and pepper to combine. Then add the potatoes and gently stir to fully coat the potatoes with the dressing.

Remove from the heat and mix in the bacon. Let the potato salad cool for a few minutes before stirring in the chopped green onions.

Serve warm.
Notes
Can be served warm or cold.
Store in the refrigerator for up to 2 days.