Oh potato salad. You have so much potential, but your over-sweet mayo based version can give you a bad reputation. The version of potato salad I have been making since I first started cooking (which was inspired by what my dad used to make) is more of the southern German style. I'd definitely say that potato salad is where the German's got it right.
German-style potato salad isn't American, so don't be turned off by how different it might look in the photos. There's no mayo in German-style potato salad, and it's best served warm. It's a potato salad you will actually want to eat by itself, rather than just slopping a scoop on your plate at a potluck because you need some substance.
Is this authentic German potato salad? Well, I've never actually been to Germany to find out, but this is how I think it should be. 🙂
The ingredients for German potato salad are super simple and you probably have most in your pantry already. Red potatoes, smoky thick sliced bacon, red onion, green onions, whole grain or dijon mustard, red wine vinegar, sugar, salt and pepper.
The bacon and the potatoes can be cooked simultaneously. Once the bacon is crisped in a skillet, use a slotted spoon to remove it and all but 3 tablespoons of the grease. Be careful not to get the pan too hot when cooking the diced bacon, or it can easily burn.
Quality bacon is always super important, and this recipe is no exception. Thick cut bacon that has been smoked is a must. If the bacon is sliced thin and doesn't have much flavor, it will be hidden behind the other flavors and there won't be much point to it being there. The bacon adds a wonderful smoky richness that pairs perfectly with the other flavors.
It is possible to make this recipe without bacon. If you do omit the bacon, you will probably want to add more olive oil and seasoning.
The vinegar
The vinegar is a key ingredient in German potato salad. I generally prefer red wine vinegar, but apple cider vinegar or white vinegar can definitely be used. Taste the potato salad a few times after it is dressed. It might need more vinegar, and don't be afraid to add more.
Serve it warm (or cold)
German potato salad is a dish best served warm (IMO of course). I love when it's freshly made. There seem to be a few extra layers of flavor that come through when it is warm. It's also pretty wonderful and transforms a bit the next day after sitting in the refrigerator overnight. The flavors have time to come together even more, and it's totally fine to eat it cold too.
The cold potato salad can easily be warmed up in a microwave for about 30 seconds, depending on the portion size.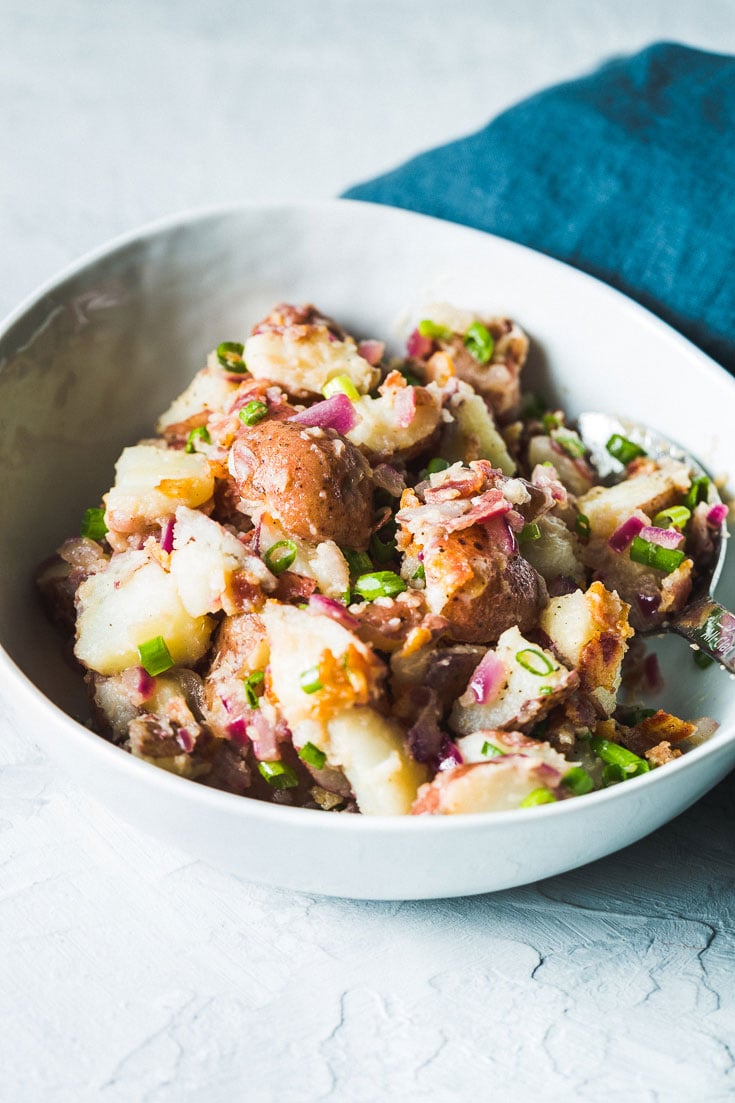 What to serve with German Potato Salad
German potato salad pairs great with traditional German dishes like Schnitzel, Bratwurst and sauerkraut, but it's also a great side with traditional barbeque.
Equipment Used
Contains affiliate links where I might receive a commission if you make a purchase, at no additional cost to you.
Ingredients
1.5

lbs

small red potatoes

½

lb

thick sliced smoked bacon

diced into ¼"

½

cup

red onion finely chopped

⅛

cup

red wine vinegar

plus more

⅛

cup

water

2

teaspoon

coarse-grained or dijon mustard

1

teaspoon

sugar

kosher salt

freshly ground pepper

1

bunch

chopped green onion or chives
Instructions
Cook the potatoes with their skin on in salted boiling water until they can easily be pierced with a fork, about 15 minutes depending on the size of the potatoes.

Drain the potatoes and let cool enough to handle. Cut into ½" dice.

Sauté the bacon in a large cast iron skillet over medium heat until it starts to crisp. Remove the bacon from the skillet with a slotted spoon and remove all but about 3 tablespoons of the grease.

Add the chopped onion to the skillet and cook over medium-low for about 2 to 3 minutes, until the onion softens.

Stir in the vinegar, water, mustard, sugar, salt and pepper to combine. Then add the potatoes and gently stir to fully coat the potatoes with the dressing.

Remove from the heat and mix in the bacon. Let the potato salad cool for a few minutes before stirring in the chopped green onions.

Serve warm.
Notes
Can be served warm or cold.
Store in the refrigerator for up to 2 days.