Burgers are so great for a summer party, and Lamb burgers are a delicious way to switch things up. They are accompanied with quick pickled red onions & baby cucumbers, a yogurt-mint sauce and sliced avocado. These flavors go so well together and balance out into a nice harmonious burger.
These juicy lamb smash burgers are made by literally smashing the meat into the skillet. The result is a really crispy burger with tons of umami flavor that cooks really quickly.
The quick pickled red onions & baby cucumbers are ready in just 30 minutes. They are great on the lamb burger, if you don't eat them all before they make it there. The yogurt-mint sauce is as simple as mixing up a few ingredients, and the sliced avocado adds some rich creaminess and brioche bun for a little sweetness.
Use a large cast iron skillet or griddle for cooking the smash burgers. Leave plenty of room and don't overcrowd the pan, or you might end up forming one big burger. They cook really quickly, so you can do batches and serve them as they are ready.
Cooking smash burgers outside is recommended as the high heat can lead to some grease splatter. If you don't have an outdoor burner, just use a screen and turn your vent fan up to high to help keep your kitchen clean.
Never smash a burger down after it has been cooking. This will cause all the juices to run out, and no one wants a dry burger.
Season the lamb burger balls very well with salt and freshly ground pepper. Since these will be smashed out with a big spatula, the seasoning will spread too, so add more salt than you think is necessary.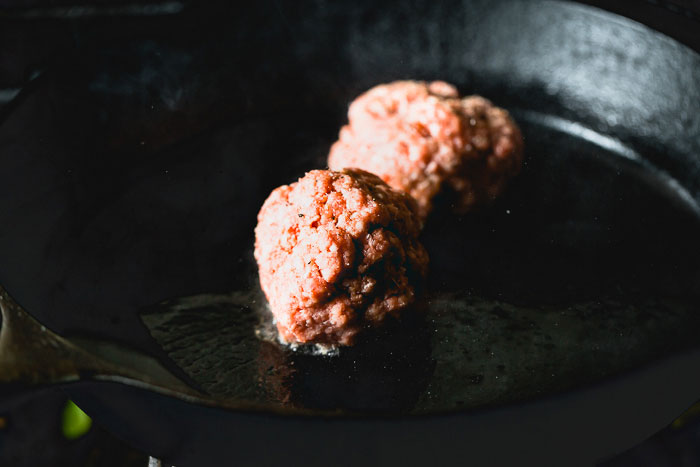 Place the lamb burger balls in the hot skillet with some canola oil. The oil will help create a really crisp umami crust on the burgers.
Use a large spatula to immediately smash the burgers down into patties. Don't worry if they don't form perfect circles, that only makes for more delicious crispy corners.
Flip over after a few minutes.
This post is in partnership with True Aussie Beef & Lamb. All opinions and thoughts are always my own.
Ingredients
Lamb Burgers
1

lb

ground Australian lamb

4

buns

(brioche recommended)

½

teaspoon

ground cumin

½

teaspoon

ground cinnamon

canola oil for cooking

kosher salt & pepper

1

avocado
Pickled Red Onions and Baby Cucumbers
1

sliced small red onion

(about 2 cups)

2 - 3

thinly sliced baby cucumbers

(about 2 cups)

2

cups

white vinegar

1

teaspoon

kosher salt

1

teaspoon

sugar
Yogurt-Mint Sauce
½

cup

whole milk greek yogurt

zest from 1 lemon

2

tablespoon

lemon juice

2

tablespoon

chopped fresh mint

½

teaspoon

garlic powder

¼

teaspoon

kosher salt
Instructions
To make the pickled veggies
Rinse sliced onions with almost boiling water. This is optional, but it helps mild out the onion.

Combine all pickling ingredients in a water-tight sealable container.

Shake vigorously to dissolve the salt and sugar in the vinegar.

Let it sit at room temperature for at least 30 minutes to quick pickle the veggies. Pickling will stop once you place them in the refrigerator.
To make the Lamb smash burgers
Gently mix the ground cumin and cinnamon with the ground lamb in a bowl. Let it sit while you are making the pickles.

Gently form 4 equal portion meat balls with the lamb.

Heat a thin layer of canola oil in a heavy cast iron skillet or griddle pan over medium-high heat.

Generously season the outside of the lamb meat balls with kosher salt & freshly ground pepper.

Place the meat balls in the hot pan leaving plenty of room between, working in batches if necessary.

Immediately smash down on the meat balls with a large spatula to form thin patties.

Cook for 2 to 3 minutes per side, or until the desired doneness is reached.

Make the yogurt-mint sauce by combining all sauce ingredients in a small bowl.

Serve burgers on toasted buns with the pickled veggies, yogurt-mint sauce and sliced avocado.
Notes
The pickled red onions and cucumbers can be stored in the refrigerator for a week.