Tender, juicy and so flavorful, these kabobs will transport your tastebuds to the Mediterranean with marinated and skewered tender pieces of zesty and herby marinated lamb. Perfect for the grill on a warm evening or fantastic for a casual party.
Lamb and your grill were just meant for each other. High-quality lamb combines with some marinade ingredients you likely already have in your pantry for a fun meal that is both delicious and super easy to make. These take only about 15 minutes to cook to perfection. Of course, they need to marinate for at least 8 hours (preferably longer, up to 24) so they fully absorb some amazing flavors. But you can make them ahead, so they're ready to hit the grill and cook up quickly.
Kabobs are a Middle Eastern and Mediterranean dish, but many (if not most) cultures cook chunks of seasoned meat on skewers, so nobody can really claim the invention of the humble but fun kabob. And you can spell it kabob or kebab, kebap, kebabi, kabab, satay, sosatie, suya, pinchitos, shashlik or a few other ways, depending on what exact meat and what particular spices you're cooking up over what type of heat.
Since lamb is common in Middle Eastern food, we'll go with kabob, though kebab is just as accurate. They can also be made with ground lamb where the ingredients are mixed in rather than as a marinade and are called lamb kofta.
What You'll Need
Lamb - The best cut to use for kabobs is either a boneless leg of lamb or lamb shoulder. I prefer keeping it local and using domestic American Lamb because of the milder, sweeter flavor.
Skewers - metal or wood. The benefit of metal skewers is they are usually flat, so you can more easily spin the kabobs to turn them. If you use wood, be sure to soak the skewers for at least 30 minutes in water so they don't catch fire on the grill.
Meat Thermometer - To check for doneness. Cooking to temperature and not by time is the best way to get perfect doneness.
Ways to Cook Kabobs
There are many ways to cook kabobs. Direct, high heat is what you want to use for a flavorful crust on the outside without overcooking the delicate lamb.
Grill - Grilling is the preferred cooking method because of the delicious smoky flavor you can get from the grill that pairs so well with the lamb and marinade. Check out the entire Lamb Grilling Guide.
Broil - A convenient and quick way to cook the kabobs inside the house.
Pan Sear - A great option to cook in a skillet on the stove, or even while camping. A heavy-bottom skillet, a little oil and a high-heat burner will do a great job at browning the outside, giving lots of flavor.
The Marinade
A punchy and bright marinade is essential for kabobs. Not only will it add tons of great flavor, but it will also tenderize the lamb. This marinade is packed with bold and flavorful ingredients including olive oil, lemon juice and zest, red wine vinegar, sugar, salt, garlic, fresh herbs, smoked paprika and red pepper flakes for some heat. This combo of tangy, sweet and savory perfectly complements the lamb. Give it at least 8, and up to 24 hours, to absorb into the meat.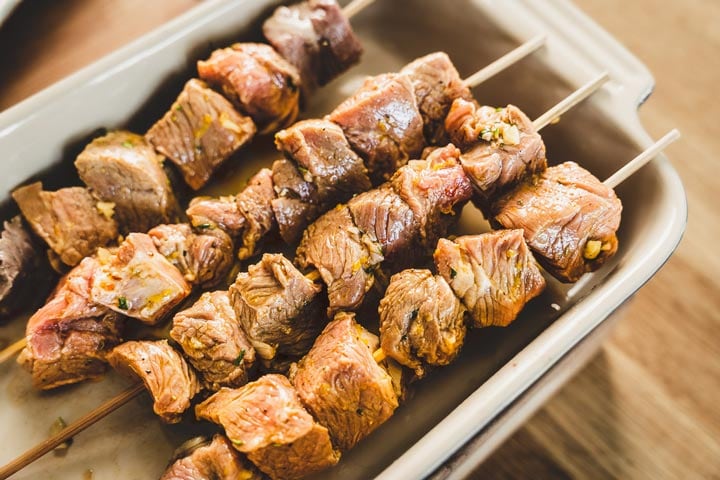 How to Make Lamb Kabobs
Prep and Marinate - Use a sharp knife to slice the lamb into 1" to 1 ½" cubes. Combine the marinade ingredients, then toss with the lamb. Cover and refrigerate for 8 to 24 hours.
Place on Skewers - Soak the skewers in water if they are wood for at least 30 minutes, and then slide the marinated lamb cubes onto the skewers, letting excess marinade drip off.
Grill the Kabobs - Preheat your grill to medium-high heat and grill the kabobs over direct heat, turning every 3 to 5 minutes until the internal temperature reaches 130° F (54° C) for medium rare.
Pro Tips
Skip Veggies on the Skewers - Meat and veggies cook at different times, so make separate skewers of veggies if you also want grilled vegetables.
Buy a Large Cut - Make these kabobs and use the rest to make a delicious grilled leg of lamb.
Marinate and Freeze - The kabobs can be marinated, vacuum-sealed and frozen for up to 3 months before grilling.
Soak the Skewers - Don't skip soaking your wooden skewers for at least 30 minutes to keep them from burning on the grill or in the oven. Or if you make kabobs frequently, upgrade to metal skewers.
What to Serve With Them
The beauty is that tasty grilled lamb goes great with just about anything. Try kabobs with tzatziki (Mediterranean cucumber yogurt sauce), pepitas and a fresh crunchy salad with a zesty vinaigrette, or grilled potatoes. You can switch it up to Mexican flavors and add them to some delicious lamb tostadas with pickled veggies.
Kebobs go great with a refreshing cucumber salad, potato salad, tomato salad, hummus, or rice. Of course, some grilled veggies on a skewer are great, too.
More Delicious Recipes to Try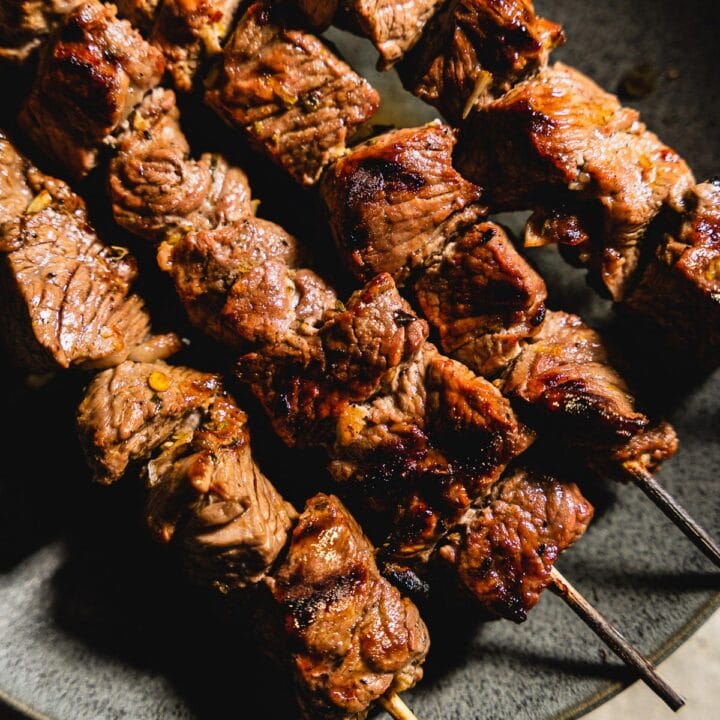 Lamb Kabob Recipe
Grilled lamb kabobs marinated for awesome flavor and fast cooking are grilled to perfection and so delicious.
Print
Pin
Rate
Ingredients
2

pounds

boneless lamb leg

or shoulder (I had 1 lb 12 oz lamb leg)

Olive oil

Squeeze of lemon juice

Kosher salt
Kabob Marinade
¼

cup

olive oil

1

lemon

(juiced and zested)

¼

cup

red wine vinegar

1

teaspoon

sugar

2

teaspoons

Diamond kosher salt and pepper

4

garlic cloves

(peeled, smashed and chopped)

1

tablespoon

fresh herbs: thyme and rosemary

1

teaspoon

smoked paprika

Red pepper flakes

(to taste)
Instructions
Trim excess fat from the lamb leg and cut into 1" to 1 ½" cubes.

Make the marinade by whisking all the ingredients in a medium bowl until dissolved and well combined, or you can pulse the marinade ingredients in a food processor or blender.

Toss the lamb cubes with the marinade until well coated. Cover tightly and refrigerate for at least 8 hours and up to 24 hours.

If using wooden skewers, soak them for at least 30 minutes prior to grilling.

Preheat your grill for medium-high heat cooking. You can also cook in a skillet with a little oil, or under the broiler.

While the grill heats up, place the desired amount of lamb cubes on each skewer, allowing excess marinade to drip off.

Place the kabobs on the grill and sear for 3 to 5 minutes per side, rotating until the desired internal pull temperature is reached (about 10 to 15 minute total): 130° F (54° C) for medium-rare and 140° F (60° C) for medium. Use an instant-read meat thermometer to verify doneness.

Transfer to a cutting board or serving platter to rest for 5 minutes. Freshen up with a drizzle of good olive oil, a squeeze of lemon juice and a sprinkle of finishing salt.
Notes
Marinating for at least 8 hours is best, but if you are low on time, marinate for at least 45 minutes.
The kabobs can be grilled, broiled or pan seared.
If you want veggie skewers, separate the two. Vegetables and lamb cook at different rates, so you might have raw or charred onions by the time your lamb is done.
Soak wooden skewers for at least 30 minutes or get metal reusable ones.