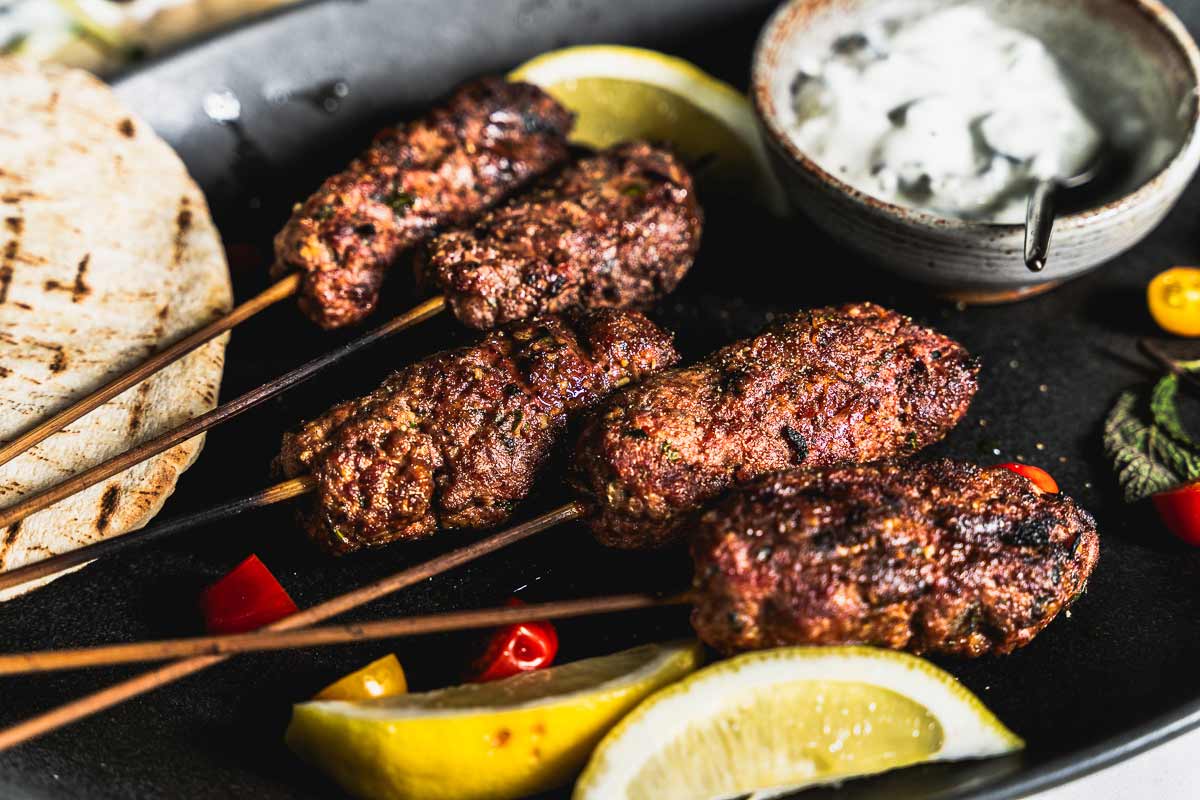 This recipe was created in partnership with the American Lamb Board. All thoughts and opinions are always my own.
Savor the delectable flavors of the middle east by taking a quick trip out to your grill and make some delicious grilled lamb koftas. Made from a combination of ground lamb, fresh herbs, aromatic spices and just a few other ingredients, these flavor-packed delights are perfect for grilling over charcoal, which adds a captivating smoky element.
Unlike traditional grilled lamb skewers made with marinated lamb cubes, Koftas are made with ground lamb with the ingredients incorporated right into them. Whether you choose to enjoy them in a bowl over rice, wrapped in pita or on a fresh salad, these are satisfying, nutritious and so enjoyable, especially as leftovers.
What is Kofta?
Kofta (called Adana Kebabs in Turkish cuisine) is a dish made from ground or minced meat mixed with a variety of herbs, spices, and other ingredients. These seasoned meatballs, patties or meatloaf are found in many cuisines around the world, including Middle Eastern, Indian, and Mediterranean. They are rolled into cylinders and placed onto skewers, grilled and served with rice, bread and sauces.
For this version, we're highlighting lamb which is a traditional Kofta, but Kofta can also be made from other ground meat or even vegetables. There are also kabobs made with cubed meat instead of ground meat, like these grilled lamb kabobs.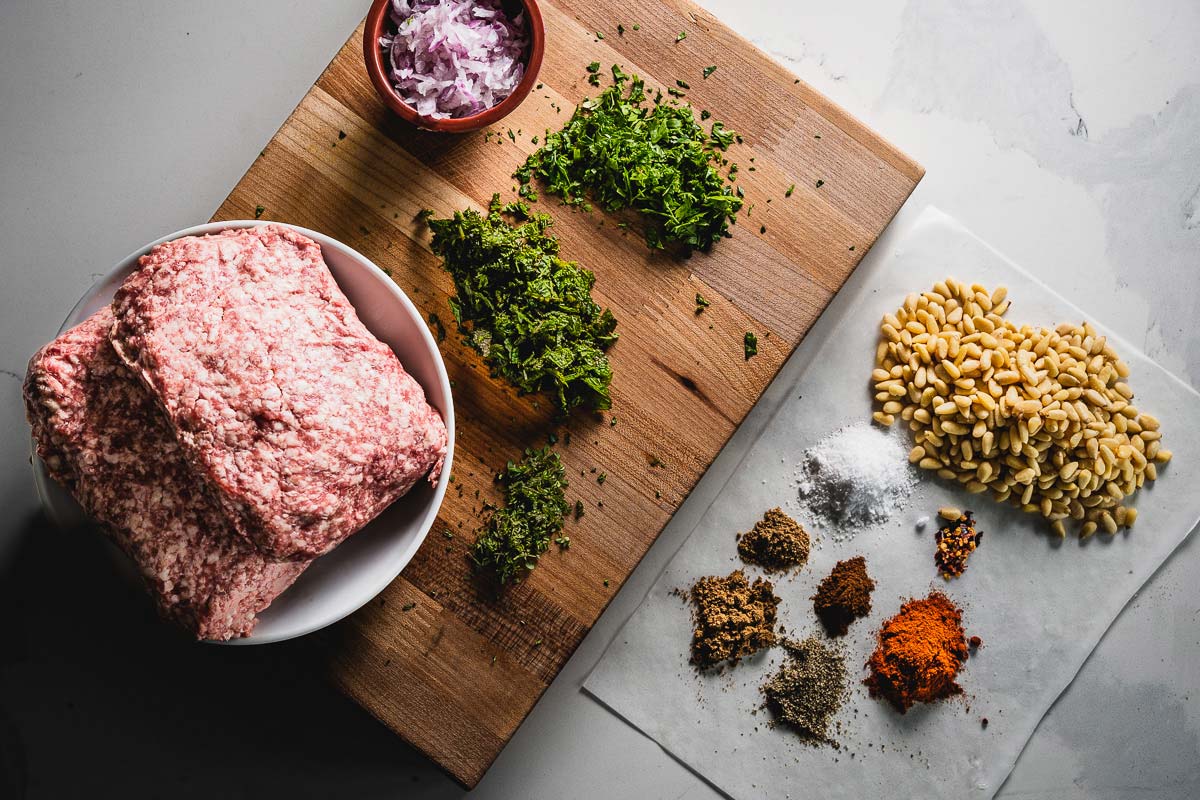 What You'll Need
Jump down to the full recipe card for all the ingredients and specific quantities.
Ground American Lamb - Rich, earthy and slightly sweet, American lamb that is ground from the shoulder and leg is optimal because of the nice fat content. Ask your butcher for 20% fat content, which will keep the koftas juicy.
Skewers - 12" long, preferably wide metal skewers. Metal is superior because they are reusable, and they don't burn on the grill.
Pine Nuts - Add to the tender texture and richness.
Fresh Herbs - Flat-leaf parsley, mint and thyme.
Spices - Ground cumin, coriander, cinnamon, paprika and black pepper,
Onion and Garlic
Food processor to puree the pine nuts with the spices. You could also use a mortar and pestle or a chef's knife.
Why American Lamb?
Choose the finest quality lamb by opting for locally sourced, high-quality meat that is born and raised closest to home. Here in California, our American lamb is typically sourced in-state or neighboring Colorado, ensuring freshness and exceptional flavor, while providing crucial support to our dedicated local farms. By prioritizing local sourcing, we help our communities and economy, rather than sending it halfway around the world. Find where to buy American Lamb near you.
How to Make Lamb Koftas - Step-by-Step Instructions
The koftas can be made a few days ahead of time before cooking. The best way to cook them is over a charcoal grill for the added smoky flavor. The goal is to grill them to get a nice golden crust, adding tons of flavor.
Make the Pine Nut Spice Mixture - Add the pine nuts, cumin, salt, black pepper, red pepper flakes, coriander, cinnamon, and paprika to a food processor (or mortar and pestle) and process until smooth. Scrape down the sides in-between pulses if necessary.
Combine - In a large bowl, mix the ground lamb, with the pine nut mixture, grated onion, garlic, and fresh herbs by gently kneading with dampened hands to fully incorporate all the ingredients, about 2 minutes. The mixture will become slightly tacky to the touch when it's done.
Divide evenly into the desired portion sizes (2 to 3 oz each), then form into cylinders.
Tip: Use nitrile gloves when handling the mixture for easy cleanup.
Slide the cylinders onto skewers and place them on a parchment-lined baking sheet. Drizzle a little olive oil over each to prevent sticking, cover and refrigerate for at least 1 hour to chill completely. They can be made up to two days before cooking.
Tip: Soak wooden skewers in water for at least 30 minutes to keep them from burning on the grill, or better yet, use metal skewers.
Grill the koftas over direct medium-high heat for 4 to 6 minutes per side, or until the internal temperature reaches 160° F. Verify doneness with a meat thermometer.
Tip: Watch for flare-ups as the fat renders and drips down. Grilling with the lid closed will help reduce flare-ups, but you can also transfer the skewers to the cooler side of the grill when they occur. Check out the lamb grilling guide for more lamb grilling tips.
What to Serve with Lamb Koftas
Grilled lamb koftas pair wonderfully with a variety of sauces, sides and accompaniments that highlight their flavors. Make them into a wrap, make them into a rice bowl or with a salad with a variety of these options:
Pita - Warm, soft pita bread is a perfect base.
Rice - Fragrant basmati rice or rice pilaf.
Tzatziki - Greek yogurt-based sauce with cucumber, garlic and dill is cool and tangy, pairing perfectly with the koftas.
Cucumber salad - Simple, cool and refreshing.
Pickled veggies are a great contrast such as pickled red onions, carrots, cucumbers or bell peppers.
Sliced red onions, tomatoes and fresh mint.
Tahini sauce - Creamy texture and nutty flavor, it complements the succulent kofta.
Harissa Aioli - The roasted red chili paste combined with some mayo is a great dipping sauce or spread for the koftas.
Grilled veggies - Make some grilled broccolini or grilled potatoes right alongside the koftas.
Alternate Cooking Methods
Make meatballs or mini lamb burgers instead of kebabs and they can easily be cooked in a hot skillet instead of the grill.
Oven or broiler - Place the koftas on a wire rack on a sheet pan and place in a 450° F oven or under the broiler until cooked.
Grill right over the coals - If you have long metal skewers, you can skip placing the on grill grates, and instead rest the skewers on the edges of your grill and let them grill directly over the coals.
Grill pan - Grill them inside on a grill pan.
Recipe FAQs
How long to cook lamb koftas?
The koftas will take approximately 8 to 12 minutes to cook, depending on the size of the koftas and the temperature of the grill.
Can lamb kofta be made ahead of time and reheated?
Lamb kofta can absolutely be made ahead of time and reheated in a 350° F oven, in a grill or even in the microwave. After initially grilling the koftas, let them cool and store them in an airtight refrigerator for up to 3 days.
Can I freeze lamb kofta for later use?
Yes! The koftas can either be vacuum sealed before or after cooking and frozen to either defrost and grill later or just reheat and enjoy.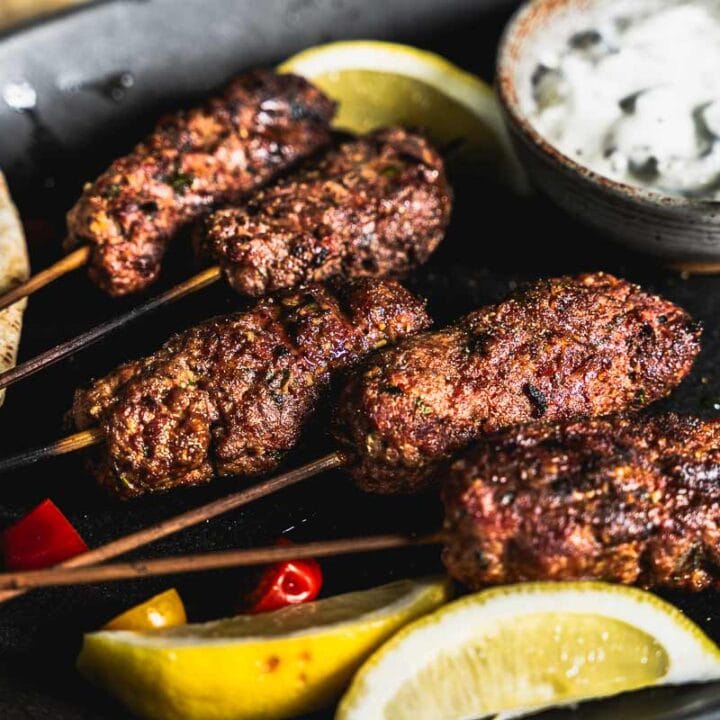 Lamb Kofta Recipe
Savor the Middle Eastern flavors of lamb koftas—succulent ground lamb kebabs infused with aromatic spices, fresh herbs, and a touch of smoky char from the grill.
Print
Pin
Rate
Ingredients
2

lbs

ground American lamb

2

teaspoon

Diamond kosher salt

(or 1 ½ teaspoon Morton koser salt)

¾

cup

pine nuts

¾

teaspoon

ground black pepper

⅛

teaspoon

red pepper flakes

(or to taste)

1

teaspoon

ground cumin

¼

teaspoon

ground coriander

¼

teaspoon

ground cinnamon

2

teaspoon

smoked paprika

½

cup

onion

(grated or finely chopped)

2 to 3

garlic cloves

⅓

cup

fresh mint

, minced

⅓

cup

fresh flat leaf parsley

, minced

1

teaspoon

fresh thyme

, chopped

olive oil
Instructions
In a food processor, add the salt, pine nuts, cumin, black pepper, red pepper flakes, coriander, cinnamon, and paprika. Process the ingredients until smooth, scraping down the sides with a spatula as needed.

Transfer the mixture to a large bowl with the ground lamb, grated onion, garlic, mint, parsley, and thyme. Dampen your hands with water and gently knead using your hands until incorporated and the mixture starts to turn slightly tacky to the touch and to the side of the bowl, about 2 minutes.

Divide into 10 to 12 ball-shaped portions (about 3 oz each). Then shape them into long cylinders using a rolling motion between your dampened hands.

Slide the cylinders onto 12" skewers, then place on a parchment-lined sheet pan. Drizzle each with a little olive oil. Cover and refrigerate to chill completely for at least 1 hour, or overnight.

Grill the koftas over medium-high heat, placing them on the grill at a 45-degree angle to grill grates directly over the heat. Turn every 4 to 6 minutes, for about 8 to 12 minutes total depending on the size of your kofta, or until the internal temperature reaches 160° F.
Notes
Soak wooden or bamboo skewers for at least 30 minutes to prevent them from burning on the grill.

M

etal skewers are superior as they are reusable and won't burn.
Wear nitrile gloves when handling the ground meat for easier cleanup.
Watch for flare-ups: As the fat drips down onto the fire, it can cause flare-ups. You can move them to the cooler side of the grill to finish cooking after the initial sear.
Serve with warm pita, rice, tzatziki or pickled vegetables.
**The USDA recommends that ground lamb be cooked to an internal temperature of 160° F.
Nutrition
Calories:
277
kcal
|
Carbohydrates:
3
g
|
Protein:
14
g
|
Fat:
24
g
|
Saturated Fat:
8
g
|
Polyunsaturated Fat:
4
g
|
Monounsaturated Fat:
9
g
|
Cholesterol:
55
mg
|
Sodium:
435
mg
|
Potassium:
261
mg
|
Fiber:
1
g
|
Sugar:
1
g
|
Vitamin A:
377
IU
|
Vitamin C:
4
mg
|
Calcium:
26
mg
|
Iron:
2
mg