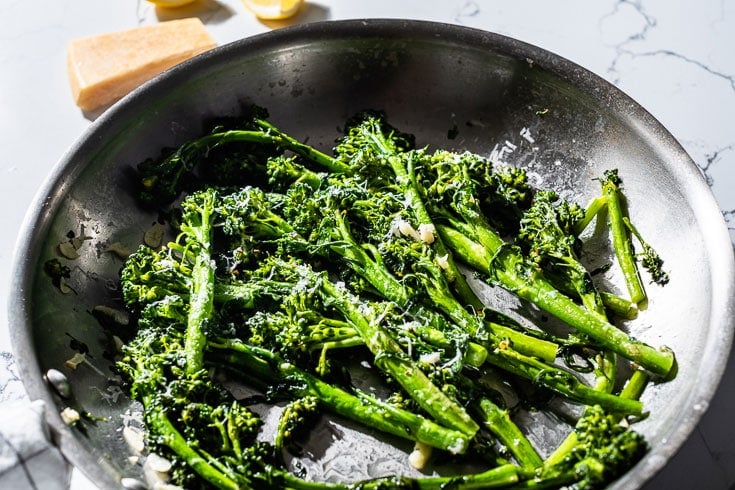 Sautéing broccolini in a skillet, where it's sautéed and steamed to perfection, is a fantastic way to prepare this nutritious and delicious vegetable. You just might find this method to be your new favorite (it's definitely mine). Since it's a hybrid vegetable itself, cooking it with a hybrid method of sautee + steam only seems fitting. This method also keeps all that wonderful nutrition in place.
For everything from baked salmon to a perfect skillet steak to even a poached egg; broccolini is a bright, fresh and super delicious veggie side that is on our menu almost weekly.
So grab a bunch of broccolini, your favorite skillet, and let's cook!
What Is Broccolini?
Fun to say, even more fun to eat, broccolini was developed in Japan in the early 1990s, where it was originally marketed as "Asparation." It came to the United States in 1996, and is sometimes called broccoletti, Italian Sprouting Broccoli (despite its Japanese heritage), and baby broccoli.
But broccolini isn't just young broccoli, it's actually a hybrid between broccoli and Chinese broccoli. While the florets might resemble broccoli rabe, and feature stalks and flavor vaguely reminiscent of asparagus, it's not closely related to either.
Broccolini has a subtle sweetness, with some slight hints of pepper, and the entire plant is edible, with very tender stems. Compared to broccoli, it has a lighter, less earthy flavor, and the shoots and florets are both more delicate. It is low in calories, but loaded with vitamin C, vitamin A, and dietary fiber, just like its burlier cousin.
Where to Buy Broccolini
Its peak season is late spring to early summer, but broccolini is available year-round at most grocery stores, and it typically comes in a perfect little bunch for serving 2 to 4 people. Trader Joe's, Specialty Produce in San Diego, and Sprouts carry broccolini all year.
How to Cook Broccolini in a Pan
Heat your olive oil in a skillet over medium heat. Add the broccolini and minced garlic, then season well with kosher salt and some red pepper flakes. Saute for 3 to 5 minutes.
Pour in about ¼ cup of water, then cover the skillet with a lid and steam until the broccolini is cooked through to the desired tenderness. Most or all of the water should cook down.
Remove from heat and sprinkle on some freshly grated parmesan cheese and a drizzle more of olive oil and a squeeze of fresh lemon. Enjoy!
Tips for Broccolini
Buy it fresh - look at the bottom of the stem. It should look freshly cut and not dried out or discolored.
Thick stems can be sliced in half (or even into quarters) longwise at the bottom so they finish cooking at the same time as smaller stems.
Revive wilted broccolini by cutting the ends off and soaking it in a bowl of ice water to plump it back up, bringing it back to life.
Cook by color - since the stems of broccolini can be different sizes, looking at the color change as it cooks will give you a great hint as to when it is finished cooking. Broccolini develops a rich, bright green color as it cooks; when the color dulls, it's overdone but still very edible.
Cook it to your favorite tenderness - Maybe you like it crunchy, or maybe you like it soft. Learn what you like and stop cooking when it's ready.
More Ways to Cook Broccolini
Grill broccolini along with some lemon halves.
In the oven - Toss with olive oil and roast it in a hot 425°F oven or under the broiler.
Blanch it in salted boiling water then give it a dip in ice water to preserve that beautiful green color. Finish with some butter in a skillet, or even use it in a salad.
Steam it for about 5 to 7 minutes, then toss in a little olive oil and seasonings.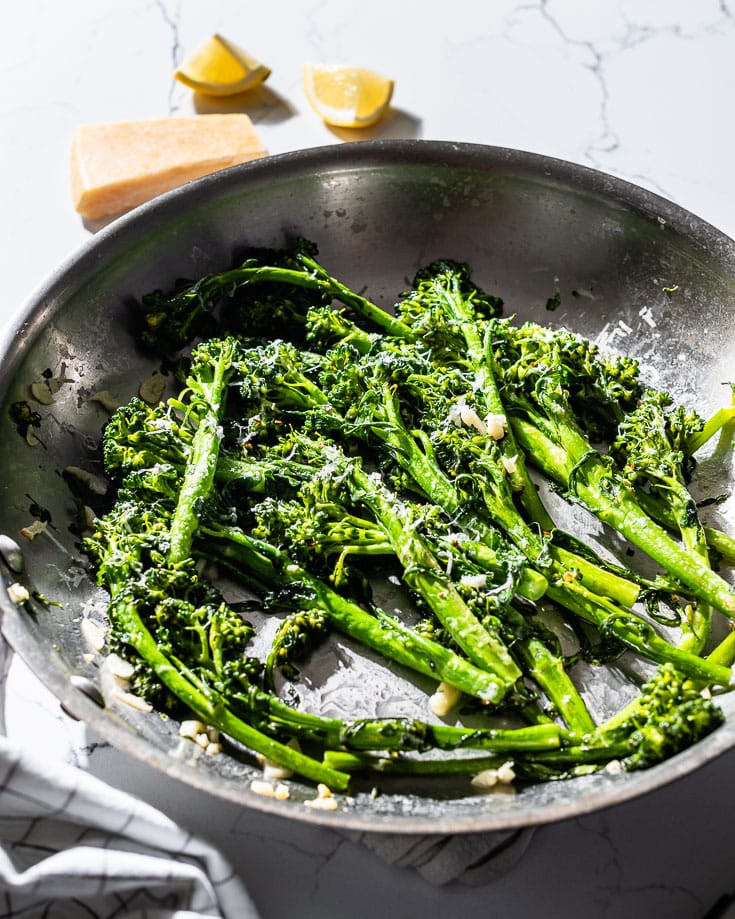 What to Serve with Sauteed Broccolini
Simple sauteed broccolini is a wonderfully versatile, healthy side, great for steak and fish, especially salmon. It's also a perfect pairing to toss with some spaghetti and plenty of parmesan cheese for a dinner that's ready in roughly the amount of time it takes to cook the pasta.
For a vegetarian night, serving broccolini on top of creamy polenta or next to a baked potato is oh so satisfying. It goes great with grilled chicken, too... Really, it's hard to think of a dish that wouldn't benefit from a serving of broccolini next to it.
More Delicious Recipes You'll Love
Sauteed Broccolini
Simple, easy, quick, and delicious. Sauteed Broccolini is the amazing vegetable that will be your new favorite healthy side dish.
Print
Pin
Rate
Ingredients
1

bunch

Broccolini

trimmed

2

tablespoon

olive oil

2

cloves

garlic, finely minced

¼

cup

water

grated parmesan cheese

kosher salt

red pepper flakes

lemon
Instructions
Heat the olive oil in a heavy-bottom skillet over medium heat. When the oil is hot, add the broccolini and garlic, and season with kosher salt and red pepper flakes to taste. Toss with tongs and cook uncovered for about 3 to 5 minutes to develop some color.

Reduce the heat to medium-low and carefully pour in ¼ cup water. Immediately cover with a lid and cook for about 3 to 5 more minutes, or until the broccoli is bright green and cooked through yet still slightly crunchy.

Remove from heat, season with a little more salt and sprinkle with parmesan cheese.

Serve with another drizzle of good olive oil and a squeeze of lemon.
Notes
If some stems of the broccolini are thicker than ½", you can make a 2 to 3" slice lengthwise in the base of the stem to make them smaller to cook evenly.
Can be served whole or cut into smaller bite-size pieces.
Nutrition
Calories:
116
kcal
|
Carbohydrates:
11
g
|
Protein:
4
g
|
Fat:
8
g
|
Saturated Fat:
1
g
|
Polyunsaturated Fat:
1
g
|
Monounsaturated Fat:
5
g
|
Sodium:
51
mg
|
Potassium:
486
mg
|
Fiber:
4
g
|
Sugar:
3
g
|
Vitamin A:
947
IU
|
Vitamin C:
136
mg
|
Calcium:
75
mg
|
Iron:
1
mg