Turkey breast is festive. There are so many ways to cook it: From smoking it with a lovely glaze, to brining and herb-roasting, to even using it in a fancy-looking roulade. But there is no easier way to have it come out perfectly every time than when you cook it sous vide.
I have cooked a lot of turkey breasts this season, in all the ways. They all taste delicious and have a lot to recommend them. And yet the texture, juiciness and tenderness that you get from cooking turkey breast sous vide is pretty much unmatched. Oh, and it's so darn easy and just about impossible to mess up.
This one was done with the bone in, but boneless works great too. You don't even have to have the skin, though it does make for a better presentation.
And this is not just a holiday or dinner recipe; sous vide turkey breast is perfect for slicing into lunch or sandwich meat!
Benefits of Sous Vide
Make It Ahead: Yep, you can literally cook your turkey days ahead of time, chill it and refrigerate right in the bag and simply reheat it, sear it and it's ready to serve.
No Brine Required: It's not often that I would recommend cooking turkey without brining it first. But when it comes to sous vide, seasoning liberally before it heads to the bag will help season it all the way through, basically brining it while it cooks.
Texture, Juiciness and Flavor: It's really difficult to achieve this level with any other method.
Adding Flavor to the Turkey
For this recipe, we make an herb-flavored brown butter that is added to the bag. It includes fresh sage leaves, thyme and rosemary, but you could easily add whatever herbs you like. The herbs are first cooked in the butter, which will pasteurize them for cooking with the turkey and add flavors to the butter that surrounds the turkey while it cooks.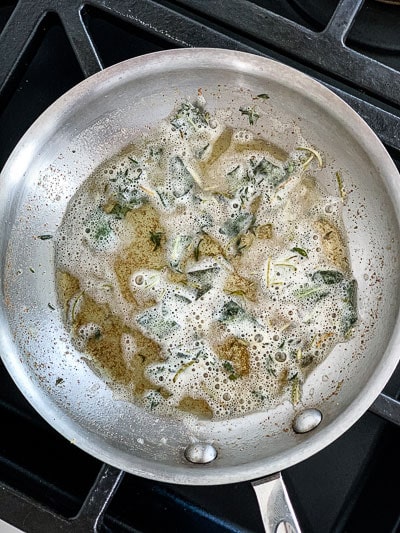 Pasteurization Explained (Is Sous Vide Turkey Safe?)
Wondering why this turkey is only cooked at 145°F, rather than the FDA's recommended 165°F? Well, bacteria are killed off at high temperatures (above at least 135°), and the higher the temp the less time needed. At 165°, it takes hardly any time at all, so that's considered safest. But at 145°, it takes about 10-12 minutes to destroy the bacteria, and since our turkey will be at that temp for well over that, it's perfectly safe.
When cooking poultry sous vide, the meat may stay slightly pink. Slightly pink doesn't mean undercooked, and the meat is fully cooked and safe to eat. However, if the pink bothers you aesthetically, just bump up the temperature to your preference.
Finish With a Sear
The turkey breast comes out of the sous vide bath fully cooked and delicious, but it probably looks a little unfinished since it hasn't been roasting in a hot oven. Easily sear it off in a very hot skillet or grill to brown it up — just a minute on each side. You can also use the broiler. It only takes a few minutes, so be careful not to overcook it.
If you're feeling adventurous, you can try a sous vide and smoked turkey breast, which would first cook the breast sous vide, then take it out to the smoker to finish bringing it up to temp, infusing that wonderful smoky flavor. I'll definitely be trying this to write up the recipe.
FAQs
How Long Does It Take to Sous Vide a Turkey Breast?
3 to 4 hours at 145°F is a good place to start. With sous vide, you can always go longer, as it is essentially impossible to overcook it, though it will continue to get more tender the longer it goes. Times and temps with sous vide are something to experiment with to achieve the texture you love.
Can You Sous Vide a Frozen Turkey Breast?
Yes, absolutely. Just add an hour to the cook time. It's ideal for it to be seasoned prior to freezing, but you can still season it before sealing for the water bath if not.
How to Reheat
The beauty of sous vide is that since the turkey breast is already fully cooked, you can leave it sealed in the bag in the refrigerator until you are ready to use it. Simly reheat it (still in the bag) in a water bath at 145°F for about 45 minutes.
It is even great eating when it's cold. Use it on sandwiches, in tacos, add to a stir-fry or even with eggs Benedict.
Tools & Equipment Used
Contains affiliate links where I might receive a commission if you make a purchase, at no additional cost to you. Thanks for your support!
Serve It Up with Sous Vide Sides
Or Regular Sides...
And don't forget to try Thanksgiving Leftovers Turkey Eggs Benedict with your leftovers.
Sous Vide Turkey Breast
It's all about the perfect texture and flavor when you sous vide a turkey breast.
Print
Pin
Rate
Ingredients
2-4

pound

turkey breast

(skin on, bone-in)

2

teaspoon

Diamond kosher salt

Freshly ground black pepper

2

tablespoon

neutral oil such as canola or vegetable for searing
Herb Marinade
3

tablespoon

unsalted butter

1

teaspoon

fresh rosemary

(coarsely chopped)

1

teaspoon

fresh thyme

(coarsely chopped)

4

sage leaves

(coarsely chopped)
Instructions
Preheat water bath to 145°F / 62.7°C

Make the seasoning: Add butter and herbs to a small hot skillet until the butter starts to brown. Just to pasteurize the herbs and flavor the butter. Transfer to a ramekin. Set aside to cool, so it doesn't melt the plastic bag.

Season the turkey breast on all sides with kosher salt and freshly ground pepper.

Place the seasoned breast in a vacuum-sealed or Ziplock bag and pour the butter seasoning all around. Vacuum seal or use the water displacement method to remove the air from the bag.

Cook in the water bath for 3 to 4 hours.

Remove from the water and allow to sit on the counter in the bag for 15 minutes to cool slightly before searing so it doesn't overcook.

Remove the breast from bag and pat dry with paper towels.

Sear the breast with a skillet, broiler, torch or even grill. I prefer to sear in a skillet. Use about 2 tablespoon of oil to coat the bottom of the pan and heat over high heat. Sear the dried turkey breast on the skin side first for about 1 minute to brown, then flip and sear for another minute on the second side.
Notes
The turkey breast can be sous vide ahead of time, chilled in an ice bath and reheated again in the water bath at 145°F for 45 minutes before searing.
Frozen turkey breast can also be sous vide. Just add an hour to the cooking time.
More Ways to Cook Turkey