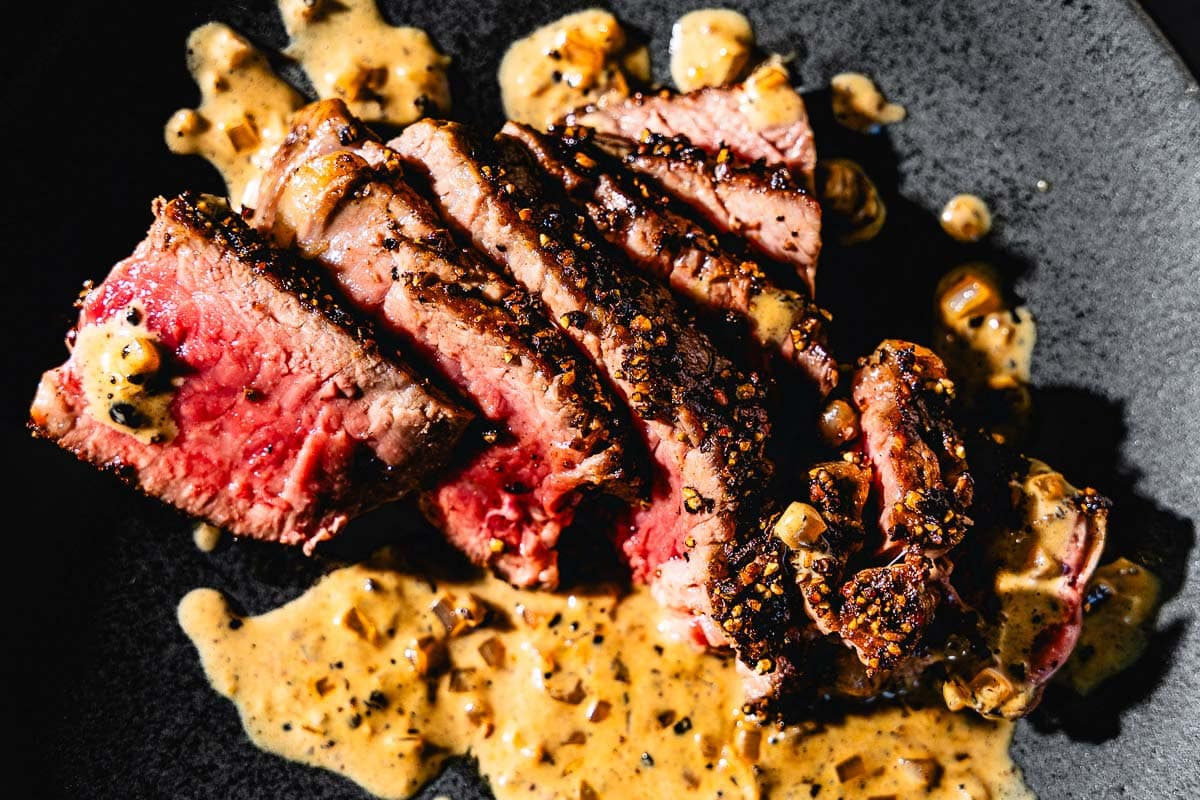 Indulge in the exquisite flavors of a peppercorn-crusted, pan-fried steak complemented by a quick, luscious brandy-cream sauce—a gourmet masterpiece that's rich, flavorful, and surprisingly easy to prepare.
This classic French bistro dish keeps things uncomplicated, as they should be; just season your steak with salt, coat it with crushed peppercorns, pan-fry it, whip up a delectable sauce, and voilà — you'll have a gourmet dinner that's sure to please.
With a simple dish like this, the quality of the ingredients is key. A high-quality steak and fresh peppercorns that haven't been sitting in your spice cabinet are going to be much more fragrant and flavorful. The quality of the alcohol isn't super important, so don't pull out your fancy bottle for this one, unless you can taste the difference.
What is Steak au Poivre?
Steak au Poivre is a classic French dish that consists of a tender steak, typically filet mignon or ribeye, coated in coarsely crushed black peppercorns and pan-fried to perfection. The dish is known for its rich and creamy peppercorn sauce, which is made with ingredients like cognac or brandy, cream, and sometimes beef broth.
"Steak au Poivre" is pronounced as "stehk oh pwahv-ruh" in French, with the emphasis on the second syllable of "pwahv-ruh" which often gets left off in English :).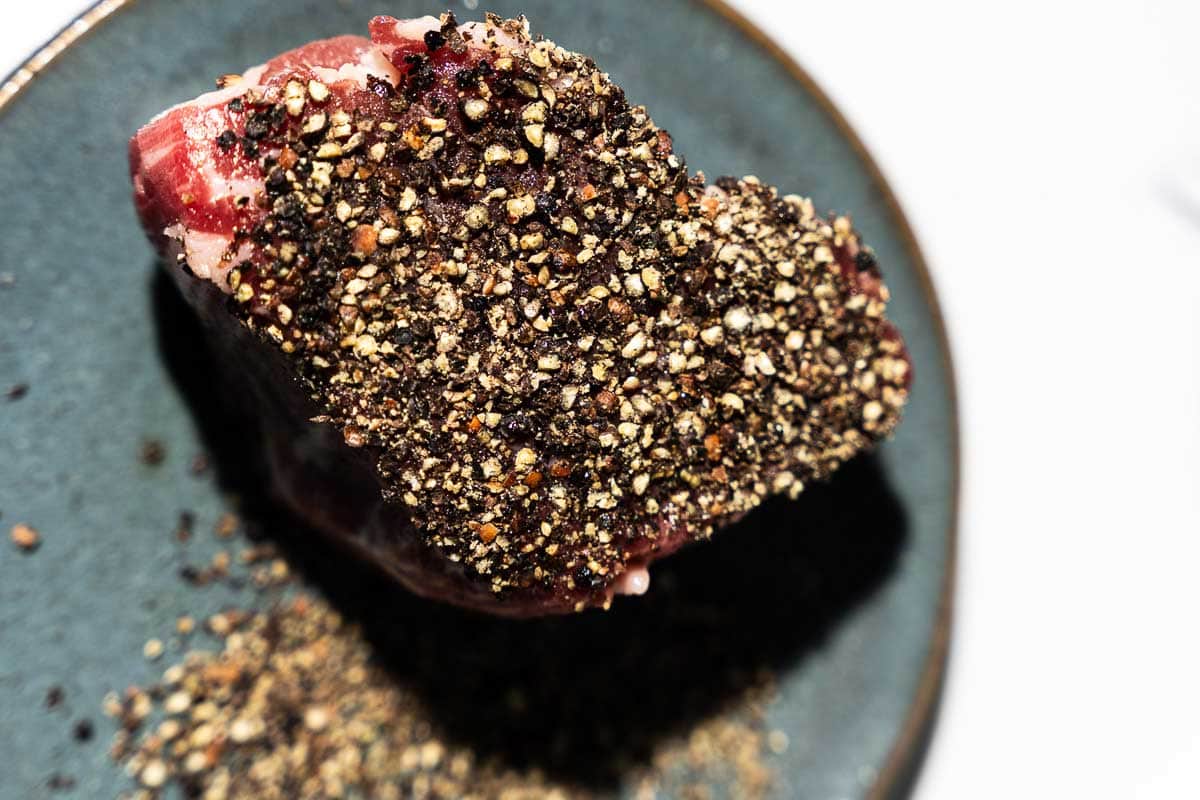 Ingredients You'll Need
Steak - I prefer filet mignon, but any type will work as long as it's high-quality and thick-cut to at least 1 inch.
Peppercorns - The fresher the better. You can use black or a mix with other colors. You can even "bloom" them in a skillet to make them more fragrant before crushing.
Oil and Butter - The perfect combination for a crusty sear. The butter adds flavor and the oil increases the smoke point so the butter doesn't burn.
Cognac - Any quality cognac will do and you can also use brandy or even dark rum if you don't have cognac on hand.
Heavy Whipping Cream - Key to the velvety sauce that picks up flavor from the pan.
Pro Tips
Let pre-salted steaks come to room temperature before cooking. Learn more about when to salt meat.
Use the quick flip method for even doneness, faster cooking and a beautiful crust
Use a meat thermometer to test for doneness and be sure to account for carryover cooking, so pull the steak out of the pan about 5 degrees before the desired finish temp is reached. Learn more about steak temps.
Be sure to rest the steaks for at least 5 minutes so they retain the juices and slice against the grain for optimal tenderness.
What Can I Use Instead of Cognac?
If you don't have cognac, you can substitute brandy, dark rum or even high-quality beef stock that isn't super salty if you are in a pinch. You don't need fancy cognac, so just pick up a little bottle to keep around for cooking.
Serving Suggestions
Some extra crushed peppercorns on top are a nice garnish. Serve it with creamy mashed potatoes as a base with fresh sautéed green beans or sautéed garlicky broccolini, or an arugula salad with a lemon vinaigrette. Turn it into steak frites with some crunchy fries and simply serve with butter noodles. A crusty bread is also nice to have for soaking up every last drop of the sauce.
A nice robust red wine like Cabernet Sauvignon or a Bordeaux will pair beautifully with the peppery steak and creamy, rich sauce.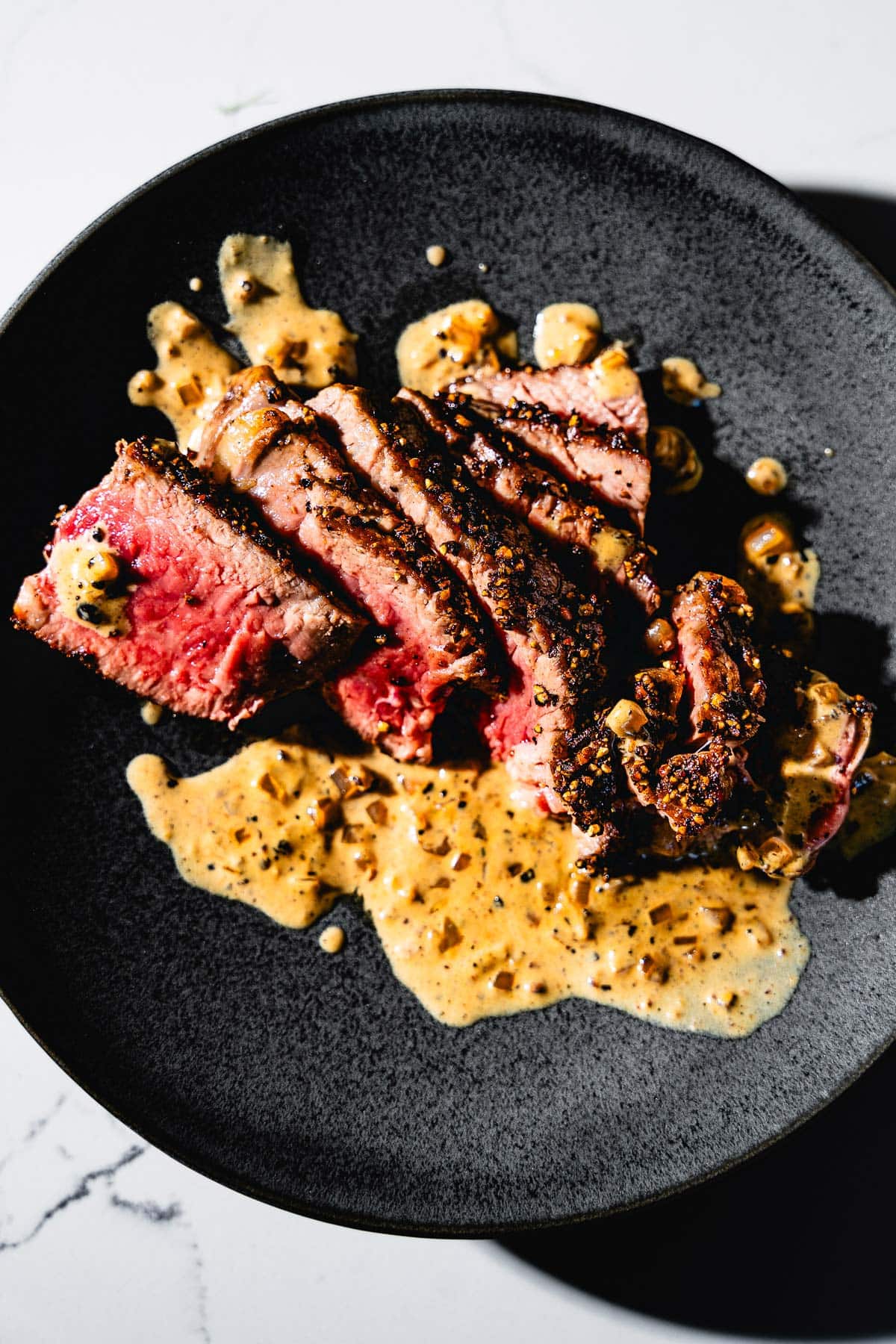 More Delicious Steak Recipes
Steak au Poivre (Pepper Steak) Recipe
A super-flavorful and easy french bistro dish that is super easy to make at home with just a few simple ingredients.
Print
Pin
Rate
Ingredients
For the steak
2

filet mignon steaks

(or quality steak can work) 1 to 1 ½" thick

Diamond kosher salt

2

tablespoon

peppercorns

, coarsely and freshly cracked (see note #2)

2

tablespoon

canola oil

, or other neutral oil

1

tablespoon

unsalted butter
For the Sauce
1

small shallot

, chopped fine

¼

cup

cognac or brandy

¾

cup

heavy cream

1

tablespoon

unsalted butter
Instructions
Season steaks with a drizzle of oil and plenty of kosher salt up to 24 hours ahead of time with kosher salt. Remove from refrigerator 45 minutes prior to cooking and pat dry with a paper towel.

Place the cracked peppercorns on a plate (reserving 1 teaspoon or so for garnish) Place the the steaks down on the peppercorns pressing so they stick, both top and bottom, or just one side depending on your desire for pepper

Pre-heat a heavy-bottom skillet over medium-high heat. Drizzle in the canola oil and add the butter.

Place the steaks in the skillet and flip every 1 to 2 minutes moving to the hotter part of the skillet for a total of about 6 to 8 minutes per side for medium-rare, depending on the thickness of your steaks.

Transfer the cooked steaks to a cutting board and tent with foil to rest while you make the sauce.
Make the sauce:
Pour off any leftover fat from the skillet. Reduce the heat to medium and add the shallot, stirring frequently for about 1 minute.

Very carefully pour in the cognac. Ignite the alcohol with a long-reach lighter or torch. It will flame up, so be very cautious with this step. Scrape the pan with a whisk or wooden spoon to release any brown bits and cook the liquid down until only a few tablespoons remain.

Add heavy cream whisking to incorporate with the cognac. Bring to a simmer and reduce the heat to medium-low, cooking down and stirring frequently until thickened to the desired sauce consistency, about 2 to 3 minutes. Remove from the heat and whisk in the remaining 1 tablespoon of butter. Taste the sauce and season with kosher salt as needed.

Sliced the rested steaks against the grain and serve by pouring the sauce on and around the steak. Optionally sprinkle extra peppercorns and some finishing salt (like Maldon) on top of steaks when serving for garnish.
Notes
You can use a pepper grinder that can crack the peppercorns very coarse, or crack them in a mortar & pestle, the back of a skillet or even with a meat pounder.
Cooking with high-proof alcohol can be extremely dangerous. Be sure to have your range hood fan on and use caution.
Green peppercorns (drained from the brine) are a great addition to the sauce when added with the cream.
Steak Temp Chart
| | |
| --- | --- |
| Rare | 120-129° F |
| Medium-Rare | 130-134° F |
| Medium | 135-144° F |
Nutrition
Calories:
558
kcal
|
Carbohydrates:
7
g
|
Protein:
18
g
|
Fat:
48
g
|
Saturated Fat:
22
g
|
Polyunsaturated Fat:
4
g
|
Monounsaturated Fat:
18
g
|
Trans Fat:
0.3
g
|
Cholesterol:
125
mg
|
Sodium:
56
mg
|
Potassium:
329
mg
|
Fiber:
2
g
|
Sugar:
2
g
|
Vitamin A:
831
IU
|
Vitamin C:
2
mg
|
Calcium:
59
mg
|
Iron:
3
mg