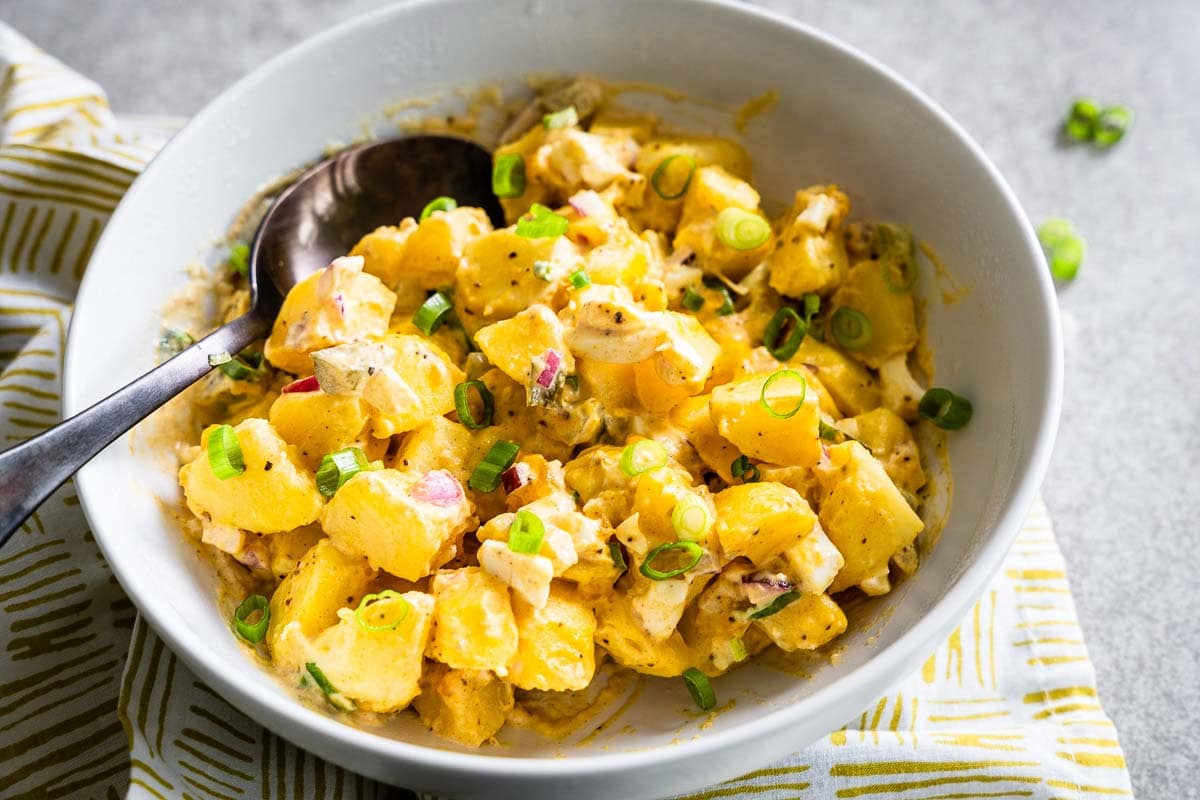 This is a classic "American-style" potato salad, but way better than what you get at the deli, thanks to the fresh ingredients and some extra love. Don't have a BBQ without this essential side dish.
Just about every American subculture has its version of potato salad. From "New York" to "Louisiana" to "Hawaiian"; you can even go international with "Japanese" and "Spanish" potato salads. Two standouts are the classic American-style and German-style potato salad. The main differences between the two are American is mayonnaise-based and served cold, and German-style is vinegar- and oil-based and generally served warm. They are both wonderful.
Potato salad is a staple at any BBQ picnic or summertime holiday gathering. Best make it ahead (and make extra) to allow the flavors to develop and deepen, and of course, serve with bacon on top (if you're a carnivore).
What You Need
Jump to the full recipe card for quantities and specifics.
Potatoes - go with Yukon gold for a wonderful creamy texture. Red potatoes or russets will also work great.
Vinegar - added to the cooked potatoes while they are still warm so they absorb it, adding a wonderful acidity to balance everything out.
Mayo - the creamy base to the dressing.
Yellow mustard - adds depth and spicy flavor.
Celery seeds - for some extra complexity.
Smoked paprika - gives an almost smoky bacon flavor without actual bacon (can also use regular paprika).
Red onion - a pop of contrast in flavor, crunch and acidity.
Scallion/green onions - subtler and earthier than the onion and adds color; save some for the garnish.
Hard-boiled egg - a smooth protein that is noticeably wonderful.
Sweet pickles or bread & butter pickles - Can substitute dill pickle relish or sweet relish if you can't find whole pickles.
Optional Add-In Ingredients
Bacon + bacon fat (or even chopped smoked pork belly or ham)
Chopped celery for extra crunch
Fresh chopped dill
Pickle juice
Pickle relish can be substituted for chopped pickles but will have less texture.
Tools and Equipment
Large pot
Vegetable peeler
Colander
Whisk
Spatula
How to Make It
Step 1: Peel and dice the potatoes into ¾" pieces. Cover with 1" of salted water and bring to a boil then reduce heat and simmer until fork-tender.
Step 2: While the potatoes cook, prep the remaining ingredients and make the dressing.
Step 3: Strain the cooked potatoes and place them back in the pot. Combine with the vinegar and let cool slightly.
Step 4: Add the potatoes to the dressing along with the hard-boiled eggs, onions, sweet pickles and any other add-ins you want to add. Use a spatula to fold everything to combine.
Step 5: Cover and refrigerate for at least two hours to cool, or overnight for even more flavor.
Tips for Success
Choose the texture - Make an even creamier potato salad (similar to mashed potatoes by cooking the potatoes a little longer and slightly mashing or smashing half of them. Some people love this. I like the texture of the potatoes, so I leave them as is. It's all up to you.
Salt the water to season the potatoes - Adding 2 tablespoons of kosher salt to the water as the potatoes cook is really the only way to season the inside of the potatoes. Be sure to add the salt after the water is boiling or it will take longer to reach boiling temperature.
Check for balance - You want a nice balance between the vinegar and mayonnaise. Taste the dressing and the finished potato salad to adjust as needed. Always be tasting and add more salt, vinegar or other ingredients that are lacking.
Make it ahead - Making the potato salad the day before will give the flavors time to meld together and it will taste even better the next day.
Mix it up - While this potato salad recipe is traditional, it's also a good base for some of the wilder variations for you to experiment with. Crab potato salad, grilled potato salad, Southwest, Niçoise, Caesar, loaded... try 'em all.
FAQs
How should potato salad be stored?
Store the potato salad in a sealed container in the refrigerator for up to 5 days, but it is best within 2 days.
Does potato salad spoil easily, especially at warm-weather picnics?
Not any more than other foods. This reputation comes from the days when the mayo used in potato salad was usually made at home with raw eggs, which can harbor bacteria. The store-bought mayo we use now has preservatives and is likely to be safer longer than the other ingredients. The eggs in the recipe are hard-boiled, so they're safe as well. That said, don't let any food sit out longer than a few hours.
Serve It With
Did you make this recipe?
I'd love to know how it turned out!
Please leave a note and a rating in the comments section below, or tag @SaltPepperSkillet on Instagram.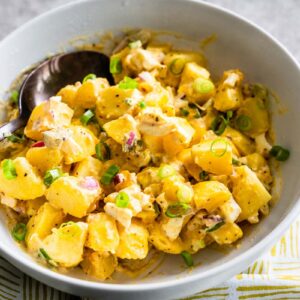 Classic American Potato Salad Recipe
For the love of potatoes and the perfect creamy, tangy and well-balanced potato salad we make with them and just can't stop eating.
Print
Pin
Rate
Ingredients
2

lbs

Yukon gold potatoes

2

tablespoon

vinegar

(distilled, red wine or apple cider)

2

hard-boiled eggs, chopped

¼

cup

sweet pickles, chopped

¼

cup

diced red onion

2

tablespoon

scallions or green onions, sliced thin

Diamond kosher salt and pepper
Dressing
½

cup

mayonnaise

(Best Foods or Hellmann's brand)

2

tablespoon

yellow mustard

1

teaspoon

celery seeds

¼

teaspoon

smoked paprika
Instructions
Wash and peel the potatoes, then dice into ¾" pieces. Add to a pot and cover with 1" of cold water.

Cook the potatoes - Bring to a boil over high heat and add 1 tablespoon Kosher salt, then reduce heat to simmer. Cook until fork-tender but not mushy, about 8 to 10 minutes.

Prep the remaining ingredients while the potatoes cook and make the dressing by whisking the dressing ingredients in a large bowl until combined.

Drain the cooked potatoes in a colander, then add back to the pot and gently toss with the vinegar. Let cool slightly.

Add the potatoes to the dressing bowl while still warm along with the hard-boiled eggs, pickles, onion and scallion. Gently fold together to combine.

Taste for seasoning and adjust with more salt or vinegar as needed.

Cover and chill in the refrigerator for a few hours or overnight to allow the flavors to meld.

Serve with a sprinkle of chopped scallion or parsley on top.
Notes
Recipe can easily be scaled up or down.
Add salt to the potato water once it is boiling to season the inside of the potatoes.
Optional Add-in Ingredients: bacon or smoked pork belly, ham, celery, chopped dill or even pickle juice.
More Side Dish Recipe Inspiration