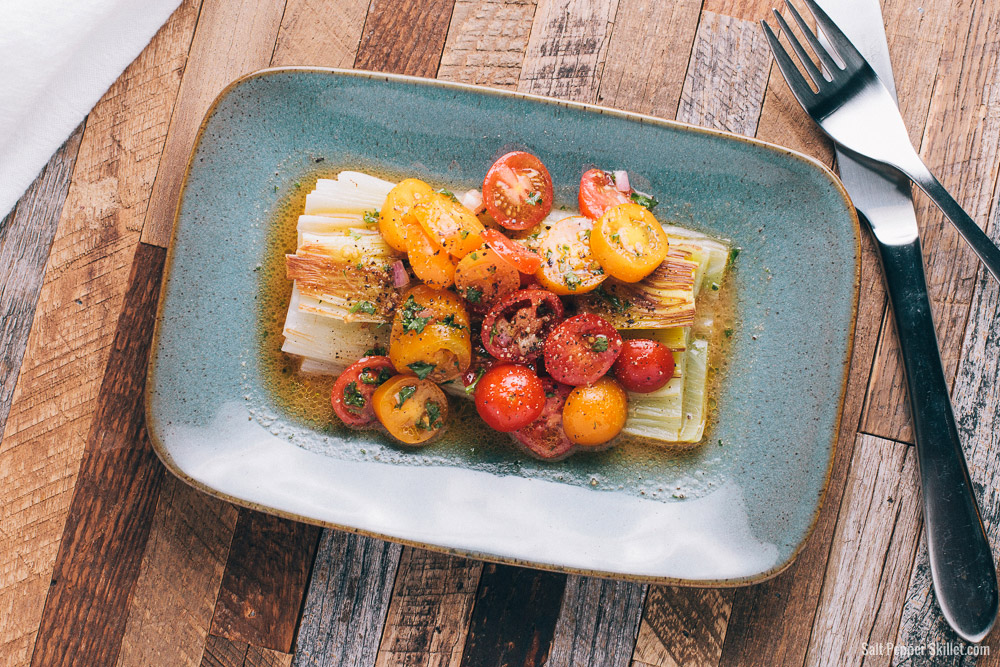 Summer is in full swing and tomatoes are at their peak of sweetness. Leeks are something you always see in the produce section, but how often do you actually pick some up to take home? Why not put sweet tomatoes on top of a super tender braised leek? I couldn't think of any reasons not to either.
Leeks are so under utilized and there are so many amazing uses for them. They can be braised, fried, made into soups, sauces, add amazing flavors to your stock, or you can even make a Leek pie. Anytime you think of adding an onion, try adding a leek instead and be amazed by its ability to add complex flavors with almost no effort.
Braising the leeks makes them super tender and they go perfectly under the sweet tomato vinaigrette that has just the right amount of sweetness and acidity for powerful and complex flavors that go so well together. Super quick, super easy and super impressive.
This recipe was inspired by the great Jacques Pépin.
Ingredients
Braised Leeks
1

medium to large leek. White and light parts only

halved lengthwise

1

tablespoon

unsalted butter

1

cup

boiling water
Vinaigrette
1

tablespoon

red wine vinegar

3

tablespoons

extra virgin olive oil

1/2

tablespoon

dijon mustard

1

teaspoon

worcestershire sauce

1/2

teaspoon

shallot

chopped

1

tablespoon

parsley

chopped

1/2

teaspoon

sugar or honey

kosher salt and pepper

1

cup

cherry or grape tomatoes

sliced thin
Instructions
Heat 1 tablespoon butter in a 10" skillet over medium-high heat. Add the leek cut side down and press down on the leek to get more contact with the pan. Cook for about 4 to 5 minutes, until the golden brown.

Reduce the heat to medium-low and carefully add 1 cup boiling water to the skillet. Cover and cook for 12 to 15 minutes, or until the leeks are knife tender.
Vinaigrette
Whisk all ingredients in a small bowl, then stir in the sliced tomatoes.

Spoon the tomatoes over the braised leek. Season with more freshly cracked pepper.