Grilling is the game and perfect is the name of this chicken. So simple and so delicious. Marinated in a little bath of fresh garlic, thyme, rosemary and olive oil then grilled over medium-high to get crispy skin and finished over lower heat on the second side to perfectly cook through.
Tips for Making Restaurant-Quality Chicken Breasts:
Don't overcook the chicken! This is the most important thing. Sure, you need to cook it to 165° F, but don't go over that or it will dry out. Use an instant-read probe thermometer to test for doneness.
If you can wing it, buy whole chickens and break them down yourself. This gives you tons of meal options and also the most beautiful and fresher chicken breasts.
Go with skin-on breasts. Not only is crispy chicken skin the best part, but it keeps the tender white meat from drying out on the grill.
Spend a few bucks extra and buy quality free-range chicken.
Always give the grill enough time to fully pre-heat. Placing the chicken on a grill that isn't pre-heated enough will cause it to stick.
Use a two-zone fire or finish cooking the second side on a lower heat for even cooking. Grilling chicken isn't a one temp kind of cook.
Marinate with basic aromatics (even overnight or longer for weekly meal prep).
Don't sauce the crispy skin. It can be so tempting to drizzle some delicious sauce over the top of your chicken. Don't do it. You worked hard for that crispy skin and it will just get soggy if sauce the top.
Don't rush it. Chicken breasts overcook very easily and leaving on high heat for too long will overcook the outside before the center is fully cooked.
You can grill the breasts ahead of time then finish in the oven (or back on the grill with the lid closed) to fully finish cooking.
To get super crispy skin: Dry the chicken breasts, use an oil coating and a hot grill. Don't turn or move the breasts until they are seared and golden brown.
Simple Marinade for Grilled Chicken Breasts
Restaurants rarely just pull chickens out of the package, season them and throw on the grill. It's best when the chicken is marinated in light aromatics, olive oil and something with a little acid like lemon slices. This type of marinade doesn't add a heavy marinated flavor but it totally compliments the light flavors of the chicken breasts.
Since it's going to be grilled over medium-high heat, avoid sugary marinades which can easily burn. I like to keep it super simple and use aromatics like fresh thyme, rosemary, sliced shallots, crushed garlic cloves and lemon slices.
Drizzling olive oil around the chicken will help bring those aromatic flavors into the meat along with the acid from the olive oil to help tenderize it a little bit. The olive oil will also give a layer of protection between the grill and the flesh that helps to brown up both sides when grilling, which adds tons of flavor.
Lemon slices can add some nice acidity, but adding pure lemon juice can be a little to much as well as adding a liquid that makes it harder to brown the chicken on the grill.
Let the chicken marinate for at least an hour, and up to 2 days if using the above suggestions.
Chopping vs not chopping the garlic and herbs for a marinade. This is totally up to you, but if you chop the herbs, they are harder to take off before grilling and can then burn. It also depends on how long you have to marinate. If it's a very quick marinade under an hour, then chopping will give more flavor in a short amount of time.
Seasoning for Grilled Chicken Breasts
Go simple with plenty of kosher salt and freshly ground pepper on all sides. Use your fingers to apply the salt from 12" to 18" above the chicken, which will evenly spread it.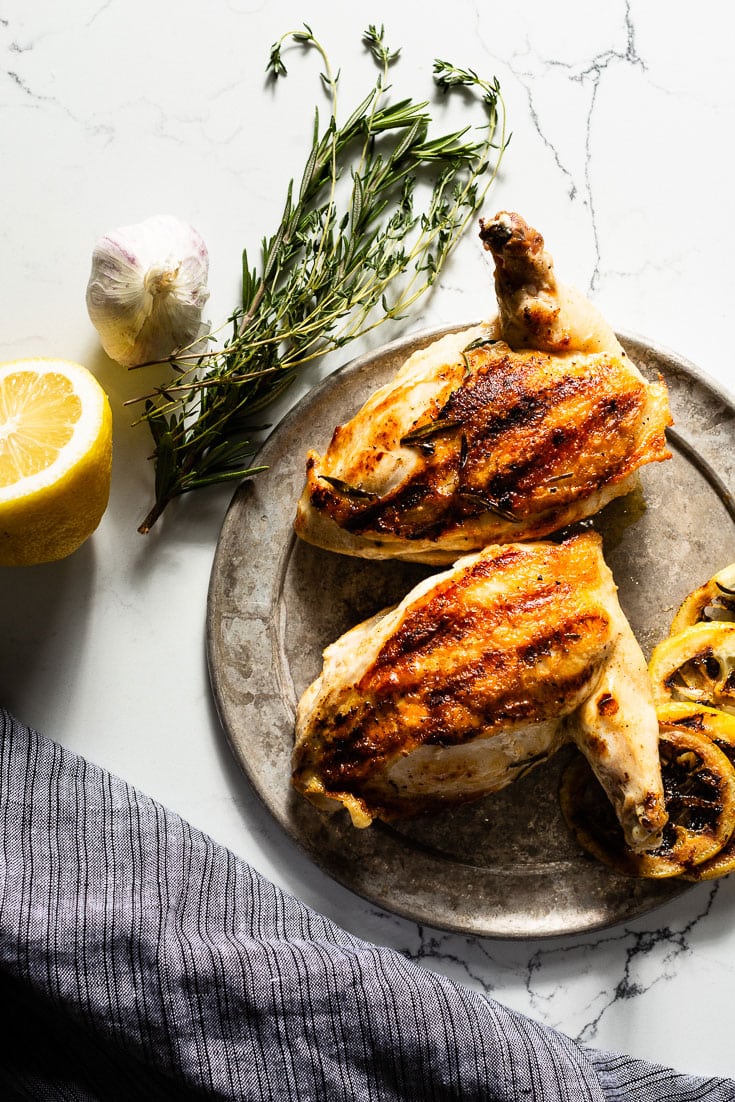 How to Grill Chicken Breasts
Pre-heat the grill to medium-high and bring the marinated chicken to room temperature for even cooking.
Season on all sides with plenty of kosher salt and freshly ground black pepper.
Sear skin side down first for 5 to 7 minutes, then reduce the heat to medium and turn to finish on the second side.
Remove from the grill and rest for 5 minutes before serving.
Grilled Chicken Breast Temperature
The chicken is fully cooked at 165° Fahrenheit / 75° Celsius.
Note that there can be some carry-over temperature rise once then the chicken is removed from the grill, so you can remove it a few degrees below finished temperature as long as it rises to 165° F.
How Long to Grill Chicken Breasts
Grill the chicken breasts for approximately 5 to 7 minutes per side for a total of about 14 minutes (or until the chicken is fully cooked to 165° F. The cook time depends on a few factors including the size and thickness of the breasts, temperature and the type of grill you are using.
Don't rush it! Cooking on too high of heat will dry the chicken before the inside cooks.
Use a probe thermometer or a Thermoworks Two-Channel Smoke Thermometer to remotely monitor your chicken breasts on the grill so you know precisely when they are finished cooking.
Grilling Chicken Breasts on a Grill Pan
Grilling chicken breasts on a grill pan is one of the easiest ways to cook chicken. Since it's conduction only heat transfer and not acting like an oven; one thing to think about is that the chicken will cook slower than a grill with a lid (which is totally fine).
An option to speed up the grilling is to grill it on the skin side to brown it, then flip to sear the skin side and finish in an oven for faster even cooking. This can work really well when grilling on a grill pan in your kitchen.
My favorite grill pan is a Lodge 12" square cast iron grill pan. It makes great grill marks, super easy to clean and works great over one burner for even heat.
Grilling Chicken Breasts on a Charcoal Grill
Grilling on a charcoal grill is going to add the best smoky flavors, which is what comes to mind when we think of grilled food. It has a very high even heat and it's easy to set up a two-zone fire for direct and indirect cooking. While lighting charcoal takes a few minutes to get started, it's the easiest post grilling clean-up after you are done. It's always my preferred way to grill and a Weber Kettle Grill is a great choice for a charcoal grill that won't break the bank.
Grilling Chicken Breasts on a Gas Grill
Grilling on a gas grill is quick a super easy setup. Turn it on to pre-heat and you are good to go. Sort of... Gas grills often have uneven heat and hot spots, so you will want to keep an eye on the chicken to make sure it is all getting cooked the same. Also, gas grills usually have a thermometer built-in which can often be wrong so don't rely solely on it.
More Delicious Grilling and Chicken Recipes
View all Grilling or Chicken recipes
Grilled Chicken Breast
Super simple, easy, juicy and crazy delicious restaurant-quality grilled chicken breasts with crispy skin that cooks in just 15 minutes.
Print
Pin
Rate
Ingredients
2

chicken breasts skin on

fresh thyme and rosemary springs

4

garlic cloves

(pealed and smashed)

olive oil

Kosher Salt and freshly ground black pepper
Instructions
Marinate the chicken breasts by first seasoning with kosher salt, add olive oil, lemon slices, smashed garlic cloves and herbs for at least 1 hour and preferably overnight in the refrigerator.

Remove from the refrigerator and let it come to room temperature prior to cooking. Discard the marinade ingredients.

Pre-heat your grill to medium-high with clean and oiled grill grates.

Season the chicken liberally on all sides with kosher salt and freshly ground pepper. Grill skin side down first for about 5 to 7 minutes, then lower the heat to medium and flip the breasts to continue cooking for another 5 to 7 minutes, or until the internal temperature reaches 165° F / 75° C.

Transfer to a plate or cutting board and rest uncovered for 5 minutes before serving.
Notes
These chicken breasts are great served warm but can also be chilled and sliced or diced for salads.
Refrigerate covered for up to 1 week or freeze to last for months.
A two-zone grill setup is optimal if using a charcoal or gas grill with a lid. Move the chicken to the indirect heat after the second side is seared to finish cooking.
Cooking time will vary depending on the type of grill you are using and if you close the lid or not.