This recipe was created in partnership with the American Lamb Board. All thoughts and opinions are always my own.
In grilling season, it's all about a few simple, fresh ingredients that are in the peak of their season paired with a smoky, juicy lamb burger. It's flavor from the grill you can taste with every bite. In this case, we're going with heirloom tomatoes (which are in season all summer), caramelized onions and some soft heat from an easy-to-make harissa aioli. But don't add so many toppings that they hide the star of the show, which is the American lamb.
While you might see lamb burgers on the menu at your favorite restaurant, they might not be top of mind when it comes to making them at home. Ground lamb is the perfect cut to begin experimenting with lamb on the grill at home. It is super versatile, cooks quickly and is easy to incorporate into any recipe calling for ground red meat.
Ground American lamb has an earthy-sweet flavor that pairs perfectly with some spice. And that's where the sauce comes in. Give these delicious burgers a try and you will definitely want to add them to your burger menu rotation.
What You'll Need
Ground American Lamb - Go with 85/15 blend (which is 15% fat content) so there's enough fat to keep the burgers juicy on the grill. If the fat content is lower, they can dry out, so be sure to cook them delicately. See your local butcher to find American lamb.
Seasonings - Kosher salt, black pepper, smoked paprika to add a wonderful smoky flavor, granulated garlic and granulated onion are added to the ground American lamb.
Canola Oil - (Or other neutral oil) for lightly coating the patty before grilling.
The Toppings
Harissa Aioli - Harissa is a roasted red chili paste that includes chilis, garlic, olive oil, citrus and spices. It's popular in Middle Eastern food, and you can buy it at most grocery stores. Just combine it with some mayonnaise and you have a delicious and easy aioli that packs a punch and pairs so great with the lamb burgers.
Heirloom Tomatoes - When these are in season, you just can't go wrong. Slice and season them early for even more flavor. Optionally grill them for just a minute or two to intensify the flavor of the tomato. Once grilled, you can easily pull the skin off.
Red Onions - Lightly coated with oil and grilled until caramelized. Season with salt after they are done grilling.
Butter Lettuce - Any type of lettuce will work, but I love how delicate butter or bib lettuce is with burgers.
Brioche Buns - These sweet buns are soft and you just can't go wrong. I like to spread a little mayo on them and then lightly grill to toast the cut side.
See the recipe card for measurements and instructions.
Tools & Equipment to Make It Happen
Any type of grill can work to grill the lamb burgers: a charcoal grill (my favorite for extra smoky flavor), a gas grill, a pellet grill with sear function and even a grill pan right on your stove. If you have none of these, go with a cast-iron skillet. Small sheet pans come in super handy when bringing things out to the grill and back inside. A nice grill spatula is the best tool, and long tongs are always useful.
I always recommend using a high-quality instant-read probe thermometer to verify internal temperatures to know when the meat is done cooking.
Handle gently: Be gentle with the ground lamb when mixing in the seasoning and forming the patties. Don't overmix or press too firmly or they can become tough.
Plan ahead and make the patties early to allow the salt to penetrate.
Use a two-zone grill setup: hot side for searing and cooler side to finish cooking.
Avoid flare-ups. Melting fat can drip on your fire and cause flare-ups. These flames hitting your burger can leave undesirable flavors. To avoid flare-ups, move the burgers away from the direct flame, and close the lid and the vents to reduce the fire.
Use an instant-read thermometer to know exactly when your burgers are cooked to the desired temperature.
Prevent soggy buns by placing lettuce between the burger and the buns to act as a barrier to juicy burger drippings.
Get more tips in the lamb grilling guide.
Perfect Sides
As amazing as these burgers are on their own with all the condiments, delicious sides make the meal complete. Since you are already firing up the grill, make some grilled broccolini and grilled potatoes (cooked in a skillet right on the grill). Both of these are great dipped in the harissa aioli. Or for a chilled option, go with an heirloom tomato salad or classic potato salad.
For a wine pairing, go with a Syrah, Zinfandel or even an earthy Pinot Noir. For beer pairing, I like something light and zesty like a wheat beer, or even just a crisp light pilsner.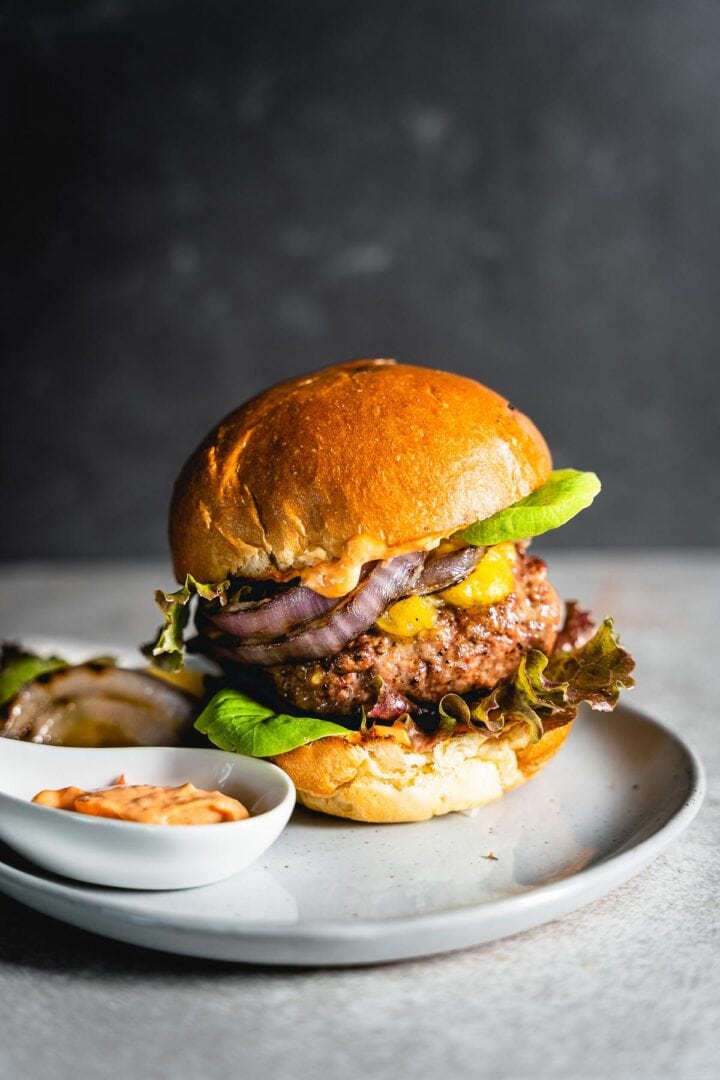 More Delicious Lamb Recipes to Try
Did you make this recipe?
I'd love to know how it turned out!
Please leave a note and a rating in the comments section below, or tag @SaltPepperSkillet on Instagram.
Grilled Lamb Burger Recipe
Satisfying smoky and juicy lamb burgers on the grill topped with caramelized onions, heirloom tomatoes, lettuce and a spicy harissa aioli that is so easy to make.
Print
Pin
Rate
Ingredients
1

lb

ground American lamb

(85/15% fat content)

2

teaspoon

smoked paprika

1

teaspoon

granulated garlic

½

teaspoon

granulated onion

Kosher salt

Pepper

Harissa aioli (see recipe below)
Harissa Aioli
½

cup

mayonnaise

1

tablespoon

harissa

(or more if you want it spicier)

1

teaspoon

lemon zest

1

teaspoon

smoked paprika
Toppings & Condiments
Butter lettuce leaves

Heirloom tomato slices

Grilled onion slices
Instructions
Make the aioli by stirring together the mayonnaise with the harissa, lemon zest and smoked paprika.

Make the lamb burger patties by seasoning the ground lamb with smoked paprika, granulated garlic, onion, salt and pepper in a bowl. Very gently incorporate the seasonings ingredients without pressing too firmly or the burgers can become tough. Divide and portion out for the desired burger size and gently form the patties.

Prepare the grill and preheat for medium-high heat grilling with a two-zone setup*. Optionally add some wood chips (I prefer apple or cherry wood) to the side for some extra smoke if desired.

Season the patties on the outside with a little more kosher salt and pepper.

Grill the burgers for 2 to 3 minutes per side over the direct heat, then transfer to the cooler side of the grill and close the lid. Continue to cook until the desired internal temperature is reached. 125°-130° F for medium-rare and 130-135° f for medium**. Remove from the grill and rest for 3 to 5 minutes.

Lightly toast the buns while the patties rest.

Assemble the burgers by spreading aioli on each of the bottom buns, then add lettuce (to keep buns from getting soggy), a lamb burger patty, tomato slice and then grilled onion and another slice of lettuce. Serve immediately.
Notes
Recipe makes four 4-ounce burgers or two 8-ounce burgers.
*A two-zone grilling setup is with a hot side and a cooler side. For a charcoal grill, place the coals on one side of the grill to be the hot side. For a gas grill, light half of the burners, which will be the hot side.
**The USDA recommends that ground lamb be cooked to an internal temperature of 160° F.
If you are experiencing flare-ups while searing the burgers, move the patties to the cooler (indirect) side of the grill.
Nutrition
Calories:
523
kcal
|
Carbohydrates:
3
g
|
Protein:
20
g
|
Fat:
48
g
|
Saturated Fat:
15
g
|
Polyunsaturated Fat:
15
g
|
Monounsaturated Fat:
16
g
|
Trans Fat:
1
g
|
Cholesterol:
95
mg
|
Sodium:
297
mg
|
Potassium:
334
mg
|
Fiber:
1
g
|
Sugar:
1
g
|
Vitamin A:
839
IU
|
Vitamin C:
2
mg
|
Calcium:
27
mg
|
Iron:
2
mg