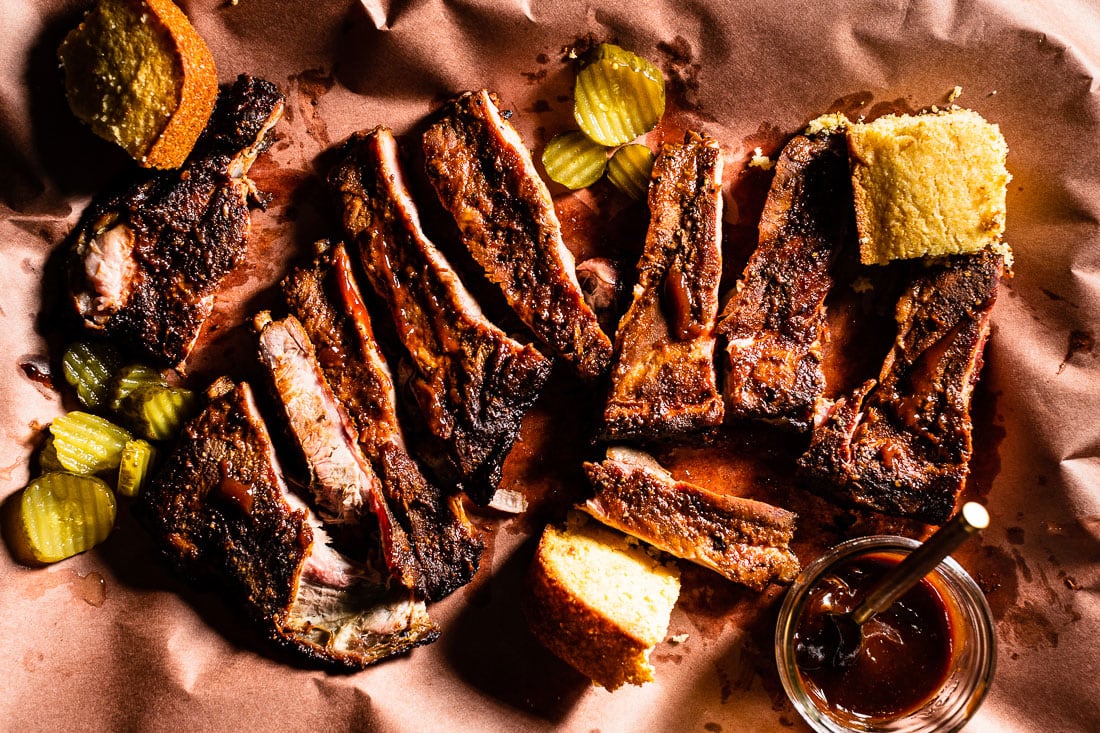 Oh Smoked ribs, smoked ribs, smoked ribs. Can you say it three times without having to wipe the drool from your chin?
If you were to describe the perfect rib, what would it be like? Is it sticky, smoky, fall-off-the-bone tender? Yep, I also vote for all of those delicious descriptions, and they all happen to be what you get with this amazing smoked ribs recipe. Perfect for a party. Actually, smoked ribs ARE the party.
Today, we're smoking pork ribs. More specifically, pork spare ribs. And even more specifically, St. Louis-style pork spare ribs. St. Louis-style ribs are cut from close to the belly of the pig, and have the tips removed. This makes for a very clean rectangular shape that cooks evenly. St. Louis-style spare ribs are usually ready for a rub and to head to the smoker as soon as you bring them home.
Smoking ribs can feel a bit complicated because of the frequent maintenance required. But, once you get started, it's a simple routine. And really, is there anything you would rather be doing than hanging out by the smoker, drinking your favorite beverage, and tending to soon-to-be perfect ribs? I didn't think so.
After using this guide to make amazing smoked ribs, you will feel like the expert the next time around.
Please apologize in advance to your neighbors who will be smelling the amazing aromas venting from your smoker the entire day. There's something about smelling someone else's BBQ that can create some strong jealous feelings. The best way to keep that from happening is to share some ribs with your new best friends. 🙂
So go pick up a few slabs of St. Louis style spare ribs, and let's get to smoking ribs.
This recipe is based on Aaron Franklin's (affiliate) style for smoking spare ribs. Franklin is the Chef and owner of one of the most famous BBQ spots in the country, Franklin Barbecue in Austin, Texas. Customers wait in line for hours to taste his famous smoked brisket, ribs, hotlinks and all the other central Texas BBQ hits.
I absolutely love the simplicity of his style of BBQ, and how he is always able to adapt and adjust to different cooking conditions to make the food taste great no matter what.
A little story before we get too deep into the smoke... I tested smoking these ribs twice in one week to make sure it really worked. It had been quite a long time since I had cooked ribs, so I didn't want to ruin the party if they didn't come out.
We invited our friends from Texas over; maybe not the best idea to invite people who really know barbecue to try your ribs. But what the heck, right? The worst and best thing that could happen is they provide some constructive criticism to help make the next batch be even better.
While we discussed different methods and frequency of spritzing, they said that everything was pretty spot on. Here's what they said on their way out - "So umm, I totally didn't expect those to be that good." I'm going to take that as a Texas approval.
What Type of Pork Ribs to Buy
There are three main types of pork ribs; Spare ribs, St. Louis-style Ribs and Baby Back Ribs. There are two other cuts that are less common for smoking, and those are Country Style Pork Ribs and Flanked Short Ribs.
For this smoked ribs recipe, we're going with St. Louis-style Ribs!
Here's why I love St. Louis-style ribs: Look at these ribs (below). This is right out of the package. They are beautifully uniform and rectangular with lots of meat and plenty of fat because it is from close to the belly of the animal. The biggest difference between regular spare ribs and St. Louis-style is the St. Louis style is trimmed of the tips or cartilage, so it has a cleaner shape. These spare ribs are ready to go without having to clean them up.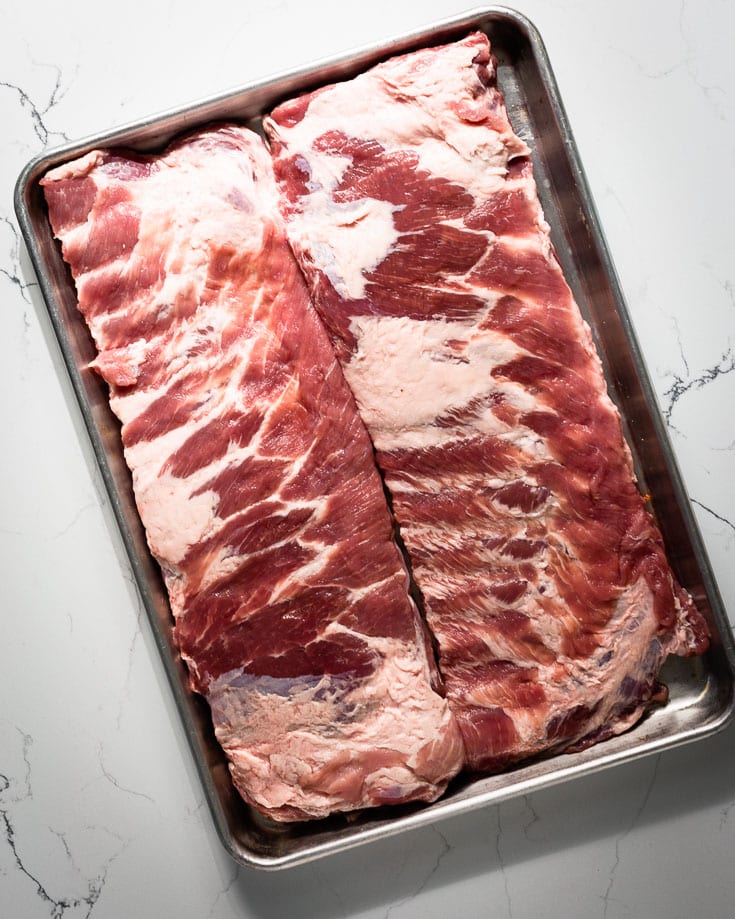 It's always a good idea to give your ribs a good rinse with cold water just in case there are some bone fragments left on the surface from the butcher. Pat them dry with paper towels after rinsing.
Tips for Buying Ribs
Before we can smoke 'em, we have to buy the right ribs. There are a lot of pork rib options out there and it can be confusing. Not only are there numerous cuts of pork ribs, but there are different terms like "enhanced" on some labels. This means the ribs have been injected with something (which we don't really know what) and it's best to just avoid these whenever possible. Not only do we not want to be consuming mystery ingredients, but these can drastically change cooking times.
For everyday ribs that are high quality and very affordable, then there's only one word that you have to remember: Costco.
When you want to splurge on something special or really like getting the best, then Snake River Farms has an amazing selection of Kurobuta Pork Ribs. Niman Ranch St. Louis Ribs are available from Perdue farms and delivered right to your door. (affiliate links).
What You Need for Smoking Ribs
Contains affiliate links where I might receive a commission if you make a purchase, at no additional cost to you. Thanks for your support!
How Long Does it Take to Smoke Ribs?
It takes about 5 hours total to smoke St. Louis-style pork spare ribs. About 3 hours of that is actual smoking, and the rest is cooking the ribs tightly wrapped in foil. Smoking times vary based on the temperature consistency of the fire.
The Best Wood for Smoking Ribs
Apple or Cherry wood chunks provide the best subtly sweet flavors for smoking pork ribs. Since this is a long smoke, use wood chunks when smoking with a charcoal smoker. They will burn a lot longer and provide more smoke without having to refuel.
Tips for Smoking Ribs
Keep it simple and don't overcomplicate things.
Rinse and dry the ribs before adding the dry rub to clean off any potential bone fragments that could be leftover from the butcher.
Take a basic rub, and make it your own.
It's all about that fire - Maintaining the fire to produce quality smoke and consistent temperature is key to success. I highly recommend a remote temperature monitor. I use the Thermoworks Smoke Alarm.
Don't use tongs to handle the ribs on the grill. Instead, use a bar towel for lifting or moving the ribs. You don't want to damage that beautiful bark that you have worked so hard to achieve.
Watch the color - For ribs, it's more about the color than a finished internal temperature to know when they are ready to be wrapped.
After the ribs are wrapped, you can either place them back in the smoker to finish cooking, or you can use an oven with the same temperature.
A Few Notes About Doneness
Because of the characteristics of the ribs, checking for doneness by temperature just doesn't work. It really has to be done by feel. After the ribs have smoked for close to 3 hours, look at the color. If they are nice and brown, then they are ready to wrap. It might be less than 3 hours depending on your smoker.
Overcooked ribs can be almost as bad as undercooked ribs. While you want the ribs to come right off the bone; totally falling off the bone without any help isn't always a good thing either.
Ingredients Needed for Smoking Ribs
You probably already have most of the ingredients needed. Honestly, you could probably stick a rack of ribs right in the smoker and follow this method without adding anything to them and they would turn out darn tasty. But... since over 5 hours goes into these babies; it's well worth adding a little extra effort.
The Ribs
These are St. Louis-style spare ribs, but you can also use this method for regular spare ribs or even baby back ribs. Watch out for "enhanced" meats. This means they have been injected.
The Slather
what the heck is a slather? A slather is what you coat the ribs with to help the dry rub stick. A slather can really be anything from canola oil to mustard to even as simple as water. Dry rubs stick less easily to ribs than other meats, so a slather is a big help when it comes to the dry rub. For the ribs in this recipe, I used canola oil as the slather.
The Rub
Go with a simple 2:1 ratio of coarsely ground black pepper to Diamond kosher salt. Then spice it up a bit with some paprika, cayenne pepper, chili powder or whatever you are feeling. You can use my dry rub for ribs recipe, which is delicious!
Just avoid sugar in the rib rub if you are cooking over direct heat (which I don't recommend anyway), as it can burn. The color will come from the rub, but most of the flavor is going to come from the smoke, and that's a good thing.
*You will need about ¼ cup of rub per rack of ribs.
The Spritz
You can use apple juice, apple cider, apple cider vinegar or any combination. I use apple cider vinegar and some water in a squirt bottle.
The BBQ sauce
A homemade barbecue sauce that's on the sweeter and tangier side goes so well with smoked ribs. The sauce is put on the ribs after they get a nice color on them.
I love to make my own sauce, and it's way easier than you might think. If you don't make your sauce, Bull's-Eye Original BBQ Sauce (affiliate) is a great choice. It is a thicker BBQ sauce, so it's best to thin it out with some apple cider vinegar before coating the ribs. This will also brighten the flavors and makes it even better with the tang, IMO.
How to Smoke Ribs
Slow and pretty low is the name of the game. Ribs aren't something you want to rush. While it is totally possible to cook ribs in an instant pot or pressure cooker, then place them in the smoker; it's just not going to be the same as ribs that have been in contact with live fire smoke for half a day.
Prep and clean the ribs.
Start the smoker and bring it to 275 degrees F. Place a drip pan filled with water in the smoker below the ribs and use apple or cherry wood chunks for smoke.
Apply a slather and then a dry rub to all sides of the ribs.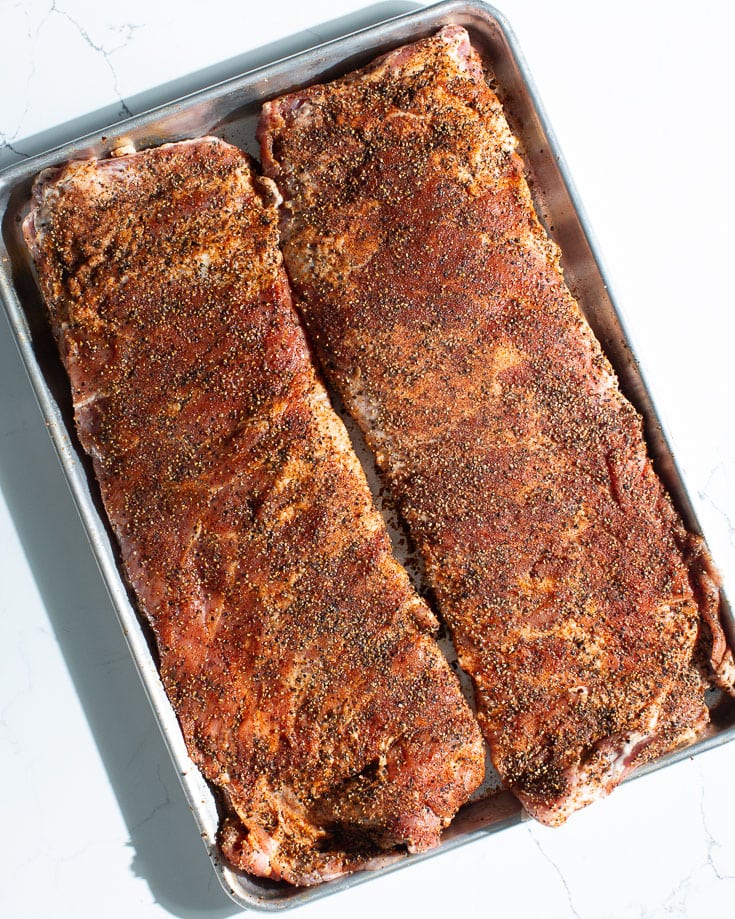 4. Place the ribs in the smoker. Spritz every 30 minutes or so to keep the ribs moist.
5. After about 3 hours, check the color. If they are nice and brown, it's time to sauce them up.
6. To sauce the ribs; remove them from the smoker using a bar towel to handle and transfer to a sheet pan. Apply a coating of spritz, then coat with BBQ sauce on all sides. Place back in the smoker and cook for 15 minutes more per side with the sauce applied.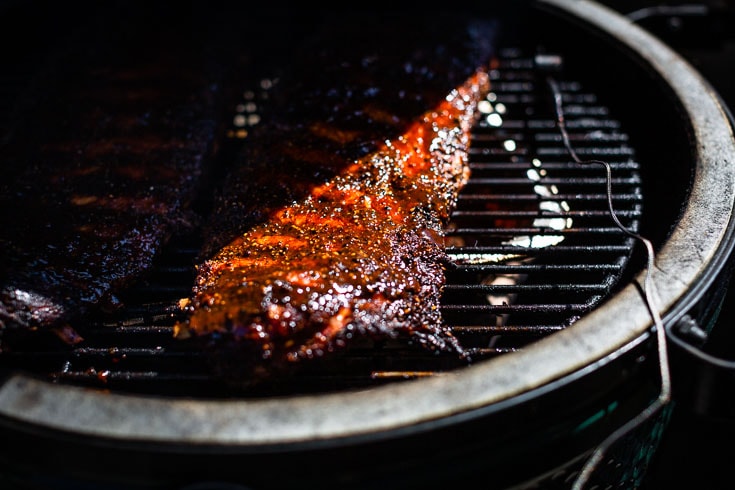 7. Remove the ribs from the smoker and wrap each separately inside heavy-duty aluminum foil.
8. Place the wrapped ribs back in the smoker and continue to cook for 1 ½ to 2 hours, until they are completely tender.
9. Remove the ribs from the smoker and rest still wrapped in foil for about 30 minutes before serving.
The 3-2-1 Method for Smoking Ribs
If there's anything simpler than 3-2-1, I want to know about it. The 3-2-1 method is a really popular method for smoking ribs that really simplifies the process, especially if it's your first time. Here's the low down:
3 hours - in the smoker
2 hours - wrapped in foil
1 hour - in the smoker coated with BBQ sauce.
This is a nice simple alternative method to the Franklin BBQ method that this recipe uses.
Cooking Timeline
Here's an example timeline for planning out your amazing smoked ribs dinner. It's important to always start before you think you need to, as things always take longer than expected.
Ribs in the smoker @ 12:30 pm | 270 degrees F.
Sauce @ 3:15 pm
Out of the smoker at 3:40 pm to wrap in foil
Back in the smoker/oven @ 4:30 pm | 250 degrees F.
Out @ 5:00 pm
Rested for 1 hour (though 30 minutes would have been plenty)
Dinner on the table @ 6:00 pm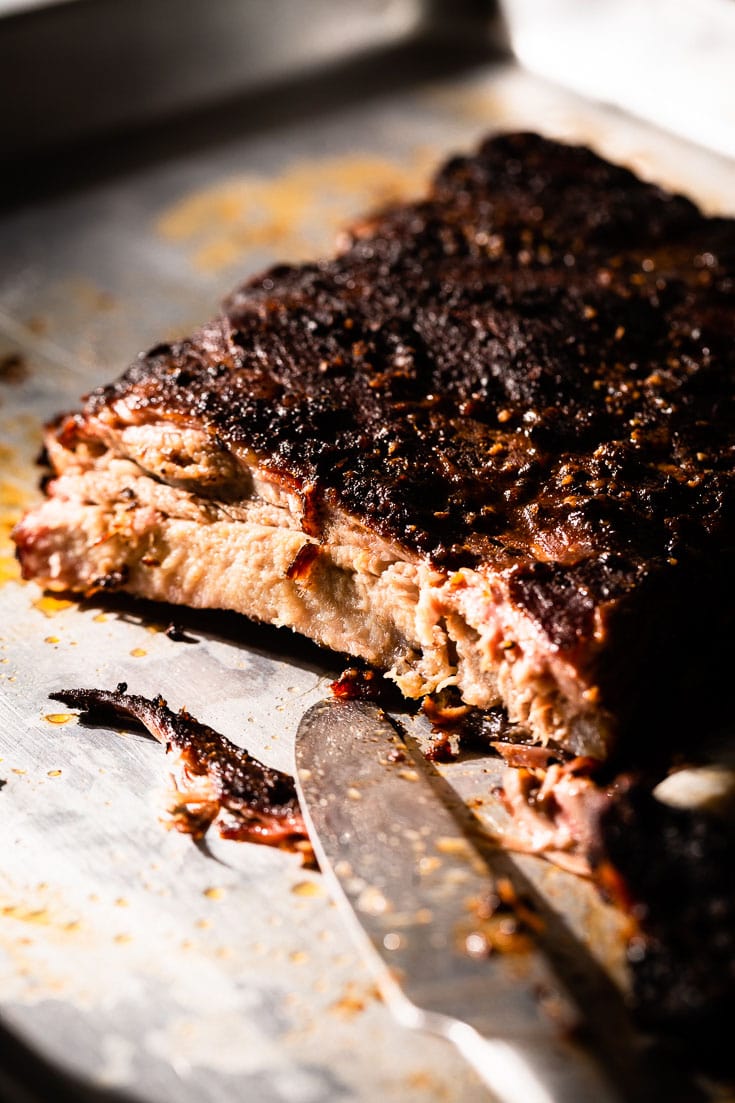 Sides That Go Great with Smoked Ribs
More Amazing Smoker Recipes
View all BBQ and Smoker Recipes
This recipe is based on Franklin BBQ's method from his book and famous restaurant in Austin, TX.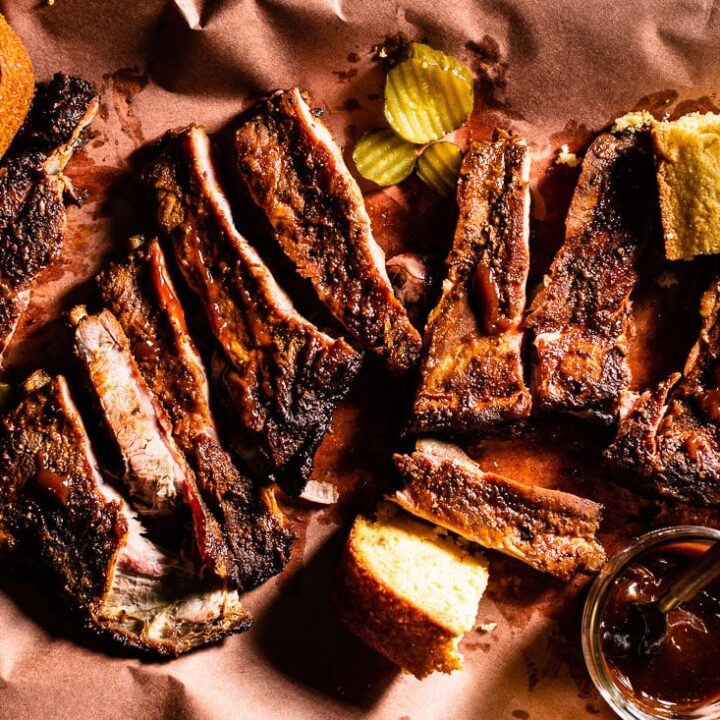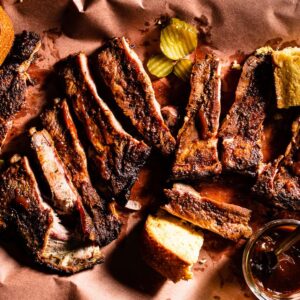 Ingredients
Rib Rub (Make about ¼ rub cup per rack)
2

parts black pepper

(coarse)

1

part Diamond Kosher Salt

whatever other spices you want

paprika, granulated garlic, granulated onion, cayenne, chili
Instructions
Prep the ribs
Coat the rib rack in a slather, then evenly coat with about ¼ cup dry rub.

Prep the smoker to 275° F with a water drip pan and wood chunks.

Place the ribs (meat side towards the hotter part of the smoker) in the smoker. Spritz about every 30 minutes, or whenever moisture needs to be added.

Smoke for about 3 hours. Check the color. If they look beautifully browned, they are ready for sauce.

Remove the ribs from the smoker and place on a sheet pan. Spritz all sides and apply a coating of bbq sauce on both sides of the rib rack. Place back in the smoker for another 15 minutes, then flip for 15 more minutes.

Remove the ribs from the smoker and wrap tightly with aluminum foil or butcher paper.

Place the wrapped ribs back in the smoker (or oven) and cook for about 1 ½ to 2 more hours, or until they reached desired tenderness.

Rest for about 30 minutes wrapped in the foil until serving.
Notes
The recipe is for a single rack of ribs, but it can easily be scaled up (which I would highly recommend).
You can use the simple 2:1 ratio of coarse ground pepper to kosher salt for the rub, or go with the full spice rub. Just don't use both or they will be over-seasoned.
Nutrition
Calories:
97
kcal
|
Carbohydrates:
10
g
|
Protein:
3
g
|
Fat:
5
g
|
Saturated Fat:
2
g
|
Trans Fat:
1
g
|
Cholesterol:
16
mg
|
Sodium:
261
mg
|
Potassium:
110
mg
|
Fiber:
1
g
|
Sugar:
8
g
|
Vitamin A:
56
IU
|
Vitamin C:
1
mg
|
Calcium:
13
mg
|
Iron:
1
mg