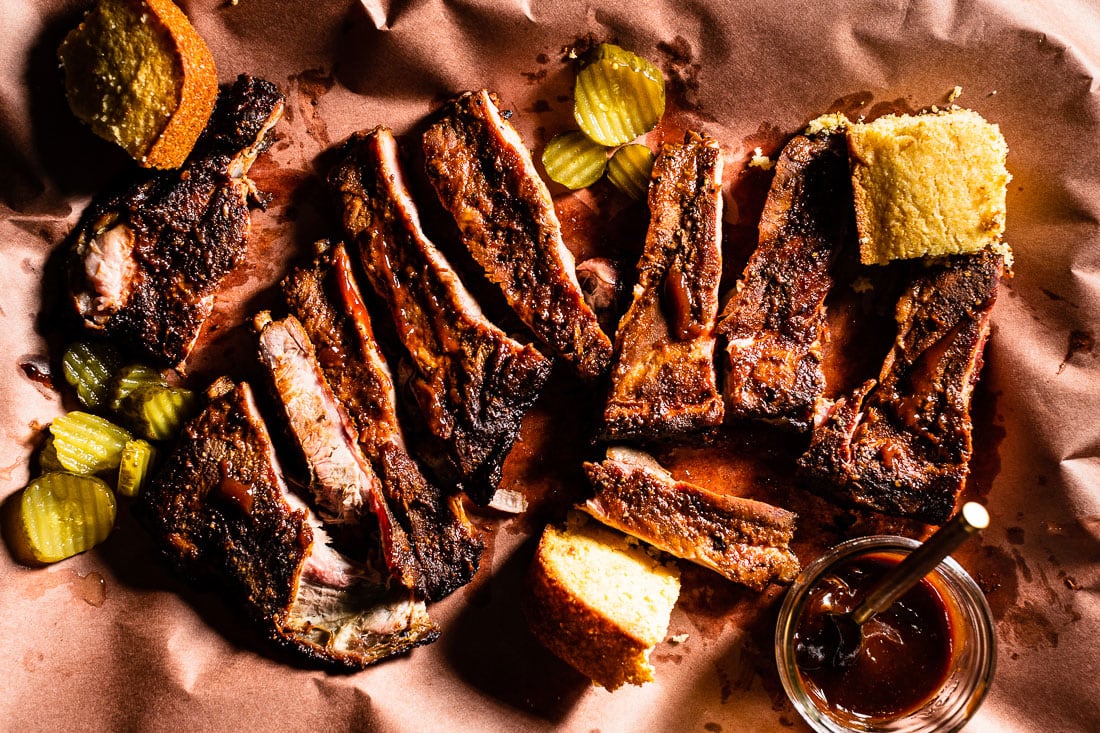 If you were to describe the best smoked ribs, what would they be like? Would they be sticky, smoky, juicy, slightly chewy, fall-off-the-bone tender? Yep, I also vote for all of those delicious descriptions. And you get it all with this amazing smoked ribs recipe. These ribs are perfect for a party, and are so good that they give you a reason to have a party.
Today, we're smoking pork ribs. While any type of pork ribs will work with this recipe, including baby back ribs, we're using St. Louis-style pork spareribs. These are cut from close to the belly of the pig and have the tips trimmed off, giving them a very clean rectangular shape that cooks evenly and has tons of juicy meat.
Our goal is to make the most flavorful, tender, juicy ribs that are even better than you can get at your favorite smokehouse. Yep, it's totally possible and you are going to do it!
Smoking ribs can feel a bit complicated because of the numerous steps and trips to the smoker to tend to these beauties. But, once you get started, it's a simple routine that has a huge payoff, just like when making burnt ends.
How to Smoke Ribs - The Basic Steps
Low and slow is the name of the game. Ribs aren't something we want to rush. They're first going to spend about 3 hours picking up smoke, then they get sauced and wrapped to cook and tenderize the rest of the way through.
Here's a quick step-by-step overview, or you can skip down to the full recipe card, pro tips or the FAQs.
Prep the ribs - Remove the membrane from the backside, rinse and then season each rack with a dry rub.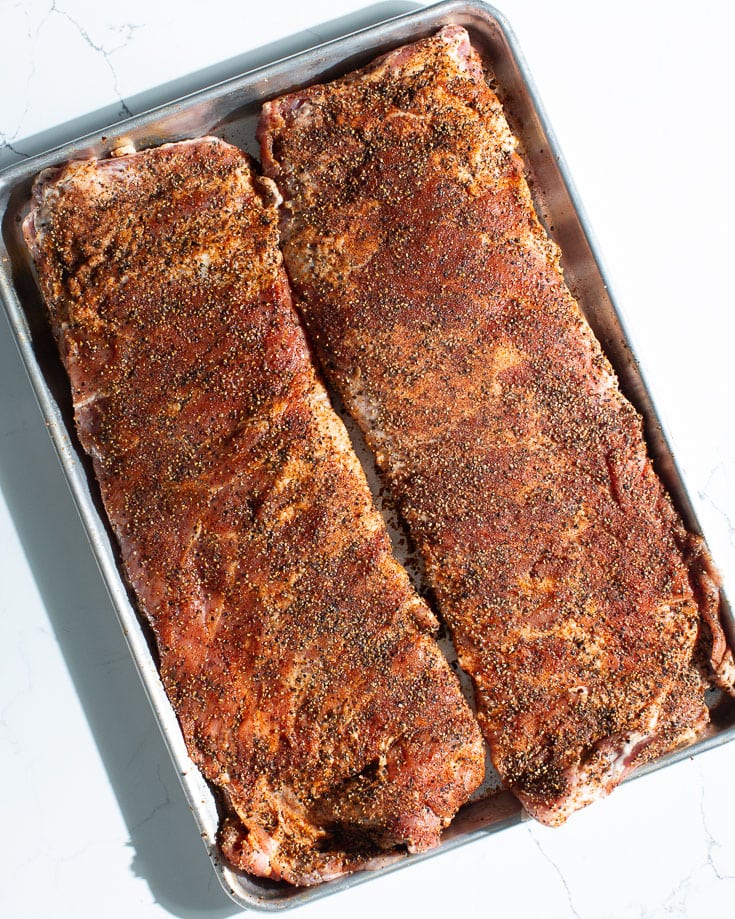 Set up the smoker - Bring the temp up to 225 to 250° F with apple or cherry wood for smoke and set up for indirect heat.
Smoke the ribs - Place the ribs in the smoker bone-side down. Spritz about every 30 minutes after the first hour. After about 3 hours, check the color. If they are nice and brown, it's time to sauce them up.
Add sauce - Remove the ribs from the smoker and transfer to a sheet pan using a bar towel to handle the rack. Apply a coating of spritz, then a layer of BBQ sauce on all sides. Place back in the smoker and cook for 15 minutes more.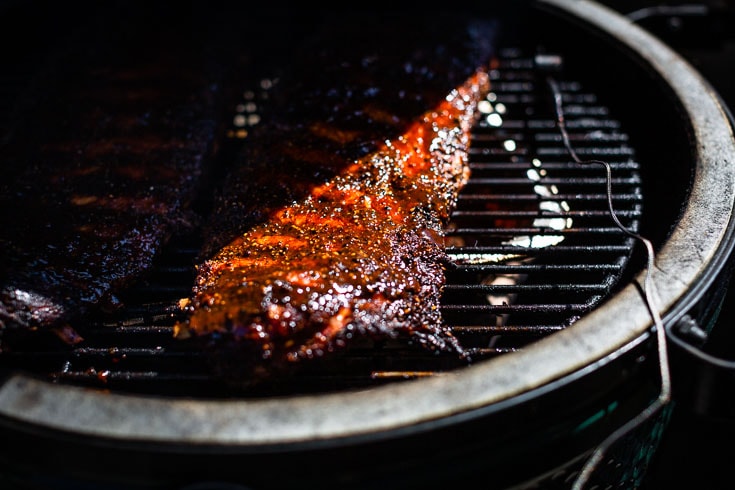 Wrap - Remove from the smoker and wrap each rack separately inside heavy-duty aluminum foil. Then put them back into the smoker and continue to cook for 1 ½ to 2 hours, until they are tender.
Rest - Remove the ribs from the smoker and rest, still wrapped in foil, for 20 to 30 minutes before serving.
What Type of Pork Ribs to Buy
There are three main types of pork ribs: Spareribs, St. Louis-style ribs and baby back ribs. There are two other cuts that are less common for smoking, and those are country-style pork ribs and flanked short ribs.
For this recipe, we're going with St. Louis-style ribs!
Here's what to love about St. Louis-style ribs: Check out these ribs (below). They are beautifully uniform and rectangular with lots of meat and plenty of fat because it is from close to the belly of the pig.
The biggest difference between regular spareribs and St. Louis-style is the St. Louis-style have the tips trimmed off, so there's a cleaner shape. These spareribs are ready to go without having to clean them up, which is a bonus.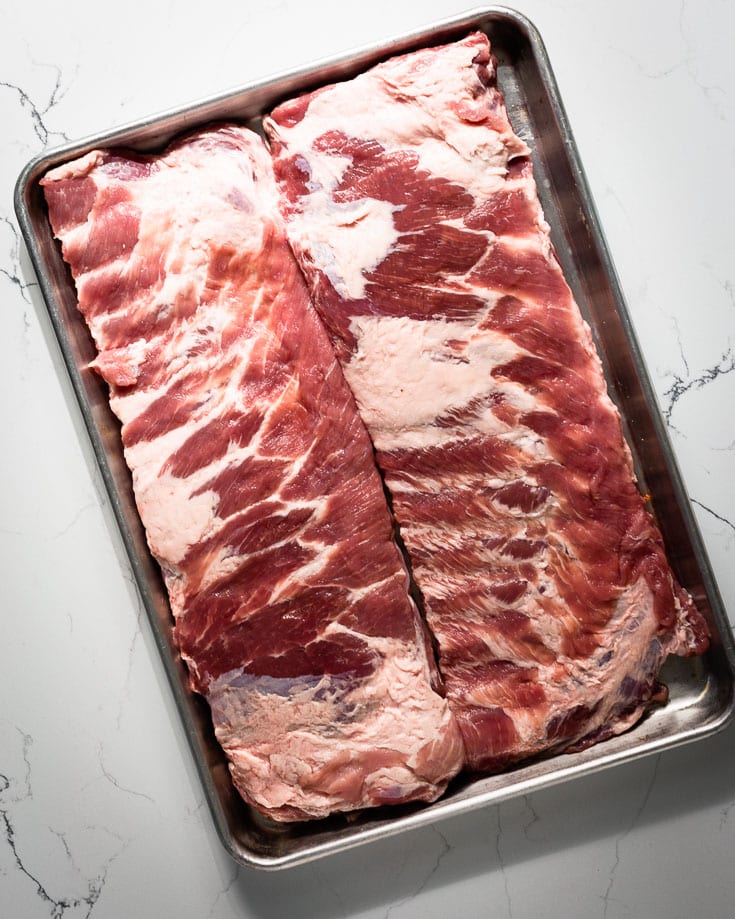 What You'll Need (Ingredients & Gear)
Ingredients
Ribs - St. Louis-style spareribs (preferred); baby back ribs will also work great. Buy the largest racks they have for the most bang for your buck. Cook at least 2 racks at a time for the effort. Avoid buying "enhanced" meats, as they have been injected with a solution (usually containing salt and/or sodium phosphate) to artificially increase juiciness and flavor.
Slather - Can be canola oil, mustard or water to lightly coat the ribs to help the dry rub stick.
Dry Rub or a simple 2:1 ratio of coarse black pepper to Diamond kosher salt. *You will need about ¼ cup of rub per rack of ribs.
Spritz (optional) - You can use apple juice, apple cider, apple cider vinegar or any combination. I use apple cider vinegar and some water in a squirt bottle.
BBQ Sauce - A homemade barbecue sauce that's on the sweeter and tangier side is perfect.
Tools & Equipment
A smoker - Charcoal Kamado like a Big Green Egg, pellet or electric smoker.
Fuel - Apple and/or cherry wood chunks or pellets for a pellet smoker.
Drip pan

- The drip pan is filled with water, catches drippings and adds moisture to the air to keep the meat from drying out.

Rib rack (optional) - Stands the ribs vertically to fit more racks in the smoker.
Spray bottle for the spritz.
Bar towels - Countless uses, but bar towels are the best way to pick up and move ribs in the smoker.
Heat-resistant basting brush.
Heavy-duty aluminum foil - For wrapping the ribs after they are smoked and have color.
Pro Tips for Perfect Smoked Ribs
Rinse and dry the ribs before adding the dry rub

to clean off any potential bone fragments that could be leftover from the butcher.

Season the bone side first and then the meat side second, which is the presentation side.
Save space! If space in your smoker is an issue (like in a Kamado or kettle-style smoker), use a rib rack or roasting rack to cook the ribs vertically.
Place the ribs bone-side down in the smoker.
Handle the ribs carefully. You can use a bar towel to gently lift and move the ribs rather than tongs, which can damage that beautiful bark you worked so hard to get.
Watch the color - For ribs, it's more about the color than a finished internal temperature to know when they are ready to be wrapped.
Finish in the smoker or the oven - After the ribs are wrapped, you can either place them back in the smoker, or you can use an oven with the same temperature to finish cooking. Or if you don't have a smoker, you can make the entire ribs in the oven.
Don't forget to rest the ribs for at least 20 minutes.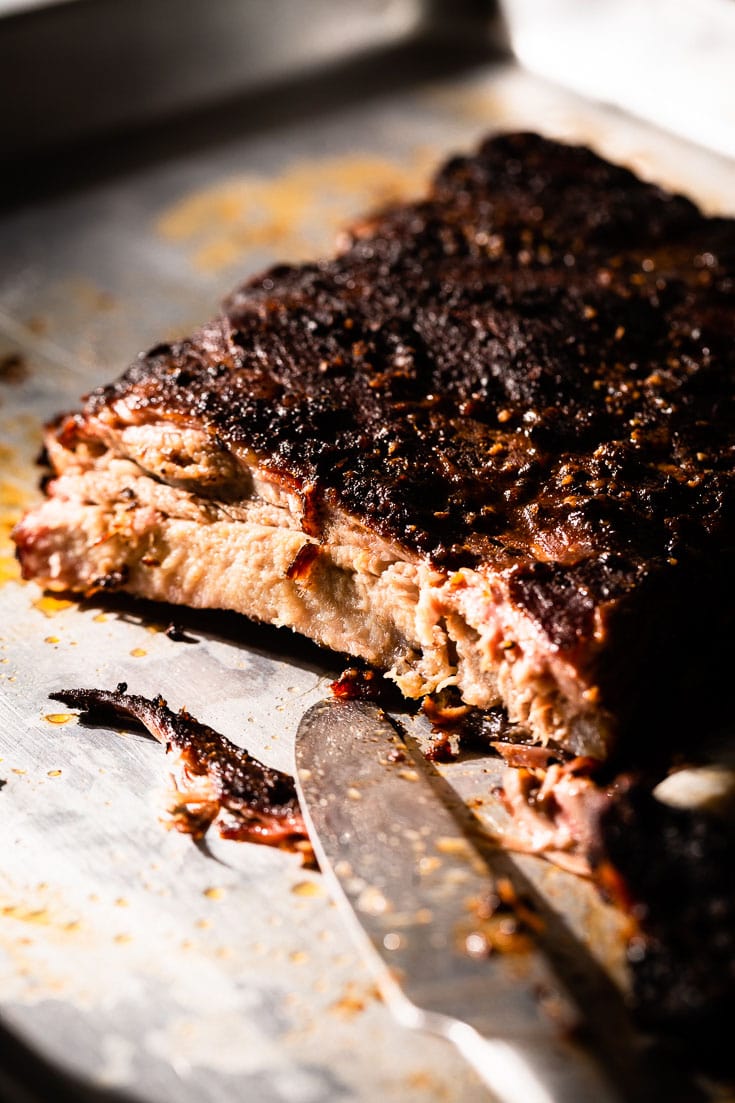 Smoked Ribs FAQs, Answered
What are the temperatures for smoked ribs?
Smoker temp: 225° F is preferred in a pellet smoker, but you can go higher (250-275° F) in a charcoal smoker using indirect heat and a drip pan with water in place.
Ribs temp: Wrap the ribs when they hit 165° F, and they are finished cooking at 203° F.
How long does it take to smoke ribs?
It will take about 5 hours total to smoke a rack of pork ribs at 225° F. About 3 hours of that is actual smoking, and the rest is cooking after the ribs are wrapped in foil. Smoking times vary based on the temperature of the smoker and size of the ribs.
What's the best wood for smoking ribs?
Apple or cherry wood will give the best subtly sweet flavors for smoking pork ribs. Oak and hickory are also great for more Texas-flavored ribs. Learn more about the best wood for smoking.
How do you remove the membrane?
On the backside of the ribs, insert a butter knife lengthwise under the membrane to loosen it. Grab the membrane with a paper towel and pull it off. Repeating as necessary. *Note that the membrane is often removed by the butcher before you buy it.

How to tell when ribs are done?
Ribs are ready to eat when they have reached the desired tenderness, which is often to your preference. There are a few great methods for checking:
- The meat has shrunken back from the bone about ¼".
- The bend test: If the rack of ribs flexes easily when you pick them up, they're ready; undercooked ribs will be stiffer. It's good to feel the ribs before they are cooked so you can compare.
- Toothpick: Stick a toothpick into the meat and if it feels very tender, they are ready to go.
- Temperature probe test: Measures 203°F in the meat between the bones. Getting an accurate temperature of ribs can be tricky, but it's really the only foolproof way.
Sides that Go Great with Ribs
More Delicious Smoker Recipes
View all BBQ and Smoker Recipes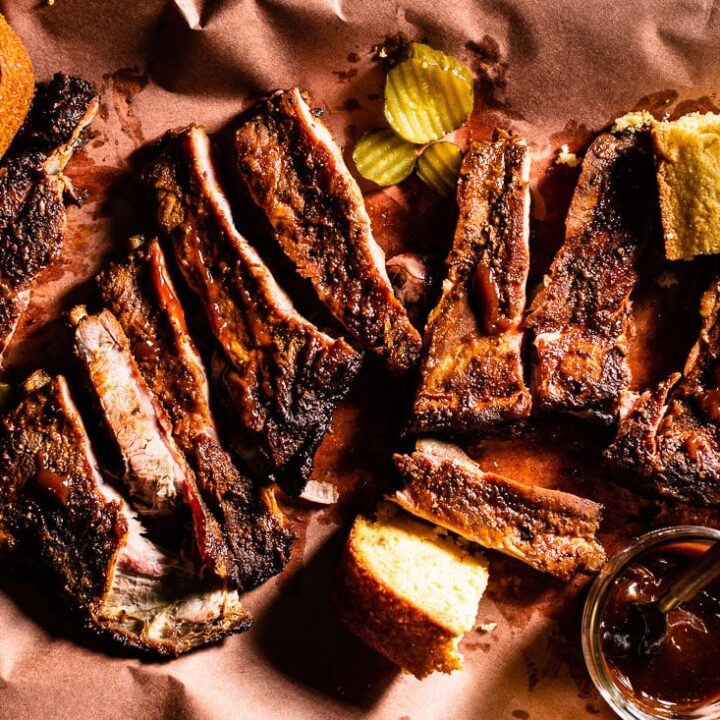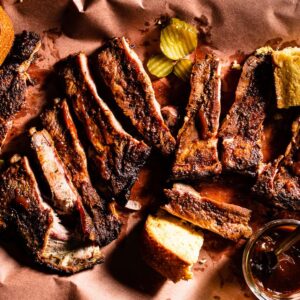 Smoked Pork Ribs Recipe
These tender and juicy St. Louis-style pork spareribs are smoked for 3 hours with apple and cherry wood, and they finish cooking wrapped with your favorite BBQ sauce.
Print
Pin
Rate
Ingredients
Rib Rub (Make about ¼ rub cup per rack)
2

parts black pepper

(coarse)

1

part Diamond kosher salt

Whatever other spices you want

(paprika, granulated garlic, granulated onion, cayenne, chili)
Instructions
Prep the ribs: Coat the rib rack in a slather, then evenly coat with about ¼ cup dry rub.

Prep the smoker and bring up to 225 to 250° F with a water drip pan and wood chunks.

Place the ribs (bone-side down) in the smoker. Spritz about every 30 minutes after the first hour.

Smoke for about 3 hours. Check the color. If they look beautifully browned, they are ready for sauce.

Remove the ribs from the smoker and place on a sheet pan. Spritz all sides and use a basting brush to apply a coating of BBQ sauce on both sides of the rib rack. Place back in the smoker for another 15 minutes to 25 minutes to slightly caramelize the sauce.

Remove the ribs from the smoker and wrap tightly with aluminum foil.

Place the wrapped ribs back in the smoker (or oven) and cook for about 1 ½ to 2 more hours, or until they reached desired tenderness.

Rest for about 30 minutes wrapped in the foil until serving.
Notes
The recipe is for a single rack of ribs, but it can easily be scaled up (which I would highly recommend).
You can use the simple 2:1 ratio of coarse ground pepper to kosher salt for the rub, or go with the full spice rub. Just don't use both or they will be over-seasoned.
Nutrition
Calories:
97
kcal
|
Carbohydrates:
10
g
|
Protein:
3
g
|
Fat:
5
g
|
Saturated Fat:
2
g
|
Trans Fat:
1
g
|
Cholesterol:
16
mg
|
Sodium:
261
mg
|
Potassium:
110
mg
|
Fiber:
1
g
|
Sugar:
8
g
|
Vitamin A:
56
IU
|
Vitamin C:
1
mg
|
Calcium:
13
mg
|
Iron:
1
mg
This recipe was originally published September 25, 2019. It was updated March 2022 with new useful information, instructions and photos.