Oh, little egg. One of the most simple but essential ingredients that we use just about every single day in one form or another. Without it, there would be no soufflés, omelets, or even the egg in its most simple form: poached. A perfectly poached egg satisfies far beyond its simplicity.
You just might be shell-shocked (pun intended) by how amazing these sous vide poached eggs are.
The texture is heavenly, and difficult to achieve by the usual methods of poaching eggs. A texture that is rich, yet light as air. Almost impossible to describe, so you just have to give it a try.

Why Sous Vide Eggs Anyway?
What's the point of going non-traditional and pulling out the science? The answer is the amazing texture. The other huge benefit of poaching eggs sous vide is that poaching eggs the traditional method is hard, especially at scale. It's often super messy, there can be a lot of lost eggs, and it requires paying close attention to every little egg.
None of that is the case when you sous vide eggs. Drop them (gently) right in the water, still in their shell, and wait for 13 minutes 30 seconds to perfection. Crack when ready, and enjoy.
How to Make Poached Eggs Sous Vide
Grab your sous vide machine, water bath and however many eggs you want to cook. Set the temperature to 75° C / 167° F (for soft cooked). Eggs are just about the only ingredient I know that goes into the sous vide water bath without being vacuum sealed.
It's tough to name these eggs. They are not technically soft-boiled (because they are cooked well below boiling temperature), they are sort of poached (but in their shell). Whatever you want to call them is just fine. I call them perfect.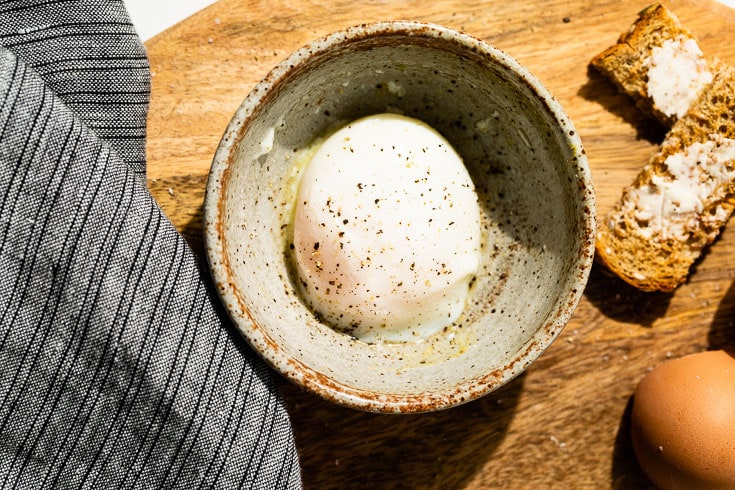 63-Degree Egg vs 75-Degree Egg
There are two popular methods for poaching eggs sous vide. There is a 63° C version that cooks for a long period of time (45 minutes) and a 75° C version that cooks for less than 14 minutes. Just for the simple time difference, the 75° C version is a winner. But it goes beyond just the time. The higher temperature will also firm up the whites a little more to make more of a traditional poached egg texture.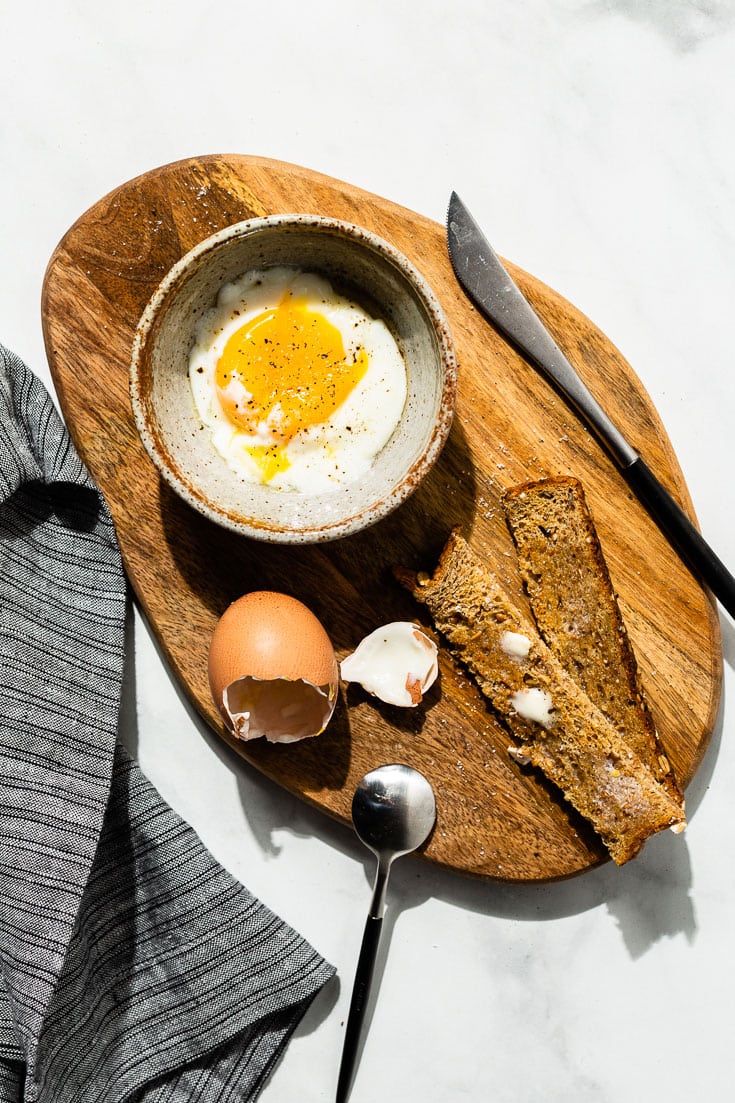 Tips for Sous Vide Poached Eggs
Only use super-fresh eggs right out of the refrigerator, which will have tighter whites and work better for the poached/soft-cooked result.
A word of caution: Do a pre-check for cracks. You definitely don't want an egg floating around in your water bath and getting sucked into the immersion circulator, so only use eggs with no cracks.
All eggs are different and egg size, age and even what the chicken ate plays a huge role in how they come out when poached. If you don't get a perfect sous vide egg the first time, try again with different eggs.
Do a test egg or two ahead of time. It only takes 13 ½ minutes, so it's worth a test to make sure you are happy with the texture. If it's too soft, add a minute or two; if it's too cooked, take a little time off.
Experiment and adjust the cooking time to your taste. Keep track of the times by writing notes so you know for next time your exact preference.
You can make these poached and sous vide scrambled eggs at the same time since they use the same water bath temperature and time.
How to Crack Open a Sous Vide Egg
The crack method - tap the larger end of the egg on the counter and peel an opening. Hold the egg over a small bowl and use a small spoon to scoop it out.
The tap method - Use a butter knife and give the large end a quick tap to slice off part of the shell.
The topper gadget method - The cleanest method for opening up a cooked egg is with the Rosle Egg Topper. It's the best way when you will be eating the egg right in its shell.
FAQs
At What Temperature Do You Sous Vide Poached Eggs?
The perfect soft poached sous vide egg temperature is 75° C / 167° F.
How Long to Sous Vide Poached Eggs?
13 minutes 30 seconds is the baseline time, but it depends on your specific eggs and preference. Test one egg out and do a little more or less time to make it just right for you.
Can You Overcook Sous Vide Eggs?
Yes, you sure can. While sous vide essentially eliminates overcooking for many foods, eggs and fish are a couple of examples of foods that can overcook in a sous vide water bath. It's important to stick to the suggested cook time and not leave them in longer.
What to Serve with Sous Vide Poached Eggs
This list could go on forever. To start, you might want to enjoy your perfect poached eggs with some sliced toast. After that, add them to avocado toast, with eggs benedict, on a salad or just about anything else you could imagine.
Tools and Equipment for Sous Vide Eggs
You can check out the equipment used (below) or check out the post all about Essential Sous Vide Accessories.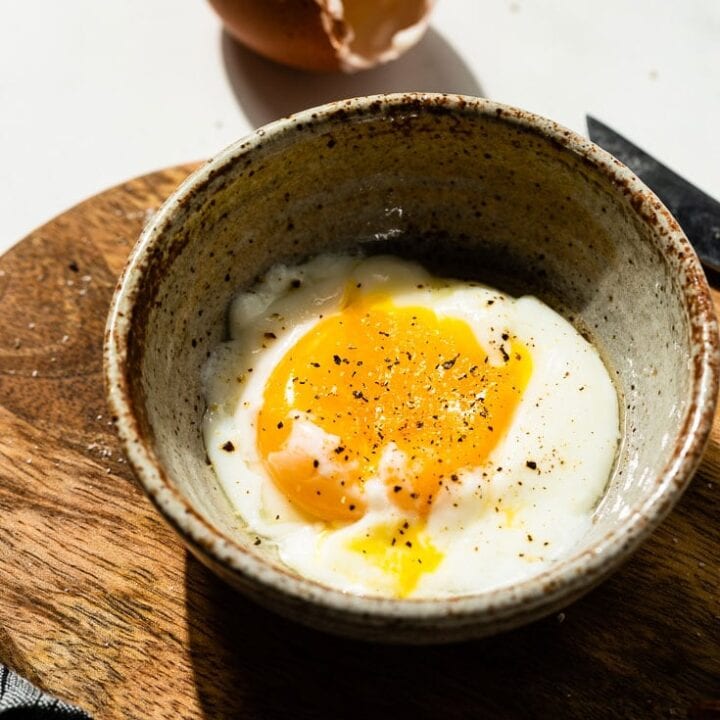 Sous Vide Eggs
How to sous vide the most perfect poached egg. It's the easiest technique for creating a heavenly texture that is almost impossible to achieve by other methods.
Print
Pin
Rate
Ingredients
eggs

(large very fresh cold )

kosher salt & freshly ground pepper for serving
Instructions
Pre-heat the sous vide water bath to 75° C / 167° F.

Use a slotted spoon or spider to gently set the eggs at the bottom of the container.

Cook for 13 minutes 30 seconds then remove and run under cold tap water for about 30 seconds OR into an ice bath for a few seconds until cool enough to be able to handle. Crack and transfer into small bowls or right on top of toast. Season with kosher salt & pepper.
Notes
Recipe works for

as many eggs as you want to cook.

Pre-check the eggs for cracks.
Do a test before cooking a large batch, since different size and age eggs cook differently.
The Rosle Egg Topper works great for taking the top of the cooked eggs to easily remove them with a small spoon from the shell.