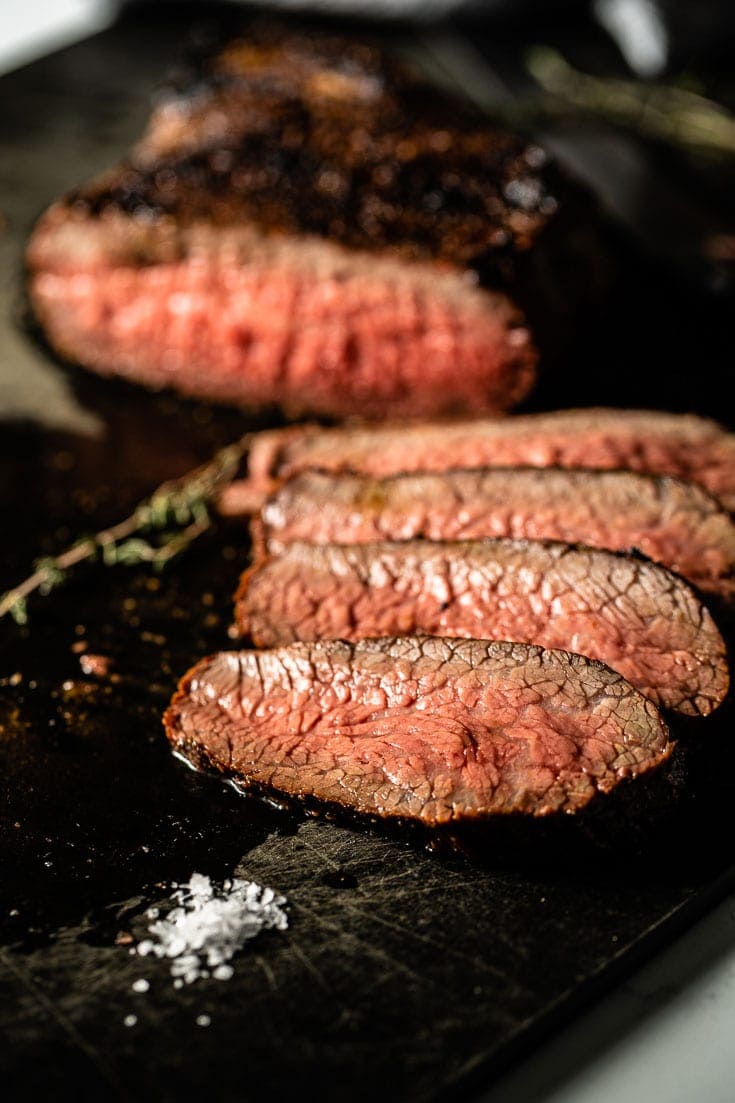 This Smoky Grilled Tri Tip is first smoked for about an hour and then seared over a super hot grill. The goal of this reverse-sear method is to first infuse the wonderful smoky flavor into the meat while perfectly cooking it through. It is then quickly seared on the outside for a delicious crust.
Growing up on California's Central Coast, tri tip steak has always been a grilling staple. Though tri tip is much less popular -- and sometimes even unavailable -- in other areas, it's definitely a cut that you want to get familiar with and make part of your regular grilling menu. It's a delicious and versatile cut, and the reverse sear method in this recipe makes it easy to master.
Tri tip was popularized on the Central California Coast and is even known as Santa Maria steak, for the city where Spanish ranchers first made tri tip a mainstay of their barbecues. And this tri tip just tastes like it came from California. Sitting next to an oak tree, rolling hills and your favorite glass of wine. A perfectly cooked steak, seasoned throughout, with a perfect smoky flavor. Not many things are better than that.
And if you are ever in the Santa Maria area; you absolutely have to try their tri tip.
A Little About Tri Tip
Tri tip, also know as triangle steak, comes from the triangular bottom tip of the sirloin, a cut that weighs about 1.5 to 2.5 pounds. Prior to the 1950s, tri tip was often ground into hamburgers or sold as stew beef, but since it's lean and tasty tri tip is becoming more and more popular. Aside from tri tip, this cut goes by many names: "Santa Maria Steak", "Newport Steak", and "the California Cut".
If you love tri tip, you are going to love Picanha steak, which is the most popular steak cut in Brazil.
Tips for Buying Tri Tip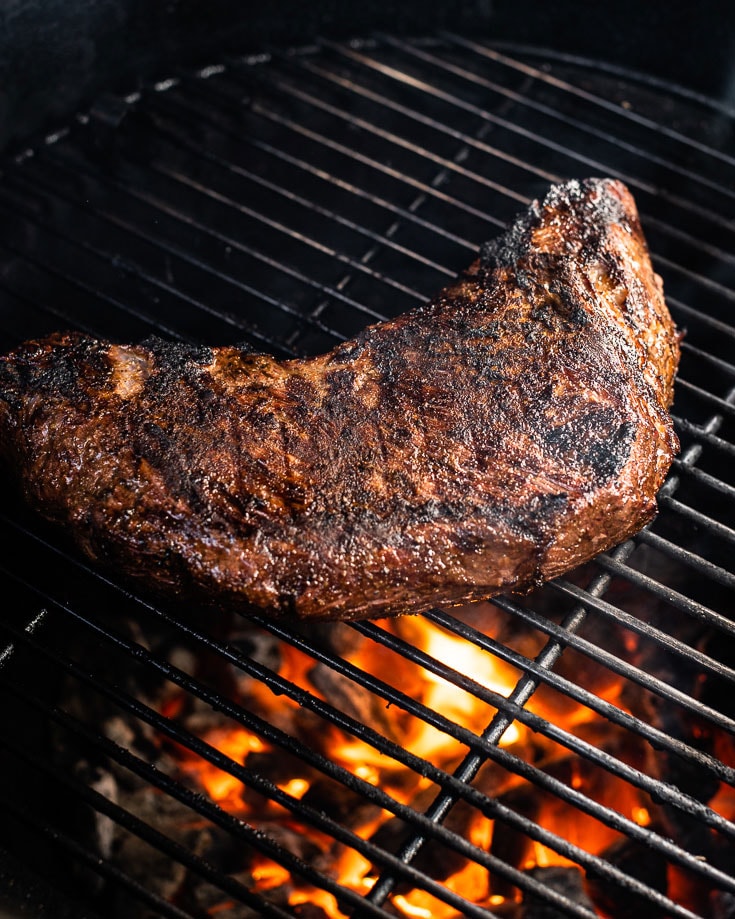 What you Need
Tips for Cooking Tri Tip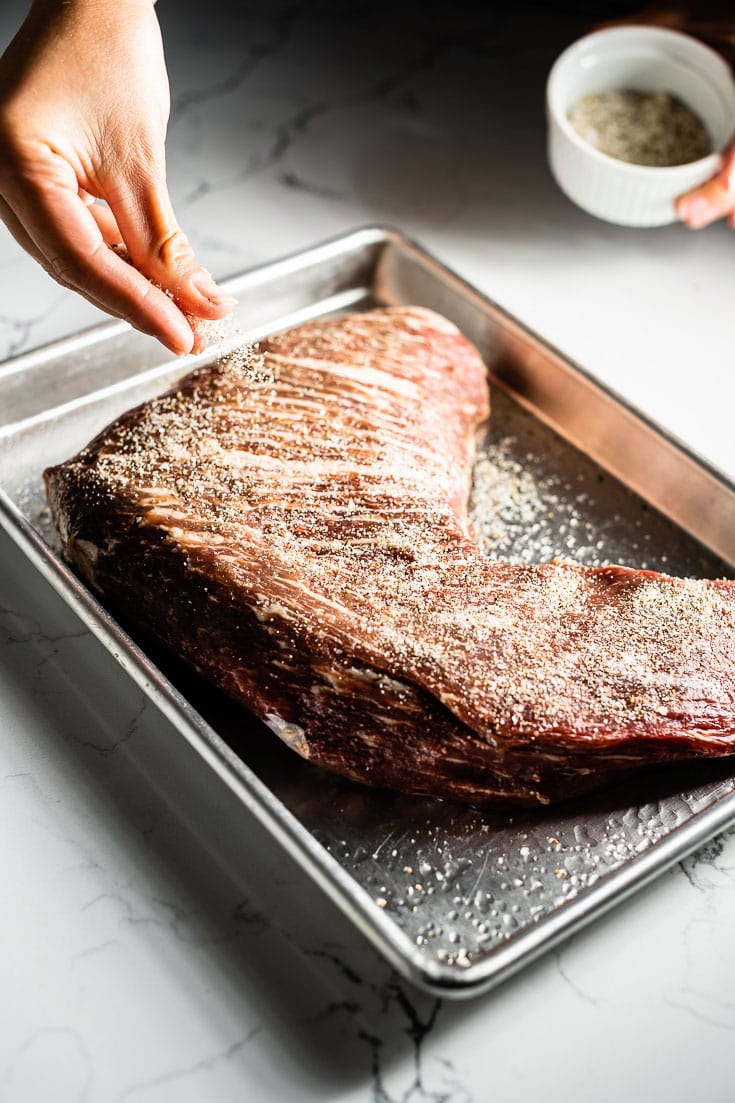 Simple Tri Tip Rub
While many Tri Tip recipes call for marinades, high-quality meats need fewer flavor additives to be delicious. For this traditional recipe, Kosher Salt, ground black pepper and a little garlic powder is really all you need.
Best Wood for Smoking Tri Tip
Red oak is traditional for grilled Santa Maria tri tip, which is available on Amazon in chip form. I prefer post oak in larger chunk form, which is readily available locally and online. You can also use hicckory or combine the two.
Searing The Tri Tip
Searing the tri tip is an important step to adding that beautiful crust on the outside of the steak after it is smoked.
Sear it on a hot grill - with a charcoal grill, you can finish the searing quickly with no fuss. After smoking at a low temp; open all the vents and add some more fuel to get it as hot as possible. Brush some melted butter or oil on the steak before placing it on the grill to promote browning.
Depending on the grill/smoker you are using, you may or may not have the ability to sear the tri tip after it is cooked. If your smoker can't get up to a suitable temperature, don't you worry. There are options:
Sear it in a skillet - This is the best choice if you aren't able to get your grill super hot. A grill that isn't hot enough will take too long to sear and overcook the steak. Use a heavy cast iron or carbon steel skillet with some canola oil and a little butter.
At What Temp is Tri Tip Done?
Medium-Rare is the optimal finished temperature is between 130 and 135ºF. This means that you will need to pull the meat from the smoker well below the desired finished temp. Not only will there be some carry-over temperature rise, but you will also be searing the meat which will also raise the temperature. Tri Tip is like a steak with a lot of grain. It doesn't benefit from overcooking or undercooking. Read more about optimal steak temperatures.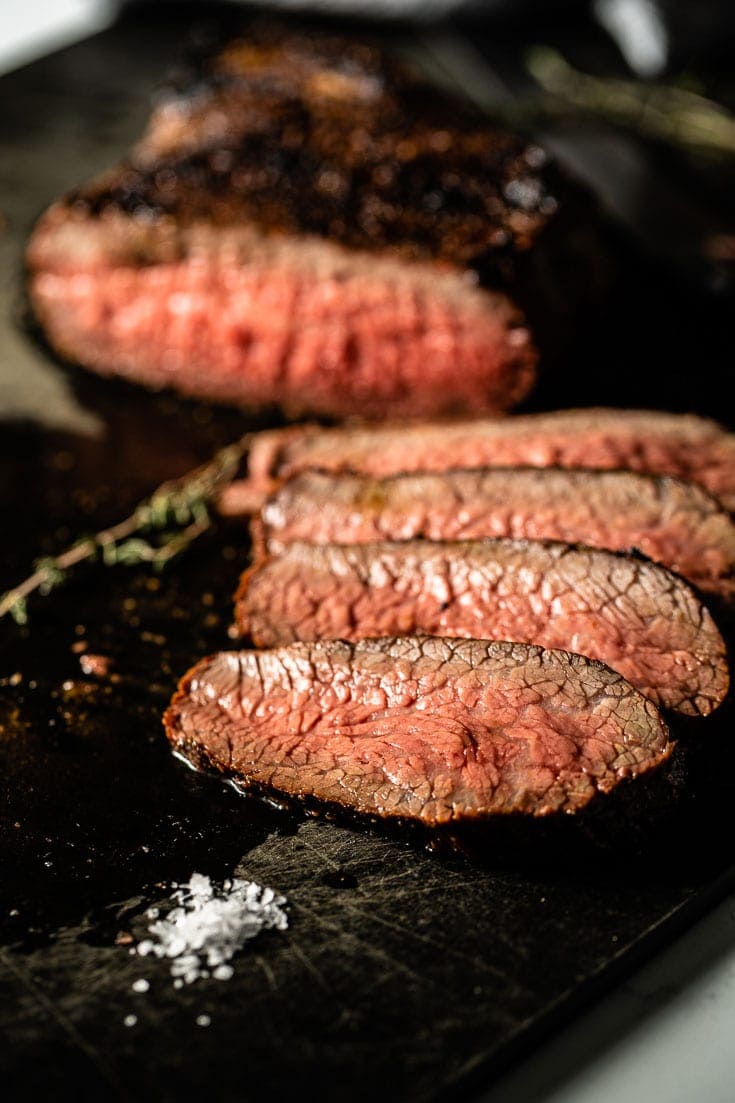 Cooking Tri Tip in the Oven
While a BBQ smoker is where it's at; this recipe can also work in the oven. Of course, it won't get that amazing smoky flavor, but it will still be delicious. Just roast the tri tip at a low 250° F oven until the internal temperature reaches 110°F. Then quickly sear it on all sides in a very hot cast iron skillet with some butter until the steak is browned.
How to Re-Heat Tri Tip
Reheating any type of steak that is really meant to be enjoyed more on the medium-rare side is difficult to do. The best answer is to not heat it up and just enjoy it cold. If it must be heated, America's Test Kitchen recommends placing non-sliced tri tip on a wire rack in a low 250° F oven until the internal temp reaches 110° F , about 30 minutes.
Sides and Sauces for Tri Tip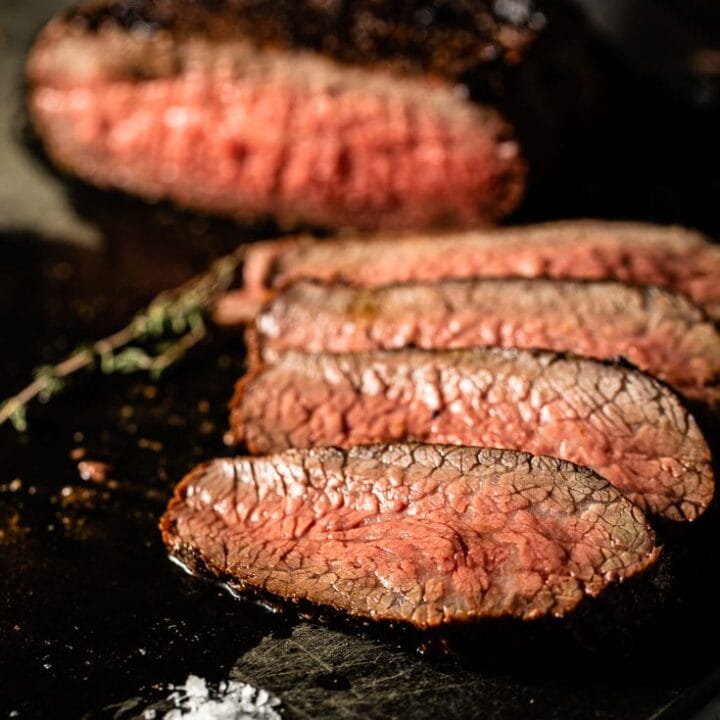 Smoked Tri Tip Recipe
Beautifully oak-smoked and seared, this tri tip is a taste of California ranching history. Smoke it low and slow, then sear it hot and fast for perfectly cooked, packed-with-flavor and super-juicy tri tip steak.
Print
Pin
Rate
Ingredients
1

2 ½ to 3 lbs Whole Beef Tri Tip

, trimmed (preferably prime Grade)

4

Oak Wood Chunks

(for a charcoal grill)

Neutral Oil or Melted Butter
Tri Tip Dry Rub
1

tablespoon

Kosher Salt

1

tablespoon

Ground Black Pepper

1

teaspoon

Garlic Powder
Instructions
Mix the salt, pepper and garlic powder in a small bowl, then season on all sides of the tri tip with the rub. Let the seasoned meat sit out for an hour to temper while you prepare the smoker.

Set up your smoker for two-zone or indirect cooking and bring the temperature to 225 to 250° F.

Place in the tri tip in the smoker furthest away from the heat.

Smoke until the tri tip's internal temperature is about 110° to 115° F, then remove it from the smoker and place on a baking sheet with a wire cooling rack. This will take about 45 minutes to 1 hour. Verify the internal temp with an instant-read thermometer.

Prepare the grill to sear or heat a cast iron skillet over high heat.

Brush some olive oil or melted butter on all sides of the tri tip. Sear for 2 ½ minutes on the first side, then flip over for another 2 ½ minutes. Flip back on the first side and rotate 90 degrees for another 2 ½ minutes. Then back on the second side for 2 ½ minutes for a total of about 5 minutes per side, 10 minutes total. The internal temperature should climb to a perfect 130° F for medium-rare.

Rest for 10 to 15 minutes before carving and slicing against the grain.
Notes
It's best to salt the tri tip when you bring it home.
If the seasoning isn't sticking, simply drizzle a little oil before seasoning.
This a basic rub that allows the beef and the smoke flavors to shine. Feel free to use whatever rub you prefer.
Sprinkle on some coarse finishing salt on the sliced meat for flavor bombs.
More Delicious Steak Recipes
Love steak? Me too! Here are some other delicious steak recipes to enjoy.