Carrots can be a little tricky to cook. Their sizes are often different from one to the next, and the outside is usually finished before the inside becomes cooked through. These issues are eliminated when cooking carrots sous vide.
The texture of each carrot will be consistent and delightfully perfect throughout. No more mushy carrots on the outside and undercooked on the inside. And unlike with boiling or steaming carrots, the nutrients stay contained within the veggie.
Fresh thyme and carrots were meant for each other. Adding thyme to the bag while the carrots take their hot bath will infuse the wonderful flavor in the carrot that can be tasted in each bite. Feel free to experiment with adding other herbs or spices.
This really is the easiest recipe. Put those tasty carrots in the bag with some butter, thyme, salt and pepper. Dunk them for about an hour, and... done! Cook them ahead of time, chill and store right in their bags in the refrigerator for up to 5 days, until you are ready to reheat and enjoy.
How Long to Sous Vide Carrots
Sous vide the carrots for 45 minutes to 1 hour at 185° F / 85° C, depending on the size of the carrots. To test doneness, give them a bend; they're done when the largest carrot is flexible. They will not get mushy if left in a little long, but no need to overdo it.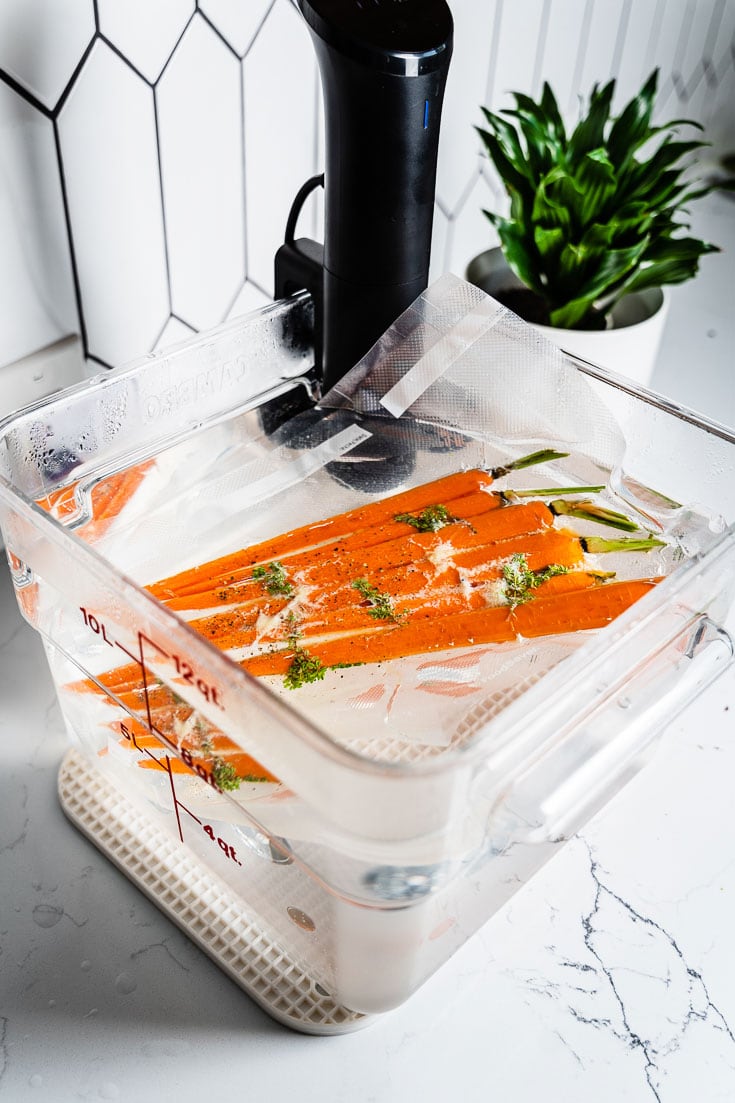 More Sous Vide Sides
And if you're looking for sous vide equipment: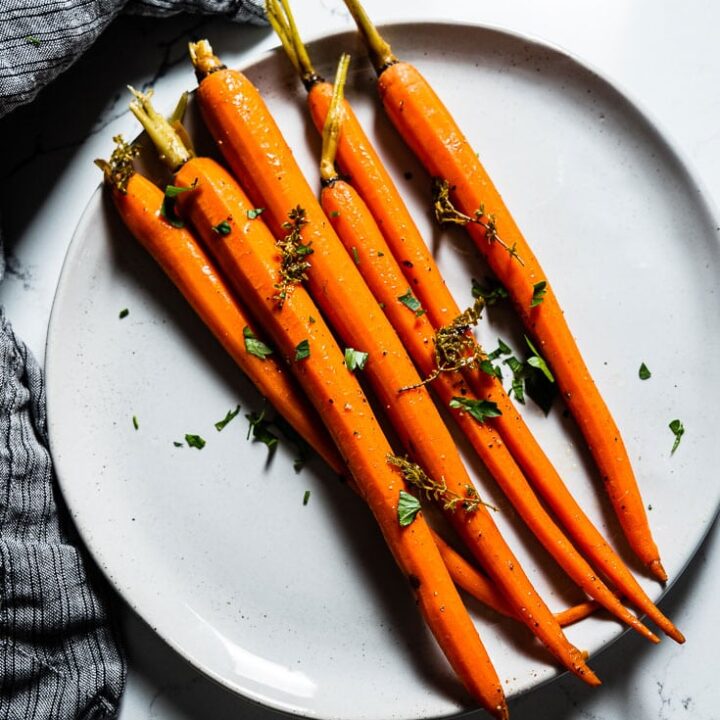 Ingredients
1

bunch

carrots

(washed, peeled or scrubbed)

Kosher salt & freshly ground pepper

6

sprigs

fresh thyme

(optional)

2

Tbsp.

unsalted butter
Instructions
Preheat the sous vide water bath to 185° F / 85° C

Place the carrots into a vacuum-sealed bag or Ziplock along with a pinch of kosher salt, pepper, thyme and butter. Seal the bag.

Sous vide for 45 minutes to 1 hour, depending on the size of the carrots. The carrots are done when the largest one is soft.

Serve whole right out of the bag or sliced.
Notes
The size of the carrots will determine the cooking time. Test by giving them a bend after 45 minutes to see if they feel soft.
If cooking with multiple colors of carrots, the colors will bleed to one another. To prevent this, separate in different bags.
Spoons can be added to the bag for weight if you have trouble keeping it submerged.
Buy carrots with the tops on so you can make a pesto which goes great with the cooked carrots.
The carrots can be cooked ahead of time, chilled in the bag and stored sealed in the refrigerator to be reheated later.