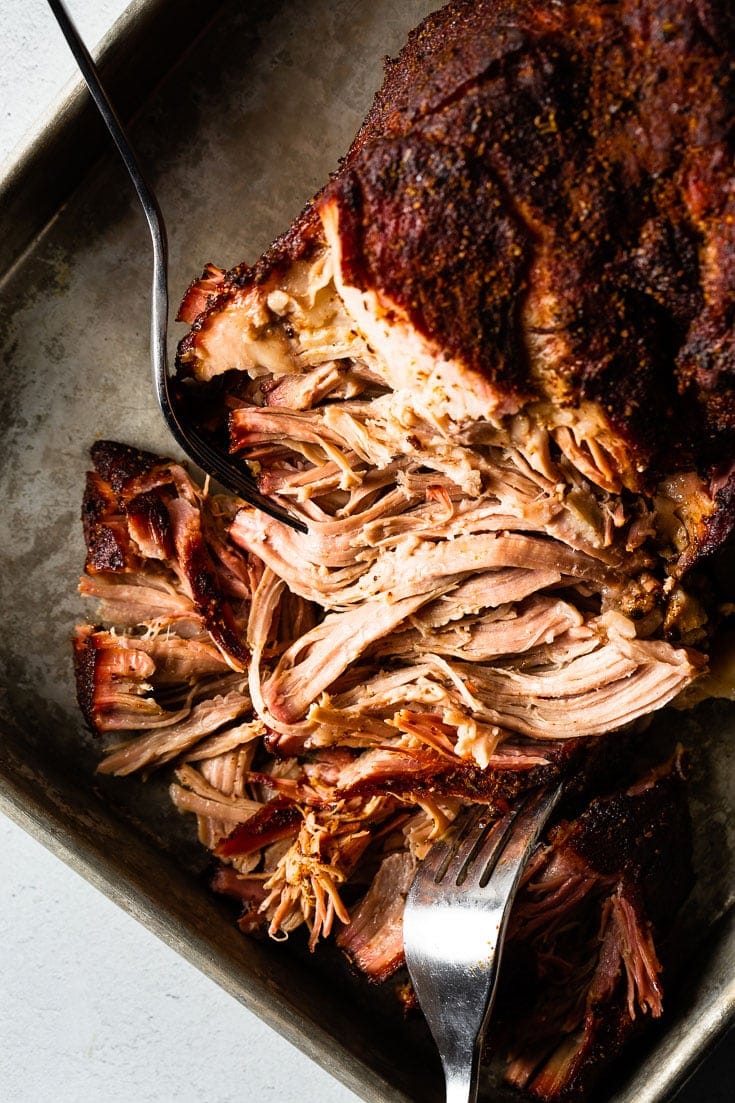 Sous vide slow for 24 hours, then finished in a smoky barbecue resulting in the most tender and juicy pulled pork you have ever made. Like most sous vide recipes, this is a two-step cooking process.
It may be a two-step process, but it's almost completely hands-off and definitely stress-free. You will first cook the pork shoulder in the sous vide water bath, and then finish it either in a BBQ smoker or the oven. The BBQ finish will result in a beautifully smoky pulled pork.
The wonderful thing about cooking a pork shoulder low and slow is that it's almost impossible to mess up, especially when cooking it in this foolproof sous vide method.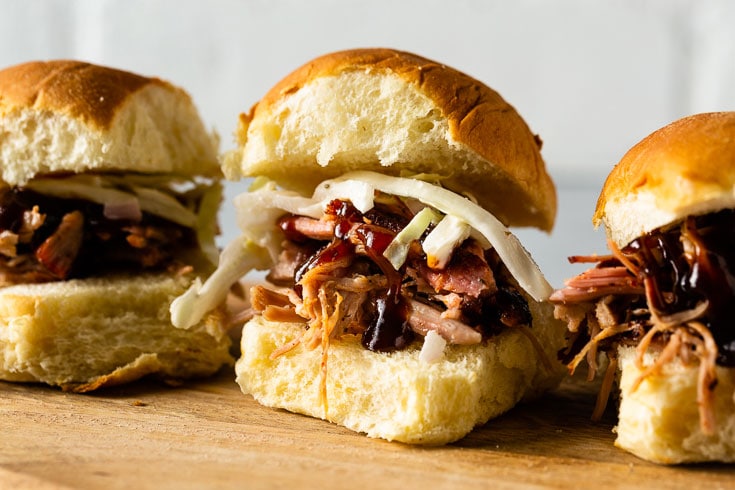 This sous vide bbq method is perfect for entertaining because it can be made mostly ahead of time, then finished in a smoker or in the oven. The fun part is when your guests are there and they smell what seems like has been cooking all day.
Make the sous vide pork shoulder up to 3 days in advance, then refrigerate. Bring it to room temperature in the bag or run it under water to speed it up (in the bag) before smoking or roasting it.
Why Sous Vide Pork Shoulder Anyways?
If you have ever cooked anything sous vide, which I'm sure you have if you are here, you know how magical it is. Whether you are cooking a delicate piece of fish like salmon or a large tough piece of meat (like we're doing here), the work is done for you to create fall-apart tender and super flavorful pork shoulder for pulled pork.
The most tender and juicy method for pulled pork.
Decide on the final texture by changing the temperature. Higher temperature yields a pull-apart pork shoulder, while a lower temperature will still be super tender, but will be more of a slice.
Can be cooked sous vide ahead of time and finished on the grill or the oven a few hours before your meal.
It's easier and less stressful to let something cook sous vide for a whole day than leave it in the smoker for the whole day.
Smoking a pork shoulder is amazing, but it you have to stay somewhat close to the smoker for the whole time. When you sous vide it first, you can leave it unattended without a worry.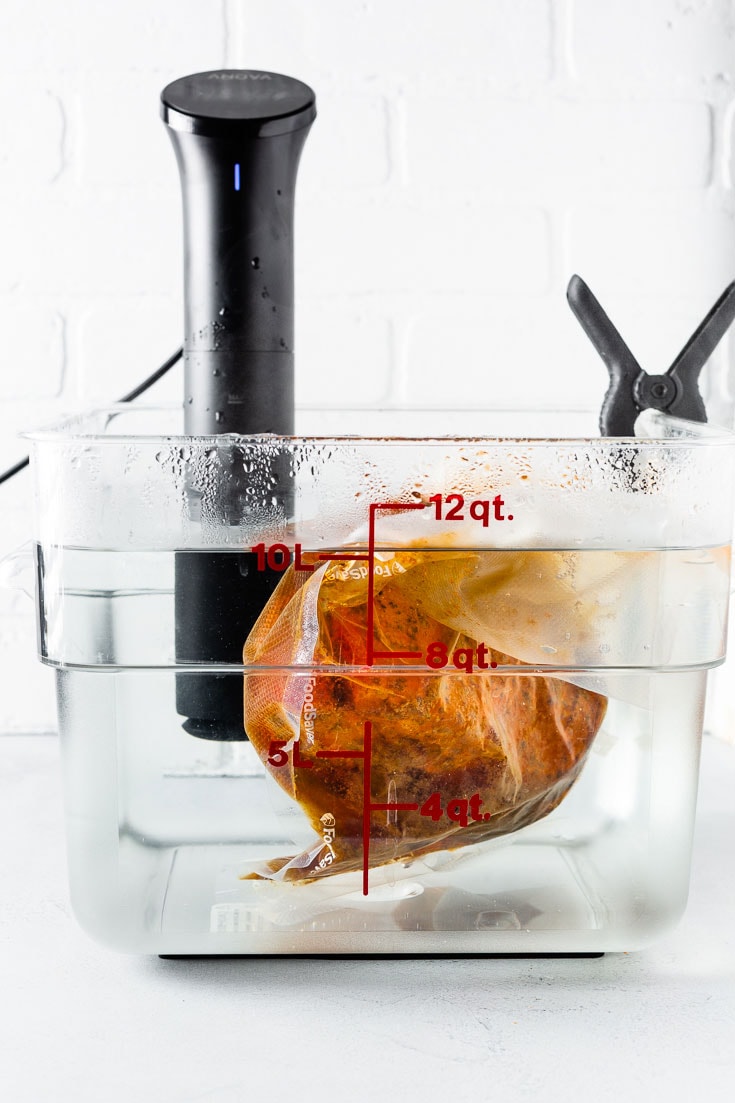 How Long to Sous Vide Pork Shoulder
The pork shoulder should be cooked sous vide between 18 to 24 hours for pulled pork. The result will be just about the same within this window. The pork in this post was in the sous vide bath for 23 hours.
What Temperature to Sous Vide the Pork Shoulder?
For super tender pulled pork: The sous vide water bath should be set to 165° F.
For tender yet sliceable pork shoulder, the temperature of the water bath should be set to 145° F.
The Dry Rub
About half of the dry rub is placed on the pork shoulder before it is vacuum-sealed. After it is cooked sous vide, you will pat it dry and place more of the dry rub on the pork before it is finished in the smoker or oven. Adding rub a second time will add even more flavor and help form the bark during the second cook.
Any dry rub will work, but the dry rub ingredients that I use consist of smoked paprika, kosher salt, dark brown sugar, granulated sugar, dark chili powder, ground cumin, dried oregano, ground black pepper and celery seeds.
Vacuum Sealing vs Water Displacement Method for Long Cooks
It's recommended to use heavy vacuum seal bags for long cooks over using Ziplock bags. With the long cook and the large piece of meat, there is a bigger risk that the bag can break and leak when using a Ziplock bag. A heavy vacuum seal bag virtually eliminates this risk.
How to Insulate the Sous Vide Container for Long Cooks
When sous vide cooking for long periods, it's important to cover the water bath and insulate the container to prevent evaporation and keep the sous vide machine from working harder than it needs to. Covering and insulating the container is less important for quicker sous vide cooks.
A perfect-fit lid will do the trick to prevent evaporation, but if you don't have one, then you can use aluminum foil to tightly seal the container.
Use towels to wrap the container to insulate it and prevent heat from escaping. If you really want to insulate it, you can place the sous vide container inside a cooler and surround it with towels.
Should You Smoke the Pork Before or After Sous Vide?
There's a lot of opinion on if you should smoke the pork shoulder before or after it is sous vide. My opinion is that it should be sous vide first then finished in the smoker or oven. The reason is that the flavorful bark that is formed in the BBQ would be broken down if it were cooked sous vide afterward.
What Wood Chips are Best for Pork Shoulder?
Go with apple, cherry or a combination of both when smoking pork. You don't want to use anything too strong that can overpower the delicate pork flavors. Applewood and cherry have wonderfully complex sweet flavors that go great with the pork.
When smoking with charcoal, I recommend using wood chunks vs chips, as they burn for longer. Learn more about the best wood for smoking meat.
Sous Vide Pork Shoulder vs Smoked Pork Shoulder
While this recipe technically does both, a pork shoulder only cooked in the smoker does come out differently. I found the sous vide version to be much moister and more tender than the 7-hour smoked version. However, the smoker-only version did have much more smoke and BBQ flavor.
If you are wondering which one is faster, they are both about the same. The smoker version should be refrigerated with the dry rub on it for 12 hours before smoking, while the sous vide version can go right into the water bath.
Both are amazing and I highly recommend you give both versions a try. I think the sous vide version is better for pulled pork and the smoked version better for smoked carnitas tacos.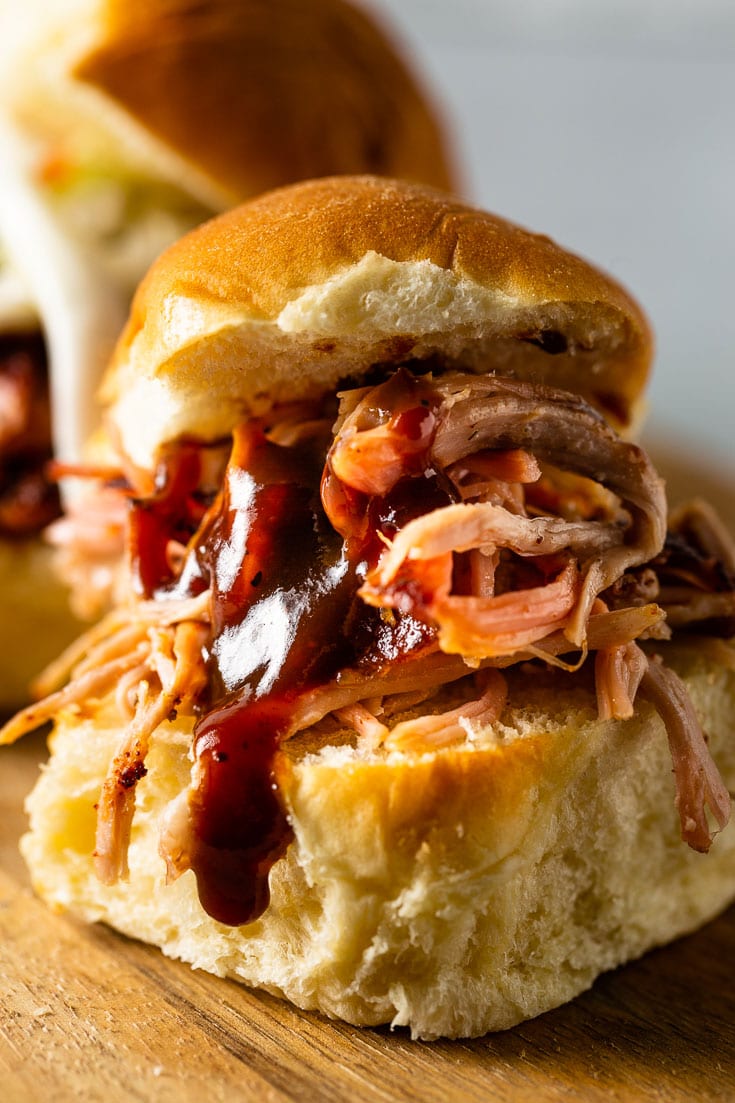 Can you Sous Vide a Frozen Pork Shoulder?
You absolutely can, and the cook time will be the same since it's going to be sous vide for 24 hours. The dry rub might not stick quite as well on frozen meat, but it will totally still work.
How to Make Smoky Sous Vide Pulled Pork
No matter what method you use for making pulled pork, it's got to be done over a long period of time (unless you are making it in a pressure cooker).
First, you want to start with high-quality pork. Once you have your pork, you will cover it with a dry rub, vacuum seal it and place it in the sous vide bath at 165° F and cook for 18 to 24 hours.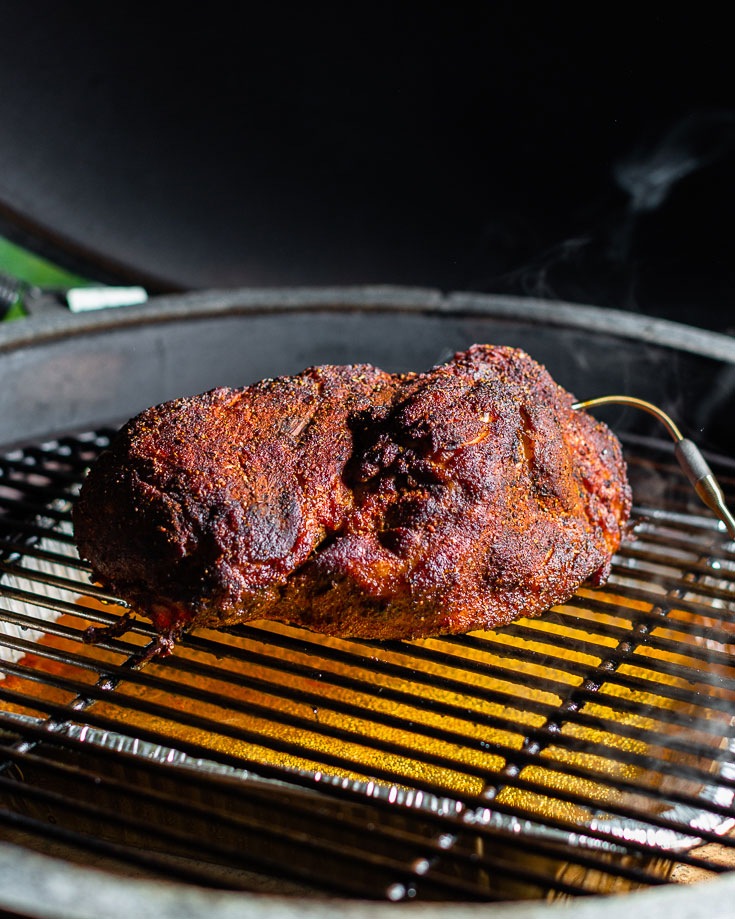 After the sous vide cook is complete, you will pat it dry, add more dry rub and finish it in a 275-300° F smoker or oven until a nice brown bark is formed, about 1 to 2 hours.
How to Serve the Pulled Pork
Serve it up on some sweet Hawaiian buns to make sliders, in fresh tortillas for tacos or even on a salad. This smoky sous vide pulled pork is so flavorful, that really, no sauce is even needed. You can just shred it apart with two forks and enjoy. Top with a little BBQ sauce and coleslaw if you wish. Either way, it will be absolutely delicious.

Meal Prep Tip
You can cut the pork shoulder into two portions and vacuum seal each separately in two bags. Sous vide them at the same time and then freeze one still in the bag once it is finished cooking. Take it out of the freezer and smoke it when you want it. This gets you two big portions of pulled pork for the same amount of work. 🙂 Learn more about sous vide meal planning.
One Tool That Makes It All Easier
The last time I cooked something in the smoker, I swore it was the last time that I would go about it blindly. The Thermoworks Smoke Alarm is a two-channel thermometer that allows you to monitor your BBQ/smoker from up to 300 feet away.
One thermometer is for monitoring the temperature of the inside of the smoker, and the other is for monitoring the internal temperature of the meat. You set the parameters for the high and low temperatures and it will sound an alarm if the temperature goes below or above what you set.
It's pretty amazing and something that you won't want to cook without once you try it. It's something I highly recommend picking up to make your smoking projects even more enjoyable.
Tools & Equipment Used
You can check out the equipment used (below) or check out the post all about Essential Sous Vide Accessories.
More Recipes to Try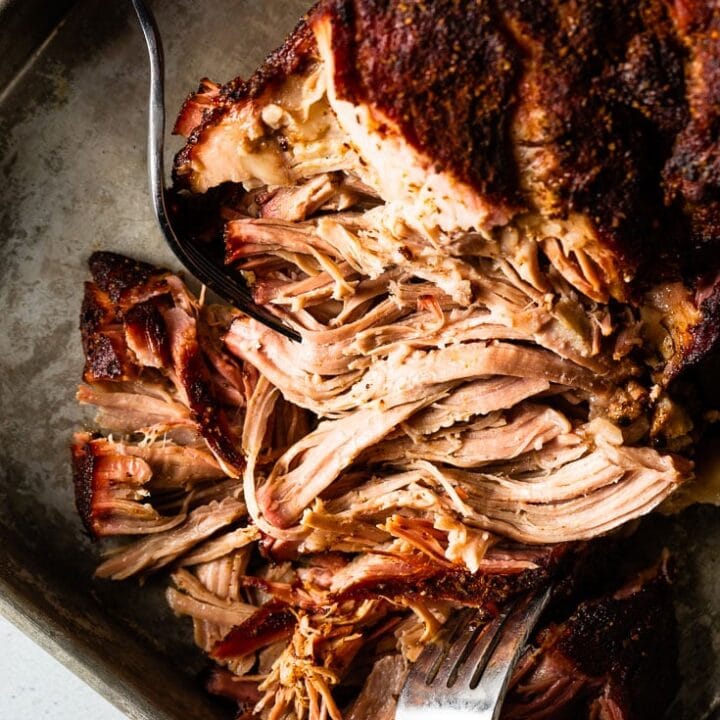 Sous Vide Pork Shoulder
The most tender and delicious pulled pork you can make. Sous vide for 24 and smoked for 2 hours.
Print
Pin
Rate
Ingredients
4 to 5

lb

Boneless Pork Shoulder or Boston Butt

trimmed
Dry Rub
⅛

cup

Smoked Paprika

2

tablespoon

Kosher Salt

2

tablespoon

Packed Dark Brown Sugar

½

tablespoon

Granulated Sugar

1

tablespoon

Dark Chili Powder

1

tablespoon

Ground Cumin

½

tablespoon

Dried Oregano

½

tablespoon

Ground Black Pepper

½

tablespoon

Celery Seeds
Instructions
Set your sous vide water bath temperature to 165° F in a container large enough to completely submerge the entire pork shoulder.

Trim excess fat from the pork shoulder.

Make the dry rub by combining all the dry rub ingredients in a small bowl or a spice shaker.

Rub a liberal amount (about half) of the rub all over the pork.

Place the vacuum sealed pork shoulder in the sous vide water bath and cover for 18 to 24 hours.

Remove from the water bath and either finish the pork shoulder (see below) or refrigerate to finish later.
To finish in the smoker
Follow your smoker's instructions and bring up the temperature between to 275 and 300° F and add wood chips. Place a water-filled aluminum drip pan under the grates to catch any drippings.

Pat the sous vide pork shoulder dry with paper towels and sprinkle on more of the remaining dry rub.

Place in the smoker and smoke for about 1 to 2 hours, or until a nice bark is formed.

Shred the pork using two forks, pulling across the strands to maintain the texture.
To finish in the oven
Pre-heat your oven to 300° F.

Pat the pork shoulder dry and sprinkle on some of the remaining dry rub.

Place the pork on top of a rack on a sheet pan and roast until a nice bark is formed, about 1 ½ hours.

Shred the pork using or a large fork or BBQ meat forks, pulling across the strands to maintain the texture.