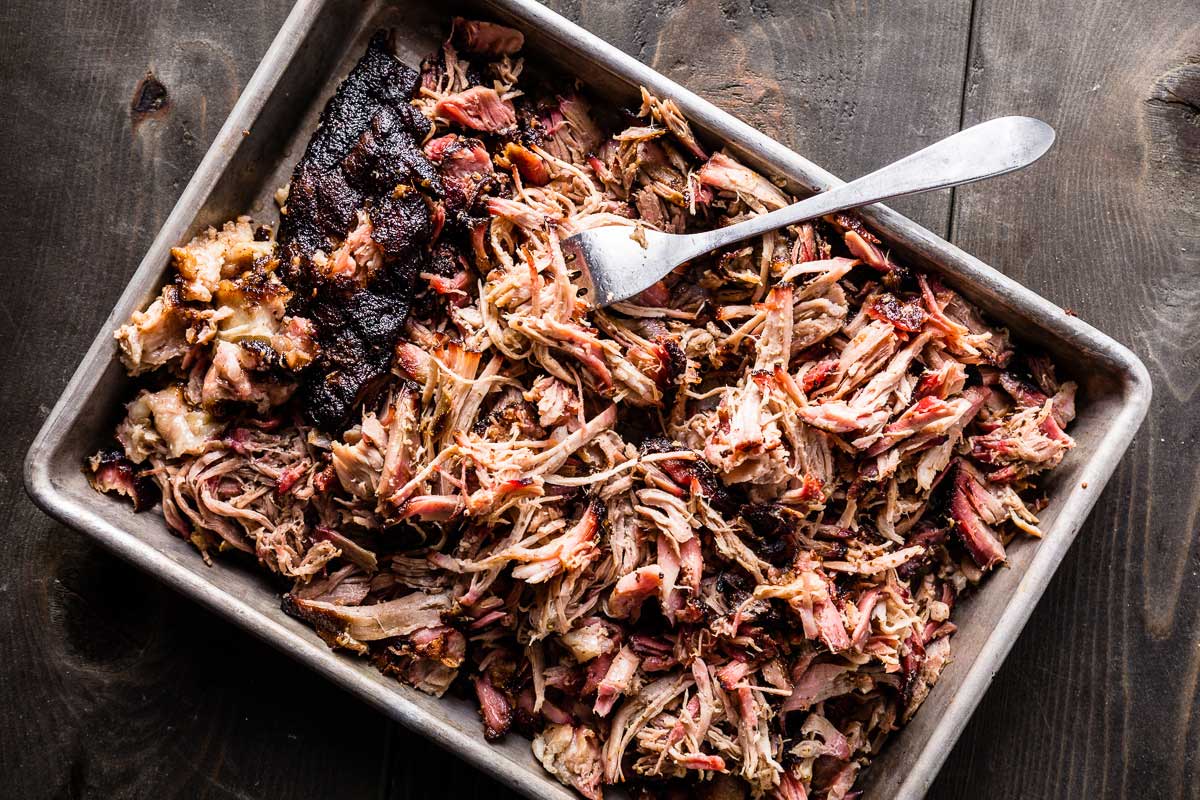 It's that wonderful time of year again. The time when we fire up the smoker and enjoy a meal that we spend all day cooking with the sun on our back and a beer in hand. It's also known as the start to smoking & BBQ season.
Smoking a pork shoulder is a little more of an art than it is a science. At least for me. With so many variables to account for; there isn't a recipe that is going to make it perfect even when you follow it to a T. It's totally different than baking a cake, and this is what makes smoking meat so special and enjoyable. You get to be creative. The good news is that it's pretty hard to mess up smoking a pork shoulder if you do it slow and low.
Ahh pulled pork. There seems to be a pulled pork sandwich on just about every restaurant menu these days. It's one of those items that I am always so drawn to, yet get disappointed far too often. The menu says "smoked pulled pork," but when you take a bite, there's no "smoke" flavor to be found. This can be hugely disappointing and gives the feeling that it was probably just cooked in the oven with some liquid smoke added at the end, or maybe not even that. I'm definitely not opposed to making pulled pork in the slow cooker or oven, but if you want real smoked pulled pork, it's gotta be smoked, low and slow.

Buy Quality Pork.
Just do it. This is a piece of meat that you are spending an entire day with. You want it to be great. I'm not saying you need to know the name of the animal, but buying from your local butcher not only supports local, but you will likely get better quality. One thing that I really love about buying from the local butcher is that they have smaller size cuts (or can cut to a size you want). Most of the time, I don't need a whole pork shoulder that can be 8 pounds. A 4 pounder is plenty and can go pretty far. Shout out to our local butcher, Sepulveda Meats & Provisions.
How to Make Smoked Pulled Pork
Apply a dry rub at least 12 hours prior to cooking the meat to allow it to be absorbed. Take the pork shoulder out of the fridge at least 1 hour prior to smoking. Pre-heat smoker and add wood chips to start smoking at 250 degrees F. Smoke the pork shoulder until the thickest part of the shoulder reaches 195 to 205 degrees F. Wrap the pork shoulder in butcher paper or aluminum foil and rest for at least 1 hour. Shred and enjoy.
The Rub
The dry rub I use isn't spicy, but it adds great flavor and helps to form the "bark" on the outside of the smoked meat. The pork dry rub consists of paprika, dark chili powder, cumin, dark brown sugar, kosher salt, dried oregano, granulated sugar, ground black pepper and celery seeds.
All of the rub ingredients get mixed up in a small bowl, then liberally rubbed on the rinsed and dried pork shoulder. There will likely be some extra rub, which can be saved and used for next time.
What Wood Chips to Use for Smoking Pork?
I prefer to use either apple or cherry wood chips when smoking pork. The apple and cherry are sweet and have some subtle fruity complexities I will usually create a combination between those and the mesquite lump charcoal in the charcoal smoker. Chips like pecan are too strong and overpowering for pork.
Low and Slow
Since this cut of meat is so fatty, most of the flavor comes from that wonderful fat. The goal is to cook it at a low temperature (around 250 degrees F) and for a long period of time until the internal temperature of the meat reaches 195 to 205 degrees F. Bringing it to this temperature will break down the connective tissues and render off more fat. This will result in super tender and moist strands of pulled pork.
The cook time for a 4-pound pork shoulder smoking at 250 degrees is around 90 minutes per pound, but it is important to frequently monitor the internal temperature. There will be a stall where the temperature seems stuck at some point. Don't worry though, the temperature will rise quickly once the stall is over.

Equipment Used
Contains affiliate links. I might earn a small commission that helps support this site if you click and make a purchase, at no extra cost to you.
The smoker: I have two smokers. One is an electric smoker and the other is the Big Green Egg. Both are great, but I can't recommend the Big Green Egg enough. It maintains a constant temperature all day without having to add more fuel, which is a phenomenal benefit. The electric smoker also works great, but I find the quality of the smoke to not be quite as good.
The Thermometers: A two-channel thermometer makes for a stress-free BBQ day. The one I recommend is the Thermoworks Smoke Alarm (affiliate). The two channels are for remotely monitoring the temperature of your smoker and the internal temperature of the pork shoulder (or whatever you are cooking).
You just leave it in the pork shoulder and monitor the temperature without having to go outside to open the lid to your smoker. You set a high and low temperature for each, and it will let you know if something goes outside of that range. It's magical and a tool that I refuse to BBQ without.
An instant-read probe thermometer is also essential for spot checking the internal temperature of the meat when it is close to being done. I highly recommend the Thermapen (affiliate). You definitely want to invest in one of these if you don't have one. I promise you will be thanking me every time you cook and need to take the temperature.
Drip Pans: Buy disposable aluminum steam pans in bulk because they come in so handy. Not only are they essential for BBQ and smoking, but they come in handy when bringing food to a pot luck and you don't want to risk not getting your expensive baking pan back.
Wood Chunks: Wood for smoking isn't necessarily equipment, but it's just as important. For a charcoal smoker, I love Apple or cherry wood chunks for long smokes.
More BBQ Recipes
View all BBQ and Grilling Recipes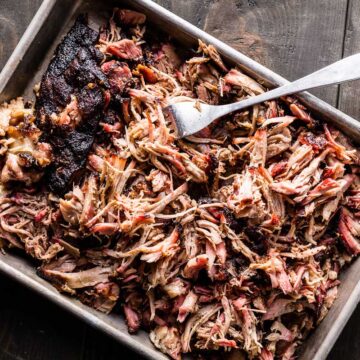 Ingredients
4 to 5

lb

Boneless Pork Shoulder or Boston Butt

, trimmed
Dry Rub
⅛

cup

Paprika

2

tablespoon

Packed Dark Brown Sugar

2

tablespoon

Kosher Salt

1

tablespoon

Dark Chili Powder

1

tablespoon

Cumin

½

tablespoon

Dried Oregano

½

tablespoon

Granulated Sugar

½

tablespoon

Ground Black Pepper

½

tablespoon

Celery Seeds
Instructions
Combine all the dry rub ingredients in a small bowl or a shaker. 

Trim excess fat from the pork shoulder. If it's Boston Butt, you don't have to trim any. Score the fat side with a sharp knife.

Rub a liberal amount of the rub all over the pork. You should have some extra dry rub that can be saved for next time. 

Cover and refrigerate overnight, or for at least 12 hours.

Remove the pork shoulder from the refrigerator at least 1 hour prior to cooking it. 

Follow your smoker's instructions and bring the temperature up to 250 degrees Fahrenheit and add wood chips. Place a water-filled aluminum drip pan under the grates to catch drippings.

Place the pork shoulder on the grate above drip pan after the smoker begins to smoke and is at 250 degrees.

Smoke for about 60 to 90 minutes per pound, or until the internal temperature reaches 195-205 degrees. Continuously monitor the temperature with a probe thermometer. 

Remove the pork shoulder from the smoker and wrap in butcher paper or aluminum and place in a cooler to rest for at least one hour. 

Shred the pork using or a large fork or BBQ meat forks, pulling across the strands to maintain the texture.
Notes
This recipe works for both small and large pork shoulders. Larger will just take longer. 
Applying the dry rub ahead of time is optional. You can apply it while you prep the smoker and temper the meat and it will still be great because of the long smoke time. 
Apple or Cherry wood is best for smoking pork.