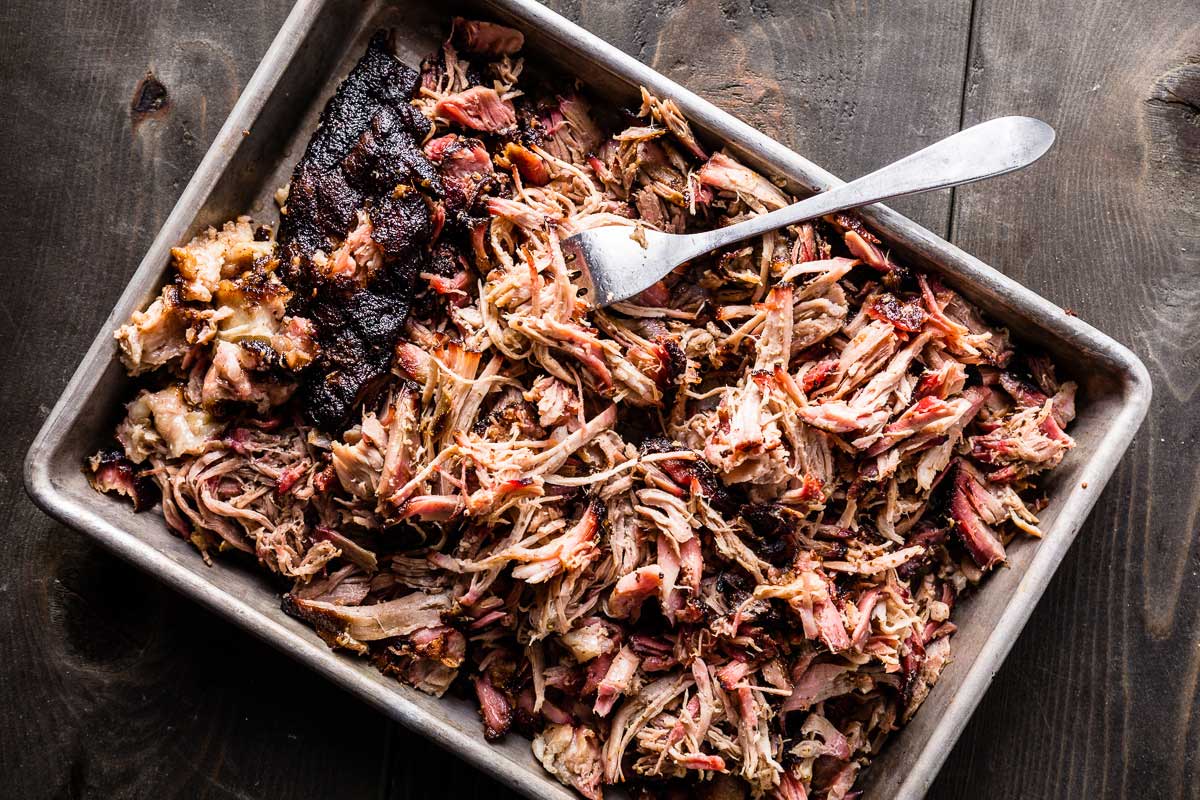 With just a few simple steps and minimal ingredients, you'll make irresistibly sweet, smoky melt-in-your mouth tender pulled pork at home that is perfect for entertaining. You will transform an inexpensive pork shoulder into the best pulled pork you've ever tasted with this foolproof recipe.
Pork shoulder is the perfect cut if you are a novice smoker - it's affordable, nearly impossible to mess up, and you'll be able to impress everyone on your first try. This recipe takes this large, tough cut and turns it into sweet, smoky, fall-apart heaven. Savory, smokey, and supremely satisfying.
Why You'll Love This Recipe
This is a tested, trusted and proven formula pork shoulder perfection.
Flavor-packed - The dry rub helps form an incredible bark on the outside while the smoke penetrates into the meat and gently breaks down the fat and connective tissue fo melt-in-your-mouth tenderness.
Budget-friendly - Pork shoulder can feed a crowd for just a few dollars per person. It's one of the most economical yet rewarding cuts of meat available.
Unlimited Uses - There are endless ways to utilize it. From pulled pork sandwiches to pizza.
How to Smoke a Pork Shoulder (Pork Butt)
Step-by-Step to smoking a pork shoulder or pork butt. Start the day before you plan on cooking it for the best results.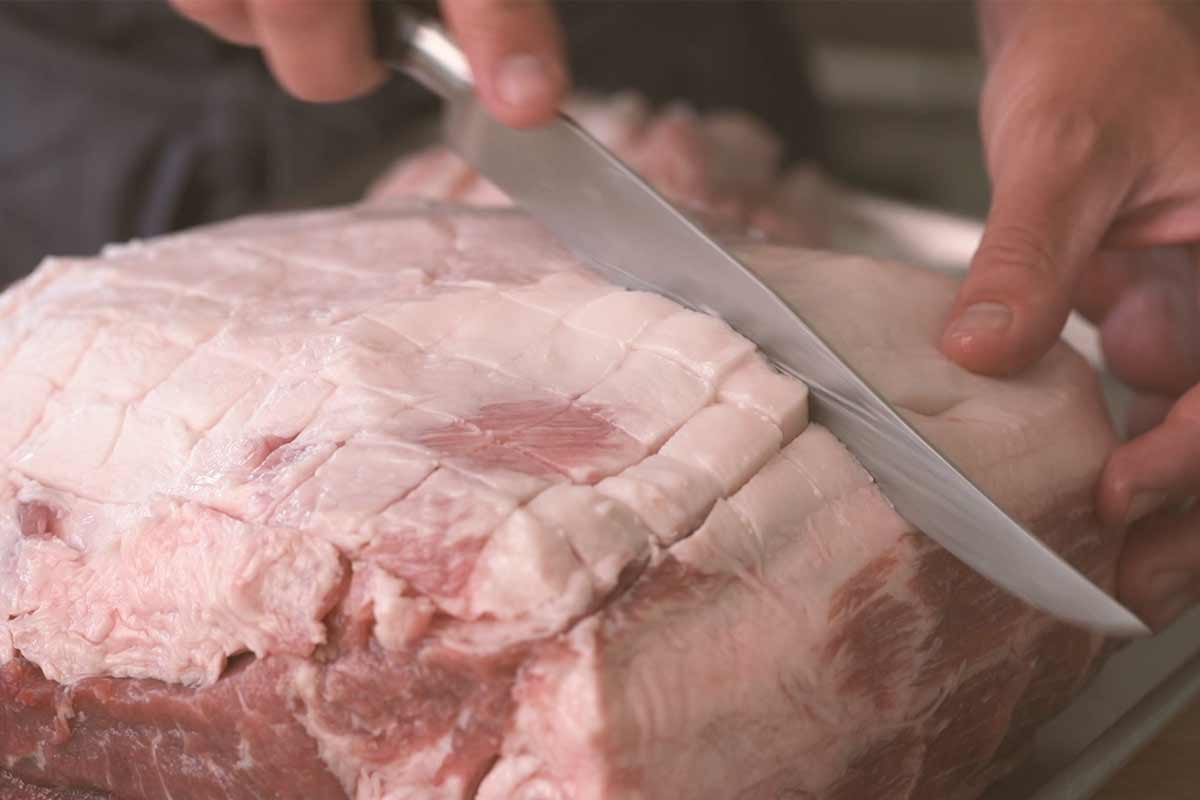 1. Prep the Pork Shoulder
Trim excess fat to ¼" thickness and score the fat cap in a crosshatch pattern with a sharp knife while the pork is cold.
2. Season the Pork Shoulder
Season at least 1 hour before (24 hrs best). Kosher salt (use 1 teaspoon Diamond kosher or ½ teaspoon Morton's per lb of meat) and a dry rub over the entire surface, then refrigerate uncovered.
*if your dry rub contains salt, omit salting separately.
Remove it from the refrigerator 1 hour prior to cooking and insert a remote probe thermometer into the thickest part of the meat.
3. Setup and Preheat Your Smoker
Prep your smoker for indirect heat smoking.
Use apple or cherry wood for smoke and pre-heat to 250° F (121° C) with a water drip pan in place.
4. Smoke the Pork Shoulder
Place the pork shoulder in the smoker over the drip pan.
Smoke until the internal temperature reaches 195° to 205° F, which will take approximately 90 minutes per pound.
5. Rest It
Rest for at least 1 hour (longer is better).
Wrap it in foil and place in a cooler to keep it warm.
If resting for more than 2 hours, also place clean towels around the pork to provide even more insulation in the cooler so it stays hot.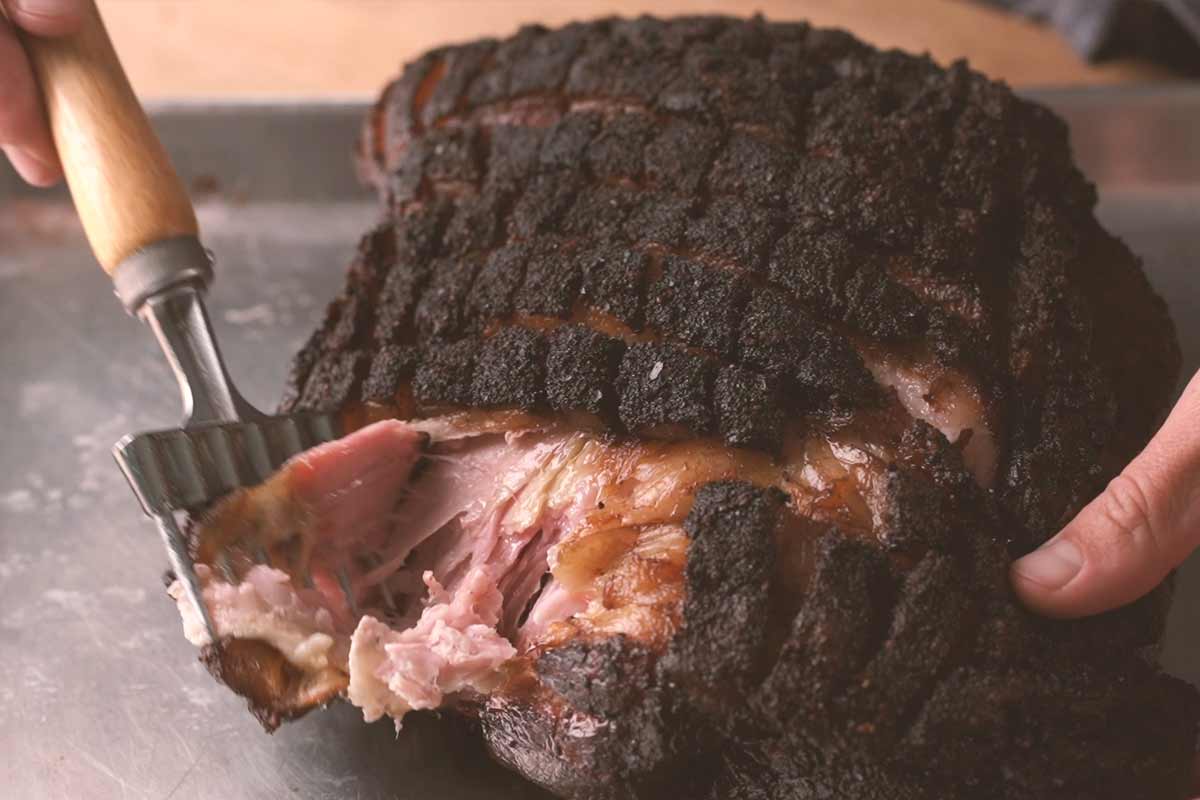 6. Shred it
Unwrap and remove the bone (if it has one) and shred with your favorite shredding tool, pulling across the grain to maintain texture.
It's much easier to shred the whole thing while it's still warm rather than after it cools.
Place the pork shoulder in the smoker over the drip pan.
Smoke until the internal temperature reaches 195° to 205° F, which will take approximately 90 minutes per pound.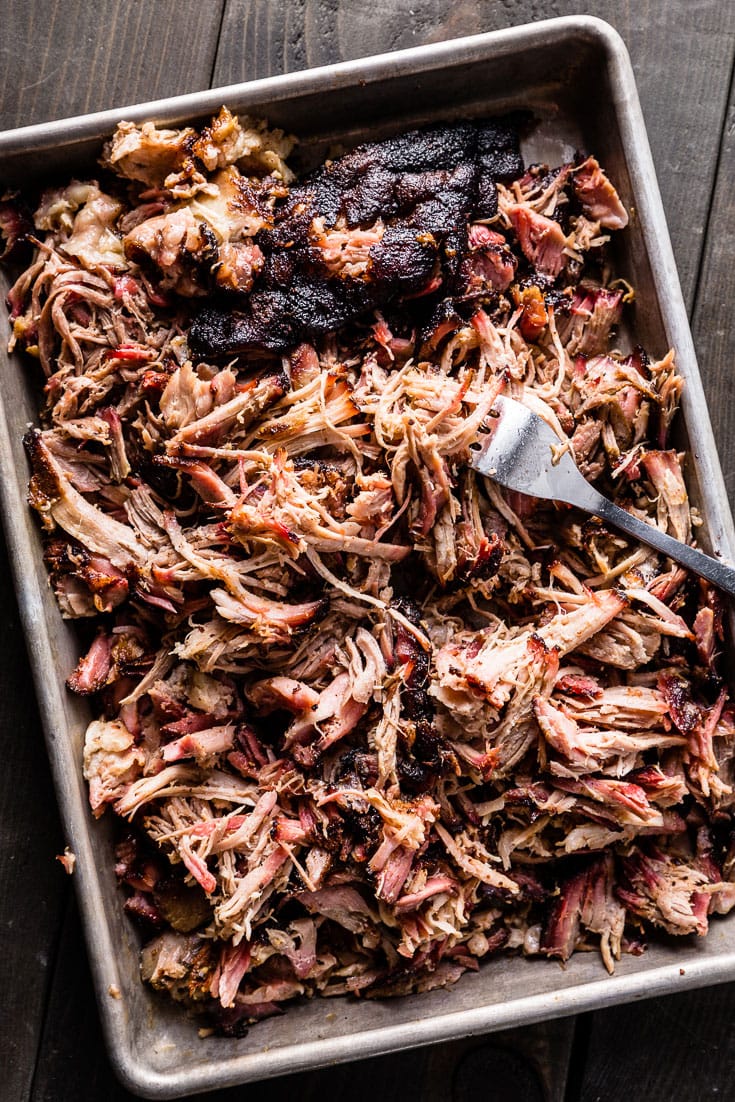 7. Serve & Enjoy
Optionally combine 1 to 2 cups of BBQ sauce or to taste if desired. Keep warm and serve.
Tip: Elevate the pulled pork by crisping it up in a hot cast iron skillet before serving.
Recipe Quick Reference Info
Prep time: about 10 minutes.
Seasoning time: 1 to 24 hours.
Smoker temp: 250° F.
Cook time: Approximately 80 to 90 minutes per pound.
Pull temp: 195 to 205° F internal.
Wood: Apple or cherry.
Recipe Variations
Use a slather (aka binder) - A slather is a liquid added to the meat before the rub to help it stick to the surface of the meat. You can use mustard, neutral oil, mayo or even just water. It's usually not necessary I don't personally use a slather for pork shoulder, but some people like to.
Spritz - Optionally spray a spritz in a spray bottle onto the surface of the pork as it smokes to help attract more smoke and keep it from drying out. You can use apple juice or cider vinegar + water as the spritz liquid.
Wrap - If you are concerned about the pork shoulder drying out or you want to speed up the cooking time, you can wrap it in butcher paper or aluminum foil when the bark is formed and it reaches an internal temp of 165-170° F.
Finish it in the oven - If you run out of fuel for your smoker, or need to speed up the process, you can wrap and finish cooking the pork shoulder in a 275 to 300° F oven.
Sliceable smoked pork - If you prefer to slice the smoked pork instead of shred it, remove it from the smoker when it reaches 165° F, as you would for a roast pork shoulder.
Sous Vide Pork Shoulder - To make it even more tender and hands-off, you can first sous vide the pork shoulder before finishing it in the smoker.
Make pulled pork in the slow cooker - The pork shoulder can also be cooked in a slow cooker for the easiest pulled pork, though it won't be as flavorful.
Make pulled pork in the oven - If you don't have access to a smoker, pulled pork can also be made in the oven just as easily and with great results. You can even add some liquid smoke or smoked salt to get some smoke flavor.
Top Tips & Tricks for Success
Cook to temperature, not by time: Time is just an estimate (and generally inaccurate), whereas the temperature is exact to your situation.
Use a remote probe thermometer: This will make the cook stress-free. It will allow you to remotely monitor the temperature of both your smoker and the meat so you don't have to continuously check it. Learn more about the best meat thermometers.
Plan ahead and start early: Long smokes often take longer than expected. It's done when it's done, so start early (you can even start smoking it the night before).
Keep the smoker lid closed (as much as possible): Every time you lift the lid, heat escapes and a consistent temperature is important for the best results.
Speed up the cook (when needed): Some situations require you to speed up the cook. Wrap the meat once the bark is formed and it reaches an internal temp around 165° F. Then either increase the smoker temperature to 275° F or place in the same temperature oven until the desired finished temp is reached.
Be prepared for the stall - The "stall" is totally normal and happens when the pork shoulder's internal temperature hits 150-170°F, it may pause or even drop as moisture evaporates and cools the meat for up to a few hours. To help push through the stall, wrap the pork shoulder once a nice bark forms at 165°F to speed up cooking.
Don't skip the rest! - Rest for at least 1 hour wrapped in foil in a cooler to allow meat to relax and the juices to redistribute before pulling and serving. You can hold it in a cooler for many hours as long as the internal temp of the meat remains above 140° F.
Choosing the Right Pork Shoulder or Pork Butt
Pork shoulder comes from the front shoulder of the pig and is divided into two cuts - the upper Boston butt (or pork butt) and the lower picnic shoulder. The Boston butt, also called a pork butt, comes from the upper part of the shoulder, while the picnic shoulder comes from the lower portion. The pork butt tends to have more fat marbling throughout, which makes it more tender and flavorful. The picnic shoulder is leaner with less fat.
Both cuts will work great for pulled pork with the right technique. Bone-in shoulders hold their shape better during smoking, but boneless cooks a bit faster.
Look for well-marbled pork butt or picnic shoulder without "enhanced" (injected) ingredients. Heritage breed pork like Berkshire or Duroc offers premium quality and flavor.
Buy from a local butcher for the freshest, highest-quality pork. Online retailers like Snake River Farms or Crowd Cow also have high-end heritage pork. Costco is a great budget-friendly option that is often my go-to. Aim for 6-8 lbs cut for making pulled pork.
How to Store the Leftovers
Store leftover smoked pork shoulder in the refrigerator for 3 to 4 days. Freeze for up to 6 months. To freeze, shred the pork before freezing and place the desired portion size in either individual vacuum seal bags or freezer ziplock bags. Remove as much air as possible and seal. Label the bags with the date and contents.
Reheating Leftover Smoked Pork
There are a few ways to reheat leftover smoked pork, each with its advantages.
Skillet - For crispy results, use a hot cast iron skillet over medium heat. No oil is necessary.
Sous Vide - Reheat the vacuum-sealed pulled pork in a 140° water bath for about an hour.
Simmer with BBQ sauce on the stove or in a crockpot.
In the smoker or the oven in a pan until it reaches 140°
Microwave - Last resort but it does work works. Add a little sauce to keep the pork from drying out and heat for a few minutes until it reaches about 150* F.
Ideas for Using the Leftovers
The recipe ideas for leftover pulled pork are virtually endless. Serve it on Hawaiian buns with creamy slaw as pulled pork sandwiches. Use it in delicious crispy carnitas tacos with avocado-lime crema and quick pickled onions. Use it to make a comforting ragu, add it to delicate omelets for breakfast, make a BBQ Pulled Pork Pizza, add it to salads, omelets, or crunchy nachos. Just about anything goes and the leftover pulled pork is even better than the first time you eat it.
Recipe FAQs
How long to smoke a pork shoulder or pork butt?
The cook time for pork shoulder is around 90 minutes per pound in a 250° F smoker.
A 4-pound pork shoulder will take approximately 6 hours.
A 9-pound pork shoulder will take approximately 13 ½ hours.
What's the best wood for smoking pork?
Sweet fruit woods like apple and cherry are perfect for pork. Oak, pecan and maple are great as well. Avoid stronger flavored woods like mesquite, as they can overpower the sweet flavor of the pork.

Experiment and try mixing a few different types of wood to develop your own personal blend. I like to use apple and post oak. Learn more about the best woods for smoking.
Do I need to wrap the pork shoulder?
No, there is usually no need to wrap pork shoulder until it is time to rest it. Because of how forgiving a pork shoulder is, wrapping it is generally not necessary. I prefer to develop extra bark and not wrap it and have always had fantastic results.

You might choose to wrap your pork shoulder around 165° F if you are concerned about it drying out or if you need to speed up the cook.
How much pork shoulder do I need per person?
The general rule of thumb is to plan for about ¾ pound (12 ounces) of raw, boneless pork shoulder per person to give enough for ½ pound (8 oz) of cooked meat to serve for each person.

This accounts for trimming some fat and the cooking process, which will cause weight loss due to moisture evaporation and rendering of fat. However, if you anticipate leftovers or have hearty eaters, you might consider leaning towards the higher end of this range or even 1 pound per person.
What to Serve it With
Pulled pork goes so well with all the classic barbecue sides.
More Delicious Smoker Recipes
View all BBQ and Grilling Recipes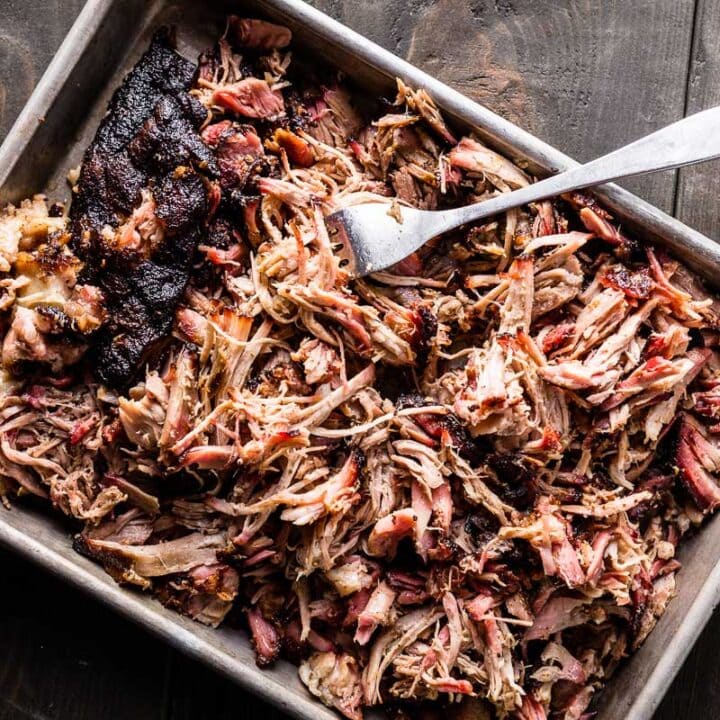 Smoked Pork Shoulder (Pork Butt) Recipe
With just a few simple steps and this tried and true recipe, transform an inexpensive pork shoulder into insanely mouthwatering pulled pork so tender, juicy and packed with sweet, smoky flavor, you won't even need sauce.
Print
Pin
Rate
Ingredients
6 to 10

lb

Pork Shoulder or Boston Butt

3

tablespoon

Diamond Kosher Salt
Dry Rub
⅛

cup

Smoked Paprika

2

tablespoon

Packed Dark Brown Sugar

1

tablespoon

Dark Chili Powder

1

tablespoon

Cumin

½

tablespoon

Dried Oregano

½

tablespoon

Granulated Sugar

½

tablespoon

Ground Black Pepper

½

tablespoon

Celery Seeds
Instructions
Prep the Pork Shoulder
Trim off excess fat using a sharp knife. Score the fat side with a 1" crosshatch pattern, being careful not to slice into the flesh.

Make the dry rub by combing all the dry rub ingredients in a shaker or small bowl.

Season the entire pork shoulder with about 2 tablespoons (1 teaspoon of Diamond kosher salt (or ½ teaspoon Morton Kosher salt) per pound of meat and sprinkle a liberal amount of the rub all over the pork. Refrigerate uncovered for 12 to 24 hours if possible.
Smoke the Pork Shoulder
Remove the pork shoulder from the refrigerator at least 1 hour prior to cooking it. Insert a remote probe thermometer into the thickest part.

Setup the smoker according to the manufacturer's instructions for indirect heat cooking and bring the temperature up to 250° F.

Place the pork in the smoker on the grate and smoke for about 90 minutes per pound, or until the internal temperature reaches 195-205° F. Continuously monitor the temperature with a probe thermometer.
Rest and Shred
Remove the pork shoulder from the smoker and wrap it tightly with aluminum foil or butcher paper and place it in an insulated cooler to rest for at least 1 hour, or up to 4 hour.

Shred the pork using or a large fork or BBQ meat forks, pulling across the strands to maintain the texture. Optionally combine with BBQ sauce. Serve and enjoy!
Notes
This recipe will work for both small and large pork shoulders. Larger roasts will just take longer.
Important: If your dry rub already contains salt, then be cautious about adding too much more. If it's not in the rub, then it should be added separately.
Applying salt and a dry rub ahead of time is optional, but highly recommended. If you can't season the day before, season it at least 1 hour before.
Apple or Cherry wood is best for smoking pork. Use 3 to 4 wood chunks for a charcoal smoker.
Cook time: Approximately 90 minutes per pound at 250° F
Nutrition
Calories:
228
kcal
|
Carbohydrates:
3
g
|
Protein:
39
g
|
Fat:
6
g
|
Saturated Fat:
2
g
|
Polyunsaturated Fat:
1
g
|
Monounsaturated Fat:
3
g
|
Trans Fat:
1
g
|
Cholesterol:
102
mg
|
Sodium:
974
mg
|
Potassium:
671
mg
|
Fiber:
1
g
|
Sugar:
2
g
|
Vitamin A:
193
IU
|
Vitamin C:
2
mg
|
Calcium:
26
mg
|
Iron:
2
mg