The reveal of our recent kitchen remodel with lots of before and after photos and a list of where to buy everything we used.
The kitchen is the heart of the house and a new kitchen brings joy more than any other home improvement. You use it for coffee first thing in the morning, breakfast, lunch and dinner. And probably countless times in between. A new kitchen should bring joy in all aspects. Everything needs to be totally thought out and in place for a reason. This is something that takes a lot of time and effort. If you don't put it in, you won't get the results you had been dreaming of.
We all dream of creating our dream kitchen. Ours happened to be much more unplanned and much sooner than we ever expected as it was initiated from a flood. We only had about a month to figure it all out, and that sure was stressful.
Skip Down to
Before
Our "before" kitchen really wasn't anything to complain about (too much), but it definitely didn't bring joy. With solid surface countertops, white cabinets and a laminate floor; it was very usable and functional, but didn't bring a whole lot of joy. It definitely wasn't a kitchen I wanted to use as a photo backdrop for recipes on the blog.
After
Clean, light and black & white.
The goal of the new kitchen
The kitchen is the heart of the house, and especially when you are obsessed with cooking like I am. Our goal was function over form, sort of. Being a food photographer, having it look pleasing to the eye was also a requirement. Adding a peninsula would allow the family and guests to connect around the action.
Our Seven kitchen must-haves:
Add a peninsula.
Removing an unnecessary door from kitchen to the kid's bedroom.
Open up the wall from the kitchen to living room.
No upper cabinets on one side to create open airy feeling.
Backsplash, backsplash and more backsplash from the countertop to the ceiling.
Plenty of counter space with no visible clutter.
A range hood that vents to the outside.
The layout
With the quick timing and budget of our project, we decided that adding extra square footage or drastically changing the layout wouldn't be an option for this kitchen remodel. We had to work within the existing space, including the door to the backyard and the window placement. To give an idea of size of our kitchen size; the space is 9'8"x 14'8" (about 142 Sq Ft).
With the addition of a peninsula that was very high on the wish list, the kitchen layout would change from U-Shaped to a G-Shape. This adds lots of extra counter space and makes for a much more welcoming kitchen
The Work Triangle
The best way to start thinking about designing a kitchen layout is by starting with the work triangle. The work triangle is the connection of movement between the primary workspaces; the refrigerator, the sink and the range. It creates a flow that nothing should stand in the way of, or efficiency in the kitchen will be lacking.
The look and feel
Light, bright, airy, minimal, clean, black & white, minimal. These are all words that describe the look we were going for. Now if all of those things suddenly would just appear in real life!. It turns out that it is a lot of work to make it come to reality.
With so many design styles to choose from, it feels really overwhelming. Do you go modern, contemporary, coastal, traditional, country farmhouse or something in between? We were originally thinking modern farmhouse, but it eventually transformed into our own look. We turned to Pinterest, Instagram, magazines, blogs, brands we love and of course, family and friends who most importantly helped us survive this whole process!!
Clean minimal. No clutter on the counter
The Photos
Photo gallery from the kitchen remodel.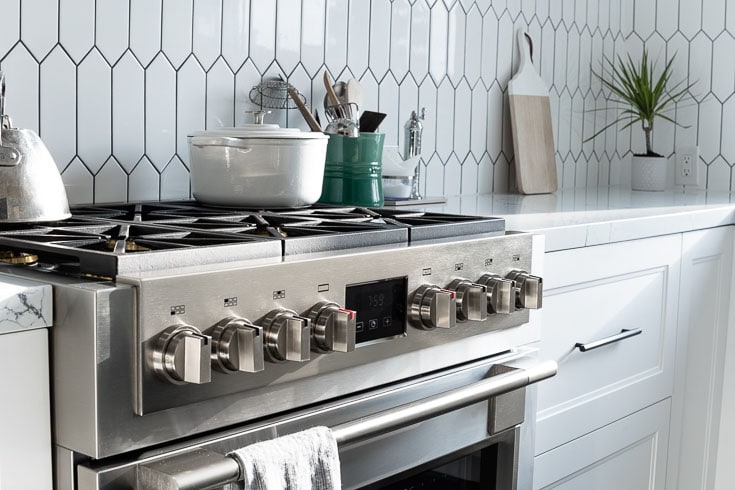 The big list of everything
This post contains affiliate links where I might receive a commission if you make a purchase, at no additional cost to you to help support this site.
Cabinets
Cabinets - IKEA Sektion system with Axstad Matte White Fronts
Cabinet lighting - IKEA integrated in-drawer and under cabinet lights
Knobs - CB2 Hex Matte Black Knob
Pulls - CB2 Hex Matte Black Drawer Pulls
Fixtures
Quartz Countertop - PentalQuartz Avenza Quartz (we needed 2 slabs)
Floor tile - Paige Antracite 10 inch Hexagon Matte
Backsplash tile - Bianco Picket 3x 9" Glazed Ceramic Wall Tile
Paint - Sherwin-Williams Duration Home Pure White Satin
Tile Grout - Custom Building Products #370 Dove Gray
Lighting
Pendant - Wysocki 1-Light Single Globe Pendant
Recessed Lights - HALO Recessed Smart LED Downlights, 4"
Smart Dimmers - Halo Home dimmer for smart LED lights
Sink
Large sink with no divider that has the drain on one side rather than in the middle. In a material that doesn't easily stain or chip. This narrowed it down to one option, and we love it.
Sink - Kohler Riverby 36" undermount in White
Faucet One-Handle High Arc MotionSense Wave Pulldown Kitchen Faucet
Soap Dispenser - Moen Soap/Lotion Dispenser in Matte Black
Garbage Disposal - Moen EX Series ¾ HP Continuous Feed Space Saving Garbage Disposal
Garbage Disposal Air Switch - InSinkErator SinkTop Satin Dual Outlet Switch
Air Switch Button in Black - InSinkErator STC-MTBLK SinkTop Switch Push Button, Matte Black
Window & Door
Window - Milgard Trinsic Series 3-panel casement and picture window
Door - T.M.Cobb Smooth-Star Fiberglass Door with Glass interior
Appliances
Range - Fulgor Milano Sofia 36" Gas Range (check out my review)
Hood - Zephyr Venezia Wall 36"
Dishwasher - Bosch 800 Series Dishwasher Black stainless
Microwave - Bosch 800 Series Drawer Microwave24'' Stainless steel
Refrigerator - Samsung 23 cu. ft. Counter-Depth 4-Door Flex Refrigerator
Miscellaneous
Counter Stools
Counter stool sheepskin cushions
Rug in front of sink - Chilewich Basketweave Area Rug 23x36 in Carbon
Power outlet with built-in USB Charging
Where we bought Appliances: Aztec Appliance in San Diego