When in France, you eat a lot of duck fat fried things. Ok, you probably aren't in France right now, so wherever you are right now, please make these duck fat fried potatoes. Enjoy immensely and thank me later.
When you eat duck, eat duck fat fried potatoes because you already have the duck fat and the hot skillet.
Where to Find Duck Fat?
Duck Fat is available to buy on Amazon, Whole Foods and many specialty stores like D'Artagnan, and almost always at Whole Foods. However, you can easily make your own duck fat either when you buy a whole duck or even when you pan sear duck breasts.
A Few Tips for Duck Fat Potatoes
You can smash these little guys with the back of a spatula into the skillet. They will get even crispier and
Peeling is optional if you plan on smashing the potatoes into the pan. Definitely peel them otherwise though, or they won't pick up as much of the duck fat flavor.
Peel the potatoes and keep them as round as possible. This will allow them to roll around in the skillet to brown on all sides.
After parboiling the potatoes, drain well and allow the potatoes to sit long enough so any water remaining on them has evaporated. You don't want to be adding any water to the hot duck fat.
Get the duck fat plenty hot in the skillet before adding the potatoes or the potatoes will soak up the fat instead of frying in it.
The smoke point of Duck Fat is 375° F (190°C), which is higher than olive oil but lower than canola oil or peanut oil. If you want to really increase the temperature to crisp the potatoes; add some peanut oil to the mix.
Salt the potatoes right after they are removed from the pan while the oil is still hot.
While this recipe is for small marble potatoes; you can totally use larger yukon gold or similar potatoes. Just cook them longer and smash them into the skillet with the hot duck fat.
How to Make Duck Fat Potatoes
Par Boiled and Pan-Fried - The way I do it most of the time. It's how I learned in a french restaurant. They would parboil the potatoes and then finish them in a hot skillet with duck fat a la minute for the duck dish of the season.
Peel the marble potatoes and place them in a pot of water.
Boil in salted water until the potatoes are tender when pierced with a fork but don't fall apart, about 80% cooked. This will take about 15 minutes depending on the size of the potatoes.
Drain the potatoes in a colander and allow to sit long enough so all water evaporates.
Add enough duck fat to coat the bottom of a heavy-bottom skillet and place over medium-high heat. When the fat is hot; carefully add the potatoes and saute stirring or shaking the pan frequently to brown on all sides for 5 to 8 minutes.
Remove the potatoes from the skillet and immediately season with kosher salt and a sprinkle of fresh herbs if you wish.
More Delicious Potato Recipes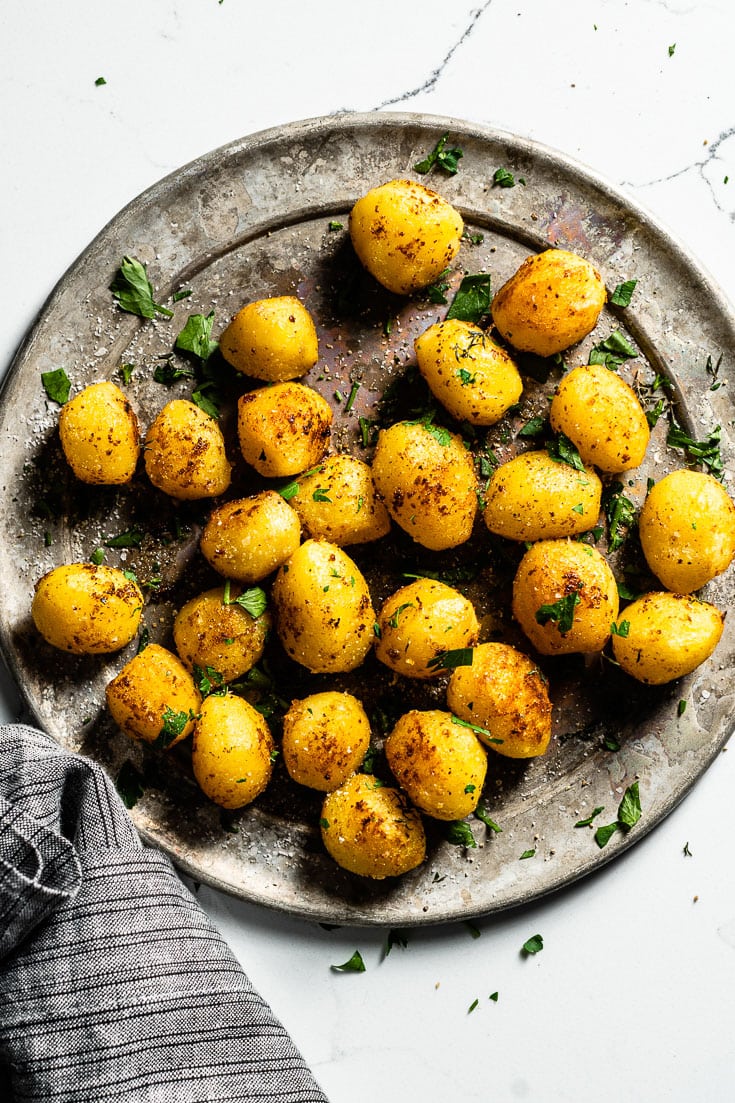 What to Pair with the Potatoes
Pairing duck fat fried potatoes with duck is the pretty obvious choice. Especially perfectly seared duck breasts (our this sous vide duck breast version). Not only were they just made for each other, but you can just saute the potatoes up in the duck fat that was rendered from the duck. But really, duck fat fried potatoes go with just about anything from a burger to a steak to poached eggs.
They would even be amazing as an appetizer with a homemade aioli to dip in.
Ingredients
1

lb

Marble Potatoes

(or any quantity you need)

¼

cup

Duck Fat

Kosher Salt and Pepper

Fresh Herbs
Instructions
Peel the potatoes keeping them as round as possible. Store in cold water as you peel the rest to keep them from oxidizing and changing color.

Cover the potatoes in a pot of cold water and bring to a boil, adding salt to season the water. Boil the potatoes until they are about 80% cooked through and can be pierced with a fork but don't fall apart about 15 to 18 minutes.

Drain well and set aside to cool and dry off.

Heat duck fat in a heavy bottom skillet over medium-high heat. Carefully add the potatoes and pan-fry, swirling and stirring frequently until they are golden brown on all sides, about 5 to 8 minutes.

Using a slotted spoon, transfer the potatoes to a serving dish and immediately sprinkle with kosher salt and fresh herbs. Serve immediately.
Notes
This is an easy recipe to scale. Parboil as many potatoes you need, then saute in batches being careful not to overcrowd the pan.
Larger yukon gold potatoes can also be used for this recipe. When cooking in the duck fat, smash the potatoes into the skillet to crisp.