This post was created in partnership with the National Turkey Federation. All thoughts and opinions are always my own.
There are so many ways to cook a turkey. Some better than others. Some you could forget, and others remind you just how wonderful and familiar it can be.
Maybe you have a recipe that has been in the family for decades for a "traditional roast turkey." Every year, it's the same. There's something comforting in that. And then there's the concept of changing things up. Maybe you will discover the new tradition, or maybe you will be excited to try something else new the next holiday.
We're going to switch things up. Not the whole turkey and not in the oven. But a bone-in breast that is brined, cooked in the smoker and finished with a honey-brown sugar glaze with a hint of bourbon, because that makes everything just a little better. Oh, and that glaze on the smoky turkey is delicious!
If you want to create a "magazine cover" bird, look outside toward your smoker. The beautiful mahogany-colored lacquered skin comes from both the smoke and the glaze.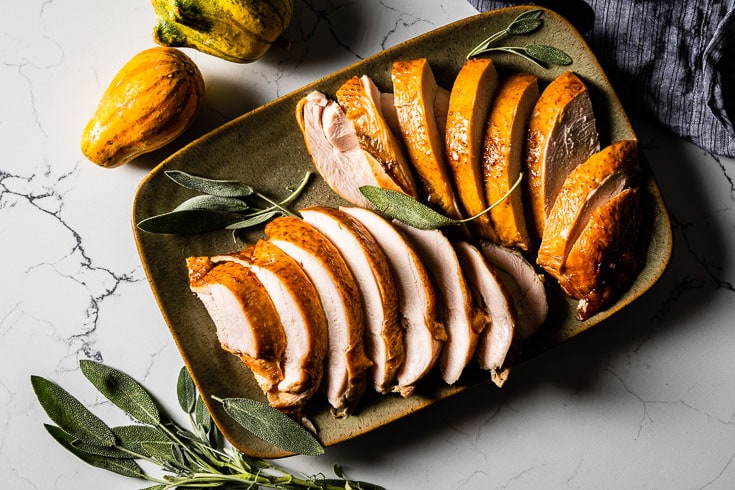 Let's Talk Turkey
Go with a bone-in breast (double breast) with the skin on, which is fairly easy to find. If possible, buy fresh, but frozen will work great, too. Just try to source turkey that hasn't been pre-brined or "enhanced," since we want to brine the turkey ourselves.
Sizes of these range, just like if you are buying a whole turkey. I usually look for a 5- to 8-pound double breast, which will feed 4 to 6 people, and leave plenty for leftovers. But if you want a smaller or larger breast, the recipe will still work.
If it's the holiday season, turkey double breasts are fairly abundant. Less so during the off-season. Check your butcher or Whole Foods for premium turkey, or Wal-Mart, Target or Sprouts Farmer's Market (where I sourced this one).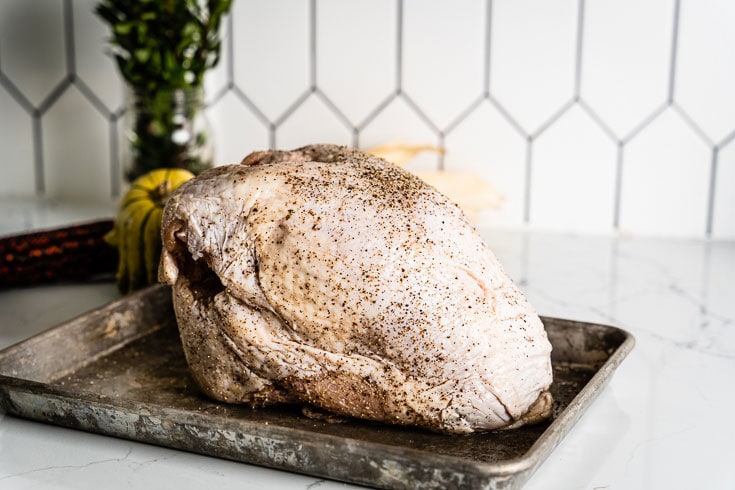 Advantages of Going Breast Only
The Brine Is Key
A brine (a simple combination of water, salt and sugar) brings out the turkey flavor and helps keep it super juicy. This is really difficult to achieve when not brining.
Whether you wet brine (which we are doing here) or dry brine, they both produce fantastic results. If you wet brine, it's best to rinse the brine off before cooking. If you dry brine, there's no need to rinse the brine off.
Smoke is attracted to moisture. So not having completely dry skin is totally fine when it comes to smoking. We're not going to get that super crispy skin that comes from roasting anyway.
I have done a side-by-side comparison of brined vs not-brined turkey breast, and for me, there's no comparison. The brined bird wins every time. The brine keeps it super juicy and so flavorful.
*A note on the type of turkey breast: If it is pre-brined or "enhanced," then you will want to skip the brining as it can come out too salty.
How Long Does it Take to Smoke Turkey Breast?
It will take approximately 20 to 25 minutes per pound for a bone-in breast at 250° F. Mine are almost always ready to pull right around the 2-hour mark. However, it's really about the internal temperature, not the cooking time that determines doneness.
A number of variables including the size and starting temperature of the breast, smoker temperature, humidity and more cause fluctuations in the cook time. Always use an instant-read probe thermometer to check for doneness.
Brined turkey will cook slightly more quickly than non-brined meats.
Temp for Smoking
Keep the smoker temperature between 225 and 250° F. Too hot and it can dry out the meat.
What Wood to Use
For turkey, I recommend using apple or cherry wood for smoking. These give a subtle sweetness. These also pair wonderfully with the honey-glaze and don't overpower the turkey. Hickory is another option, but avoid mesquite or other strong flavors like oak.
A Simple Brown-Sugar Honey Glaze
Sweet and smoky flavors go so well with the turkey breast. That's what you get when you glaze the turkey. Not only does it give an amazing sweet surface flavor, but it also provides a beautiful color to the turkey.
Make the glaze while the turkey is smoking. A combination of honey, brown sugar, apple cider vinegar for some tang, a little bourbon for a caramel flavor and, of course, some butter to round it out. Brush it on the turkey 2 to 3 times during the last 30 minutes of cooking.
Top Tips
Serve It Up with:
Tools and Equipment
Contains affiliate links where I might receive a commission if you make a purchase, at no additional cost to you. Thanks for your support!
Ingredients
5 to 8

pound

bone-in turkey breast

1

Tbsp.

butter or canola oil
For the brine
8

cups

water

½

cup

Diamond kosher salt

⅓

cup

sugar

1

tsp.

peppercorns
Glaze
⅓

cup

honey

¾

cup

packed brown sugar

2

Tbsp.

unsalted butter

¼

cup

apple cider vinegar

2

tsp.

Dijon mustard

¼

cup

bourbon

(optional)
Instructions
Brine the turkey
Make the brine by adding 2 cups of boiling water in a large container with the salt, sugar and peppercorns. Stir to dissolve completely, then add a combination of 6 cups of cold water and ice.

Place the turkey breast in the brine and refrigerate for 8 hours.

Remove the turkey from the brine, rinse and pat dry with paper towels.
Make the glaze
While the turkey smokes, make the glaze. In a small saucepan over medium-low heat, add the glaze ingredients and stir to combine and dissolve. Bring to a simmer and reduce the heat to low, continuing to cook until the glaze has thickened enough to coat the back of a spoon.
Smoke the turkey
While the breast comes to room temperature, prepare the smoker according to the manufacturer's instructions for indirect cooking with a water drip pan in place. Add wood chunks (or pellets) and bring the temperature to 250° F. 

Rub room-temperature butter or canola oil all over the turkey, then place in the smoker.

When the internal temperature of the breasts reaches about 130° F (about 90 minutes in), glaze the turkey and repeat after 15 more minutes.

Remove the turkey at 160° F, as it will continue to rise at least 5° to finish at 165° F. Verify with a probe thermometer.

Rest for 20 minutes before slicing and serving with a drizzle more of the glaze.
More Turkey Recipes
Thanks to the National Turkey Federation for sponsoring this recipe and helping to make this site possible!