This post was created in partnership with the National Turkey Federation. All thoughts and opinions are always my own.
Juicy turkey breast that is brined, cooked in the smoker and finished with a honey-brown sugar glaze with a hint of bourbon, because that makes everything just a little better. Oh, and that glaze on the smoky turkey is delicious!
There are so many ways to cook a turkey. Some are definitely standouts that "wow" a crowd, and this is definitely one of those recipes. While your traditional turkey might be made in the oven, let's change things up with a new concept this holiday.
Going with the breast only has some great advantages. It cooks faster and more evenly, and it's great for a smaller gathering when you don't need to feed a crowd or don't need too many leftovers.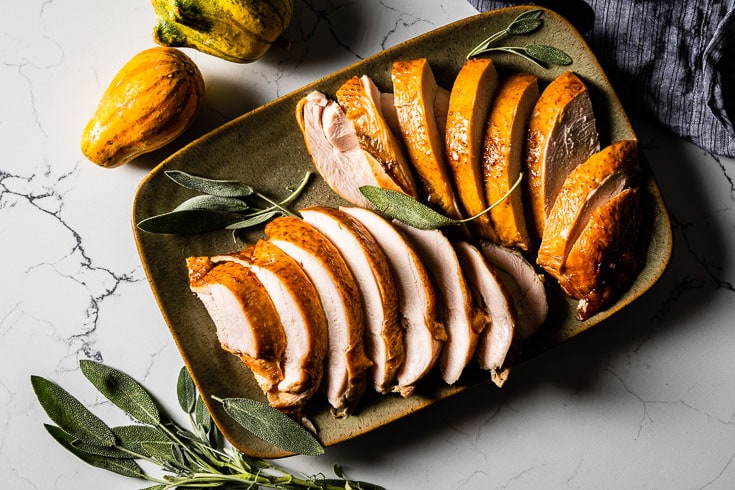 What You'll Need
Turkey - Go with a bone-in breast (double breast) with the skin on, which is fairly easy to find. If possible, buy fresh, but frozen will work great, too. Avoid pre-brined or "enhanced" turkey since we want to brine the turkey ourselves.

I usually look for a 5 to 8-pound double breast, which will feed 4 to 6 people, and leave plenty for leftovers. But if you want a smaller or larger breast, the recipe will still work.
If using a whole bird (which is great too), you can spatchcock the turkey for faster, even cooking in the smoker.
Brine - a simple brine of water, salt, sugar and peppercorns will do the trick of keeping the turkey juicy and delicious.
The Glaze - honey, brown sugar, butter, cider vinegar, mustard and bourbon.
Wood Chips or Pellets for smoke - Applewood or cherry wood smoking chunks or pellets.
Remote thermometer to monitor the temperature remotely and an instant-read thermometer to verify.
High-temp basting brush for bsting on the glaze.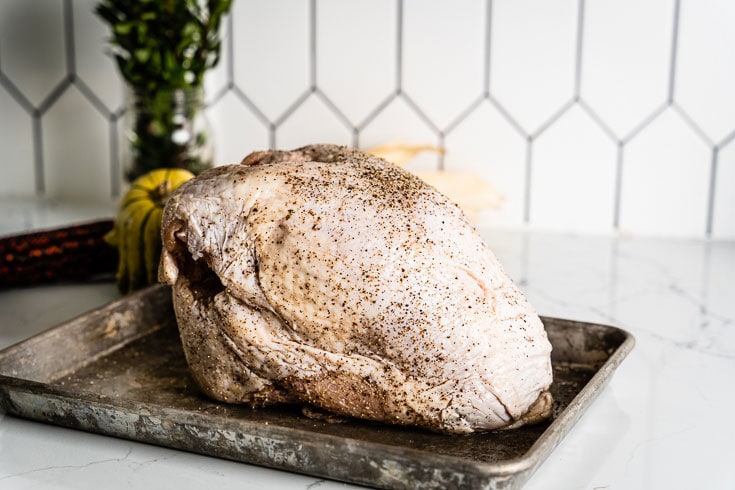 Top Tips
The Brine Is Key - A turkey brine (a simple combination of water, salt and sugar) brings out the turkey flavor and helps keep it super juicy.
Use the right smoke

: apple, cherry or hickory. Nothing too heavy.

Monitor the temperature remotely with a Thermoworks smoke alarm thermometer or Signals.
Don't overcook it! Remove the breast at a lower temperature to allow for some carryover cooking. I pull mine at around 160° F and the temperature continues to rise to 165° F while it rests. If you cook in a higher temp smoker, then pull the breast even sooner (more like 155°).
Remove the breast from the bone for easy slicing is my preference, but you can totally slice while it's still on the bone.
Save the bones and make turkey stock.
Frequently Asked Questions
Sides That Go Great!
Thanks to the National Turkey Federation for sponsoring this recipe and helping to make this site possible!