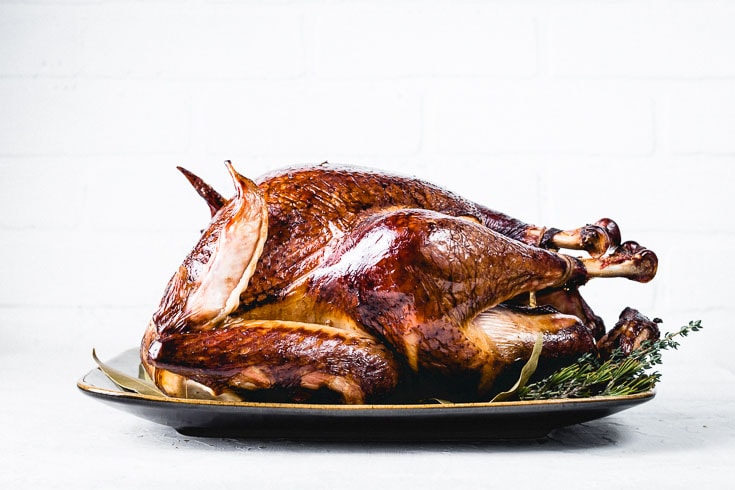 You know that beautiful mahogany color of the perfect turkey on the cover of all the magazines? You'll read all kinds of tips and tricks to get perfect golden turkey skin. Honestly, they don't always work. But rubbing some butter on your turkey and cooking it in a smoker will get the "Cover Bird" color every time. And it won't just be beautiful, but it will be perfectly moist and slightly smoky and totally crowd-pleasing.
Why Smoke a Thanksgiving Turkey?
Your house may not fill with the scent of a roasting bird, but aside from a lovely color, smoking the turkey has has a variety of benefits compared to roasting. One big advantage of smoking a turkey versus roasting in the oven is that it frees up your oven for all those other dishes you are usually rushing to bake either before or after the turkey goes in. But the main reason to smoke your turkey is it will taste fantastic. And it will taste like a Thanksgiving turkey: the smoky flavor won't overwhelm the bird's natural delicate flavor, and the flesh will retain tenderness moisture much better than with roasting. It's also at least as easy as a roasted bird, and takes little or no more time.
On the subject of time, while lot of recipes smoke turkey at lower temperatures like 225° F; I prefer a more traditional oven temperature for roasting turkey, around 325°. The reason for this is mostly the smoking time. Smoking at lower temps will make for a very long cook, and smoked whole turkey isn't something we want to wait on all day. Since the bird is brined, the higher temps won't dry it out.
Whether you are using a Big Green Egg Kamado-style smoker, a Pellet Smoker or an electric smoker; your turkey is going to come out amazing.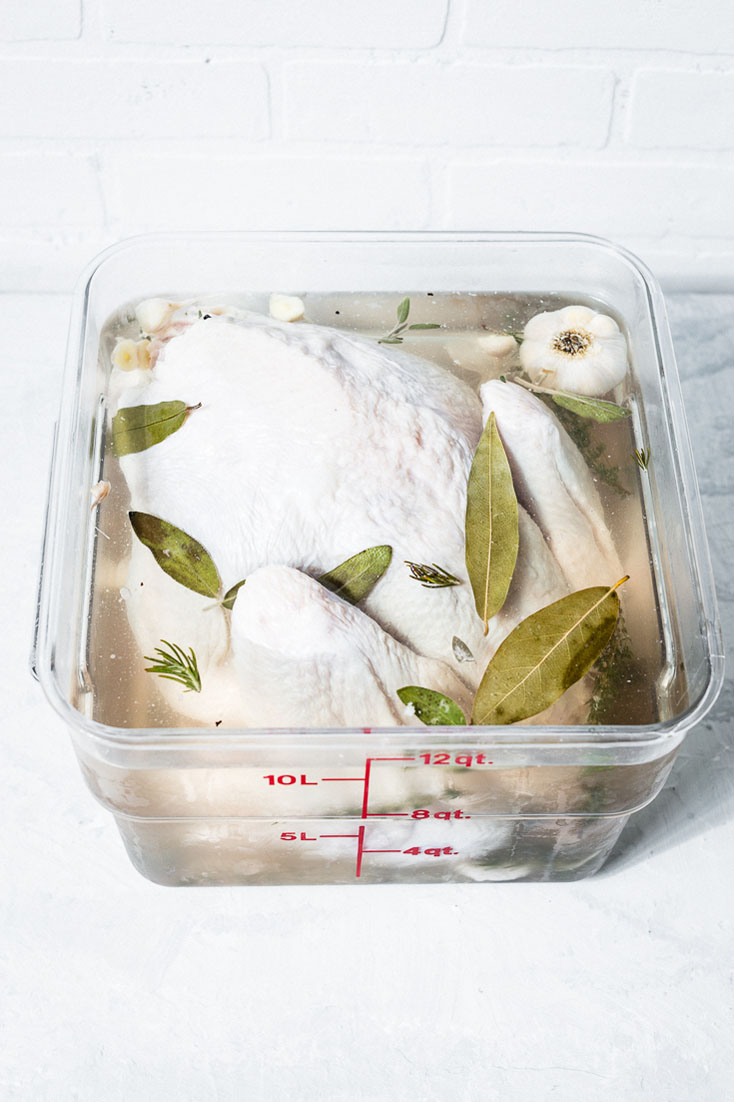 Smoked Turkey Brine
It All Starts with the Brine! If you've ever tasted a brined turkey, then you already know there's no going back. Giving your turkey a nice bath in a flavorful brine is the key to a super moist smoked turkey. Not only does it give tons of flavor, but it guarantees a juicy bird on the table.
A turkey brine recipe for smoking can be as simple as water, salt and sugar. Adding a few extra aromatic ingredients like garlic, bay leaves, fresh thyme, fresh sage leaves, rosemary sprigs and black peppercorns all go into a major boost in flavor that pair so well with the smoke.
The brine time determines the salt-to-water ratio. Simply, if you have more time to brine the turkey then you will use less salt; if you need to speed up the process, you will use more salt.
Short 6-hour brine: 1 cup salt per 1 gallon of water.
Longer 12 to 24-hour brine: ½ cup salt per 1 gallon of water.
*If using a self-basting or pre-brined turkey, then skip the brining process. I always prefer to brine my own turkey so I know what goes into it.
Dry Rub or No Dry Rub?
Look, this smoked turkey is really for Thanksgiving and not your regular Sunday BBQ. The flavor is coming from the brine and the smoke. Spices that are less traditional are less likely to pair well with all the wonderful Thanksgiving sides. I say no to a dry rub after brining the turkey.
Best Wood for Smoking Turkey
Go with either cherry, apple or hickory. You can really never go wrong with apple wood, but my favorite for smoking turkey is a combination of cherry and hickory. The smoke flavor is subtly sweet and not overpowering. Oak or mesquite are too strong for a Thanksgiving holiday feast.
Since this is a medium length smoke, use wood chunks instead of chips for a charcoal smoker so they will produce smoke over a longer period of time.
Buy wood chunks for a charcoal smoker (affiliate links)
Buy wood pellets for a pellet smoker
Buy wood chips for an electric smoker
Key Temperatures for Smoked Turkey
Bring the temperature of your smoker or BBQ between 325° and 350° F Fahrenheit for optimal cooking that doesn't take all day.
Smoker temp: 325° F (163° C)
Turkey breast internal temp: 165° F (73° C)
Turkey thigh internal temp: 175° F (79° C)
Temperature Tools:
Use a Thermoworks Smoke (affiliate) to remotely monitor the temperature of your smoker and the internal temperature of the turkey so you know exactly when the turkey is ready to come off the smoker. Use a Thermapen probe thermometer to verify internal temperatures.
There will be carryover cooking after you remove the turkey from the smoker. I will pull the turkey out of the smoker when the breast reaches about 159° F and it will rise to 165° F while it rests.
Placing the turkey on a v-rack not only promotes air circulation, but it makes for an easy job of transporting the buttery bird from the kitchen right onto the hot grill. If you need to move it around on the grill, or transfer to a sheet pan after it's done cooking, that's a breeze too.
How to Smoke a Turkey
The reason you are here is to find out the best way to smoke a turkey. So let's get to it.
Brine the turkey overnight, then rinse well and dry completely inside and out with paper towels.
Rub the entire outside of the turkey with butter and place it on a v-rack to easily transport it on and off the smoker/grill. Let it sit out to come to room temperature while you set up your smoker.
Prep the smoker for indirect cooking and bring the temperature to 325° F. Add wood chunks and a disposable drip pan with water to catch the drippings and maintain a moist environment.
Place the turkey in the smoker and cook over indirect heat for about 12 minutes per pound, or until the internal temperature of the breasts reaches 160° F and 175° F in the thickest part of the thighs.
Rest the turkey for 30 minutes before carving.
*Make sure the internal temperature of the breasts reaches 165° F with carryover after it is removed from the smoker.
Quick Tips for Smoking Turkey
How Long to Smoke a Turkey?
It takes approximately 12 minutes per pound at 325° F to fully cook the turkey. The length of time depends on the temperature of your smoker, the size of the turkey, the brine and the temperature the turkey is when you place it in the smoker.
A 12lb turkey will take about 2 hrs 30 minutes and a 14lb turkey will take about 2 hrs 45 min to 3 hours.
For smoking, the size of the turkey really shouldn't be larger than 14 lbs, or it will take too long to cook for smoking.
*Be aware that brined meats cook more quickly than non-brined meats, which is why I list 12 minutes per pound instead of a higher number that you might see elsewhere. It's important to start checking the temperature close to the finish time to make sure it doesn't overcook.
When is the Turkey Finished Cooking?
The turkey is finished when the inside of the breast reads 160 degrees and the thickest part of the thighs read 175 degrees using a probe thermometer. The temperature of the bird will continue to climb 5 to 10 degrees after it is removed from the heat source and rests.
The Thermapen MK4 probe thermometer (affiliate link) the best tool for checking the doneness of the turkey. It is one of my most recommended products and is worth every penny. The Thermoworks Smoke is a 2-channel alarm/thermometer for remotely monitoring the temperature of your smoker and the turkey at the same time.
Rest the turkey on a cutting board tented with aluminum foil for at least 20 minutes before carving.
How to Speed Up the Cooking Time?
Let's say you are in a hurry and want to cook your turkey quickly. The best way to speed up the cooking time for your turkey is to spatchcock it. Spatchcock is a technique to basically butterfly the turkey, which will significantly reduce the cooking time while still making a delicious bird.
To spatchcock a turkey, you basically cut the backbone out and flatten the turkey. Here's a video from Alton Brown on how to Spatchcock a turkey.
Does This Recipe Work to Smoke Turkey Breast?
Absolutely! Brining and smoking just a turkey breast is a wonderful way to enjoy turkey. The brining time and cooking time will be different, but the same technique will work great. Alternatively, you can check out my recipe for a Brined and Herb-Roasted Turkey Breast.
How to Use Leftover Smoked Turkey
So you have some leftover smoked turkey? I'm so jealous. Whatever you do, don't throw away the turkey carcass and neck. You absolutely have to make some super delicious and nutritious turkey stock that has so many uses. You can make turkey soup, ramen, risotto, add it to mashed potatoes, use it for a smoky gravy and so much more.
When it comes to the leftover turkey meat; making sandwiches or a crunchy panini is the first thing that comes to mind, and they are absolutely amazing with quick pickled red onions or cranberry sauce. A smoked turkey soup, chili or a breakfast hash would also be wonderful.
How to Reheat Smoked Turkey
To avoid dry and stringy reheated turkey, simply wrap smaller pieces in aluminum foil and warm it low and slow in a 275° F oven for about 35 to 45 minutes, or until the meat registers 130° F. If you want to crisp up the skin, place them skin side down in a hot oiled skillet.
Watch the 40-second video
Perfect sides for smoked turkey
Ingredients
1

12 to 14 pound fresh Turkey

2

tablespoon

unsalted butter

4 to 6

wood chunks

(combination of cherry, hickory or apple)
Turkey Brine
2

gallons

water

1 ½

cups

salt

½

cup

sugar

1

head garlic

halved

4

bay leaves

8

sprigs fresh thyme

10

fresh sage leaves

2

fresh rosemary sprigs

½

teaspoon

black peppercorns
Instructions
To Brine the Turkey
Bring 4 cups of the water to a boil and add the salt, sugar, garlic, bay leaves, thyme, sage, rosemary and peppercorns. Stir until the salt and sugar are completely dissolved.

Let the liquid steep for 15 minutes while it cools, then add it to the remaining water.

Meanwhile, thoroughly rinse the turkey (no need to pat dry) removing the giblets and anything else inside that came with it.

Place the turkey in a container large enough to fit and cover with the brine, making sure it is completely submerged.

Cover and refrigerate for 12 to 15 hours, rotating the turkey at least once while it brines.

Rinse the turkey thoroughly and pat dry. Bring the turkey to room temperature while you prep the smoker.
To Smoke the Turkey
Follow the manufacturer's instructions and bring the smoker to a temperature to 325° F. Add the wood chunks, chips or pellets.

Pat the turkey completely dry inside and out with paper towels, then rub butter on the entire outside.

Spray the v-rack with cooking spray and place turkey breast side up on the v-rack.

Place in the smoker and cook over indirect heat for about 12 minutes per pound. About 2 hours 45 minutes for a 14lb turkey, or until the internal temperature of the breasts reach 160° F and 175° F in the thickest part of the thighs.

Rest the cooked turkey for 30 minutes before carving and serving.
Notes
Use wood chunks with a charcoal smoker, chips with electric and pellets with a pellet smoker according to the manufactures instructions.
If using a self-basting turkey or a turkey that has already been brined, you will want to skip the brining step in this recipe.
Using a v-rack is totally optional, but it makes moving the turkey in and out of the smoker much easier.
Smoking over indirect heat is essential or the skin will burn before the turkey is finished cooking.
Open the lid as few times as possible during the smoke. This will keep the temperature consistent as well as keep the smoke in.
There will be temperature carryover, so remove the turkey about 5 to 7 degrees lower than where you want it to end up.
Don't skip the rest and longer is always better to keep it juicy.
Equipment for Smoking Turkey
When you shop using these affiliate links, I might earn a small commission that helps support this site, at no extra cost to you. Thanks for you support!
Or check out all the Essential Big Green Egg Accessories
More Delicious Smoker Recipes