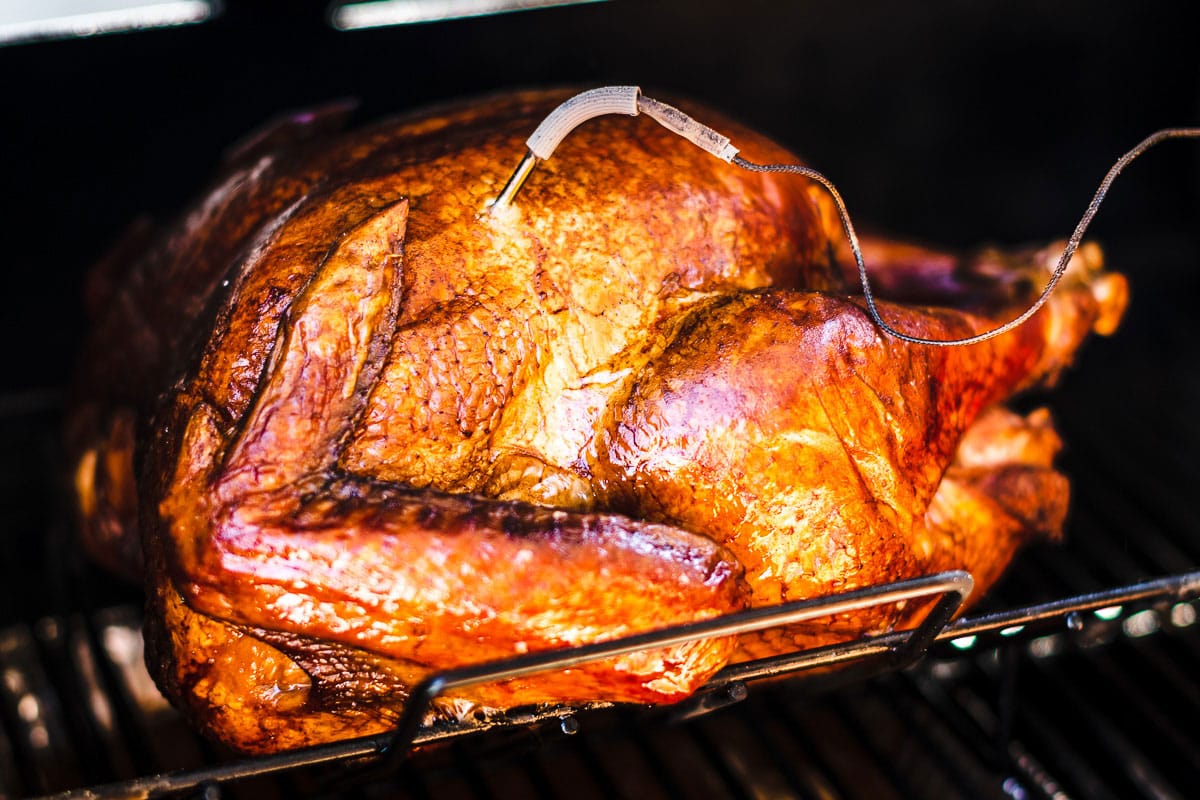 It's that time of year again, and it's the best time to fire up the smoker. Once you try cooking a turkey in the smoker, there's really no going back to the old ways. The smell of smoke in the air, the sound of the wind through the trees and the free space inside your oven for everything else. The result of the best smoked turkey is super juicy, tender texture with a beautiful mahogany color and the perfect amount of smoke flavor.
Let's go through all the tips and tricks and make it happen! It's going to take about 7 wonderful hours to smoke a 14-lb bird at 250° F. If you are in a rush, be sure to check out the speedier spatchcock smoked turkey recipe.
6 Keys to the Best Smoked Turkey
Brine the turkey

. Whether you use a

wet brine or a dry brine, this will keep the turkey super juicy.
Rub with soft butter for beautiful golden skin.
Cook to temperature instead of by time, using a thermometer so it doesn't overcook.
Don't skip the rest.

Rest for 30 minutes to allow the juices to redistribute before slicing so it stays juicy instead of the juices running out if sliced right away.
Everything You'll Need
The ingredients & equipment for making a smoked whole turkey.
Jump to the recipe card for ingredient quantities.
A Turkey - The higher the quality, the better the results. Go with a turkey that is 14 pounds or less and that is not pre-brined.
A wet brine, dry brine or a dry rub - The turkey gets a salty bath with water, salt and aromatics such as garlic, fresh thyme, rosemary, sage leaves, rosemary sprigs, and peppercorns. Not only will this give it give tons of flavor, but it guarantees a juicy bird on the table.
Butter

- Rubbing butter on and under the skin and all over the turkey helps promote beautiful golden skin.

A Smoker - Any type of smoker will work that can be set up for indirect heat cooking. I use a Big Green Egg, a Weber or Traeger Pellet Smoker. You can even use a charcoal or gas grill.
Disposable aluminum drip pans - Handy for catching the drippings.
V-shaped roasting rack - Optional but makes it easy to place and remove the turkey from the smoker.
Wood for smoke - The best flavors for turkey are sweet fruit woods like apple and cherry. Hickory is also wonderful and you can use a combination of two or three.
Thermometer - I love the Thermoworks Smoke to remotely monitor the temperature of the smoker and the internal temperature of the turkey, so you know exactly when the turkey is ready to come off the smoker without having to open the lid. Then use a Thermapen probe thermometer to verify internal temperatures.
How Much Turkey Do You Need Per Person?
Plan on about 1 1⁄2 pounds of uncooked turkey per person to allow for leftovers. For example, a 14-pound smoked turkey will provide enough meat for around 9 to 10 people with leftovers. This accounts for the fact that you lose some weight during smoking. A good rule of thumb is 1 pound per person if you don't want leftovers, 1 1⁄4 pounds per person for just a few leftovers, and 1 1⁄2 pounds per person for generous leftovers.
To Brine, Season or Just Smoke it?
One question that often comes up when smoking a turkey is whether you should brine it first. Traditionally, wet brining has been used to help keep the turkey moist. However, it can slightly dilute the natural flavor and can also be inconvenient because of the large vessel needed that must stay cold for a day or two. An easier option is to dry brine instead, which helps bring out the natural flavors.
To dry brine: simply coat the turkey all over with heavily kosher salt and let it rest overnight in the fridge uncovered. The salt will help the turkey retain moisture as it smokes without making it overly salty or dampening the flavor. Dry brining for 24-48 hours is ideal to allow the salt to penetrate all the way through the meat.
You can also skip brining altogether and just throw it in the smoker, or use a spice rub if you want more of a BBQ flavor versus traditional holiday turkey. Applying a flavorful dry rub that contains salt will season the meat and help it retain moisture just like a brine. It also adds lots of extra flavor to the outside and makes for a stunning presentation.
How to Prepare the Turkey for Smoking
Once you have purchased your turkey and decided whether to brine or just use a dry rub, follow these steps. It's best to get your turkey prep'd and ready to go at least 24 hours prior to cooking.
Thaw the turkey if frozen. Remove the neck and giblets if included. Trim off excess skin around the cavities. Do not rinse the raw turkey. The USDA recommends NOT rinsing your turkey to prevent contamination.
Brine overnight (optional but recommended). If brining, submerge the thawed turkey in a wet brine or dry brine overnight. For a wet brine, rinse off the brine after and pat dry. Place it back in the refrigerator uncovered so the skin dries out if you aren't cooking it that day.

Place it back in the refrigerator uncovered so the skin dries out if you aren't cooking it that day.
Dry. Thoroughly dry the outside and inside of the turkey with paper towels for crispy skin. Tie the legs together and tuck the wings under the back.
One hour before smoking, remove the turkey from the fridge. Rub butter under and on the skin. Apply a dry rub if using. Place on a rack for easy transfer. Let sit at room temperature as the smoker heats up..
How to Smoke a Turkey
6 steps to smoked turkey perfection.
Setup the Smoker - Preheat your smoker or grill for indirect cooking at 225-275°F, using wood chunks or pellets to generate smoke. Use lower temperatures in a pellet smoker for more smoke infusion.
Tip: Place a drip pan filled with a few inches of water below the turkey. This catches drippings, prevents flare-ups, and adds humidity for better smoke penetration.
Smoke the Turkey - Place the turkey on the smoker grate or roasting rack, away from direct heat. Smoke until the breast meat reaches an internal temperature of 159°F and the thighs reach 170°F.
Rest the turkey - Remove the turkey and let rest for 20-30 minutes before carving.
Carve, slice, enjoy! - Carve up that beautiful smoked turkey. I like to use a long granton blade slicing knife to make the slicing job super easy.
Tip: If your turkey is done early (yay!), you can keep it nice and warm wrapped up in foil, and place it in a towel-lined cooler. Right before carving, you can place it in a hot oven or under the broiler to crisp up the skin.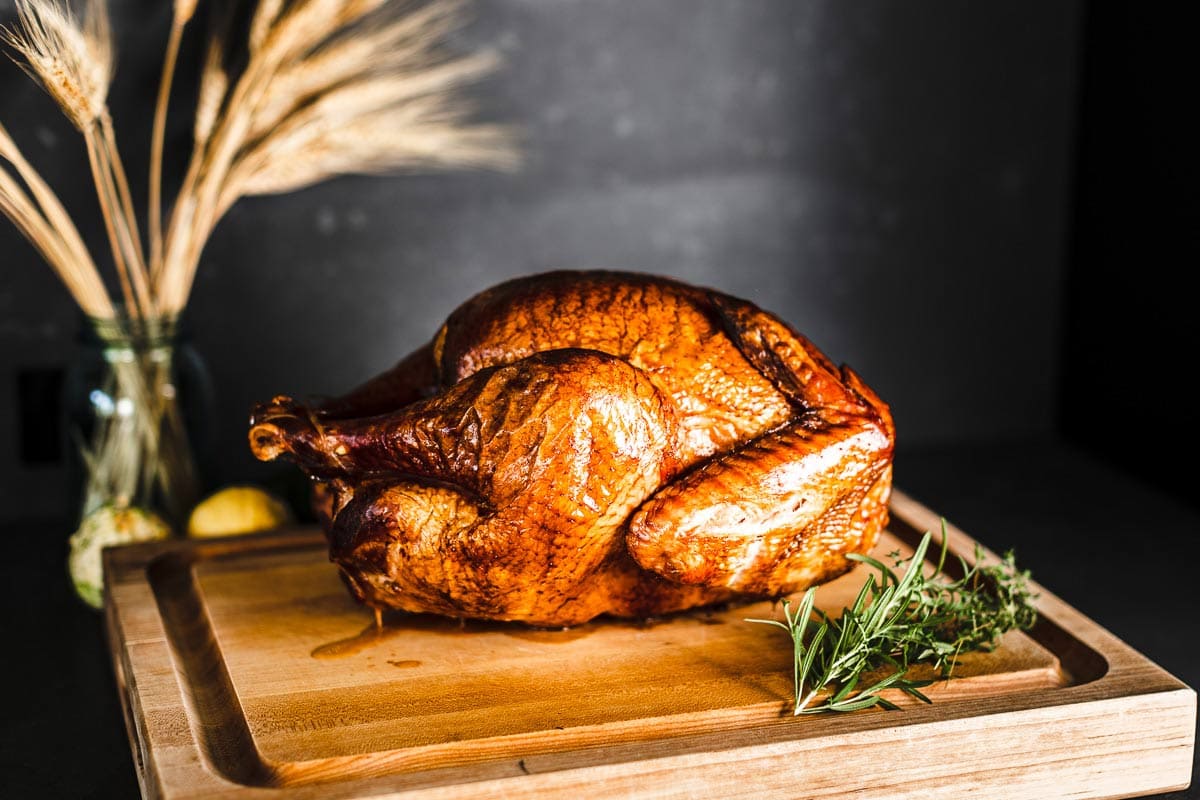 How Long to Smoke a Turkey?
It will take approximately 30-35 minutes per pound at 225°F; 25 minutes per pound to smoke a turkey at 275° F; and about 13 minutes per pound when you smoke it at 325° F.
A 14-pound turkey will take around 7 hours to cook at 250° F.
Key Temperatures & Times
Turkey breast finished internal target temp: 165° F (73° C).
Turkey thigh finished internal temp: 175° F (79° C)
*The pull temp should be 5 to 7° F lower than the target to allow for carryover cooking.
Smoker Temp
Minutes Per Pound
Total Time
(14 lb turkey)
225° F
30-35
8+ hours
250° F
30
7 hours
275° F
25
5 ½+ hours
325° F
13
3 hours
* Approximate cook times for a 14-pound turkey. Always cook to temp rather than by time.
5 Tips & Tricks for the Best Smoked Turkey
Place the turkey on a V-rack for easy transportation in and out of the smoker.
Keep the lid closed! Opening the lid as few times as possible during the coo will keep the temperature consistent as well as keep the smoke in and give better results.
Use a remote probe thermometer to monitor the temperature of your smoker along with the internal temp of the bird so you know exactly when it's finished.
Be aware of carryover cooking. The internal temperature of the turkey will continue to rise after it is removed from the heat. Remove the turkey from the smoker about 5 to 7 degrees lower than your target finished temperature.
Cook it faster by spatchcocking (butterflying the turkey). Get the recipe for smoked spatchcock turkey.
To Get that Golden Crispy Skin
It always seems that by the time it hits the table, the turkey skin isn't super crispy no matter what you do, but here are a few tips to help get that crispy skin we crave.
Get the skin dry, dry! Dry brine and air dry in the refrigerator uncovered on a wire rack. Then pat the skin extremely dry before smoking. Be sure to get under the skin as well. Any moisture will prevent crisping.
Rub butter or oil under and on top of the skin. Oil helps transmit heat for even crisping.
Add a little baking powder to the dry rub. Combine one part baking powder with three to four parts kosher salt in the dry rub, according to Serious Eats
Apply a dry rub with some sugar, which will caramelize a bit as it cooks.
High heat at the end for the last 30 minutes of the cook, or flash it under the broiler.
Smoker Types and Setups
This recipe has been tested and works with kamado-style smokers like the Big Green Egg and pellet grills like a Traeger and Weber Smokefire. While any smoker will work, the specific type of smoker you use can impact cooking time, smoke flavor, and end results. Charcoal and offset smokers will have much more smoke flavor than pellet grills. With that in mind, if you are using a pellet smoker, I would suggest smoking your bird at 225° F (or up to 275° F) for a longer cook time to achieve more smoke flavor. You can also use a pellet smoke tube to add more smoke with your pellet grill.
In a charcoal smoker like a Big Green Egg, you can cook at higher temperatures of around 325° F and still get plenty of smoke flavor. The advantage of this is the cooking time is reduced to around 13 minutes per pound.
Storing & Reheating Leftovers
Properly storing leftovers is key to preserving that delicious just-smoked flavor. Here are some tips:
Storing Leftover Smoked Turkey
After smoking, let the turkey cool completely before refrigerating in shallow airtight containers or ziplock bags. It's easiest to carve it off the bones before refrigerating. Use the leftover turkey within 3-4 days for optimal freshness and food safety. Save the bones to make flavorful turkey stock.
Reheating Leftovers
To keep leftover smoked turkey moist, wrap smaller pieces in aluminum foil with a spoonful of liquid and gently reheat in a 275°F oven for 30-40 minutes until warm through to 140° F. For crispy skin, place turkey pieces skin-side down in a hot oiled skillet. You can also dice the turkey to add to soups, stews, pasta, or casseroles.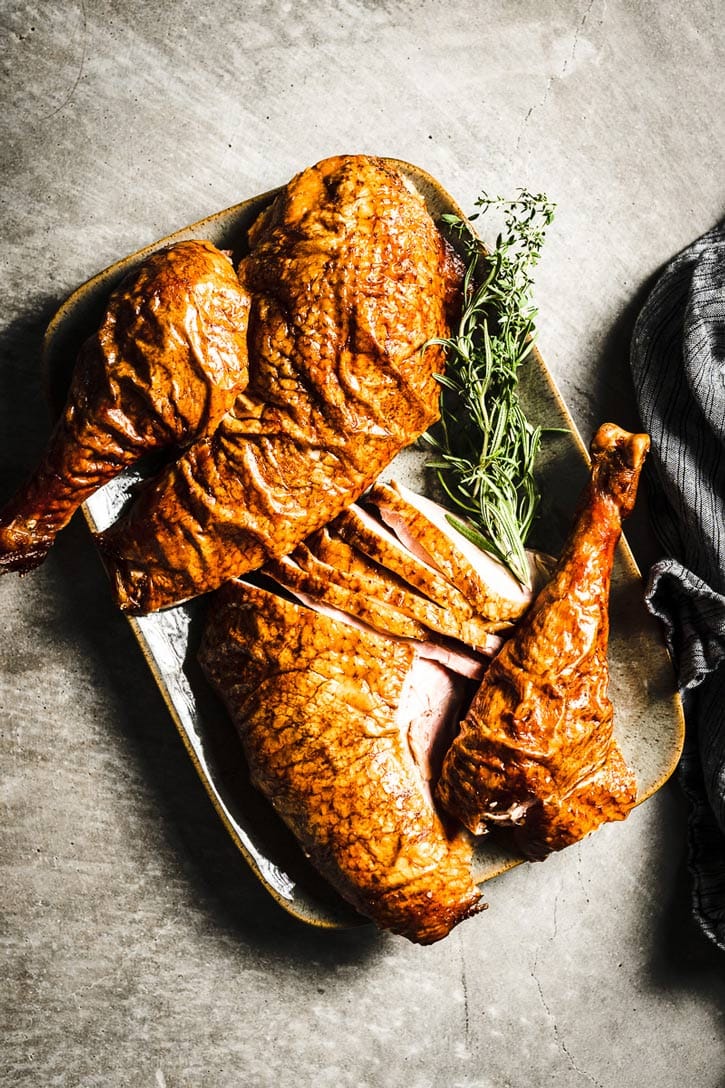 Turkey Sides that Make the Meal
Leftovers Inspiration
When it comes to the leftover turkey, it all starts the next day with amazing Thanksgiving leftover eggs benedict. Making sandwiches or a crunchy panini is your next course, and they are absolutely amazing with quick pickled red onions or cranberry sauce. A smoked turkey soup, chili or a breakfast hash would also be wonderful.
Use the carcass and make some super delicious and nutritious turkey stock, which has so many uses. You can make turkey soup, ramen, risotto, add it to mashed potatoes, use it for a smoky gravy and so much more.
More Delicious Turkey Recipe Ideas
More Holiday Meat Centerpiece Ideas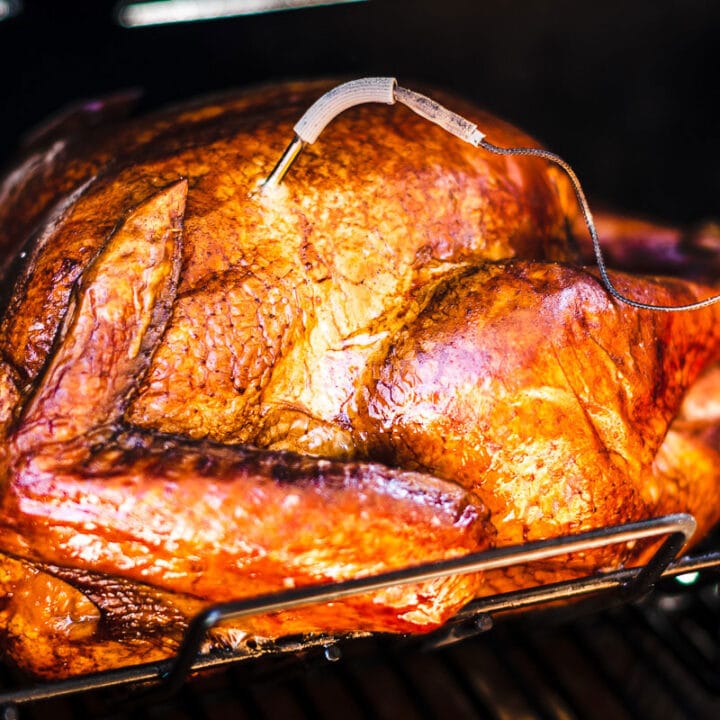 Smoked Turkey Recipe
Juicy, flavorful smoked turkey made easy. With simple prep and foolproof smoking steps, this recipe guarantees tender, smoky perfection every time.
Print
Pin
Rate
Ingredients
1

fresh or thawed 12 to 14 lb turkey

1

turkey brine recipe

(wet or dry)

2

tablespoon

unsalted butter or oil

¼

cup

dry spice rub

(optional)
Instructions
Prep the Turkey
Thaw the turkey (if frozen), remove the giblets and neck, and trim excess fat around the openings.

Rinse the brine thoroughly with paper towels (if you wet brined).

Let the turkey sit at room temperature 30 mins to 1 hour before smoking.
Smoke the Turkey
Setup your smoker: Follow the manufacturer's instructions and bring the smoker's temperature to a temperature of 225 to 275° F and set it up for indirect cooking with a water drip pan in place. Add the wood chunks, chips or pellets for smoke. *See note 3 about temperature.

Rub softened butter on the entire outside of the turkey and under the skin. Spray a V-rack with cooking spray and place turkey breast-side up (see note #2).

Smoke turkey until the internal temperature of the breasts reaches 159°F and thighs reach 170°F. Use a probe thermometer to verify doneness. See note # 7 about carry-over cooking.

Remove from the smoker and place on a large cutting board to rest for 30 minutes before carving and serving.
Notes
Brining the turkey is optional, but highly recommended for a super juicy bird. You can wet brine or dry brine. If using a self-basting turkey or a turkey that is pre-brined, skip the brining step.
Using a V-rack is totally optional, but it makes moving the turkey in and out of the smoker much easier.
For pellet smokers, I recommend smoking at a lower temperature if you want more smoke flavor. You can also use a pellet smoke tube for additional smoke.
Smoking with indirect heat is essential or the skin will burn before the turkey is finished cooking.
Approximate cook times: 7 hours at 250° F for a 14-pound turkey

at 225° F: 30-35 minutes per pound
at 250° F: 30 minutes per pound
at 275° F: 25 minutes per pound
at 325° F: 13 minutes per pound

Open the lid as few times as possible during the smoke. This will keep the temperature consistent as well as keep the smoke in.
There will be temperature carryover, so remove the turkey about 5 to 7 degrees lower than where you want it to end up.
Nutrition
Calories:
353
kcal
|
Carbohydrates:
9
g
|
Protein:
47
g
|
Fat:
14
g
|
Saturated Fat:
4
g
|
Polyunsaturated Fat:
3
g
|
Monounsaturated Fat:
4
g
|
Trans Fat:
1
g
|
Cholesterol:
160
mg
|
Sodium:
14419
mg
|
Potassium:
492
mg
|
Fiber:
1
g
|
Sugar:
8
g
|
Vitamin A:
214
IU
|
Vitamin C:
1
mg
|
Calcium:
57
mg
|
Iron:
2
mg