Once you try smoking a turkey, there's really no going back. The flavor is outstanding and it stays so juicy. You know that beautiful mahogany color of the perfect turkey on the cover of all the magazines? With all the tips and tricks to make this happen, all you really need to do is rub some butter on the turkey and put it in the smoker to achieve that "cover bird" color every time. And it won't just be beautiful, but it will be perfectly moist and slightly smoky and totally crowd-pleasing.
Why Smoke a Thanksgiving Turkey?
The main reason to smoke your turkey is it will taste fantastic. And it will taste like a Thanksgiving turkey: The smoky flavor won't overwhelm the bird's natural delicate flavor, and the flesh will retain tenderness and moisture much better than with roasting. It's also at least as easy as a roasted bird. The flavor you can achieve from smoking a turkey is unlike anything you can get from roasting it in the oven. The mahogany color of the skin will be stunning, but it won't get as crispy as the roasted version.
Another big advantage of smoking a turkey versus roasting in the oven is you can free up your oven for all those other dishes you are usually rushing to bake either before or after the turkey goes in.
6 Keys to the Best Smoked Turkey
Go with a turkey of 14 pounds or under that isn't pre-brined.
Brine the bird to keep it juicy and make it super flavorful.
Rub with soft butter for beautiful golden skin.
Don't overcook it. Remove from the heat 5 to 7 degrees prior to it reaching the desired finished internal temperature to allow for carryover.
Use a remote probe thermometer and cook by temperature and not time.
Don't skip the rest. Rest for 30 minutes to allow the juices to redistribute before slicing.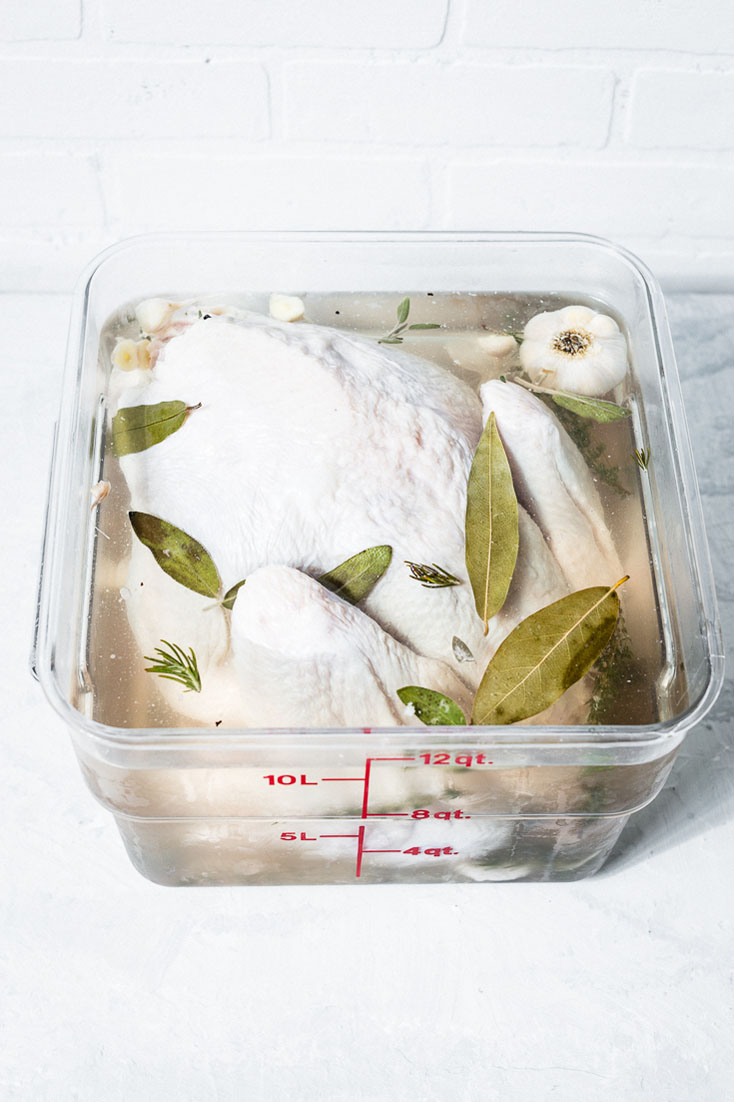 Brine for the Turkey
It all starts with the brine! If you've ever tasted a brined turkey, then you already know there's no going back. Giving your turkey a nice bath in a flavorful brine is the key to a super moist smoked turkey. Not only does it give tons of flavor, but it guarantees a juicy bird on the table.
A turkey brine recipe for smoking can be as simple as water, salt and sugar. Adding a few extra aromatic ingredients like garlic, bay leaves, fresh thyme, sage leaves, rosemary sprigs and black peppercorns all give a major flavor boost that pair so well with the smoke.
The brine time determines the salt-to-water ratio. Simply, if you have more time to brine the turkey, you use less salt; if you need to speed up the process, you use more salt.
Short 6-hour brine: 1 cup salt per 1 gallon of water.
Longer 12 to 24-hour brine: ½ cup salt per 1 gallon of water.
*If using a self-basting or pre-brined turkey, then skip the brining process. I always prefer to brine my own turkey so I know what goes into it.
Dry Rub vs No Dry Rub
Look, this smoked turkey is really for Thanksgiving and not your regular Sunday BBQ. The flavor is coming from the brine and the smoke. Spices that are less traditional are less likely to pair well with all the wonderful Thanksgiving sides. I say skip the dry rub if you plan on brining it, as that will already give it tons of flavor. If you do want to add a rub to the outside, use a little sweet rub.
Tools & Equipment for Smoking Turkey
Key Times & Temperatures
No matter what temperature you smoke the turkey at, it is important to fully cook it to 165° F. There are trade-offs between smoking at a lower temp versus a higher temperature. Every cook will take a different amount of time depending on the conditions.
Turkey breast finished internal temp: 165° F/73° C (pull temp 5 to 7° F lower to allow for carryover cooking)
Turkey thigh internal temp: 175° F/79° C
Smoker Temp
Minutes Per Pound
Total Time
(14 lb turkey)
225° F
30-35
8+ hours
250° F
30
7 hours
275° F
25
5 ½+ hours
325° F
13
3 hours
* Approximate cook times for a 14-pound turkey.
A Few Notes on Times and Temps:
There will be carryover cooking, which means the internal temperature will continue to rise after you remove the turkey from the smoker. I will pull the turkey out of the smoker when the breast reaches about 159° F and it will rise to 165° F while it rests.
There will be more smoke absorption at lower cooking temperatures like 225° F, but there is a trade-off since it takes a lot longer to cook. I smoke my turkey at 225° to 250° F for a pellet smoker and up to 325° F for a charcoal smoker.
A brined turkey will cook more quickly than non-brined. It's important to start checking the temperature close to the finish time to make sure it doesn't overcook.
Cook by temperature and not by time. There are a lot of variables that determine cooking time, so it's important to cook by internal temperature rather than time. Some of these variables are the size of the turkey, starting temperature of the turkey when it goes into the smoker, smoker temp, how many times you open the lid, etc.
The size of the turkey really shouldn't be larger than 14 pounds, or it will take too long to smoke safely. If you need to feed a lot of people, consider smoking multiple smaller birds instead.
Temperature Tools:
Use a Thermoworks Smoke to remotely monitor the temperature of your smoker and the internal temperature of the turkey, so you know exactly when the turkey is ready to come off the smoker without having to open the lid. Then use a Thermapen probe thermometer to verify internal temperatures.
Best Wood for Smoking Turkey
Go with a sweet fruit wood like apple, cherry or add in some hickory. You can really never go wrong with applewood, but my favorite for smoking turkey is a combination of cherry and hickory. The smoke flavor is subtly sweet and not overpowering. Mesquite is a bit too strong for a Thanksgiving holiday feast.
Since this is a medium-length smoke, use wood chunks instead of chips for a charcoal smoker because they will produce smoke over a longer period of time.
Buy wood chunks for a charcoal smoker.
Buy wood pellets for a pellet smoker.
Buy wood chips for an electric smoker.
How to Smoke a Turkey
The reason you are here is to find out the best way to smoke a turkey. So let's get to it.
Brine the turkey overnight, then rinse well and dry completely inside and out with paper towels.
Rub the entire outside of the turkey with unsalted butter and place it on a V-rack to easily transport it on and off the smoker/grill. Let it sit out to come to room temperature while you set up your smoker.
Prep the smoker for indirect cooking and bring the temperature to at least 225° F. Add wood chunks and a disposable drip pan with water to catch the drippings and maintain a moist environment.
Place the turkey in the smoker and cook over indirect heat until the internal temperature of the breasts reaches 160° F and the thickest part of the thighs 175° F (*see note below).
Rest the turkey for 30 minutes before carving.
*Make sure the internal temperature of the breasts reaches 165° F with carryover after it is removed from the smoker.
Tips for Smoking Turkey
Always brine the turkey. Whether you use a wet brine or a dry brine, this will add tons of flavor to the bird and keep it super juicy.
Don't rinse the turkey prior to brining, but definitely rinse it after brining or it will be too salty.
Temper the turkey (let it sit out) for about an hour on the counter before smoking, so it cooks more evenly.
Don't stuff the turkey. The turkey won't cook as evenly and the stuffing won't be safe to eat until the turkey is at a temperature where it would be overcooked.
Place the turkey on a V-rack to promote air circulation and make for an easy job of transporting the buttery bird from the kitchen right onto the smoker. If you need to move it around on the grill, or transfer to a sheet pan after it's done cooking, that's a breeze too.
Smoking over indirect heat is essential or the skin will burn before the turkey is finished cooking.
Place a water drip pan below the turkey in the smoker with a few inches of water in it. This will not only catch the drippings, preventing flare-ups and keeping the smoker clean, but it will add moisture to the smoking environment. This promotes smoke absorption and keeps it juicy.
Open the lid as few times as possible during the smoke. This will keep the temperature consistent as well as keep the smoke in.
No need to baste the turkey. There isn't much benefit and opening the lid will prevent the turkey from smoking as well or as quickly with the temperature fluctuations.
There will be temperature carryover, so remove the turkey about 5 to 7 degrees lower than where you want it to end up.
Give yourself some extra time. Smoking almost anything always seems to take a little longer than you expect.
Save the carcass and neck for making smoked turkey stock.
Charcoal vs Pellet Smokers
Until recently, I had always smoked the turkey in a Big Green Egg charcoal smoker and done it at a higher temperature around 325° F. The smoke flavor was fantastic and the cook time was minimal (only around 13 minutes per pound).
This year I experimented with doing the same thing in a pellet smoker and the result was much different. The smoke flavor was much less than the charcoal smoker, but the bird was still super juicy and delicious. With that in mind, if you are using a pellet smoker, I would suggest smoking your bird at 225° F (or up to 275° F) for a longer cook time to achieve more smoke flavor.
FAQs
How long to smoke a turkey?
It takes approximately 25 minutes per pound to smoke a turkey at 275° F, and about half that time when you smoke it at 325° F.
How much turkey per person?
Figure 1 ½ pounds (before cooking) per person to allow for leftovers.
How do you smoke a turkey and keep it moist?
The key to keeping the turkey juicy is to brine it, not overcook it and maintain a humid environment in the smoker with a water drip pan.
How to reheat smoked turkey?
To avoid dry and stringy reheated turkey, simply wrap smaller pieces in aluminum foil and warm in a low 275° F oven for about 30 to 40 minutes, or until the meat registers 130° F. If you want to crisp up the skin, place pieces skin-side down in a hot oiled skillet.
How to speed up the cooking time?
Let's say you are in a hurry and want to cook your turkey quickly. The best way to speed up the cooking time to spatchcock the turkey. Spatchcocking is a technique that basically butterflies the turkey, which will significantly reduce the cooking time while still making a delicious bird.

To spatchcock a turkey, you cut the backbone out and flatten the turkey. Here's a video from Alton Brown on how to spatchcock a turkey.
How to use leftover smoked turkey?
To start, don't throw away the turkey carcass and neck. You absolutely have to make some super delicious and nutritious turkey stock, which has so many uses. You can make turkey soup, ramen, risotto, add it to mashed potatoes, use it for a smoky gravy and so much more.

When it comes to the leftover turkey meat, it all starts the next day with amazing Thanksgiving leftover eggs benedict. Making sandwiches or a crunchy panini is your next course, and they are absolutely amazing with quick pickled red onions or cranberry sauce. A smoked turkey soup, chili or a breakfast hash would also be wonderful.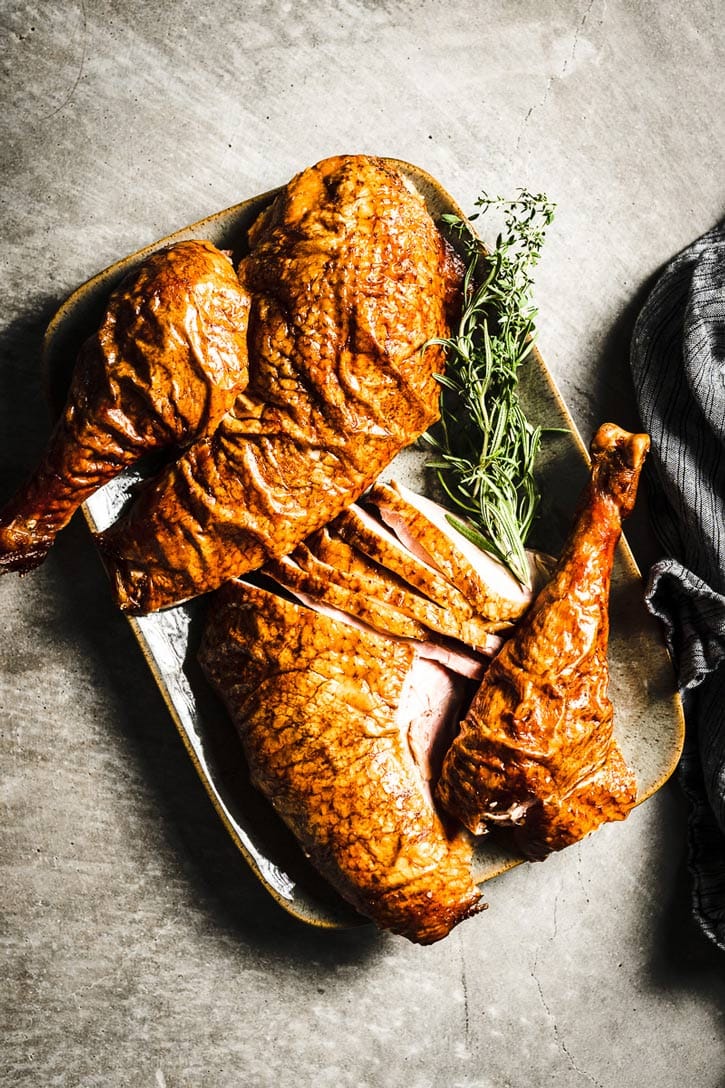 Perfect Sides for Smoked Turkey
More Delicious Turkey Recipes
Smoked Turkey Recipe
How to smoke the juiciest, most flavorful and easiest holiday smoked turkey that is worthy of being on a magazine cover.
Print
Pin
Rate
Ingredients
1

12 to 14 lb fresh turkey

2

tablespoon

unsalted butter

Wood chunks for charcoal smokers or pellets for pellet smokers

(combination of cherry, hickory or apple)
Turkey Brine
2

gallons

water

divided

1 ½

cups

Diamond kosher salt

½

cup

sugar

1

head garlic

halved

4

bay leaves

8

sprigs fresh thyme

10

fresh sage leaves

2

fresh rosemary sprigs

½

teaspoon

black peppercorns
Instructions
Brining the Turkey
Thaw the turkey if frozen, remove giblets and trim excess skin.

Bring 4 cups of the water to a boil and add the salt, sugar, garlic, bay leaves, thyme, sage, rosemary and peppercorns. Stir until the salt and sugar are completely dissolved.

Let the liquid steep for 15 minutes while it cools, then add it to the remaining water.

Place the turkey in a container large enough to be completely submerged, and cover with the brine.

Cover and refrigerate for 12 to 15 hours, rotating the turkey at least once while it brines.

Rinse the turkey thoroughly and pat dry. Bring the turkey to room temperature for 1 hour while you prep the smoker.
Smoking the Turkey
Follow the manufacturer's instructions and bring the smoker to a temperature of 225 to 275° F and set it up for indirect cooking with a water drip pan in place. Add the wood chunks, chips or pellets. **See note about temperature.

Pat the turkey dry again with paper towels, then rub butter on the entire outside.

Spray a V-rack with cooking spray and place turkey breast-side up.

Place in the smoker and smoke until the internal temperature of the breasts reaches 159° F and the thickest part of the thighs is 170° F.

Remove from the smoker and rest the cooked turkey on a cutting board for 30 minutes before carving and serving.
Notes
If using a self-basting turkey or a turkey that has already been brined, skip the brining step in this recipe.
Using a V-rack is totally optional, but it makes moving the turkey in and out of the smoker much easier.
Smoking over indirect heat is essential or the skin will burn before the turkey is finished cooking.
Approximate cook times:

at 225° F: 30-35 minutes per pound
at 250° F: 30 minutes per pound
at 275° F: 25 minutes per pound
at 325° F: 13 minutes per pound

For pellet smokers, I recommend smoking at a lower temperature if you want more smoke flavor. 
Open the lid as few times as possible during the smoke. This will keep the temperature consistent as well as keep the smoke in.
There will be temperature carryover, so remove the turkey about 5 to 7 degrees lower than where you want it to end up.

Verify 165° F finished temperature with an instant-read probe thermometer after 10 to 15 minutes into the rest.

Don't skip the rest and longer is always better to keep it juicy.
Nutrition
Calories:
353
kcal
|
Carbohydrates:
9
g
|
Protein:
47
g
|
Fat:
14
g
|
Saturated Fat:
4
g
|
Polyunsaturated Fat:
3
g
|
Monounsaturated Fat:
4
g
|
Trans Fat:
1
g
|
Cholesterol:
160
mg
|
Sodium:
14419
mg
|
Potassium:
492
mg
|
Fiber:
1
g
|
Sugar:
8
g
|
Vitamin A:
214
IU
|
Vitamin C:
1
mg
|
Calcium:
57
mg
|
Iron:
2
mg
This post was originally published on November 5, 2019 and was updated on November 15, 2021 to include updated information and new photos.