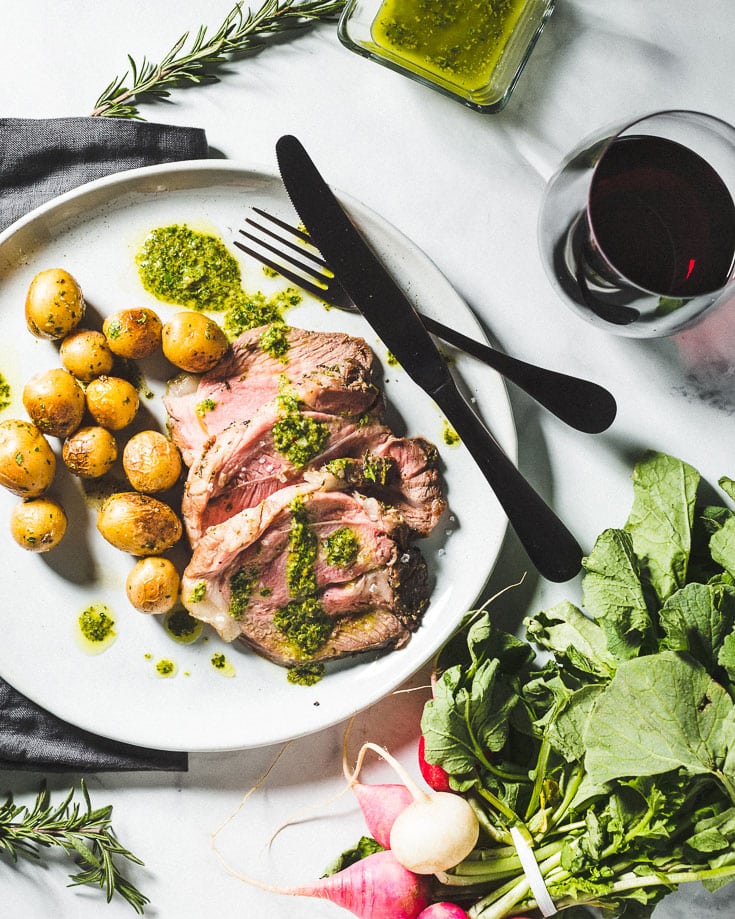 This recipe was created in partnership with the American Lamb Board. All thoughts and opinions are always my own.
Leg of Lamb is the absolute perfect entertaining food, and cooking it sous vide is the perfect method for easy and stress-free entertaining. You can serve a crowd and if you are lucky enough, still have some leftovers to enjoy the next day.
There's nothing more classic than lamb with rosemary and that's what this one is marinated in before cooking in the sous vide and finished under a broiler for a nice brown herby crust.
Lamb legs aren't usually the easiest protein to cook by a long shot. You definitely don't want to overcook the lamb, and undercooking can leave it a bit chewy. This recipe takes all the guesswork out by perfectly cooking it in the sous vide.
Buying American Lamb is Buying Local.
In the last year, I've been more and more intentional about buying local ingredients. From proteins like lamb, pork, seafood to fruits and vegetables. Not only does local mean that what you are about to eat is much fresher, but it also means that you are helping to support your local family-owned farms in nearby communities.
Where to buy American Lamb
Your local neighborhood butcher is usually the best place to source American Lamb. Not only does your butcher know the source of where the lamb is from, but they can answer your questions about it and cut it to your specific needs. Those are huge benefits when buying meat from your local butcher. It also goes along the same effort of supporting local.
The Heart & Trotter is a great whole animal butcher shop here in San Diego, and where I sourced the lamb used in this post. It is 100% Pastured Grass-Fed California Lamb from Autonomy Farms in Bakersfield, Califonrnia.
Whole Foods Market is a bigger national store that often carries quality American Lamb. Try American Lamb next time you are at the grocery store or your local butcher and taste the local difference.
Find out more about American Lamb at the American Lamb Board's website.
Leg of lamb marinade
Great lamb already has great flavor, so it's just about enhancing it just a bit. We're keeping it super simple with classic flavors and creating an herb paste that the lamb will marinate in for a few hours over overnight. The paste is made up of fresh rosemary, thyme, red pepper flakes, lemon zest and extra virgin olive oil.
The lamb leg is liberally seasoned with Kosher salt before the herb marinade is rubbed on the lamb. Since it will be seasoned early before the cooking begins, the salt has time to be absorbed deep into the meat with the aromatic flavors of the herbs, acting like a dry rub. The acidity of the extra virgin olive oil will act as a tenderizer.
Why the sous vide technique is so great for entertaining
Holiday entertaining can be super stressful. Not only do you have to worry about keeping your guests entertained, but you have to focus on cooking. You probably spent a lot of money on all that food, and you want it to be great.
Cooking the leg of lamb in the sous vide solves both of those problems.
It's hands-off worry-free cooking. You have it ready, put it in the sous vide water bath at the temperature you want it to finish at, set the timer and it's ready in about 3 hours. Sous vide gives you a huge cooking time window since the meat technically can't go over the temperature you set, and thus can't overcook. You don't have to worry about constantly checking the oven to see if the lamb is done yet.
Cooked perfectly every time. If you know the temp you want it to finish at, you just set the machine to that temperature and it will do the magic for you. There's no guessing.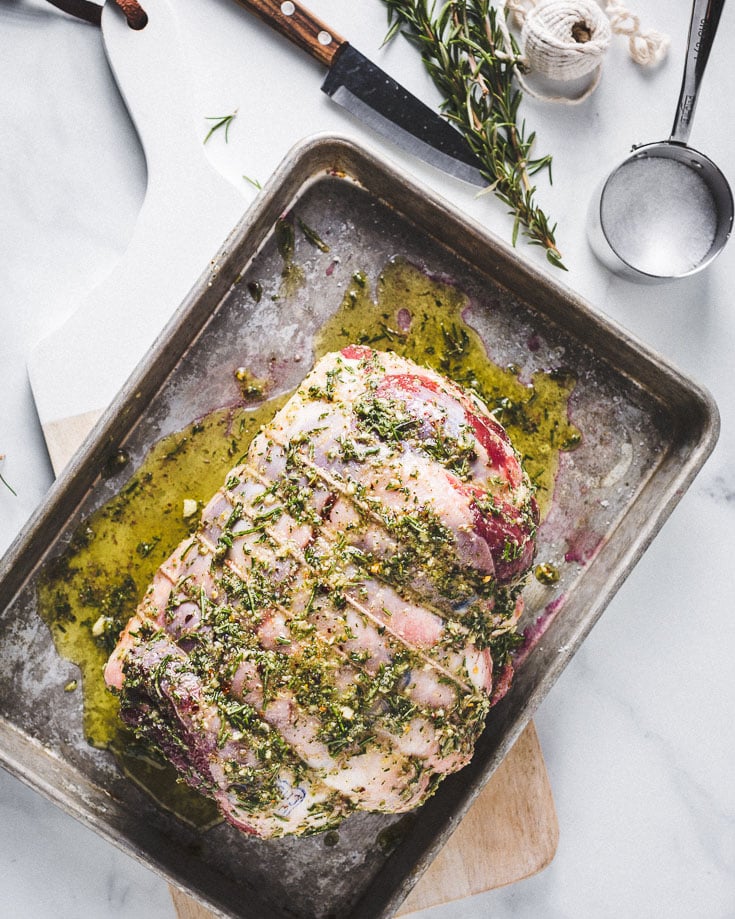 How to cook a leg of lamb in the sous vide
Cooking leg of lamb in the sous vide eliminates the guesswork of when it reaches the perfect doneness. You sent the temp, put the lamb in for the right amount of time and it will come out perfect every time.
1. Season and marinate the lamb with the herb paste.
2. Vacuum seal the lamb leg and refrigerate overnight to marinate.
3, Fill a large pot or container with water and set the sous vide machine to 133° F. Add the vacuum sealed leg of lamb to the sous vide bath and cook for 3 to 5 hours (same result within this time window).
4. Remove the leg of lamb from the bag and place it on a sheet pan. Pat it dry with paper towels then sear it under a broiler for 4 to 5 minutes to brown.
5. Rest for 5 minutes on a cutting board before slicing thin and serving.
What temperature to cook a leg of lamb in the sous vide?
The temperature you cook the leg of lamb in the sous vide depends on the final temperature you want it to end up at. It's important to note that there is no carryover temperature when you cook in the sous vide like there is when you roast in the oven.
133° Fahrenheit / 56° Celcius for Medium-Rare.
When roasting lamb in the oven, the temperature of the oven is set much higher (350 to 400 degrees) than the desired doneness temp of the meat. The final temperature can rise by as much as 10 degrees during the resting period. This doesn't happen when you cook in the sous vide. The temperature of the sous vide water bath is the temperature that the lamb will be when it's done cooking.
How long does it take to cook a leg of lamb sous vide?
For a bone-in leg of lamb with a desired medium-rare internal temperature of 133° F, the lamb should be in the sous vide between 3 ½ and 5 hours.
Between 3 ½ and 5 hours.
How to finish sous vide lamb
Once the lamb is finished cooking in the sous vide, it is technically ready to eat. A lot more flavor is added when the meat comes in contact with a super hot heat source to sear it creating a Maillard reaction (basically browning/caramelizing the surface).
There are a number of options to finish the leg of lamb after it is done cooking in the sous vide. You can put it under the broiler (my recommendation), sear it in a hot skillet, grill it on a hot grill, or use a torch, skillet sear. You could technically eat it as is, but you would be missing out on tons of flavor.
Broiler Method - Searing the lamb leg under a broiler is the desired method because of the large surface area of the lamb. It is easier to quickly brown the lamb than it is to use the other methods. Browning quickly means the meat will not overcook under the surface.
Tip: Pre-heat a skillet under the broiler and place the lamb on it to brown both sides at the same time.
Skillet Method - A very hot skillet with some oil can be used to brown the lamb leg to add a nice crust and extra flavor.
Grill Method - A grill can also be used, but a grill usually takes longer to heat up than other methods.
Torch method - A butane torch can be used to sear the surface of the lamb leg to add extra flavor. The torch method is usually better for smaller pieces of meat that don't have as much surface area. It can take a long time to brown the entire lamb leg with a torch.
How long to rest leg of lamb
Resting the lamb after sous vide cooking is much less crucial than when roasting it in the oven, but it is still good to rest it for about 5 minutes since it was finished under a broiler. When cooking leg of lamb in the oven, you will want to rest the lamb for at least 20 minutes before carving.
Tip for those who like more well done lamb
Not everyone loves their lamb cooked rare or medium rare (how I recommend cooking it). It can be tricky to please everyone when cooking a big piece of meat, but there's an easy solution. Quickly sear slices of the lamb on a grill or in a skillet (about 30 seconds per side) which will cook it just a little more for those who like it a little more well done.
You can't go in the other direction, which is why it's always better to cook it less to begin with. 🙂
What to serve with leg of lamb
There are so many great sides that go with leg of lamb. A few ideas are Creamy polenta, roasted or sous vide root veggies, a minty chimichurri sauce, a rich red wine sauce finished with a hint of mint, au gratin potatoes, little buttery marble potatoes, roasted cauliflower or even a seasonal salad.
What wine to pair with leg of lamb
This might have been at the top of this post because cooking with wine is always more fun. A perfect wine pairing with leg of lamb is Pinot Noir. The acidity of the pinot noir will brighten the dish and not overwhelm the delicate flavors of the lamb.
What to do with leftover lamb
Leftover leg of lamb is never a bad problem to have. Lamb sandwiches are one of the more wonderful things in life. You can thinly slice the lamb leg and put it on some crusty bread with some of the leftover Italian Salsa Verde. Grill it and have a lamb salad. Dice it and sautee to put in some tacos. All so good and maybe even more flavorful than the first meal because the flavors have really developed in the refrigerator.
Special Equipment Used
You can see the equipment used (below) or check out the post all about Essential Sous Vide Accessories.
Bag clips to clip the bag to the side of the sous vide container
Hand blender for making the marinade and Italian Salsa Verde sauce
More Delicious Recipes to Try
Herb Crusted Sous Vide Leg of Lamb
So tender and so flavorful with hints of rosemary and thyme, topped with a bright Italian Salsa Verde sauce. The leg of lamb comes out perfect every time when cooked in the sous vide and browned under a broiler.
Print
Pin
Rate
Ingredients
For the Lamb Leg
1

4 to 6 pound bone-in American Leg of Lamb

(fat trimmed and tied with twine)

⅓

cup

kosher salt

freshly ground black pepper

¼

cup

fresh rosemary leaves

¼

cup

fresh thyme leaves

½

teaspoon

crushed red pepper flakes

zest from 1 lemon

½

cup

extra virgin olive oil
For the Italian Salsa Verde
2

coarsely chopped garlic cloves

½

teaspoon

kosher salt

¼

teaspoon

crushed red pepper flakes

lemon zest

(from 1 lemon)

2

tablespoons

lemon juice

(from 1 lemon)

½

cup

extra virgin olive oil

1

cup

coarsely chopped Italian parsley

1

tablespoon

capers

(rinsed and drained)

2

chopped anchovy filets
Instructions
Make the herb marinade by combining the rosemary leaves, thyme, red pepper flakes, lemon zest and olive oil in food processor or blender. Pulse until well chopped, but not completely pureed.

Pat the lamb dry with paper towels, then sprinkle the salt and freshly ground pepper over the entire lamb leg. Rub the herb mixture all over the lamb.

Place the lamb leg in a vacuum seal bag or ziplock freezer bag and vacuum seal and refrigerate overnight. Let the lamb sit out to come to room temperature before cooking.

Set the sous vide temperature to 133°F / 56°C and cook the lamb for 3 to 5 hours.

When the lamb leg is almost finished, pre-heat the broiler.

Remove the lamb leg from the bag and transfer to a sheet pan. Pat dry with paper towels and rub a little olive oil over it to help promote browning. Place the lamb under the broiler until the top well browned, about 4 to 5 minutes.

Rest the lamb leg on a cutting board then slice and serve with the Italian Salsa Verde sauce. Sprinkle with finishing salt such as Maldon Sea Salt.
To make the Italian Salsa Verde
Place all ingredients in a blender or food processor and pulse until smooth.

Taste for seasoning and add more salt or lemon juice as needed.

Use immediately or place in a container covered with plastic wrap directly on top of the sauce to maintain the beautiful green color before refrigerating.
Notes
If a broiler isn't available for browning the lamb, you can use a very hot heavy-bottom skillet with a little oil to sear the lamb.
The Italian Salsa Verde can be stored in the refrigerator for up to 2 days.
Nutrition
Calories:
471
kcal
|
Carbohydrates:
1
g
|
Protein:
37
g
|
Fat:
35
g
|
Saturated Fat:
7
g
|
Polyunsaturated Fat:
4
g
|
Monounsaturated Fat:
23
g
|
Cholesterol:
114
mg
|
Sodium:
5003
mg
|
Potassium:
539
mg
|
Fiber:
0.4
g
|
Sugar:
0.1
g
|
Vitamin A:
149
IU
|
Vitamin C:
4
mg
|
Calcium:
24
mg
|
Iron:
4
mg
Thank you to the American Lamb Board. for sponsoring this post, which helps to support this site. All thoughts and opinions are always my own.