If you love perfect texture and tenderness in your BBQ (and who doesn't), then sous vide smoked brisket is the secret to easy perfection. It combines the precision of sous vide and the BBQ flavor of wood smoke we crave. It's really the ultimate combination of techniques and it actually makes things much less complicated.
When it comes to barbecue, Texas-style smoked brisket is pretty much the pinnacle of smoked meat. But getting great and consistent results can be a challenge if you are just starting out, and even for the pros at times.
Smoking a brisket the traditional way is more of an art than a science with the need to adapt to the environment. However, when you bring the sous vide technique into the equation, science takes over to make things much easier, more precise and hands-off, and that is quite freeing (literally).
For more Sous Vide + Smoked recipes, try this Sous Vide Pork Shoulder, Smoked Sous Vide Ribs, poor man's brisket with Smoked Sous Vide Chuck, or make your favorite holiday centerpiece with Smoked Sous Vide Prime Rib.
Jump to
Why You'll Love Sous Vide & Smoke
You pick the texture - With sous vide cooking, you can precisely control the temperature, doneness, texture and tenderness to your preference.
Cooking a brisket is hard to get right, this method eliminates the guesswork.
Fantastic for meal planning - You can sous vide the brisket up to a week before you finish it. This has a huge advantage over a traditional low and slow smoked brisket that can take up to 20 hours to cook and properly rest.
What You'll Need
Jump down to the recipe card for specific quantities and instructions.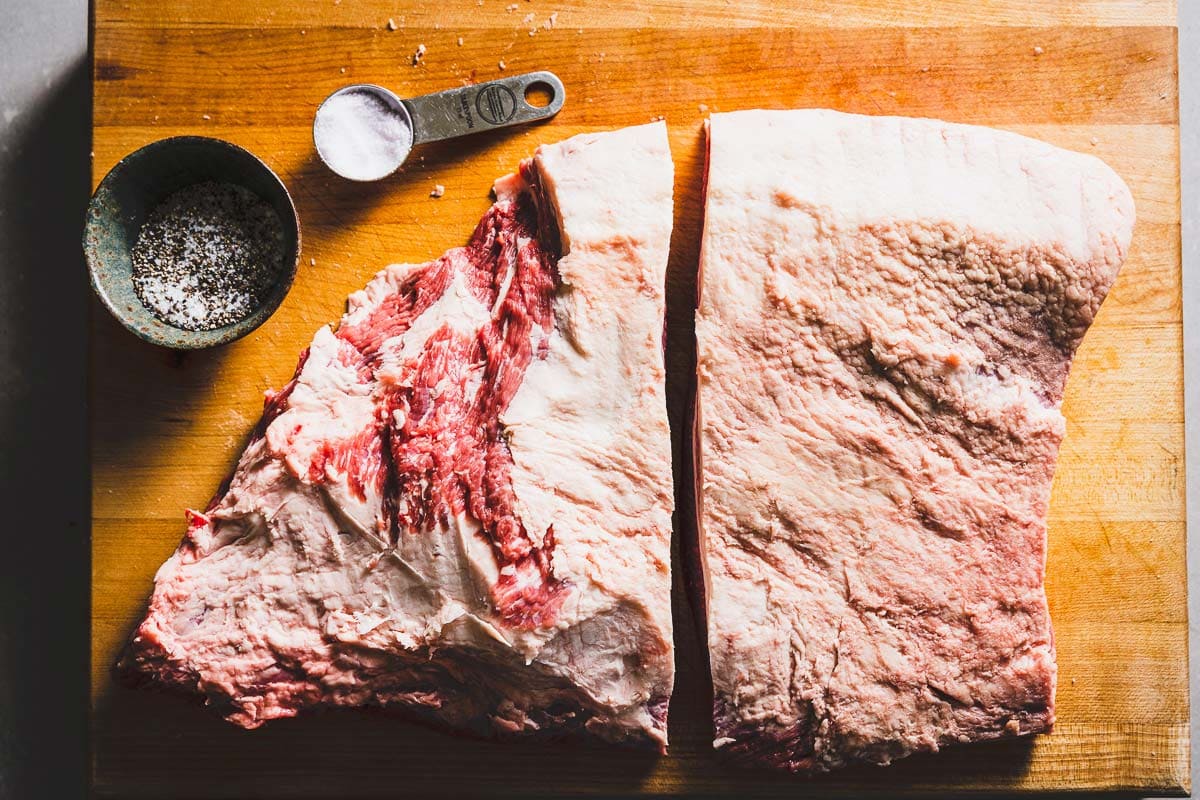 How to Make Sous Vide Smoked Brisket
Step-by-step Instructions for prepping, cooking sous vide and finishing the brisket in the smoker.
1. Prep and Season.
Trim the brisket flat (if needed), then cut it in half crosswise so it fits into vacuum seal bags.
Season with the rub and pink curing salt (if adding) to make a smoke ring for presentation.
2. Vacuum Seal.
Seal each brisket half in its own bag, removing all the air. Add liquid smoke if you plan on finishing it in the oven.
3. Cook Sous Vide.
Heat your water bath to your preferred temperature and add the brisket, making sure it is completely submerged for the entire cook.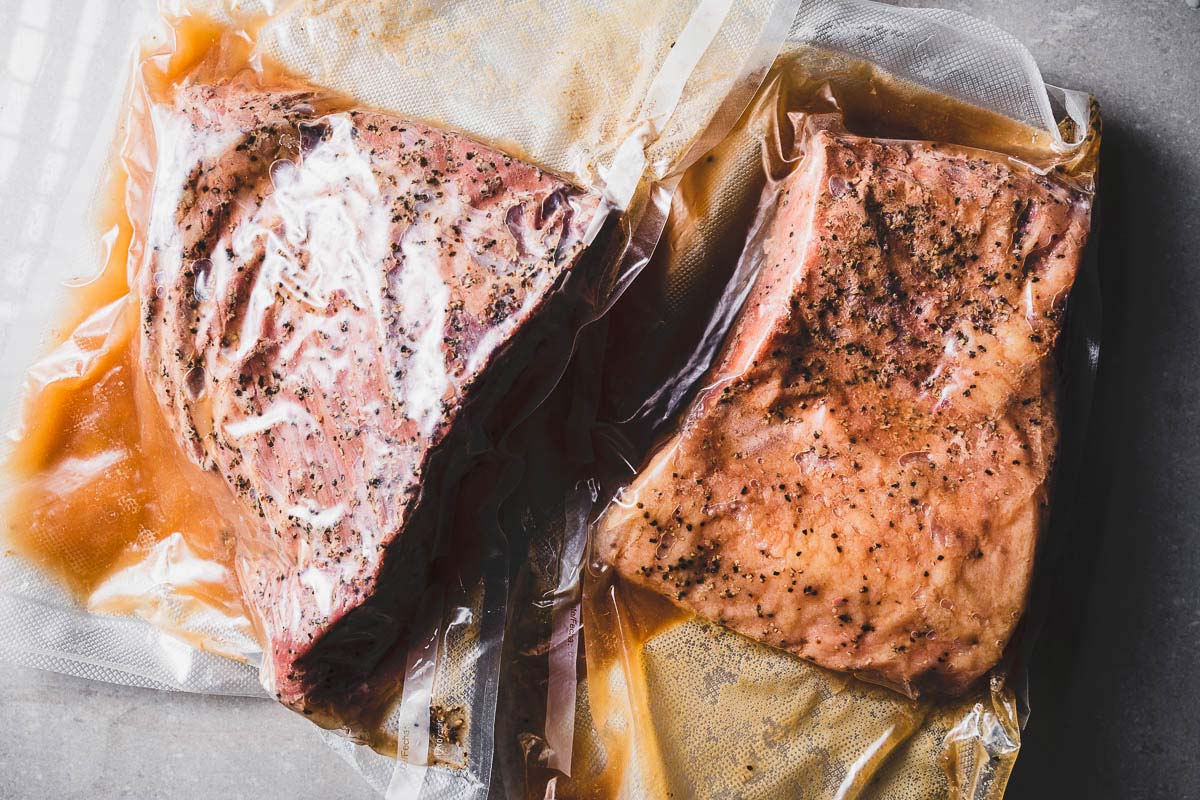 4. Chill Completely.
Either place the sous vide brisket in an ice bath for a few hours or chill overnight in the refrigerator.
At this point, it can be stored still sealed in the bag for up to 5 days in the refrigerator.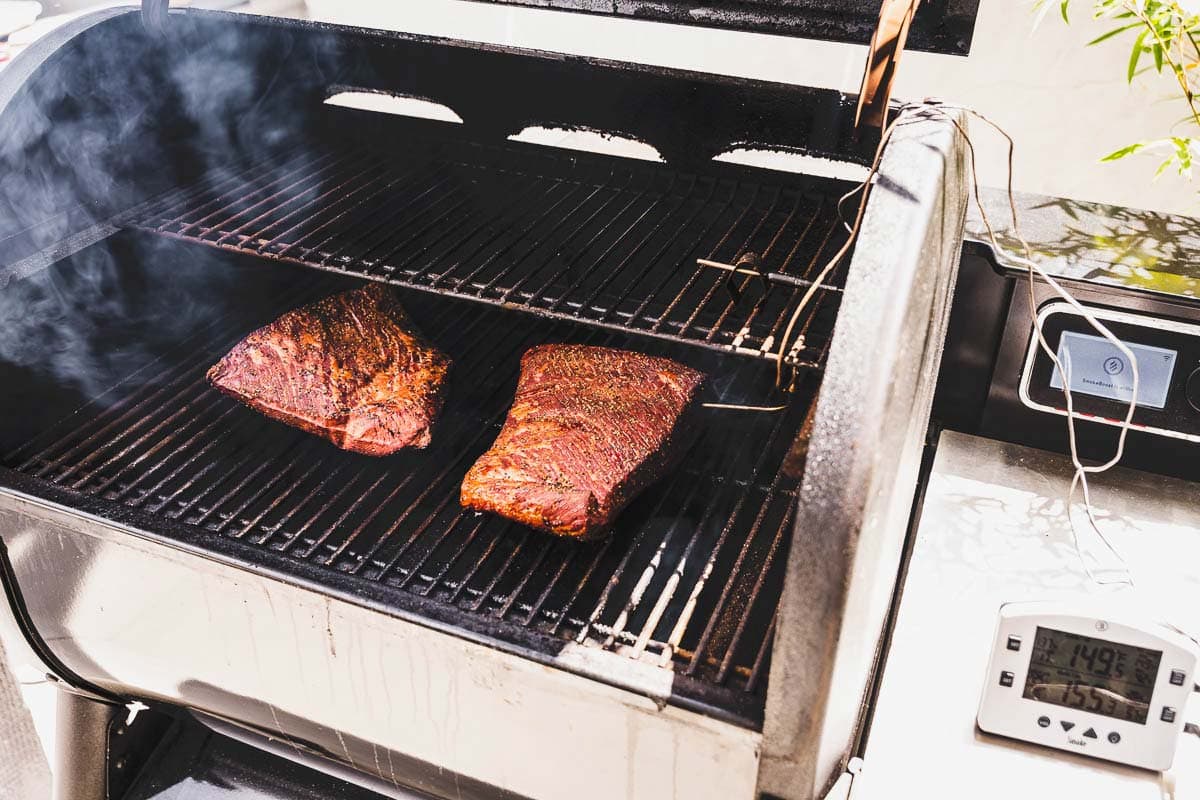 5. Smoke. (Alternately, you can finish it in the oven or on the grill)
Remove from the bag and Re-season the brisket with the remaining rub, then place it in a low temp smoker (225° F or lower) fat side down until the internal temperature reaches around 145° F (about 3 hours).
Learn about the best woods for smoking brisket.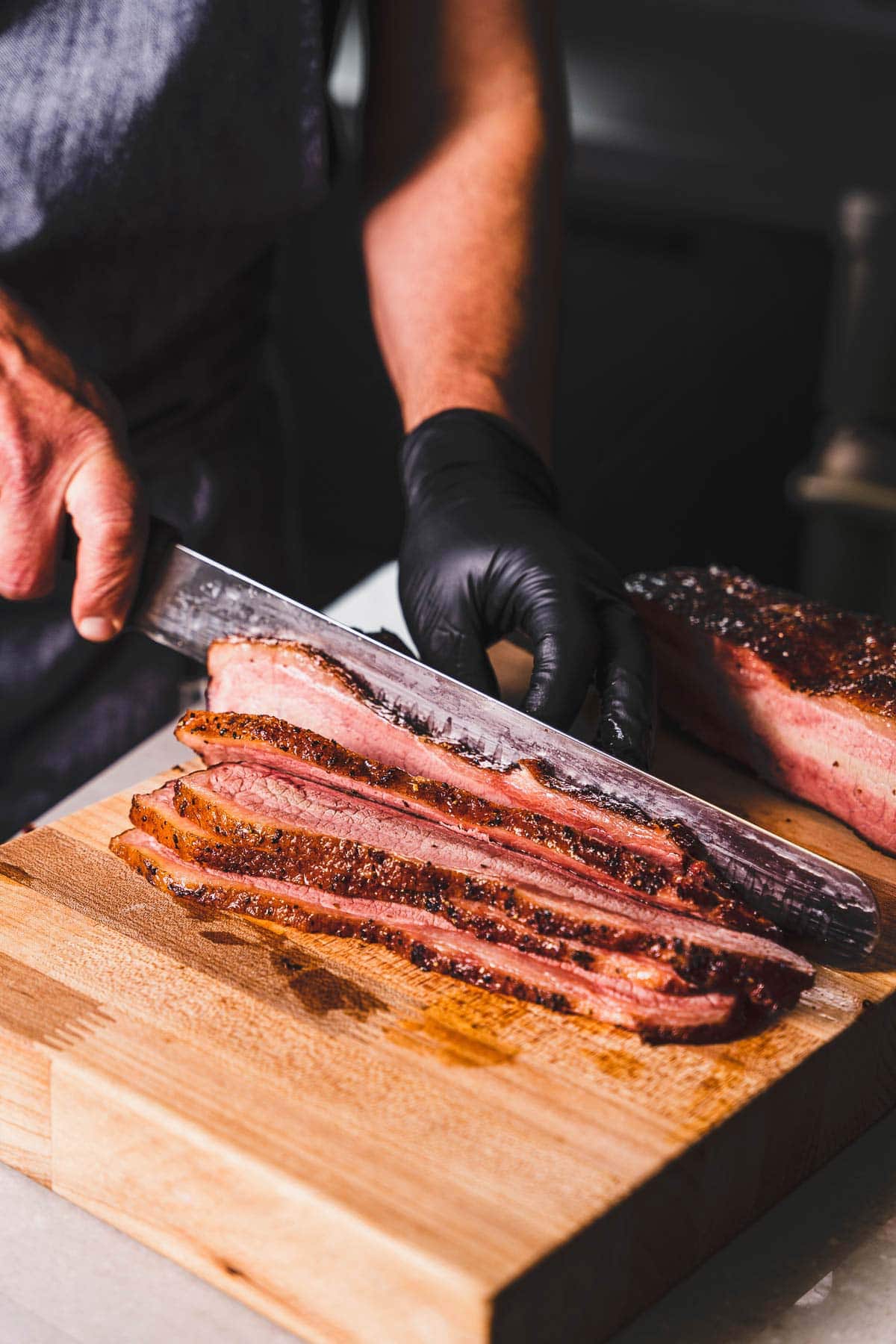 6. Rest and slice.
Rest for 10 to 15 minutes then slice against the grain into ¼" slices (about the width of a #2 pencil).
A long slicing knife makes the job easy.
Serve it up with your favorite sides for brisket.
Variations
Finish it in the oven - If you don't have a smoker, you can finish the brisket in a low temp oven on a baking sheet with a cooling rack. If you finish it in the oven, you can optionally add liquid smoke to still give it some smoke flavor.
Smoke then sous vide - It is also possible to smoke the brisket first and create a nice bark, then sous vide it to finish cooking. This can work well, but a lot of the flavor can get washed off when it's cooked sous vide second.
Temps & Times
Cooking sous vide is all about the temperature of the water bath and the time range in which the food stays in the bath.
Firm yet super tender (medium): 140° F for 36 to 72 hours
Traditional BBQ Brisket with tender braised texture: 150° F for 24 to 36 hours
Fall-Appart shreddable: 160° F for 24 to 36 hours
Medium-rare: 131° F for 24 to 36 hours
Pro Tips
Sous Vide Vs Traditional Smoked Brisket
Each method has its advantages and differences. A traditionally smoked brisket has a superior bark and depth of smoke flavor. While sous vide and smoked brisket delivers an unmatched tenderness, along with giving you a great amount of control over the desired texture and doneness, and the cooking portion is much more hands-off.
Learn more in our Brisket 101 Guide.
Recipe FAQ's
How long does it take to sous vide a brisket?
It will take between 24 to 72 hours to sous vide a brisket, depending on the temperature that you sous vide it. The longer the cook, the more the collagen and fats will break down, and the more tender it will get.
Fat side up or down in the smoker?
As a general rule, the fat side of the brisket should face down on the grill grates closer to the heat. This protects the meat and helps the fat cap render against the heat.

For a pellet smoker or a Kamado-style charcoal smoker, place the fat cap down. For an offset smoker, you might place it fat side up, which would be closer to the heat source.
Should you sous vide a brisket before or after smoking?
In my experience, it is better to smoke the brisket after it cooks sous vide, as much of the flavor developed during the smoke will wash off if it is sous vide second.

You could smoke, sous vide and then smoke again, but that makes things much more involved than is necessary.

What to Serve with Brisket
This sous vide brisket is the centerpiece, but it's the sides that bring it all together. You can go as simple as grabbing a few slices of white bread with some bread & butter pickles and BBQ sauce and be as completely satisfied.
See all the other sides for brisket.
Sous Vide Smoked Brisket Recipe
Cook a big and tough beef brisket to tender perfection with low and slow sous vide cooking, then finish in the smoker for seriously delicious BBQ flavor.
Print
Pin
Rate
Equipment
Large Container (12 qt+ Cambro) or Cooler

Vacuum Sealer

Remote Probe Thermometer

Smoker or Grill
Ingredients
1

beef brisket flat

(up to 8 pounds)

¼

cup

Diamond kosher salt (or ⅛ cup Morton brand kosher salt)

¼

cup

coarse ground black pepper (18 mesh)

See note
Optional ingredients
1 ½

teaspoon

curing salt

(for a smoke ring)

½

teaspoon

liquid smoke

(If finishing in the oven)
Instructions
Trim the brisket (if needed). View the instructions for trimming brisket. Slice it in half crosswise so it will fit in vacuum seal bags. If it's a smaller brisket (less than 4 pounds), then you probably won't need to slice it in half to fit.

Make the rub by combining equal parts of kosher salt and pepper. Add curing salt for a smoke ring (optional) if using.

Apply ⅔ of the rub evenly on all sides of the trimmed brisket, reserving the rest to add before finishing the smoker.

Vacuum seal each brisket half. If using liquid smoke, add ¼ teaspoon to each bag before sealing.

Choose your texture:Option 1: Firm yet Super Tender: 140 ℉ for 36 to 72 hoursOption 2: Traditional BBQ Brisket: 150° F for 36 hours

Heat the water bath with your immersion circulator to the desired temperature (see above). Add the brisket and cook sous vide to the specified time (making sure it is completely submerged the entire time).

Remove the brisket from the water and chill completely in an ice bath for 1 to 2 hours or refrigerator overnight (still vacuum sealed) to chill.

Remove each brisket half from the bag and let any excess liquid drip off, but don't dry it completely. Season with the remaining rub just before finishing it in the smoker, grill or oven. Place a remote probe thermometer in the brisket to monitor the internal temperature.
To Finish in the Smoker (recommended)
Preheat your smoker as low as it will go (180°F-225° F) with oak, pecan or apple wood for smoke.

Place the brisket in the smoker until bark is formed and the internal temperature reaches 145° F (just below temp you sous vide it at), about 3 hours.
To Finish on the Grill
Place in a pre-heated 225° F grill over indirect heat and warm until the internal temperature reaches 145° F, 2 to 3 hours.
To Finish in the Oven
Place in a pre-heated 275° F oven (or lower if your oven can do it) and heat through until the internal temperature reaches 145° F, about 2 to 3 hours.
Slice and Serve
Rest the brisket for 10 to 15 minutes before slicing against the grain into slices the width of a #2 pencil (about ¼" thick). Serve and enjoy with your favorite side dishes!
Notes
For serving, figure about 1 pound of raw, untrimmed brisket per person because there will fat trimmed and weight loss during the cook.

Don't be concerned about the weight of the brisket, as long as you can fit each half in a vacuum seal bag.

Rub: Depending on your flavor preference, you can keep it simple Texas style with just salt & pepper, or you can personalize it with granulated garlic, granulated onion, smoked paprika, chili powder, or whatever other flavors you like.
If using fine ground pepper, use about half the amount.
The still vacuum-sealed cooked sous vide brisket can be stored in the refrigerator for up to a week, which is great for meal planning.
Cover the water bath to prevent evaporation, and monitor the water level.
Smoker temp: the brisket is already cooked, so we are just creating a bark, adding smoke flavor and warming it through. The lower the temperature of your smoker, the more smoke flavor you will get.
If your pellet smoker has a super smoke or smoke boost mode, you can use that for an hour to get more smoke flavor before turning up the temperature.